BSA B25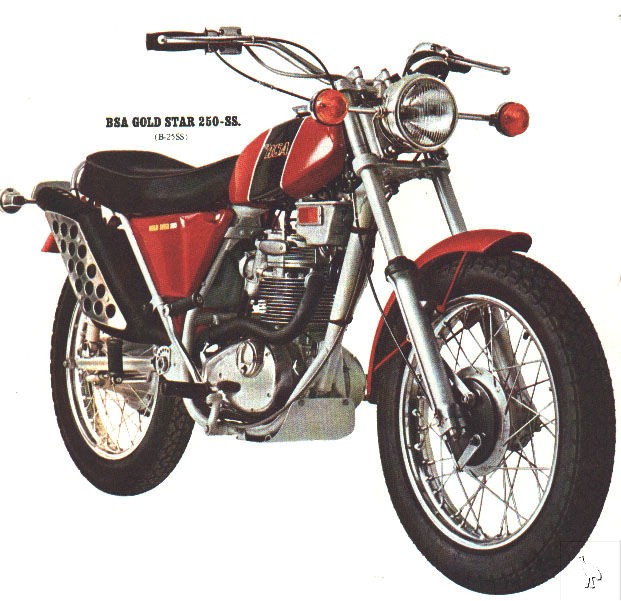 "B25SS"
Make Model

BSA B25, B25SS, B25T & B25 Fleetstar

Year

1968 - 70

Engine

Single, OHV, 4-sroke

Capacity

249 cc / 15.2 cub in

Bore x Stroke

67 x 70 mm

Cooling System

Air cooled

Compression Ratio

10:1

Fleetstar only: 8.5:1

Lubrication

Wet sump

Oil Capacity

2.25 L / 4.8 US pints

Exhaust

Twin, stainless steel and chrome

Carburetor

Amal Concentric 928/20

Ignition

Coil

Spark Plug

Champion N3, 0.50 - 0.65 mm gap, 14 mm thread

Battery

PUZ5A, 12 V, 10 Ah

Starting

Kick start

Clutch

Multi-plate with integral cush drive

Transmission

4-Speed constant mesh

Final Drive

B25SS, Fleetstar: Chain, 106 links, Reynolds 110 054

B25T: Chain, 107 links, Reynolds 110 054

Overall Gear Ratio

B25 SS, Fleetstar: 1st 18.33 / 2nd 11.35 / 3rd 8.60 / 4th 6.92:1

B25T: 1st 19.48 / 2nd 12.06 / 3rd 9.14 / 4th 7.35:1

Maximum Power

19 kW / 25.8 hp @7250 rpm

Frame

Loop frame with single down tube with double cradle for engine

Front Suspension

Coil spring, hydraulically damped

Rear Suspension

Girling coil spring, hydraulically damped

Front Brakes

B25 Fleetstar: 8 x 1.5 in., twin leading shoe, drum

B25SS, T: 6 x 0.875 in., single leading shoe, drum

Rear Brakes

7 x 1.125 in., single leading shoe

Wheels

Steel, spokes

Front Rim

B25SS, Fleetstar: WM2 x 18

B25T: WM1 x 20

Rear Rim

B25SS, Fleetstar: WM2 x 18

B25T: WM3 x 18

Front Tyre

B25SS, Fleetstar: 3.25 x 18 in.

B25T: 3.00 x 20 in.

Rear Tyre

B25SS, Fleetstar: 3.50 x 18 in.

B25T: 4.00 x 18 in.

Dimensions

Lenght: 2160 mm / 85.0 in.

Width: 737 mm / 29.0 in.

Height: 1105 mm / 42.5 in

Wheelbase

1370 mm / 54 in.

Ground Clearance

B25SS, Fleetstar: 178 mm / 7 in.

B25T: 190 mm / 7.5 in.

Seat Height

810 mm / 32 in.

Wet Weight

B25SS, Fleetstar: 131.5 kg / 290 lbs

B25T: 130.2 kg / 287 lbs

Fuel Capacity

B25SS, Fleetstar: 13.5 L / 3.5 US gal

B25T as well as US models: 9L / 2.5 US gal

Top Speed

135 km/h / 84 mph (approximately)

Review
Review of the BSA B25 Starfire
This little machine was an anomaly when it appeared on the showroom floors in 1968; though it was a rather attractive motorcycle, it was powered by an old-fashioned single-cylinder OHV engine.

BSA had been building 250 singles since 1938, and some dim bulb up in marketing thought there was still a market for a little plodder…if you dressed it up real pretty.

It was a tough engine, slightly undersquare with a 67mm bore, 70mm stroke, having an aluminum alloy head and barrel, with an iron liner, a one-piece forged crankshaft with two flywheels running to keep the vibration down, and a duplex-chain primary drive to handle all that power going to the four-speed tranny. The factory claimed over 20 horsepower at 8,250 rpm—perhaps at the piston dome, but certainly not at the rear wheel.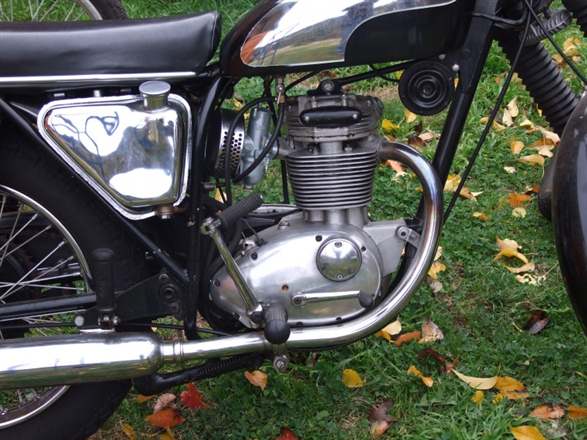 In 1968 quarter-liter bikes were still popular but as sport rather than utility vehicles. Just about every manufacturer had one or two. Lots were two-strokes, like the Montesa Scorpion and Bultaco Metralla singles, or the Yamaha Catalina and Kawasaki Samurai twins, and a few four-stroke singles, like Ducati's Mark 3 Desmo, Benelli's Barracuda, Harley's Aer­macchi 250 with a race-bred pushrod engine, and the rather unexciting British offerings, the Triumph TR25 and BSA Starfire. Those last two were very similar machines, differing only in styling and badges.
Since this was essentially a BSA product, we should take a look at its genesis. That 1938 C10 was a flathead engine with separate gearbox in a rigid frame, and after the war an OHV C11 version soon became available, in either a rigid or a plunger frame. The C12, appearing in 1956, used a swingarm frame. 1959 was the year of big change, with a unitized engine/transmission in the C15 Star. In best British tradition the crankcases were split vertically, which usually meant leaving drops of oil wherever the bike was parked. A 26mm Amal Monobloc carb was fitted.

The loop frame used a single downtube mating with a pair of tubes cradling the engine. A shrouded fork and shocks, and a nacelle around the headlight, were the antithesis of the sporting image. Years rolled on, sales were lackluster, and BSA decided it had to change the dowdy appearance. And performance. And name. The 1966 C15 Sportsman got the nacelle ripped off the headlight, open springs on the rear shocks, and a racy little hump at the back of the long, flat seat.
Good, but not good enough. The factory decided to spend some money, and the B25 Starfire appeared on the American market in 1968. A new cylinder barrel was cast, with the pushrod tunnel enclosed behind the newly squared-off fins. (A 441cc version, the B44, was also built, but that is another story.) A bigger 28mm Amal Concentric carburetor was fitted, a "hotter" camshaft, and the compression ratio went up to 10:1. A single set of points (so easy to adjust!) sat inside a little cover on the right side of the engine, and the electrics were 12 volt.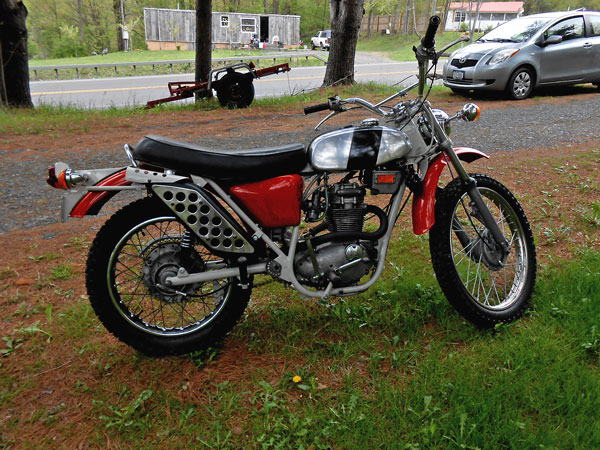 "B25T"
The very first Starfires to come into this country had the old skinny seven-inch brake drums on both 18-inch wheels, but that was soon changed to a full-width drum on the front. The frame was little changed from the C15, though the fork was improved with a double hydraulic damping system. And the metal covers protecting the sliders had now given way to sporty rubber gaiters! Yes, yes! The shrouding had come off the shock absorbers as well. And the rather dull oblong gas tank became an artfully contrived fiberglass container holding 2.5 gallons of fuel, with glorious sunburst BSA emblems. High test, please, as that compression ratio needed the best. Abbreviated chromed fenders and sculpted side panels and oil tank finished the new look, along with the chrome headlight shell and Smiths speedometer (missing on this one). Very pretty it was, in blue and white.

Put a leg over the saddle, bend down and flip the top bit of the kickstarter out 90 degrees, pull in the clutch and kick through to free the nine clutch plates, open the petcock, tickle the carb, turn on the ignition key in the steering head, and if the battery were up the engine should start in one kick. Maybe two or three if it is cold, because the Concentric does not have a choke. Make sure your right inner thigh does not connect with the cap on the oil tank.
Click down into first, the cush drive in the clutch smoothes the take-up, and away you motor. In-town work is a bit sluggish as the cam does not really function well at under 4,000 rpm. The fork has over five inches of travel, the shocks almost three, but the springs are on the stiff side of plush. If the road is smooth, the ride is comfortable. Now the oil is warm and you are in the country. If you are a sporting person, you might have sprung for the optional tachometer, but if not, the engine will certainly tell you when it is near the 8,000 rpm line. The speed tops out at almost 80 mph in fourth gear; you are exhilarated and consider the $750 well spent. That is until a Suzuki X-6 250 Hustler blasts by you, shifting into sixth gear at 90 mph; that bike cost less than $700.

For 1969 BSA dropped the price to $695. And added the B25S model, with an upswept pipe, trying to pretend to be a street-scrambler. Too late. By the end of 1971 all the 250s were gone from the Beeza line.
Article by Clement Salvadori, 2007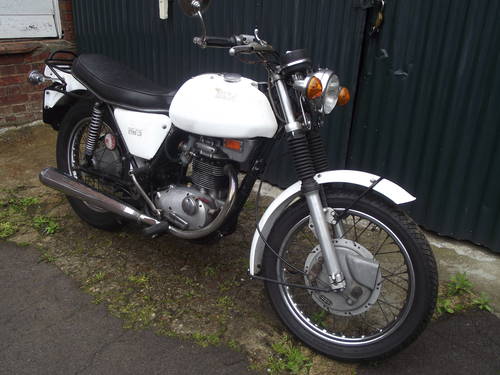 "B25 Fleetstar"