BSA C11
Make Model

BSA C11

Year

1939 - 56

Engine

Single cylinder, 4-stroke, SOHV

Capacity

249 cc / 15.2 cub in.
Cooling System
Air cooled
Exhaust
Single, steel

Ignition

Coil

Magdyno for Military models

Starting
Kick start

Max Power

9 kW / 12 hp

Transmission

4-Speed

Final Drive
Chain
Frame
Brazed lug construction

Front Suspension

Telescopic with compression damping

Rear Suspension

None, spring loaded saddle

From 1951: Plunger rear suspension

Front Brake

7 in., drum

Rear Brake

7 in., drum
Top Speed
88.5 km/h / 45 mph
Source
Wikipedia, Motorcycle USA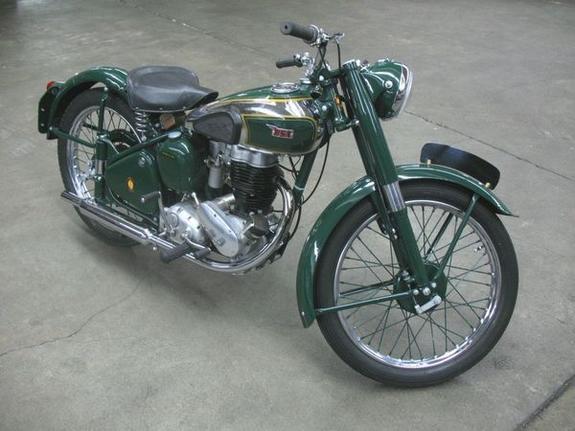 "C11 Steve McQueen"
The BSA C11 was a pre-unit single-cylinder developed before the Second World War from the sidevalve C10. Fitted with overhead valves and displacing 249cc, the C11 was launched in 1939 and continued to be developed into the 1950s. The C11 frame was improved in 1951 when BSA added plunger rear suspension.

Military W-C11
Although British armed forces only used a few BSA C11s as lightweight transport (having selected instead the BSA M20) in 1940, 530 C11s were ordered in military specification by the Office of the High Commission of India. Modifications for war use included a rear carrier over the mudguard, an additional air filter on the fuel tank and a mag dyno in place of the coil.

BSA C11G
Problems with the gearboxes were addressed by the model C11G, which was available either with a three speed gearbox and a rigid frame or with a four speed gearbox in the plunger frame. The C11G also had improved front brakes and became popular as a post war commuter motorcycle.

Steve McQueen's C11
Actor Steve McQueen owned a 1951 BSA C11. Painted in British racing green, McQueen's C11 had a chrome tank with green and gold accents and chrome wheels with green spokes. After McQueen's death the C11 was kept by his wife Barbara for many years before being sold by auction.
Review
Viewed by any objective standards, the BSA C11G is an almost totally bad motorcycle with little to recommend it. It's not a bike which I would want in my garage and not one I would want to ride – unless the only other option was walking.

However, the little BSA is historically a very interesting machine finishing production in 1958. This was a seminal point in the history of motorcycling, marking the moment when the Japanese manufacturers first began to flex their muscles on the world stage. The contrast between the giant BSA company, and its Japanese rivals, was stark.

Let's begin by looking at the bike itself. In almost every way, it has little to commend it. The engine is a 250cc overhead-valve design which produces an anorexically low 11 horsepower. If any attempt is made to rev the engine, it vibrates like a jack hammer and it doesn't pull particularly well either. It will, just about, propel itself and a rider around up to 45mph. Its only virtue is that, ridden with circumspection, a C11G is extremely frugal in terms of fuel consumption.

The C11's ancestors were three-speed, pre-Second World War side valve bikes, but by the end of its production life the motor had been mated to a separate four-speed gearbox which at least gave some flicker of hope in terms of riding flexibility.

If the engine is bad than the bike's chassis is almost criminally incompetent. The brazed lug construction was the hot set-up before the first World War, and yet BSA still had the temerity to use it on a bike which should have had a light, strong, welded frame.

The reason for the use of a brazed lug frame is two-fold. First, the method of construction is cheap. Effectively, the frame is made up of straight tubes which then fit into cast iron lugs. The tubes are then "glued" into place by having brass melted into the lugs. Brazed lug frames meant that the tubing did not have to be melted, as in welding, and were therefore cheaper to make – especially when semi-skilled workers could be employed rather than very highly skilled welders.

However, far outweighing the savings in cost were the limitations which brazed lug frames imposed on designers. A straight tube design is fine for something like a bicycle, but a motorcycle demands double curvature tubes to flow around the engine and gearbox.

The suspension was just as crude. The front forks were telescopic but with only compression damping. Plunger suspension, which gave two inches of undamped wheel travel, was used at the rear of the bike – again as a cost cutting exercise.

The end result was a very heavy motorcycle powered by a weak 250cc engine.

But here is where the story gets really interesting. Contrary to what is sometimes reported today, the BSA design and engineering staff were all too well aware of the weakness of the C11 – and also of the threats posed by Japanese and European manufacturers.

BSA's Chief Engineer, Bert Hopwood wrote: "As responsible management they should have known that the Continental manufacturers were bearing down on us with models which would make some of our products look pitiful."

Hopwood's response was a simple, cheap fix which would give BSA a five-year window in which to design all new lightweight motorcycles to take on the fast improving worldwide opposition. In one of his cleverest designs, he took what was effectively half of his well proven, 500cc Twin and produced a very neat 250cc Single.

Now, the C11 remains either a fascinating piece of industrial history – or a thoroughly drab, dull thing worthy of avoiding at all costs. For me, I would prefer to invest in a good pair of walking shoes.
Extracts from a review by Frank Melling, Contributing Editor, Motorcycle USA