BSA Victor Roadster/Shooting Star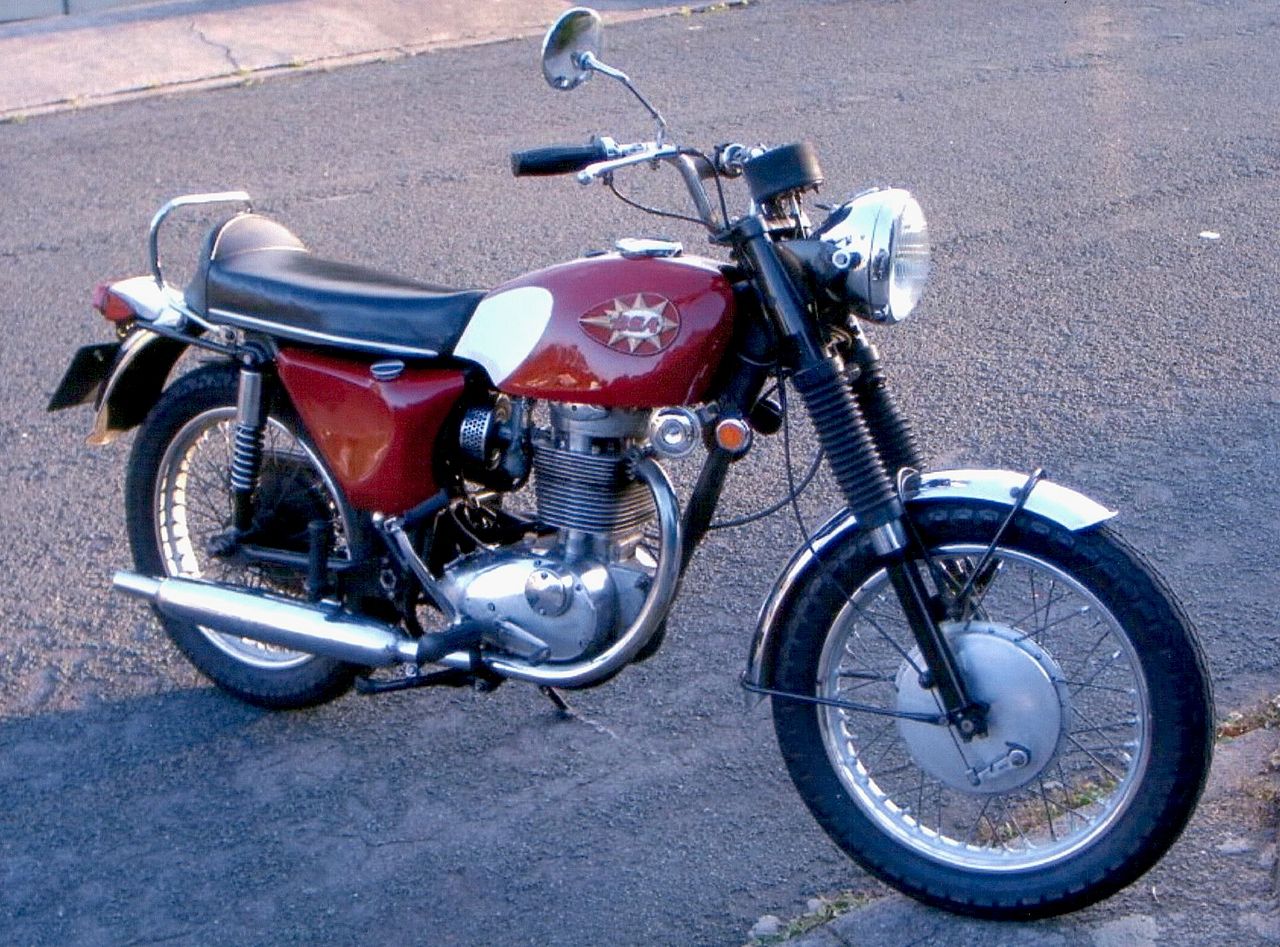 Make Model

BSA Victor Roadster/Shooting Star

Year

1965 - 70

Engine

Single cylinder, 4-stroke,OHV, 2 valves

Capacity

441 cc / 26.9 cub in.

Bore x Stroke

79 x 90 mm
Cooling System
Air cooled

Compression Ratio

9.4:1
Lubrication
Dry sump
Oil Capacity
2.25 L / 4 pints
Exhaust
Single, stainless steel

Ignition

Coil
Battery
12V
Starting
Kick start

Max Power

21.9 KW / 30 hp @ 6500 rpm
Clutch
Wet, multi-plate

Transmission

4-Speed
Final Drive
Chain
Frame
Tubular steel, cradle

Front Suspension

Telescopic forks

Rear Suspension

Swing arm, twin shock absorbers

Front Brakes

8 in., sls drum

Rear Brakes

7 in., sls drum
Wheels
Steel, wore spokes

Front Tyre

3.25 x 18 in.

Rear Tyre

3.50 x 18 in

Dimensions

Length: 2083 mm / 82 in. (From 1969: 2113 mm / 83.2 in.

Width: 711 mm / 28 in.

Wheelbase

1321 mm / 52 in. From 1969: 1346 mm / 53 in.
Ground Clearance
190 mm / 7.5 in.
Seat Height
790 mm / 31 in.
Wet Weight
145 kg / 320 lbs

Fuel Capacity

8 L / 1.75 US gal

Average Consumption

3.1 - 4.3 L/100 km23 - 32 km/l / 55 - 75 mpg

Top Speed
145 km/h / 90 mph
Colours
Cherokee red and chrome
Source
Wikipedia, Motorcycle Classics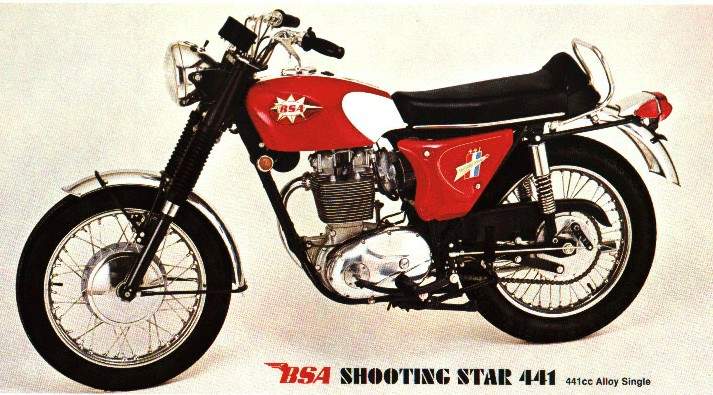 In these days of 1,600cc — and bigger — road machines, it's hard to believe the single-cylinder BSA 441 Shooting Star was actually described by a period magazine as a "touring mount." Touring? On a 441cc single? My, how times have changed.
The truth is, by 1968, only the most committed Anglophile or thumper fan thought of BSA's trusty single as a touring machine. Even if you did get it rolling up toward its potential top speed of 95mph, a velocity much higher than you'd expect out of such a small bike, the tingle from that single piston beating up and down at high revs would probably wear you out before you made it more than a few hundred miles.
But even so, 441cc was enough for a lot of people, and the BSA 441 Shooting Star single was considered one of the better machines to roll out from BSA's Small Heath, England, factory.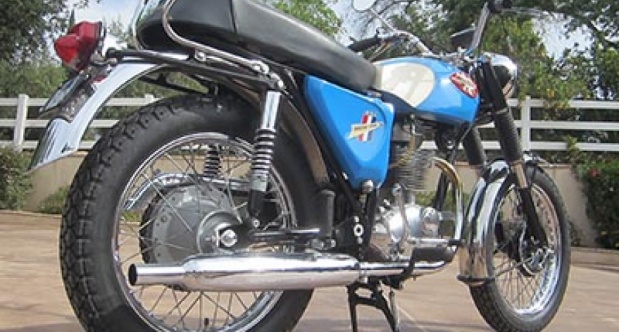 Although the C15 got a cool reception here, it sold well in England and Europe. This was an era of increasing interest in trials and motocross racing, and the little single quickly proved itself a competent machine in offroad racing. Jeff Smith, one of England's great motocross racers of the 1950s and 1960s, was a star rider for BSA, and his connection to the brand helped drive sales of the C15, and BSA's smaller 2-stroke singles, as well. It was, in fact, Smith's great popularity that helped launch the BSA 441 Victor and, a few years later, the BSA 441 Shooting Star.

In 1964 and 1965, Smith rode a specially prepared 420cc single based on the C15 to back-to-back 500cc World Motocross Championship wins. BSA decided to cash in on Smith's success by offering a version of his bike to the public. This was offered in 1965 as the race-replica B44GP Victor Grand Prix Scrambler (complete with special oil-in-frame made of Reynolds tubing, as on Smith's machine). Featuring a further enlarged version of the old 250 single, now pushed out to 441cc, it was quickly followed by the more sedate B44VE Victor Enduro, which we came to know stateside as simply the 441 Victor.
Sensing more opportunity, in 1967 BSA further expanded the model line by offering a road version, the B44VR Victor Roadster. U.S. dealers didn't get the Roadster at first, however.

Although the 441 Victor Enduro was exported to the U.S. immediately upon its introduction, it would be another year, 1968, before the Roadster would find its way into U.S. dealer showrooms, by which point it had become the B44SS Shooting Star.

Although singles were already becoming an anomaly in a new age of multi-cylinder bikes, the BSA was greeted with great enthusiasm. In its April 1968 issue, Cycle couldn't say enough good things about the bike, calling it "one of the best motorcycles made by anybody, for anything." And that's even after writing at great length about the bike's refusal to start, blamed on the BSA's "singularly evil device," its Amal carburetor.

So why did the motorcycling press like the BSA 441 Shooting Star? In large measure because of its simplicity. In an era of rapid change, the BSA single was a stable reminder of a simpler time. But to be fair, the bike also incorporated a number of tangible assets in its design, with a level of performance that belied its sub-500cc status. Top speed approached 95mph, and it was no slouch getting there, posting quarter-mile times in the mid 15-second range. Its transmission, a robust but simple 4-speed, was described with a word rarely applied to any machine, regardless of price or sophistication: "Perfect," Cycle said. "Neutral is right there every time. And so are all the gears, perfectly spaced."

And while many riders conjure up images of tooth-loosening vibration when they think of British singles, the BSA's engine was lauded for its smoothness. "If the Shooting Star vibrated, we didn't notice," Cycle's editors wrote, calling the engine "among the smoothest we've ever tested."

The BSA 441 Shooting Star's braking capacity didn't garner quite so much enthusiasm. The 8-inch front and 7-inch rear drums were described as simply "fully capable of locking the wheel." By the standards of the day — which weren't particularly high — they were no better or worse than the brakes on a dozen other bikes.
Press Reports
"The Victor ... has the weight and general handling usually associated with 250s, while it does have the urge of a 500." — Cycle World, April 1966
"The 441 single is a rare jewel of simplicity and a masterpiece of performance." — Cycle, April 1968