| | |
| --- | --- |
| Make Model | Beta RS 450 |
| Year | 2012 |
| Engine | Four stroke, single cylinder, 4 valve |
| Capacity | 449 cc / 27.4 cu in |
| Bore x Stroke | 95 x 63.4 mm |
| Compression Ratio | 11.95:1 |
| Cooling System | Liquid cooled |
| Induction | Keihin FCR-MX Ø 39 mm |
| Lubrication | Twin oil pumps with cartridge oil filter. Separate oil for engine and clutch |
| Engine Oil Capacity | 0.8 L / 0.2 US gal |
| Ignition | DC-CDI with variable ignition timing, Kokusan. |
| Starting | Electric and kick |
| Spark Plug | NGK LKAR 8A-9 |
| Clutch | Wet, multi-plate |
| Gearbox Oil Capacity | 0.8 L / 0.2 US gal |
| Transmission | 6 Speed |
| Final Drive | O-ring chain, DID |
| Frame | Molybdenum steel with double cradle split above exhaust port. Air filter access from the side |
| Front Suspension | Sachs USD fork, Ø 48 mm, adjustable compression and rebound, TFX technology |
| Front Wheel Travel | 290 mm / 11.4 in |
| Rear Suspension | Sachs shock w/adjustable rebound and hi/low speed compression, |
| Rear Wheel Travel | 290 mm / 11.4 in |
| Front Brakes | Single Ø 260 mm disc, 2 piston caliper |
| Rear Brakes | Single Ø 240 mm disc, 1 piston caliper |
| Front Tyre | 90/90 - 21 |
| Rear Tyre | 140/80 - 18 |
| Wheelbase | 1475 mm / 58.1 in |
| Ground Clearance | 320 mm / 12.6 in |
| Seat Height | 934.7 mm / 36.8 in |
| Dry Weight | 108 kg / 240 lbs |
| Fuel Capacity | 7.9 L / 2.1 gal |
| Review | |
American Beta is releasing the 2012 Beta Dual Sport RS model line up with a complete range being offered for 2012 including 350, 450, and 520 versions.
The RS model range has been designed for the USA market with all three models being 50-state street legal. These premium dual sporters include our famous twin cam 4 stroke powerplant that incorporates a heavier flywheel for chugging power to tackle the tough stuff while the twin cam and short stroke allows amazing over-rev for the faster-paced conditions.
Newly added to the range for 2012 is the Beta 350 RS. A bike designed for single track trails as well as all-around casual riding. The 350's engine provides enough power and torque for both the casual play rider as well as the serious dual sporter. With its titanium valves and twin-cam engine the 350 RS offers a level of performance that will exceed riders expectations.
Returning for 2012 are the popular 450 and 520 versions. All receiving the same engine upgrades as our popular RR models. These two models have been sold out in recent years as more riders are discovering the beauty of Beta.
BYOB (Build Your Own Beta) is back for 2012! Customers can build their own Beta online by adding suspension settings as well as the accessories he or she desires. Their new Beta will arrive at the closest dealership or a dealer of their choice with all the items installed including a nameplate of whom the bike was built for. There are over 75 accessories to choose from including large tanks, steering stabilizers, shark fins, as well as a host of other Dual Sport goodies.
Features and Benefits

Engine:
* Redesigned cylinder head including reinforced camshaft bridge, valve retainers, and updated cam chain tensioner to help reduce engine noise.
* New clutch primary gear and springs for better engagement and clutch action.
* Updated counterbalance bearings for increased reliability.
* Stronger cam chain guides
* Increased oil volume to the engine cam chain for reduced friction.
* New oil drain plug for easier oil changes.
* Offered in 350, 450, and 520 versions for 2012
Chassis:
* 45mm Marzocchi front fork valved for Dual Sport use.
* Redesigned frame with extra gussets. This new frame has less flex and has improved stability.
* Striking new red frame with white plastics for 2012
* Over 65 accessories to make your RS yours.
* Exclusive Beta BYOB (Build Your Own Beta) program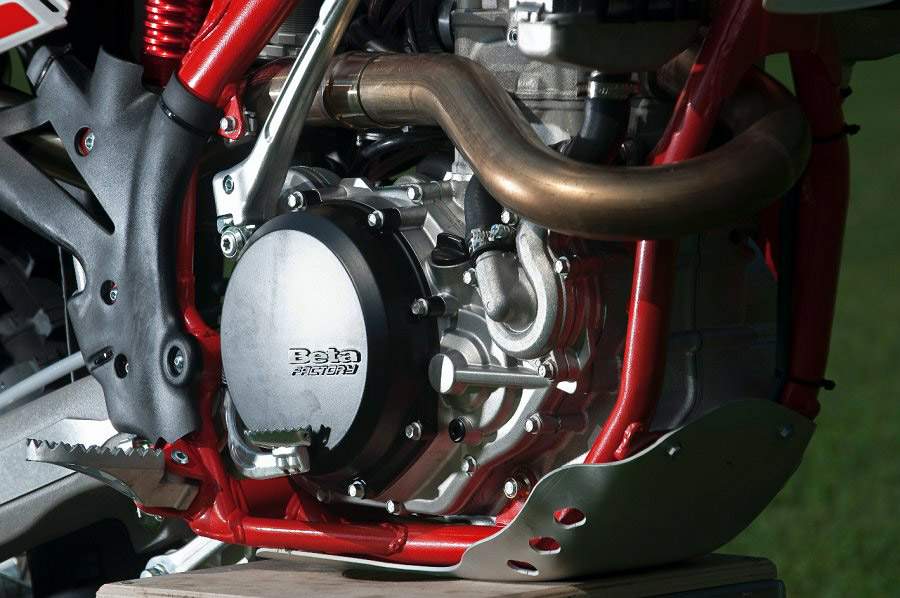 My previous experience on a Beta off-roader was aboard the 2008 450 RS dual-sport machine, which at the time utilized a 2006-spec KTM power plant. Although that was a steady dual-sport performer, the latest Beta-engined 450 RS is light years beyond in nearly every category.
It should be pointed out that, despite the headlight and switchgear and the 50-state street legal status of the Beta 450 RS, it is designed and manufactured for competition, as well as for the aggressive trail rider who utilizes stretches of tarmac to link up single-track trails.
To provide myself with a basis for comparison, I spent a couple of days burning laps on a 12.5-mile off-road test loop in the Hungry Valley State Vehicle Recreation Area in California. The course is a sampling of single-track, rocky creek beds, and sand washes, plus tight and twisty hardpack. My first lap was faster than any other dual-sport bike I have tested and, by the end of the session, I was lapping in the same minute as my quarter-liter race bike.
Wow! I immediately made plans to contest the next local enduro aboard the fully street-legal Beta 450 RS, when lightning struck. Coincidentally, a surprised blown motor in my 1200cc adventure bike meant that I had a weeklong Baja Mexico trip planned, and no bike to ride.
Further throwing my plans into turmoil, I received a call from American Beta that they would need the bike back prior to the enduro race. Evaluating both sides of the equation, the obvious conclusion was crystal clear. The Beta 450 RS was going on a 700-mile Baja adventure, something likely never envisioned by the engineers in Florence.
Those of you who have experienced Baja California are familiar with the last Western frontier – few people, and fewer rules – and its boundless off-road opportunities. However, with cold beer ten times more plentiful than 91-octane gasoline, Baja is big bike country that is typically dominated by long range dromedaries like the BMW R 1200 GS Adventure.
My riding partner and I only had hours to prepare, so we had to rethink our adventure. Personal supplies would have to be carried on our backs, not in panniers and top cases.
Gasoline and camping equipment would have to be on a 4×4 truck and with deftly choreographed rendezvous locations in a land with zero cellular service. And, of course, I needed current registration documents for presentation to the Mexican officials at the border to prove that I was not transporting a stolen bike.
My biggest concern is the 2.1-gallon tank on the RS. I had hit reserve as early as 35 miles into a race simulation, so I wasn't sure how far the total range was.
Peering into the gas tank, I could see that the reserve tube was fairly tall, meaning that the reserve capacity was quite generous. I thought about cutting down the tube, but then I would never be able to measure the true range. I decided to carry a quart of fuel on my belt, just in case.
The other major concern, and the linchpin to the entire trip, is where are we going to find someone to drive a truck in Mexico for a week on a moment's notice? A few panic phone calls later and after quite a bit of up-selling the relative safety of the current security situation in Mexico, we had a team and a plan, and we were southbound and down!
We trucked the bikes from Southern California down to San Felipe, a fishing village situated on the Sea of Cortez on the east coast of the Baja peninsula. From there, we left one of the trucks in a parking lot, paying the attendant and promising a bonus when we returned to the truck three days later.
Without GPS tracks or a satellite phone, we coordinated timeframes and meet-up spots as best we could, using printed maps. If the truck had taken the same course as the bikes, we would have had to ensure that we didn't ride through any rocky gaps that would be too narrow for the four-wheeler to crawl through.
With wavering confidence that we would ever see the truck or any of our supplies again, we departed south from San Felipe with the goal to hug the coast and utilize whatever trails we could to traverse the rocky cliffs and mountains that separated the beaches. This is where the Beta 450 RS really sets itself apart from its competitors.
Low grip situations, such as sand covered rocks, are where first gear and clutch control are needed to straight-line across energy-sapping technical sections. The clutch feel is exceptionally light and precise, and the six-speed gearbox is phenomenal. The 450 RS has the ability to approach triple digit speeds on dirt roads, and still have the tractable pull to crawl over 1st gear obstacles – no compromise necessary.
With daylight waning, we serendipitously spotted our supply truck hucking and bucking over sandy whoops in the valley floor below. We intercepted the truck, and developed a plan to follow each other to the only settlement on the map, the port of Calamajue.
A faint, rocky two-track path lead us to an abandoned fishing outpost that was occupied full-time in the past. Now, the buildings are empty. Graffiti and burned out cars left us with an unsettled feeling, yet without any other options.
After 150 miles of rocky desert terrain – hitting lots of dead ends and backtracking – we had accomplished our Day One objective. A quick ride through the beach camp and ride up the hill to the chapel confirmed that we were the only people there; however, paranoia kept telling us that someone knew of our presence.
Regardless, we were happy to be able to camp in the dilapidated fish-processing building. The cement stairs leading up it from all sides were more than fun to traverse on the Beta in full trials-riding mode before making tracks in the virgin beach sand.
The night was a bit nerve racking and didn't entail much solid sleep. Eventually, the morning brought a beautiful sunrise over the Sea of Cortez – a treat for us left-coasters.
Bike prep was the order of the morning. That meant a quick and easy oil change, along with checking bodywork fasteners, air filter, and tire pressure, as well as the lubing and adjusting the top-quality Regina chain.
For strict desert competition, the 45mm inverted Marzocchi forks and Sachs shock are valved soft. However, the RS is a dual sport bike and, for that purpose, it is nearly spot-on.
Up front, I increased the compression damping by three clicks and quickened the rebound damping by a single click. This kept the front forks from packing up over successive obstacles and to allowed them to setup a bit quicker for the next obstacle. This setting was perfect, and we were ready to tackle the next 200+ miles to Bahia de Los Angeles (Bay of the Angels).
The setup of the Beta 450 RS cockpit is surprisingly neutral in feel, and the all-important ergonomic triangle between handlebars, seat, and footpegs fits my 5′ 9″ frame perfectly. The under 37-inch unladen seat height means I can reach the ground with the soles of my Sidi Crossfire boots much better than on Austrian-built machines.
This allows me to dab through rough sections while still maintaining body position and trajectory. The geometry of the steering stem connects the rider perfectly to the front wheel where the steering is light and precise and allows for choosing razor-thin lines through nasty terrain that save energy and time.
Heading southwest from the old Cochimi settlement of Calamajue – associated with 18th century Croatian Jesuit missionary-explorer Ferdinand Konscak – we cut through a tight wash that is storied to be home to a lost Jesuit mission that exists in the Spanish record books, but has yet to be found, even by us.
While stopped at Coco's Corner, a wayside snack shack in the middle of nowhere, I struck up a conversation with the eponymously named owner. The topic naturally turned to gasoline, where to get it, and how far our bikes can go on a tank.
It was at that moment I realized the Beta had gone over 50 miles and not yet hit reserve, which ended up being the usual distance throughout the trip (except for when riding long stretches of gas-guzzling deep sand).
I happened to mention to Coco that we had stayed the night in Calamajue, and he flashed an incredulous look on his face. Coco explained that the village was abandoned due to the high price of gasoline, making it no longer economically viable to get the fish to market.
Moreover, it has fallen in the hands of a drug cartel and is now used to smuggle drugs from mainland Mexico north to Tijuana. I got a lump in my throat as I gulped down the last of my Coke as I realized that we were almost certainly being watched!
Leaving Coco's Corner behind we set our sites for the Salsipuedes canyon system and passage through the rugged Sierra de la Asamblea to Daggett's Camp. The map shows a system of streambeds that drain to the ocean, but no roads or trails. We soon ended up on a network of flowing sand washes and roads that dead-end at private ranchos.
The terrain is an arid mix of rock and decomposed granite and the 450 RS flows effortlessly like water over the boulders and through the step-downs, the Michelin knobs always seeming to find traction. Having completely too much fun, I soon realized that we had navigated our way into a dead-end canyon; it was miles in the opposite direction before we picked up another route.
With sunlight rapidly evaporating, we decided to turn around and try to find dirt frontage roads to expedite our arrival. The adaptability of my riding gear allowed me to adjust to the wide range of Baja temperatures, both in and out of the sun's reach, and at varying speeds.
After two hours and 65 miles of two-track terrain that resembled a Baja 1000 course, we arrived in Bahoa de Los Angeles (population 1500) well after dark. We eventually located our truck and supplies before finding a $20 palapa for the night.
In the morning, it was apparent that we were in a touristy area, judging by the group of people that have gathered around the Beta waiting for me to come over and answer their various questions. The general opinion of the non-riding group was that it was the best-looking dirt bike they had ever seen. No doubt it was the first Italian dirt bike anyone in the group had ever seen!
After a quick plate of fish tacos for breakfast, we had 300 miles of dirt roads and asphalt to get back to San Felipe.
I was impressed by the versatility of the Beta 450 RS. At 80 mph on dirt roads, the RS is stable and predictable without undue headshake, even under braking. Other than a flat tire induced by a roofing nail, the high-speed day was fun and efficient. Our need for speed meant dealing with the frustration of passing up the fabulous single-track routes visible in the nearby hills.
As we were approaching San Felipe, I reflected on the 700-mile Baja ride on the Beta 450 RS. I wondered, how could I talk the personable Tim Pilg at American Beta into letting me have the bike for a couple more weeks so I could race the enduro?
In fact, I wasn't sure if the Beta would make a better enduro bike or better adventure dual-sporter. For racing, the stock tank will suffice. However, I would definitely invest in an oversized tank for the next international expedition.
Still, the Beta 450 RS does everything well – from the tight and nasty to the wide open and scenic. The ergonomics are refreshingly neutral, while the clutch, motor, and handling offer the precision you expect from a company primarily known for its outstanding trials bikes.