| | |
| --- | --- |
| Make Model | Beta RS 520 |
| Year | 2012 |
| Engine | Four stroke, single cylinder,4 valve |
| Capacity | 497.4 cc / 30.4 cu in |
| Bore x Stroke | 100 x 63.4 mm |
| Compression Ratio | 12.1:1 |
| Cooling System | Liquid cooled |
| Induction | Keihin FCR-MX Ø 39mm |
| Lubrication | Twin oil pumps with cartridge oil filter. Separate oil for engine and clutch |
| Engine Oil Capacity | 0.8 L / 0.2 US gal |
| Ignition | DC-CDI with variable ignition timing, Kokusan. |
| Starting | Electric and kick |
| Spark Plug | NGK LKAR 8A-9 |
| Clutch | Wet multi-disc |
| Gearbox Oil Capacity | 0.8 L / 0.2 US gal |
| Transmission | 6 Speed |
| Final Drive | O-ring chain, DID |
| Frame | Molybdenum steel with double cradle split above exhaust port. Air filter access from the side |
| Front Suspension | Sachs USD fork, Ø 48 mm, adjustable compression and rebound, TFX technology, |
| Front Wheel Travel | 290 mm / 11.4 in |
| Rear Suspension | Sachs shock w/adjustable rebound and hi/low speed compression, |
| Rear Wheel Travel | 290 mm / 11.4 in |
| Front Brakes | Single Ø 260 mm floating disc, 2 piston caliper, Nissen |
| Rear Brakes | Single Ø 240 mm disc, 1 piston caliper, Nissen |
| Front Tyre | 90/90 - 21 |
| Rear Tyre | 140/80 -1 8 |
| Wheelbase | 1475 mm / 58.1 in |
| Ground Clearance | 320 mm / 12.6 in |
| Seat Height | 934.7 mm / 36.8 in |
| Dry Weight | 108 kg / 240 lbs |
| Fuel Capacity | 7.9 L / 2.1 US gal |
| Review | Cycle News |
Features and Benefits
Engine:
* Redesigned cylinder head including reinforced camshaft bridge, valve retainers, and updated cam chain tensioner to help reduce engine noise.
* New clutch primary gear and springs for better engagement and clutch action.
* Updated counterbalance bearings for increased reliability.
* Stronger cam chain guides
* Increased oil volume to the engine cam chain for reduced friction.
* New oil drain plug for easier oil changes.
* Offered in 350, 450, and 520 versions for 2012
Chassis:
* 45mm Marzocchi front fork valved for Dual Sport use.
* Redesigned frame with extra gussets. This new frame has less flex and has improved stability.
* Striking new red frame with white plastics for 2012
* Over 65 accessories to make your RS yours.
* Exclusive Beta BYOB (Build Your Own Beta) program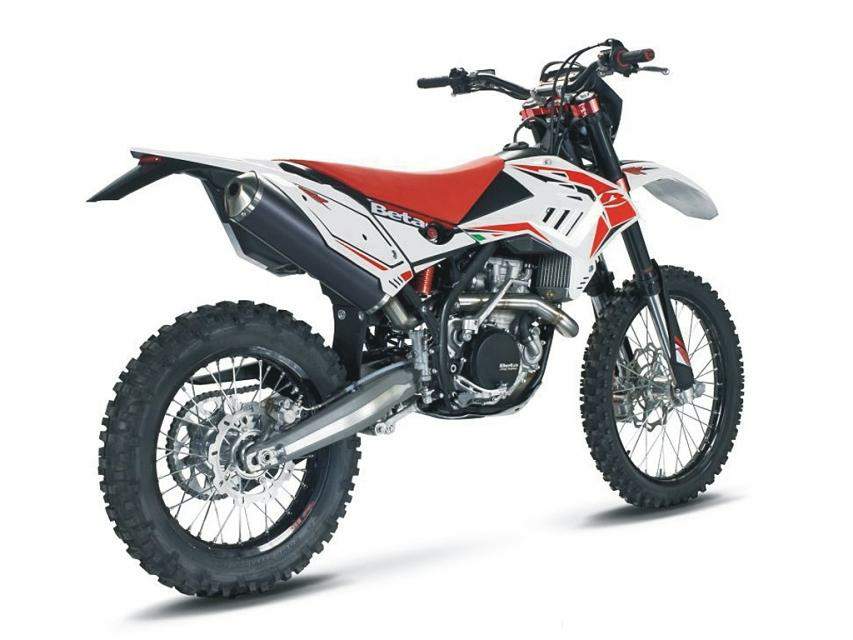 For all intents and purposes, the 520 RS is a 520 RR - Beta's full-race off-road bike - with mirrors, turn indicators and a license-plate holder hanging off the rear fender. The RS is powered by essentially the same 497cc, DOHC, four-valve, four-stroke motor that powers the RR, which is carried in the same molybdenum steel, split double-cradle frame as the RR.

The Sachs shock and Marzocchi forks are also identical to the previous '11 RR's, but the fork has been revalved slightly to provide a bit more cush in the initial part of the travel.

Our first ride on the new 520 RR simply left us wanting more - not necessarily more power, or anything like that, but more time to play with it. That's because the 520 RS is quite fun to ride. Even though it's a rather large dirt bike, it just doesn't feel that way when you're on it. At a claimed 249 pounds dry, but adding roughly 12 more pounds worth of fuel from the 2.1-gallon gas tank, the Beta is hauling around well over 260 pounds in weight, probably closer to 270 in reality, but it feels much lighter than that. For a rather big bike, the Beta is remarkably agile and eager to respond to your every input. We spent a good part of our first ride on the Beta on some pretty tight and technical trails, and we were impressed by how well it performed. It just didn't feel like a big ol' 520. A somewhat narrow profile, firm seat and an extremely flat platform made moving around on the bike and putting it where you want a breeze.
A light pull and smooth-working clutch helped out as well, as did the torquey motor. However, lower gearing would've made things even better. The stock 14T front and 45T rear gearing was more suited for the open roads.

We also noticed the Beta's spacious 12.6 inches of ground clearance, which we came to appreciate in one extremely rocky section.

The Beta's motor is impressive. It makes great power off the bottom and pulls quite well until it's time to change gears. And there is little vibration. But even with its tall gearing, the motor can easily pull you from one turn to the next quite well and do so without having to shift all that much, despite being a six-speed. Still, lower gearing will no doubt give the Beta a bit more snap when you first crack the throttle.

In the tight stuff, we certainly gave the Beta ample opportunities to stall or flame out, and it resisted quite well. But the dreaded pop-and-die would happen occasionally. Unfortunately, our test bike didn't start easily. The electric starter turned the motor over slowly and would usually take a few tries on the starter button. It had all the signs of a weak battery but it would never charge back up, no matter how long we rode it. The folks at Beta later replaced the battery with a new one and said all was good, so for now, we'll just chalk it up to a bad battery. We'll see how it goes when we put more time on the bike with the new battery.
Luckily, the Beta is fitted with a back-up kickstarter, though the bike is not easy to kick over, and you really won't want to rely on it.

The Beta is one of the few European big-bore off-road bikes that is still carbureted, using a 39mm FCR Keihin, which actually works quite well, instead of EFI. We noticed no real issues with fueling, but from our experience with the 2012 350 RR, you will if you there are any significant elevation changes planned on your ride.

The Beta's suspension is quite good, in fact, it's outstanding for a dual sport bike. You can push the bike quite hard and hammer the whoops with remarkable confidence. You'll quickly forget you're on board a street-legal machine when the trail gets rough.

The Beta has many other nice features. We were quite impressed with the Beta's Nissin brakes, comfortable handlebars, spacious ergos, well-placed footpegs, and Metzeler 6-Days DOT knobby tires, that performed quite well on a variety of surfaces.

Our first ride on the bike didn't end when the sun went down, either. We put some time in the dark on the bike and managed to get by just fine with the Beta's fairly brightly illuminant headlight. We didn't get a chance to see how long a tank would get us, but that will come soon. But the 2.1-gallon should provide a decent range. We did get a 45-mile ride in and there seemed to be plenty of fuel left, though it was hard to tell with the solid, black plastic gas tank.