Big Bear GTX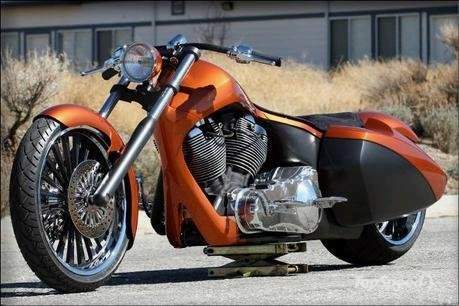 Big Bear Choppers (BBC) traditionally designs and manufactures chopper and pro-street motorcycles that are great for high image and lifestyle day trips.
However, BBC just finished prototyping an industry revolutionizing motorcycle, dubbed the Grand Touring X-Wedge (G.T.X.) and will be rolling out in their 2008 model year fleet, available starting November on dealership floors.
It's a stretched ProStreet mutant of a bagger type motorcycle that BBC considers this motorcycle a weekend getaway vehicle with a touring version coming later on. One of the proprietary and unique characteristics is the position of the passenger sitting in front of the rear wheel.
This seating position places more weight in the center of the vehicle to produce better handling and comfort for both the operator and passenger.
Other key features include an additional auxiliary fuel tank totaling 6 gallons which is located under the seat next to the large capacity oil tank, and of course the high volume, aesthetically cool fibreglass bags.
The 'wow factor' comes from the seamless, flowing bodywork from end to end, stepping outside the traditional realms of motorcycle design and into the next generation of motorcycle design.
This new bike represents just a small part of the new innovations and industry leading design that is coming out of Big Bear Choppers.