Big Bear Choppers Merc Softail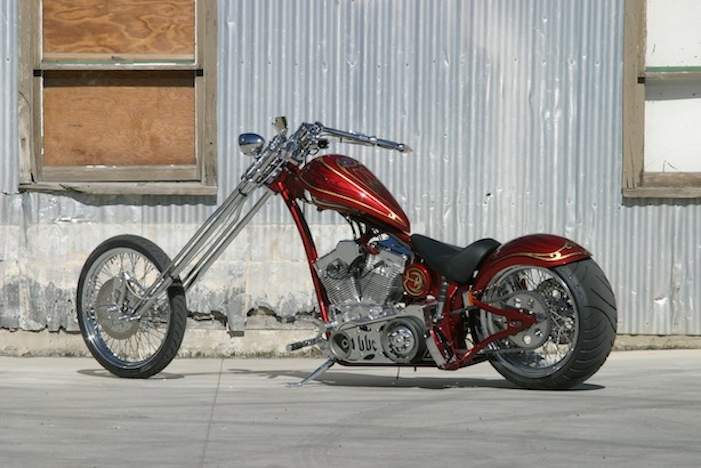 Make Model.

Big Bear Merc Softail

Year

2015

Engine

Four stroke, V-twin

Capacity

1819 cc / 111 cu in

Bore x Stroke

104.8 x 104.8 mm / 4 ⅛ x 4⅛ in
Cooling System
Air cooled
Exhaust
Chrome 2 into 1 Baffled EPA Approved

Induction

S&S Super E Carburetor

Ignition

Dynatech 2000i

Battery

Extreme Magna Power AGM, 40A

Starting
Electric

Max Power

86.4 kW / 115.8 hp

Max Torque

166.3 Nm / 16.95 kgf-m / 122.8 lb-ft

Transmission

Baker, 5-speed overdrive
Final Drive
RSD belt
Frame
BBC Merc Rigid, softail,

0.160" wall DOM seamless frame tube, thick 0.250" wall

3" stretch backbone,

thick 0.250" wall, 6" stretch downtube

Front Suspension

BBC Merc Springer

Rear Suspension

Softail style

Front Wheel Travel
76 mm / 3.0 in
Rear Wheel Travel
76 mm / 3.0 in

Front Brakes

Disc, P.M. 4-Piston Caliper

Rear Brakes

Disc, BBC-P.M. 4-Piston Caliper

Wheels

RC Components,

stainless steel spokes, chrome rim and hub, polished

Front Rim
2.125 x 21 in
Rear Rim
8.50 x 18 in

Front Tyre

Avon Cobra 90 mm

Rear Tyre

Avon Cobra 250 mm

Rake

48°
Trail
95.3 mm / 3.75 in
Dimensions
Length: 2946 mm / 116 in

Wheelbase

2235 mm / 88 in
Seat Height
584 mm / 23 in

Dry Weight

318 kg / 700 lbs

Fuel Capacity

14.7 L / 3.875 US gal

Source
Want the same mean and nasty look of the Merc Rigid, but still need your kidneys? Then the Merc Softail is the ride for you. Thanks to the rear suspension, this mad Merc allows you to still make a bold statement on the road while experiencing a much smoother ride than it's hard brother. The exaggerated extended springer is liberally responsible for making this chopper very impressive in the parking lots and pounding the pavements. You, and everybody else will be surprised how well this bike takes corners and the low speed maneuvering without taking your feet of the pegs for balance. With her radius dual downtube, a bold 48 degree neck rake, timeless spoke wheels, swooping swingarm, patented contour fuel tank and the long reaching springer frontend, this vintage inspired chopper flashes a new school flavor. The Merc's style and elegance leaves you and everybody else breathless, its power and control on long straights and in bends will leave you yearning for more. You may want to check your pulse now.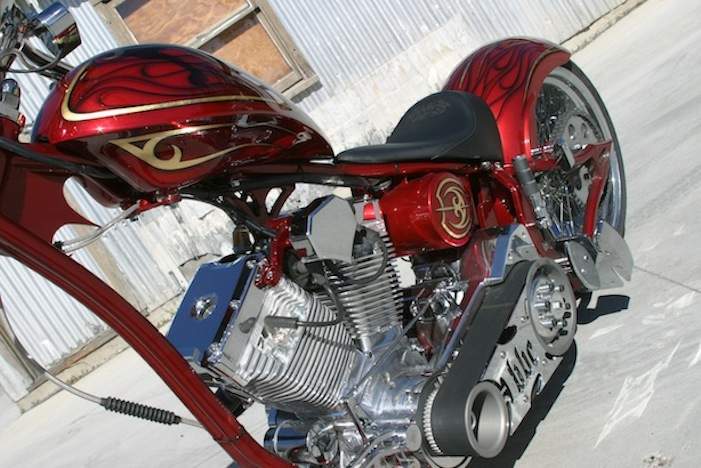 Engine
Reliability, power and comfort... the best of all worlds. And when we say reliability, we not only mean the life of the engine, but the life of motorcycle and everything that's bolted to it. Branded as V111™,' this internally reformed 111 cubic inch engine boasts a healthy 122.8 lbs. of torque at the crank. With a configuration of a 4 1/8" bore and 4 1/8" stroke, proprietary compression ratios, redesigned cam timing, and reciprocating weights all result in an incredibly smooth running engine while meeting all the strict legal requirements. While looking like any other S&S Super Sidewinder engine from the outside, the essence of this new engine is the low vibration. High engine vibration is an enemy to both the rider and the motorcycle. The effects of high engine vibration may cause premature rider fatigue as well. Eliminate engine vibration and you will eliminate potential problems.
Transmission and Drivetrain
This is still the best built tranny to this day... hands down. This Detroit built tranny is designed and manufactured to comfortably handle the power from our engines while looking good behind it.
Keeping with the mindset of making form and function coexisting, this newly designed proprietary primary is built tough and reliable along with a very sleek, new generation styled aesthetics with a cool BBC branded inspection cover. This primary drive is approximately 200% stronger than most other manufacturer's primaries with its machined forged aluminum inner and outer cases. The dense aluminum material makes for a unit that does not flex under heavy torque, and absorbs most engine vibration. Another great attribute that sets this primary drive ahead of the curve is the triple seal design on the main shaft, as opposed to an industry standard single seal, insuring virtually no leaks. The starter motor shaft accessory plate is removable for an easy starter change-out. The internals utilize an easy-to-replace standard type clutch basket and a compensating sprocket for a smooth power transfer.
Electrical
We teamed up with Wire-Plus, the industry's leader in motorcycle electronics, to design a wiring harness with no compromises. Combine this harness with the high-end brand name electrical components like the Spyke charging system and the Crane ignition, and we're sure your seat time will be long. You won't be on the side of the road kicking rocks.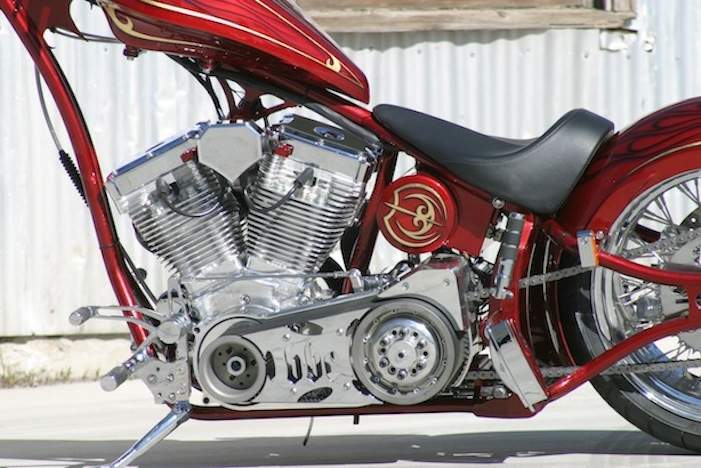 Frame and Body
The Merc Series motorcycles are our most aggressive chopper in our fleet with a 48° raked neck and style to kill. The double barrel shotgun type radius downtube is a very unique element in the frame design.
The frame is the foundation of the motorcycle's aesthetics and reliability. All our frames are designed and manufactured in house in our San Bernardino facility. Every frame component (e.g. neck, side plates, tank mounts, tranny plate, axle adjusters, etc) are CNC manufactured with precision. Utilizing a 0.250 wall, 1.5" tube steel for the backbone and 0.160 wall, 1.125" tube for the rest of the frame, BBC uses the best steel possible for our frames. All frames are 100% TIG welded for a clean, strong and precise fusion. We think we make a statement about our confidence with a lifetime warranty on the frames we make.
Like our frames, our tanks and fenders are designed and manufactured in-house. We produce the sheetmetal with the frame as a unit, then gets 'mock-up' before we hand it over to our painters or ship it out to the unassembled kit customers. We use heavy duty 12 gauge steel for our fenders and 14 gauge steel for the tanks. All tanks are pressure tested and the fenders are computer cut. We guarantee and warranty any leaks from the tanks and cracks in the fenders for your lifetime.
Suspension
Designed and manufactured in-house, our springer is aesthetically cool and functionally bomb proof. Don't be insecure about how long we made this springer frontend, with our calculations of the frame and frontend, we've landed the front wheel in the sweet spot of the final trail measurement by adding a 2° rake in the triple trees. This allows for a motorcycle with no frontend flop and high speed wobble. This frontend is dialed in!
Wheels and Brakes
What better wheels to use than spoke wheels on an old school flavored chopper? And stopping these wheels are Performance Machine's 4-piston caliper polished brakes. Nothing gets better than that.