| | |
| --- | --- |
| Make Model. | Big Dog Bulldog Bagger |
| Year | 2010 |
| Engine | S&S X-Wedge V-twin, 45° |
| Capacity | 1819 cc / 111 cu in |
| Cooling System | Air cooled |
| Exhaust | Two-into-two, chrome |
| Induction | Electronic Fuel Injection |
| Ignition | Electronic |
| Starting | Electric |
| Max Power | 71.8 kW/ 96.3 hp @ 5800 rpm |
| Max Torque | 130.2 Nm / 13.3 kgf-m / 96.1 lb-ft @ 4200 rpm |
| Transmission | 6-Speed |
| Final Drive | Belt |
| Front Brakes | Single perforated disc |
| Rear Brakes | Single perforated disc |
| Wheels | Chrome, 5 double spokes |
| Front Tyre | 120/70-21" |
| Rear Tyre | 250/40-18" |
| Rake | 34°° |
| Trail | 121.9 mm / 4.8 in |
| Wheelbase | 1900 mm / 74.8 in |
| Seat Height | 635 mm / 25 in |
| Dry Weight | 352 kg / 777 lbs |
| Wet Weight | 365 kg / 805 lbs |
| Fuel Capacity | 17 L / 4.5 US gal |
| Overview | Cycle World |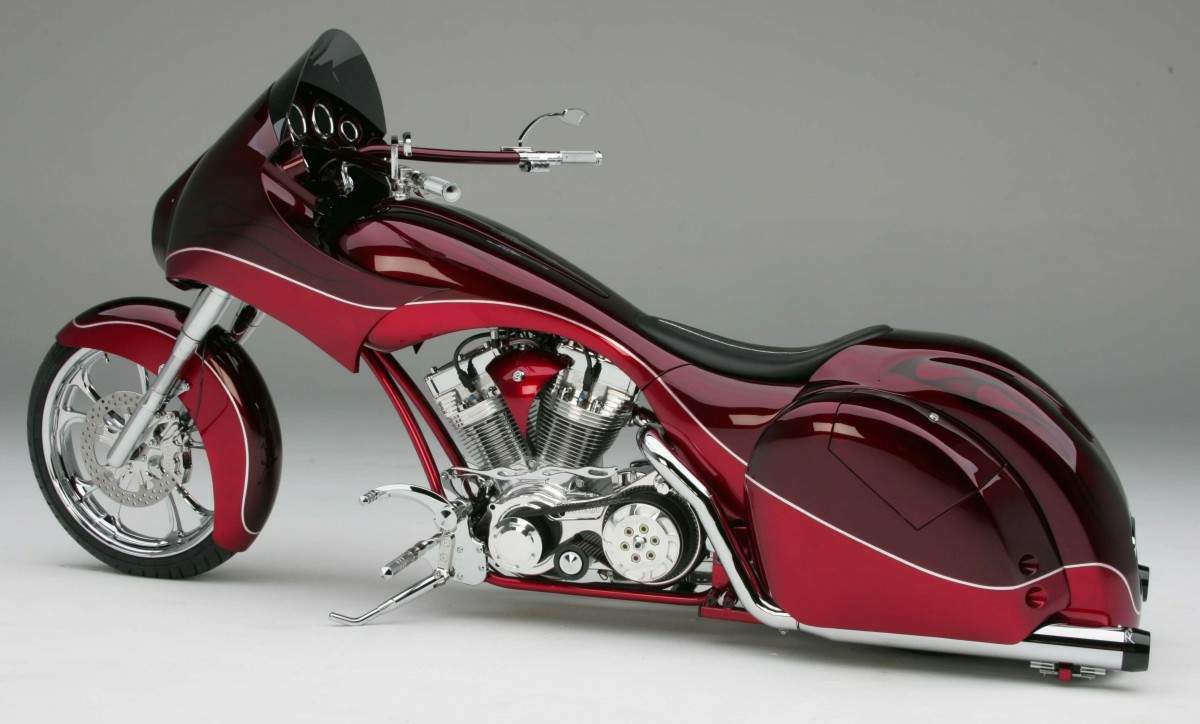 If you're hoping to slip out of town every weekend unnoticed, cruising stealthily under the radar, here's a little tidbit of advice: Don't even think about attempting it on a Bulldog. This latest creation from Big Dog-long and low with lustrous chrome, vivid paint, slinky saddlebags, "batwing" fairing and big-inch V-Twin power-is more than just a motorcycle; it's a moving event, a two-wheeled parade float that draws more attention than a wet T-shirt contest at high noon in Times Square. Pedestrians stop and gawk at it like tourists beholding the Grand Canyon, and people in passing cars give enthusiastic thumbs-up or dangle out the windows extolling profound shouts of approval like "Duuude, cool bike!"

But even though, visually, the Bulldog is about as subtle as a whack across the forehead with a Louisville Slugger, functionally, it's a lot more pleasant than its high-profile custom-bike style might imply. It's surprisingly comfortable, handles decently and generally behaves the way a proper motorcycle should. Not only that, its build quality equals or surpasses that of just about any other production bike on the planet.
This is not news to us. The last couple of Big Dog models we've ridden have impressed us mightily with their high levels of fit, finish and function. This one is no exception.
Don't think, however, that Big Dog threw this bagger together simply by hanging a fairing and saddlebags on an existing model; the Bulldog does bear a strong resemblance to the company's other chopper-inspired bikes, but it clearly is its own entity. Compared to, say, the Wolf we sampled in our April, 2009, issue, the Bulldog has a different frame and swingarm, less-radical steering geometry, a shorter wheel-base, smaller-diameter wheels, more ground clearance and a dual seat that is lower than the chopper's solo saddle despite being thicker.
It also has a different engine. Instead of the Wolf's 121-cubic-inch S&S X-Wedge 56-degree V-Twin, the Bulldog gets its impetus from a 111-inch, fuel-injected, rubber-mounted, 45-degree V-Twin, also sourced from S&S. Transmission is a right-side-drive six-speed spinning an 18-inch rear wheel through a 1-1/8-inch-wide belt. The tires are Avon Cobras, the rear "only" a 250/40-18 (as opposed to the 280, 300 and 330mm-wide meats on other Big Dogs), the front a 120/70-21.
Although some people might claim that the Bulldog's H-D Evolution-style engine is outdated, that design having been abandoned by The Motor Company more than a decade ago, its power output is utterly flawless. The torque and horsepower curves are models of linear perfection, with nary a dip or a spike anywhere along the line, and both peak at almost identical levels: 96.3 hp at 5800 rpm and 96.1 ft.-lb. at 4200.

Those 111 inches of torque-heavy urge won't quite yank your shoulders out of their sockets, but they do scoot the Bulldog along in an easy, almost effortless fashion. The EFI meters fuel impeccably, absent a hiccup or glitch anywhere in the rpm range; when you roll the throttle open in any gear, the response is crisp, clean and immediate. Even in the taller gears, the 777-pound (dry; 805 lb. with its long, 4.5-gallon teardrop gas tank brimming) bagger accelerates steadily and forcefully, seemingly unfazed by headwinds, heavy loads or gradual uphill climbs. It's far from "fast" by the astronomical standards set by today's hyperbikes, but it nonetheless will leave all other traffic for dead without breaking a sweat.

Plus, it gives off virtually no vibration at road speeds, compliments of the rubber engine mounts, and it sounds the way a big, narrow-angle V-Twin should sound. To the rider's and passenger's ears, the exhaust is deep, throaty and has just "The Bulldog proves that true custom-bike styling and real-world function need not be mutually exclusive." enough bark to be satisfying; to everyone else in the vicinity, the note is recognizable without being annoying.

Thanks to the engine's plentiful torque, you don't have to spend a lot of time tap-dancing on the shift lever; but when you do change gears, you work what might be the smoothest-, quietest-, lightest-shifting H-D-style gearbox ever. The tranny snicks through the gears more like that of a modern Japanese sportbike-short throw, light return-spring resistance and a willing, almost inaudible gearchange. The clutch engages smoothly and is easy to modulate, requiring only a fairly easy squeeze at the lever. It also disengages completely, which contributes to the transmission's excellent shifting qualities and the ease with which the box can be popped into neutral at a stop.

More pleasant surprises await in the chassis. The steel-framed Bulldog is really long (a 74.8-inch wheelbase), yet it's not at all awkward to handle. It has a low center of gravity-aided by a dished seat that operates just 25 inches above the tarmac-and steering geometry that is reasonable despite the kicked-out front end. The steering-head angle is 34 degrees, very rakish for a bike with "touring" on its list of aspirations; but the fork is angled out an additional 3 degrees in the triple-clamps, which reins in front-wheel trail to a manageable 4.8 inches.
The front wheel does have a tendency to turn inward at parking-lot speeds, and the bike's Greyhound-bus length makes for wide U-turns; on the road, however, the steering lightens up to a normal level and provides superb straight-line stability at cruising speeds.

So, too, does the Bulldog handle without drama. Banking over into a corner requires just a smidge more effort than it does on a bike with conventional steering geometry; and keeping it heeled over, due to the combined effect of the generous rake and wide rear tire, calls for some light but steady pressure on the inside grip. Thankfully, the wide, swept-back handlebars provide enough leverage to prevent this characteristic from being a problem.

Really, the bike's only meaningful handling shortcoming is in its cornering clearance. The Bulldog kisses the concrete pretty early in corners, especially when turning right. And we're not talking about crotch-rocket corner-blitzing, either; we're talking city street corners, turning into or out of some driveways and hitting mild bumps while at shallow lean angles. You usually can ride around this trait, but it is the worst aspect of what is otherwise a very good overall performance program.
No real complaints about the brakes, though. The single front disc is not exceptionally powerful, but it slows and stops the big Big Dog effectively without requiring the hand of Godzilla at the lever. The rear disc brake is dead-easy to modulate, offering an excellent compromise between too much and too little braking force.

Comfort, however, is arguably the Bulldog's best attribute. The seat/handlebar/footboard relationship is spot-on for riders taller than about 5-foot-10, putting a natural, less-than-90-degree bend in the knees and requiring an elbow-high reach to the bars; shorter riders may have to lean forward a degree or two to grab the chrome-and-rubber grips. The rider's portion of the stepped seat is wide, supportive and well-padded, offering a pleasant place to park your butt for a couple of days.
The passenger part of the seat is narrower, shorter and not quite as hospitable; at least the long list of factory accessories includes a "cross country" saddle with a longer and wider passenger portion.

For the rider, the stock seat contributes to the 'Dog's better-than-anticipated ride. The front suspension is lightly sprung and damped, allowing it to soak up bumps pretty effectively. And despite the fact that the rear suspension is short on travel and heavy on unsprung weight, the dual nitrogen-charged shocks do a half-decent job of mitigating the thumps created by big road undulations, and the seat sucks up most of what remains. The net effect is a plush ride on smoother surfaces and a rear end that, on sharp bumps, delivers a jounce that sometimes can be abrupt but never is harsh.

More good reviews for the Bulldog's wide, handlebar-mounted half-fairing. It extends outward past the ends of the grips to shield the rider's hands from the elements; and with help from the abbreviated windscreen, the fairing diverts considerable air away from the rider's torso without creating a lot of turbulence.
There's on-board entertainment built into the fairing, too, in the form of a detachable-face Alpine AM/FM, MP3/XM/ iPod-capable sound system. Two large speakers try their damndest to provide discernable sound fidelity, but unless the Bulldog is parked with the engine off, music and dialogue are largely drowned out by wind, exhaust and top-end mechanical noise from the big, air-cooled V-Twin.

We weren't exactly overwhelmed with the non-detachable saddlebags, either. Oh, they're stylish and nicely match the contour of the rear fender, but they don't hold much gear. They look bigger on the outside than they actually are on the inside; not only is their curved, arched profile a mismatch for the shape of the things you're most likely to pack in them, each bag has a long, fat bulge inside where it wraps around its adjacent shock absorber.
The result is two bags that barely hold enough stuff to support a weekend for one, let alone two. Plus, the bag's locks do not use the same key as the ignition, and the locks must be keyed open every time the bags are accessed.

In the end, this is one of the factors that define the Bulldog's role in motorcycling's big picture. Though positioned as a "touring" machine, it doesn't quite fit the traditional definition of that term as a long-distance traveler. As delivered, it falls short in cargo capacity and passenger comfort, two elements that are vital components for extended rides.

But Big Dog didn't create this bike to challenge the super-tourers - the Honda Gold Wing, Harley Electra Glide and the like. The Bulldog instead is a high-style bagger best suited to shorter-range duty-solo weekend trips, two-up day rides and even long commutes. At those tasks, it excels, earning high marks for comfort, engine performance, stability and ease of operation. It also possesses a high quality of construction that is virtually unmatched-although with its $39,900 list price, buyers should expect nothing less. But the Bulldog nonetheless proves that true custom-bike styling and real-world function need not be mutually exclusive.

Source Cycle World