Brammo Empulse LE
Make Model.

Brammo Empulse Police LE

Year

2014
Motor
Parker GVM IPM, Sevcon Gen 4, Size 6 (650A peak)
Throttle
Ride by wire
Battery
Brammo Power™ BPM15/90 Lithium-Ion (NCM Chemistry)
Battery Pack Capacity
9.31 kWh (nominal), 10.2 kWh (max)
Battery Pack Voltage
103.6 V (nominal), 117.6 Vdc (max)
Recharge Time
2.0 hrs (typical, Level II charging from 20 to 80% SOC)
3.5 hrs (maximum, Level II charging from 0 to 100% SOC)
8.0 hrs (maximum, Level I charging from 0 to 100% SOC)
Battery Life
1,500 cycles (approx.100,000 miles) to 80% initial capacity
Starting
Electric

Max Power

40 kW / 54 hp @ 4500 rpm

Max Torque

90 Nm / 9.18 kgf-m / 66.4 ft.lb

Clutch

Multi-plate, hydraulic activated wet clutch

Transmission

IET™ 6 speed

Final Drive

Chain, 520 O-ring

Final Drive Ratio

14:48
Frame
Brammo E-Beam Aluminum, Fabricated by Accossato in Italy. Lightweight extruded and welded aluminum - serves a battery tray (patent pending). Sub-frame of tubular steel

Rake

24°

Trail

97 mm / 3.8"

Front Suspension

Semi-Adjustable Ø43 mm Marzocchi forks

Rear Suspension

Tubular steel swingarm, semi-adjustable Sachs Shock

Front Brakes

Dual Ø310 mm Brembo floating disk with twin four piston hydraulic Brembo brake calipers, radial mount.

Rear Brakes

Brembo single disk with dual piston hydraulic Brembo brake caliper

Front Wheel

3.50 x 17" Marchesini

Rear Wheel

5.5 x 17" Marchesini

Front Tyre

120/70-17 AVON AV79

Rear Tyre

180/55-17 AVON AV80

Dimensions

Length: 2065 mm / 81.3"

Width: 808 mm / 31.8"

Height: 1082 mm / 42.6"

Wheelbase
1473 mm / 58.0"
Ground Clearance
185 mm / 7.3"
Seat Height
800 mm / 31.5"

Weight

213 kg / 470 lbs

GVWR

380 kg / 838 lbs
Regenerative Braking
Under deceleration, energy is returned to the battery system to both extend driving range and provide familiar rider feedback.
Driving Range
City: 121 miles* / 195 km
Highway: 56 miles** / 90 km
Combined: 77 miles*** / 124 km
*SAE City Riding Range Test Procedure for Electric Motorcycles (variable speed, 19 mph / 30km/h average)
**SAE Highway / Constant Speed Riding Range Test Procedure for Electric Motorcycles (70 mph / 113 km/h sustained)
*** SAE Highway Commuting Cycle (.5 City weighting, .5 Highway weighting)
Top Speed
169 km/h / 105 mph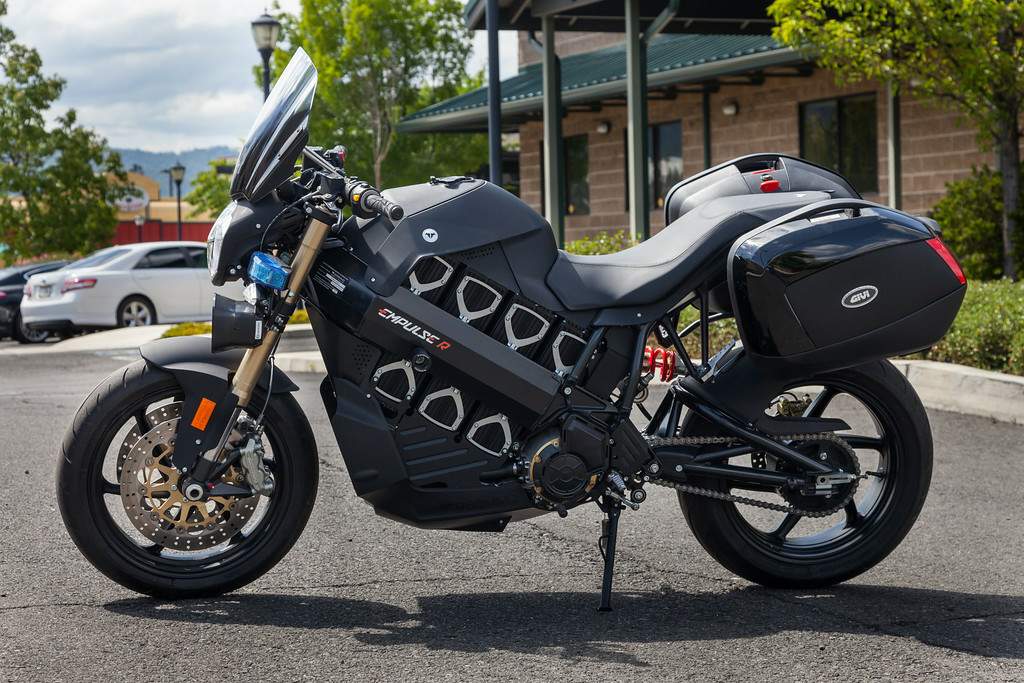 Deployment Advantages

The Empulse LE is ideal for deployments where the low sound profile is important, whether it be for tactical or customer service considerations. The lack of emissions allows for the Empulse LE to be used both for outdoor and indoor assignments and in sensitive environments. With a top speed of over 105 mph and a range of 120 miles, the Empulse LE can be used for focused patrols or as a daily traffic enforcement motorcycle.

Rider Advantages

The Empulse LE provides instant torque that allows the officer to quickly overtake vehicles and affect traffic stops safely. The light weight of the Empulse LE and the lack of heat emitted on to the rider, allows for ease of operation and less wear and tear on the rider.

Technological Innovations

The Empulse LE comes with the only production 6-speed transmission in the electric motorcycle industry. Brammo technology allows the rider to use the Empulse LE without using the clutch as well. Simply by leaving the bike in one gear allows the officer to operate the Empulse LE as a direct drive if they so choose.

Highest Quality

The Empulse LE, born from Brammo's racing, is equipped with the highest quality components in the industry. Marzocchi fully adjustable forks, Brembo brakes and a Parker GVM IPM Motor provide a high quality riding experience that is powered by Brammo's patented and industry leading battery technology.

Commitment To Those Who Serve

Brammo is committed to providing law enforcement with the best equipment, support and service possible. With team members that are from the law enforcement industry and from our racing program, we understand the need to support the law enforcement community with the best possible support to keep high performance equipment in top shape. Our commitment to trust and support is reflected in our customer service and our industry leading 5 year or 50,000 mile warranty on the Brammo Batteries.