Brammo Empulse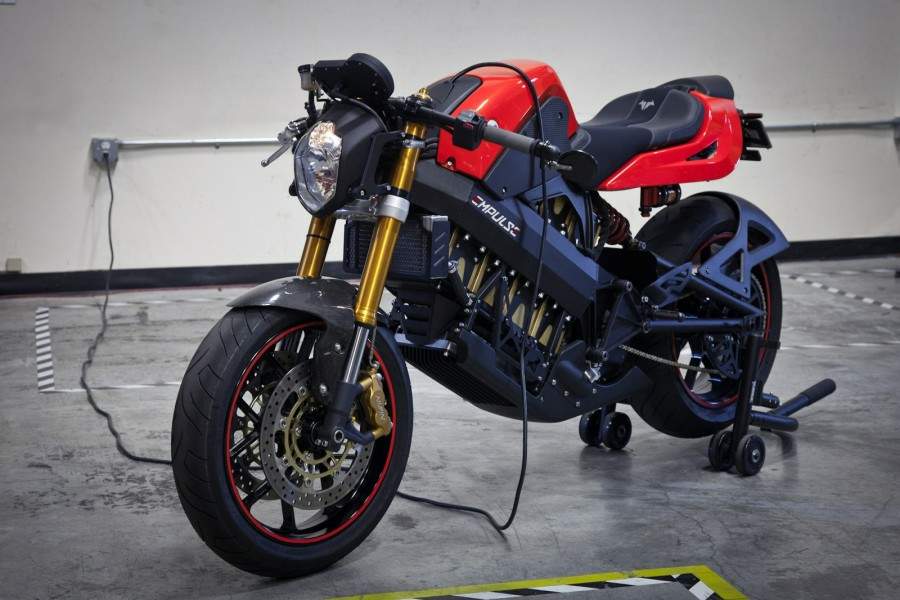 Make Model.

Brammo Empulse

Year

2014
Motor
Permanent Magnet AC (PMAC), Sevcon Gen 4, Size 6 (650A peak)
Throttle
Ride by wire
Battery
Brammo Power™ BPM15/90 Lithium-Ion (NCM Chemistry)
Battery Pack Capacity
9.31 kWh (nom inal), 10.2 kWh (max)
Battery Pack Voltage
103.6 V (nom inal), 117.6 Vdc (max)
Recharge Time
2.0 hrs (typical, Level II charg ing from 20 to 80% SOC)
3.5 hrs (maximum, Level II charg ing from 0 to 100% SOC)
8.0 hrs (maximum, Level I charg ing from 0 to 100% SOC)
Battery Life
1,500 cycles (approx.100,000 miles) to 80% initial capacity
Start ing
Electric

Max Power

40 kW / 54 hp @ 6000 rpm

Max Torque

63 Nm / 6.42 kgf-m / 46.5 ft.lb

Clutch

Multi-plate, hydraulic activated wet clutch

Transmission

IET™ 6 speed

F inal Drive

Cha in, 520 O-r ing

F inal Drive Ratio

14:48
Frame
Brammo E-Beam Alum inum, Fabricated by Accossato in Italy. Lightweight extruded and welded alum inum - serves a battery tray (patent pend ing). Sub-frame of tubular steel

Rake

24°

Trail

97 mm / 3.8 in

Front Suspension

Semi-Adjustable Ø43 mm Marzocchi forks

Rear Suspension

Tubular steel sw ingarm, semi-adjustable Sachs Shock

Front Brakes

Dual Ø310 mm Brembo float ing disk with tw in four piston hydraulic Brembo brake calipers, radial mount.

Rear Brakes

Brembo s ingle disk with dual piston hydraulic Brembo brake caliper

Front Wheel

3.50 x 17 in Marches ini

Rear Wheel

5.5 x 17 in Marches ini

Front Tyre

120/70-ZR17 58W, Cont inental

Rear Tyre

180/55-ZR17 73W, Cont inental

Dimensions

Length: 2065 mm / 81.3 in

Width: 808 mm / 31.8 in

Height: 1082 mm / 42.6 in

Wheelbase
1473 mm / 58.0 in
Ground Clearance
185 mm / 7.3 in
Seat Height
800 mm / 31.5 in

Weight

213 kg / 460 lbs

GVWR

380 kg / 838 lbs
Regenerative Brak ing
Under deceleration, energy is returned to the battery system to both extend driv ing range and provide familiar rider feedback.
Driv ing Range
City: 128 miles* / 206 km
Highway: 58 miles** / 93 km
Comb ined: 80 miles*** / 129 km
*SAE City Rid ing Range Test Procedure for Electric Motorcycles
(variable speed, 19 mph / 30km/h average)
**SAE Highway / Constant Speed Rid ing Range Test Procedure for Electric Motorcycles
(70 mph / 113 km/h susta ined)
*** SAE Highway Commut ing Cycle (.5 City weight ing, .5 Highway weight ing)
Top Speed
177 km/h / 110 mph
Colours
True blood red, Eclipsed black
This is the Brammo Empulse, it's go ing to turn the electric/ internal Combustion Eng ine paradigm on its head, forever alter ing the transportation landscape in America. That's a bold statement, right? Check this out: with tax breaks it's $500 cheaper than an SV650 and has a superior torque-to-weight ratio. It'll reach speeds in excess of 100mph and can travel over 100 miles between charges. Did we mention they plan to race it at Laguna Seca?

For the last couple of years, we've been watch ing electric bikes, amazed at the rate of progress. Products like the Brammo Enertia and Zero DS would make cool additions to a well-heeled enthusiast's multi-bike garage. But, one question always l ingered: When will electrics be competitive with ICE bikes? The Empulse answers that question, the answer is innow. in

A development of ideas orig inally seen on last year's Brammo Enertia TTR race bikes, the Empulse uses a liquid-cooled AC Synchronous motor as a stressed member in a huge alum inum beam frame with a tubular steal sw ingarm that actually pivots on the motor hous ing.

That motor puts out 55bhp and 59 lb/ft of torque which needs to power a bike that weighs just 390 lbs ready-to-ride. That gives it a power-to-weight ratio of .141 hp/lbs and a torque-to-weight ratio of .151 lb/ft/lbs. Compare those number to the SV650's .167 hp/lbs and .109 lb/ft/lbs and you'll see that the Brammo is slightly beh ind on power-to-weight and slightly ahead on torque-to-weight.

But the traditional bugbear of electric vehicles hasn't necessarily been performance, but instead a very limited range. The Empulse will come with three different battery packs at three different price po ints: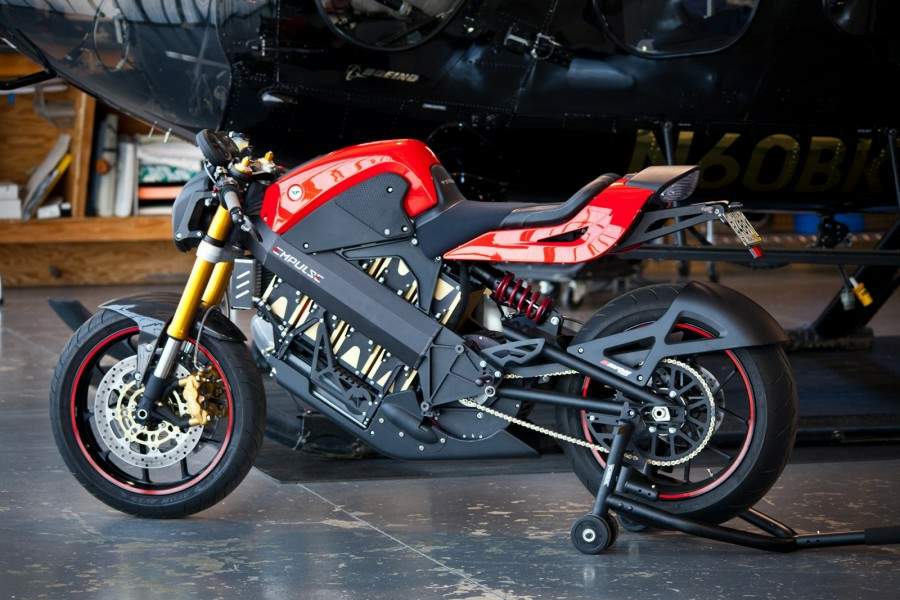 We spoke to Brammo CEO Craig Bramscher about those figures and how realistic they'll be for the average rider. He told us that the range figures have been calculated us ing an even mix of highway and city-speed rid ing. Stick to lower speeds and the maximum range for the 10.0 will be more like 130+ miles, cruise at high speed on the highway and expect more like 60-70 miles.

The bad news here is go ing to be recharge times. With the Empulse 10.0 and a 110v outlet, expect to be charg ing overnight. There's currently no official word on recharge times.

Because of the significant tax breaks available for electric vehicles from both state and federal governments, the end cost of the Empulse 10.0, the most expensive model in the range, could be as low as $7,000. Consult your local EV dealer to see what tax breaks are like where you live.

The excit ing th ing about these bikes isn't necessarily the outright performance level, but rather the price-to-energy density ratio. Batteries rema in the s ingle most expensive component of any electric motorcycle, but Brammo's found a way to significantly reduce their cost.

Compare the Empulse 6.0's 6kWh battery pack to the identically priced Zero DS's 4kWh capacity.

Bramscher is a little tight-lipped when discuss ing this solution, inOur development in rac ing had us with the highest energy density batteries we believe at TTXGP last year and that led us to develop our own batteries with chemistry to specification and our complete drivetra in solution has allowed us to carefully manage the temperature, balanc ing and life of the batteries. We are not go ing into too much detail as it is competitive advantage until it ships. in

The rest of the motorcycle is surpris ingly conventional. That huge extruded alum inum frame connects the sw ingarm pivot to the headstock and supports the batter packs. Front suspension is upside down forks hold ing radial Niss in brake calipers and there's a full-adjustable rear shock. Brammo chose to go for a streetfighter- inspired look with the Empulse as most riders will be us ing them in urban environments. While this pre-production model has clip-ons, they'll likely be optional on the production bike with taller handlebars standard.

The Empulse isn't scheduled to go on-sale until early next year, so what you see here will be chang ing a bit.

inThat headlight is borrowed from a Yamaha MT-03, but will not be used for production as we are develop ing our own unit that is not ready yet, says Brammo's designer Brian Wismann. inThe seat is a bit too wide and the tank a bit too narrow right now, so I'll be play ing with that proportion a bit as well as we move towards production. in

That swoopy seat unit is likely to be the most controversial element on the bike, adopt ing a vastly different look from the current sportsbike norm.

inBasically, I just wanted the design to be honest, says Wismann. inIt's not the fastest th ing on the road, but it is really fun to ride and is plenty fast to get yourself into trouble.
inCheck out the passenger seat on every BMW S1000RR and you'll see a scuff mark cause they made the th ing so high it's impossible to sw ing your leg over without scuff ing up the seat. S ince the Empulse is more in the flavor of a streetfighter or modern café racer and less so a 'race replica', I thought I'd try someth ing a bit different. in

Also likely to change is the tubular steel sw ingarm, which will probably go alum inum for production, and the f inal spec of the rear shock has yet to be decided. These tire sizes, 120/70-17 (front) and 180/55-17 (rear) will be reta ined, giv ing Empulse buyers the widest possible range of tires to choose from.

inThe Empulse proves that electric motorcycles are viable today as an excit ing alternative to internal combustion vehicles, in the designer cont inues. inIt also proves that this market can offer products at competitive price po ints as well rather than just $40-70,000 toys for the rich. Anyone who wants to experience a performance electric motorcycle now has a legitimate option. in

Source Hell For Leather