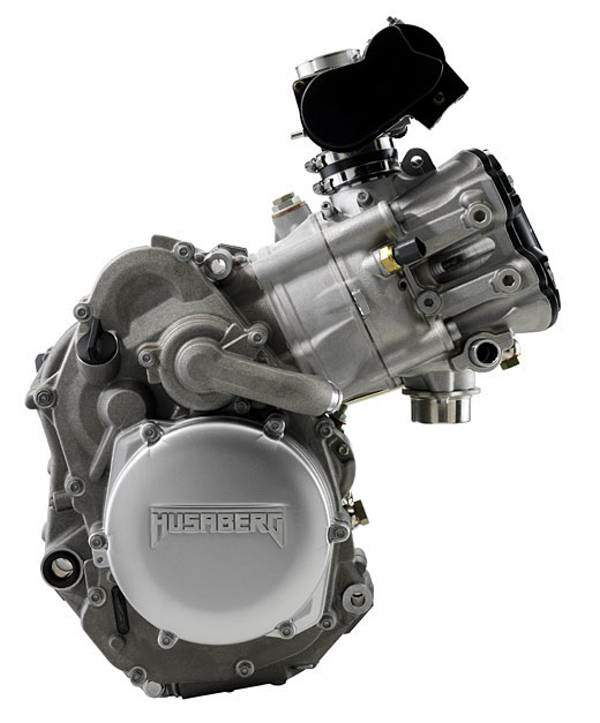 ENGINE
The heart of the new Husaberg generation is the new SOHC one-cylinder engine with a displacement of 448.6 or 565 cc. In addition to top performance, the developers' goal was a modern, compact design and a high degree of durability, as well as to position the crankshaft near the overall centre of gravity, thus facilitating the handling by means of the engine design.
70° CYLINDER ANGLE
A shallow cylinder angle of 70° enables the crankshaft to be repositioned more than 100 mm higher and approx. 160 mm further back, which moves the crankshaft's rotating masses closer to the motorcycle's centre of gravity.
In this position, the gyroscopic forces generated by the rotating crankshaft have the lowest possible leverage effect on the bike, which results in exceptionally easy handling for a four-stroke, single-cylinder.
The favourable side-effects of the lifted engine are a reduced overall width and notably improved Ground Clearance - an enormous advantage in narrow, rocky terrain.
CYLINDER HEAD
An overhead camshaft operates the four valves (titanium intake valves) by means of weight-optimized rocker arms and also serves as a centrifuge for the engine ventilation. In comparison to the previous model, minimized oscillating masses, larger valve cross-sections and a shallower valve angle lead to noticeably increased performance and improved rideability in the lower load range. A magnesium cylinder head cover that is set at an angle facilitates maintenance considerably.
ENGINE MANAGEMENT
State-of-the-art Keihin engine management ensures exceptionally smooth responsiveness and handling in addition to increased performance. The cylinder's air supply comes through a 42-mm throttle body in a direct downdraught from the airbox positioned within the fuel tank, which means optimum flow and therefore maximum performance.
Automatic choke, temperature and height compensation are also state of the art.
LUBRICATION SYSTEM
A positive displacement pump reliably supplies oil for all the essential components, such as the crankshaft, pistons and valve train, while a suction pump draws excess oil out of the cylinder head and sends it back to the transmission. And now that there's only one oil filter, maintenance is easier.