Husaberg FE 600e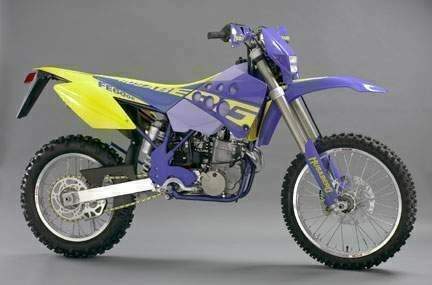 | | |
| --- | --- |
| Make Model | Husaberg FE 600e |
| Year | 1997 - 00 |
| Engine | Four stroke, single cylinder, SOHC, 4 valves |
| Capacity | 595 cc / 36.3 cu-in |
| Bore x Stroke | 95 x 84 mm |
| Cooling System | Liquid cooled |
| Compression Ratio | 11.5:1 |
| Induction | 40mm Dell'Orto |
| Ignition | CDI |
| Starting | Electric & Kick |
| Max Power | 55 hp / 40.1 kW @ 9000 rpm |
| Transmission | 6 Speed |
| Final Drive | Chain |
| Front Suspension | Adjustments compression and rebound damping |
| Rear Suspension | Adjustments compression and rebound damping, |
| Front Brakes | Single 260mm disc |
| Rear Brakes | Single 220mm disc |
| Front Tyre | 90/90-18 |
| Rear Tyre | 140/80-18 |
| Wheelbase | 1490 mm / 58.7 in |
| Seat Height | 950 mm / 37.4 in |
| Dry Weight | 110 kg / 240.3 lbs |
| Fuel Capacity | 9 Litres / 2.4 US gal |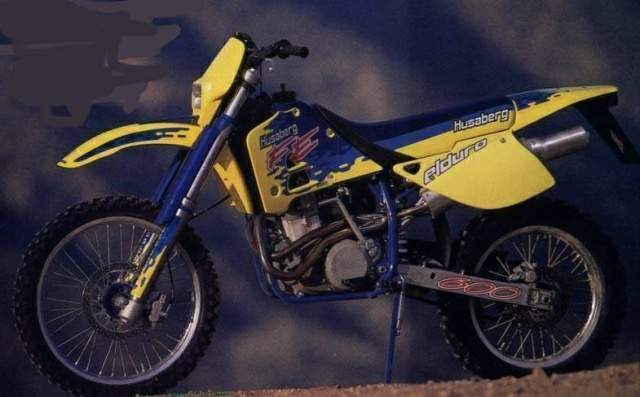 USED TO BE, "LIGHTWEIGHT FOUR-STROKE" WAS a contradiction in terms. Sure, there were some relatively light Thumpers, but only if compared within the genre. Measured against an arena filled with lighter and more agile two-strokes, weight was the killing tool.
Then came Husaberg. Suddenly, the scales didn't swing so far, and at 245 pounds for a full-blown enduro 501, never-applied terms such as "feathery" started flying around. Marginal durability, quirky handling and one shocker of a price tag was the tariff many were willing to pay. Welcome to the late '90s, where you can no longer get away with a marginal motorcycle. In line with the times, the inventor of the modern lightweight dirt Thumper is back at it, attacking the age of convenience with its Elduro models-electric starting on otherwise competition-ready four-stroke enduro bikes.
Husaberg offers three electric-start models-the FE400E, FE501E and FE600E-essentially identical save for displacement. On the FE600E, the scales did their typical upward swing, all the way to 274 pounds without fuel, damn near a 30-pound jump from the kick-only model. That switch on the handlebar and its related, oh-so-precious electric starter account for 20-odd pounds, but where'd the other 10 come from? Remember that vibration you hated, and the durability problems? Well, they've been addressed, courtesy of a counterbalancer and a refined oil-pumping system with new filters. Tack on the automatic decompression system, and it all adds up.
At a whopping $8998, the sticker price could have used a little lightening-that's a stiff premium, even for a hulking, nearly vice-free, 600-class Thumper. But you could go as far as to call the Husaberg handcrafted, and it's certainly a rarity. And that nine large does get you the easiest-starting Husaberg ever: Just punch that little button. If you ever have to flip out the kickstarter, it's almost as effortless. Just kick-all that auto-decomp stuff does the rest.
Carburetion is surprisingly crisp. Typically, Bergs were finicky, but not the 600E. Also typical was rough low-rpm running. Again, that vice has been excised. Credit all the counterbalancing measures and several years of enlightened development.
Getting underway on the Husaberg is a pleasure. It has the clutch pull of a 125—light yet with a solid and progressive engagement. Not that you'll need to fan it much. Torque right off idle is impressive. And with a six-speed, wide-ratio gearbox, first is plenty low-low enough for those trials-like sections. Shifting takes a solid toe-tug, but thankfully lacks those Swedish false neutrals. Start clicking through the box, and the gear spacing doesn't seem that wide, until you realize sixth gear is easily pushing the 100-mph mark.
The Berg's motor has come a long way, too. The 600E uses the same piston as the 501, but adds 13mm of stroke to bump both displacement and torque. The lofty, 11.2:1 compression ratio is happy with good 92-octane fuel.
Not long ago, you couldn't buy a bike with a motor like this. Even if you had the dollars, you'd have to spend lots of time tuning to get to this level. There isn't a production Thumper, except maybe Yamaha's new YZ400F, that runs this hard. It's super linear and seems to rev on forever, very similar to the factory Honda XR628 Baja racer.
As delivered, the suspension is best for trail riding or enduro competition. Up front, the WP 50mm conventional fork is adjustable for compression on one leg and rebound on the other. Out back, a WP shock with compression and rebound clickers handles the bumps.
The ride is surprisingly plush for a big bike. It's this plushness that lets the 600E eat up rocks and roots, the small stuff that sends most motocross ,bikes dancing. The downside to this is that MX and desert racing will require suspension work; as is, it bottoms a bit too frequently-it's hard to have it all, even at this price. Fireroads are one area of Husaberg excellence, and the occasional waterbar or rutted-out downhill never taxes the setup.
Handling-wise, the Husaberg is better than in the past, but still finicky. We blame the tail-high attitude. Raising the handlebar clamps via quarter-inch spacers helped, but you still feel like you're on top of the bike and not one with it. Dropping the ride height in the rear hurt handling more than it helped.
More positively, high-speed stability and sliding manners are first-rate, making the bike an excellent rear-steerer. And in deep sand, the bike plows right through without tail-wagging, a trait that some softly sprung Thumpers exhibit. Even on hardpack, the 600 holds its front end longer than most, rarely pushing in turns.
The Brembo brakes on the Elduro get the job done without flash. The single, 260mm floating disc and twin-piston caliper up front do an admirable job, considering it's the identical unit from the lighter FC600 motocrosser. The rear brake, a 220mm, single-piston affair, goes mostly unused, as you learn to let the plentiful compression braking work for you.
Full enduro instrumentation (an odo) and lights, as well as a spark arrestor, keep things on off-road side of legal. You also get an O-ring chain that held tough during our test, needing only one adjustment. The sound out of the muffler isn't too loud-especially if a roaring Thumper is music to your ears. The 70-watt headlight can easily pull night duty, and the bonus of battery power eliminates the dimming common on enduro bikes when the rpm drops.
Husaberg is planning a dual-purpose version, basically a 600E with turnsignals and a different carb and muffler.
The air filter is unconventionally mounted on the top of the frame's backbone, with the frame acting as an airbox. A battery occupies the space under the seat, where an air-box would normally reside. The FE's gas tank swallows a measly 2 gallons, something that really bugs us, as it's good for only 60 miles-if you're careful. Get happy with the throttle and you could be pushing after 45 miles. To add insult, imagine our joy at discovering there is no Reserve. Husaberg offers an optional larger tank that we'd recommend for any serious exploring.
And what about the weight? Can you really feel 286 pounds of gassed, ready-to-ride Husaberg? Interestingly, it masks its bulk well, and feels lighter than the new Yamaha WR400F (also about 286 pounds with a full fuel load). The narrow layout and centralized mass keeps the pounds hidden, unless you've fallen over or are pushing it.
Overall, Husaberg's trade of pounds for convenience was a good one. There aren't many other electric-start dirtbikes out there-and for near-on $9000, you're sure to be the only kid on the block with an Elduro. The question you have to ask yourself is how much do you really want one of these? If the answer is "A lot," and you can afford it, we'd call the FE600E money well spent. And if you can't...well, the point is moot, ain't it?
Source Cycle World 1999