Make Model

Kymco KR Sport / Quannon 125

Year

2010 - 12

Engine

Four stroke, single cylinder, OHC, 4 valves

Capacity

124 cc / 7.6 cub in

Bore x Stroke

57 x 48.8 mm
Cooling System
Air/oil cooled

Ignition

CDI

Starting

Electric

Max power

9.7 kW / 13 hp

@

10000 rpm

Max Torque

9.8 Nm / 1.0 kgf/m / 7.2lb

ft

@

8000 rpm

Transmission / Drive

5 Speed / chain
Frame
Lightweight steel
Seat Height
800 mm / 31.5 in

Front Suspension

Telescopic fork

Rear Suspension

Monoshock

Front Brakes

Single disc

Rear Brakes

Single disc

Front Tyre

110/80-17

Rear Tyre

140/70-17

Dry-Weight

140 kg / 309 lbs

Fuel Capacity

13.5 L / 3.6 US gal
Top Speed
109 km/h / 68 mph
Tank Range
328 km / 204 miles
Review
Motorcycle News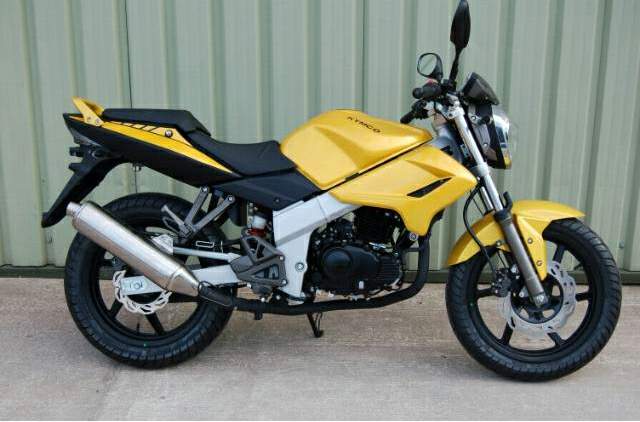 The KR Sport may have a circuit-bike appearance, but the riding position is much more upright than you'd expect, making the front faring largely aesthetic as your head and shoulders are far above any wind-bubble it might create. On the plus side you're unlikely to get up to speeds where wind resistance is a problem and the comfortable up-high ride affords a good view of the road. Steering is light and easy, and the low-weight of the bike inspires effortless U-turns. The clip-on bars can feel a little obvious and restricted – like a mini GPZ500 – but it's no big problem. The Kymco-made brakes are adequate, you won't be stopping on a pin-head and you'll generally have to grab a handful, but for a 125 they're pretty standard.

The air-cooled four-stroke is perfectly acceptable for a 125 and will have you coasting along at 55mph with no problems, even getting up to an indicated 68mph with a long, flat straight. The power is quite flat, however, with very even power and noise output throughout the rev range. Change gear without nearly redlining the engine and you'll find yourself in an underpowered dead zone without much in the way of acceleration. Not untypical for a 125, but slightly conflicting with the bike's sporty appearance.

The bike's easy to red-line as the engine noise doesn't alter much in pitch throughout the rev range. Banging against the limiter can't be good for any engine, so keep an eye on it if you don't want to prematurely age the moving parts. The gear selector can be a tad clunky as well, so may need replacing if used too aggressively over time. The fairing and exhaust are fine for the price, but are keep any eye for age and wear on relatively low-budget components. Kymco offer a 2-yr warranty, which offers real peace of mind.

The competition has undercut Kymco considerably. Lexmoto offer the similar XTR S for just £1199.99. In terms of price as well as quality, the Kymco lies in-between the Lexmoto and pricier Japanese options such as the Honda CBR125R (£3120). What's debatable is whether it's worth the £2599. It's not £1400 better than the Lexmoto, but it is £520 worse than the Honda. A little bit more competitiveness in the pricing would see this much more at home in the market.

The digital dash and nicely obvious analogue tacho are excellent and really give the bike a touch of class. Digital fuel gauge, clock… there are many larger and far more expensive bikes that forgo such touches. Pillion provision is good, with a decent grab rail and good pegs which double up as bungee points. Well angled mirrors and both kick and electric start round off a very pleasing package.
Review: Motorcycle News