Laverda 650 Sport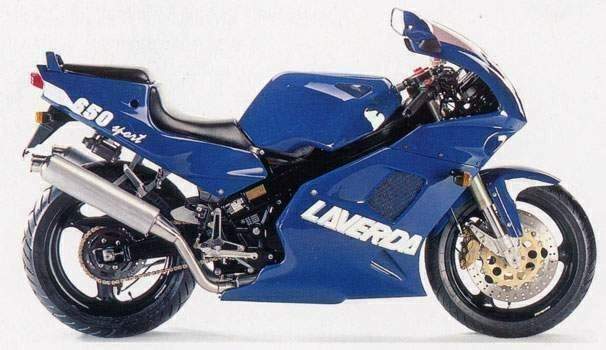 | | |
| --- | --- |
| Make Model | Laverda 650 Sport |
| Year | 1994 |
| Engine | Air/oil cooled, four stroke, parallel twin cylinder. DOHC, 4 valve per cylinder. |
| Capacity | 668 |
| Bore x Stroke | 78.5 x 69 mm |
| Compression Ratio | 9.0:1 |
| Induction | Twin Weber-Marelli electronic injection |
| Ignition / Starting | Weber-Marelli electronic |
| Max Power | 70 hp @ 8000 rpm rear tyre( 65.0 hp @ 7800 rpm) |
| Max Torque | 44.8 ft-lb @ 7250 rpm |
| Transmission / Drive | 6 Speed / chain |
| Front Suspension | 40mm WP Upside-down forks, adjustable rebound and damping. |
| Rear Suspension | WP Rising rate adjustable preload, rebound and damping. |
| Front Brakes | 2x 320mm discs 4 piston calipers |
| Rear Brakes | Single 245mm disc 2 piston caliper |
| Front Tyre | 120/70 ZR17 |
| Rear Tyre | 170/60 ZR17 |
| Dry Weight | 180 kg |
| Fuel Capacity | 16 Litres |
| Consumption average | 36.1 mp/g |
| Standing ¼ Mile | 12.4 sec |
| Top Speed | 134 mph / 215.7 km/h |
| Manuals | 668 Sport Owners Manual / 650/668 workshop manual / 668/Diamante parts manual - legend / 650/Formula parts manual / 650/Formula parts manual - legend / 650/Formula parts manual - legend / 668 Strike/Ghost/Legend parts manual |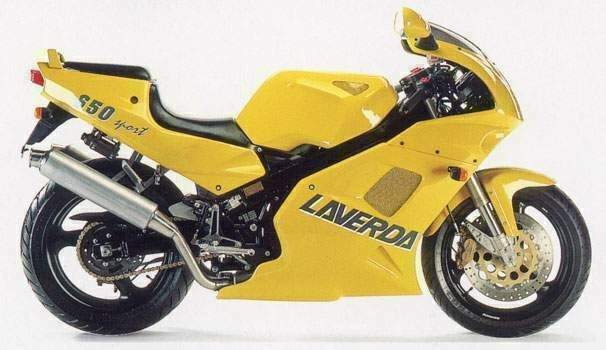 DUCATI 750SS vs LAVERDA 650 SPORT
BLOODY ITALIANS. They seem able to do nothing wrong. While Ducati conquers all before it - you can't buy a 916 for love or money - Aprilia is striding confidently into the big time with its new Moto 6.5 and World Superbike V-twin engine shown for the first time at the Bologna Show - not to mention its rip-roaring RS250. Cagiva has its 650 Canyon and is putting the finishing touches to its own Ferrari-powered WSD contender. And then there's BMW, Honda and Yamaha, who all have big manufacturing interests there.
On the other hand there's Moto Guzzi, about which, probably, the least said the better; Gilera, after a promising rebirth, has been consigned to the great motorcycling mausoleum in the sky and then, of course, there was That Penalty Miss in the World Cup final, so it's not quite all chianti and roses.
And now there's Laverda. The great name from the past that's been stillborn, halfborn and now reborn. Laverda, whose fearsome bikes of old generated universal respect and yet whose downright embarrassing bikes of recent times, (mopeds, rehashed RGSs, not a lot else), evoke merely ridicule. The new Laverda 650 Sport has a lot of ghosts to lay to rest and lot of credibility to re-establish. Can it do it?
It's to the Laverda's immediate credit that, when thinking about which bikes were most likely to be competing with the little 650 we kept coming up with a 750 Ducati's 750SS. On paper there's nothing closer. An old-fashioned, air-cooled, parallel-twin the Lav may be, but it's one that's massively impressive: 130mph fast; top-notch chassis components that wouldn't be out of place in a works race pit, plus that emotive Italian mystique - all wrapped up in one (mostly) scrummy little package.
Look at the figures and you'll see why it takes a quality 750 like the SS to even have a hope of beating it. Laverda claims 7()bhp for its revvy 650 twin, the 750SS can only offer 60. One-nil to the Lav. The Ducati counters with a £6400 price tag, the Laverda chimes in at £6750. One-all. Both are festooned with high quality brakes, suspension, wheels, tyres and whatnot and have a reputation as alluring handlers; both have top speeds around the 125mph-plus mark. Both have seductive Italian style. And both are very, very red.
In five years testing just about every bike imaginable I'd never ridden a Laverda. Not one. I make no excuses. The factory was down the Swanee, the once great name was tarnished and the machines just weren't relevant anymore. To me, Laverdas belonged to the same era as Kawa triples and GS Suzis: all Boney M, Oxford bags and peanut or toffee Treets. That Laverda is now back, 15 years on, is an achievement in itself. That I'm so impressed I now can't wait for the next one speaks volumes.
DUCATI 750SS
DUCATIS HAVEN'T just got it, they're dripping with it. Sauce and style oozing from every pore. Enflamed hearts and passions. Lamborghini, Armani, porn politico La Ciccolina and, let's face it, Fiat - all rolled into one. Lusty riding machines; two-wheeled Ferraris; fanny magnets. There, I said it.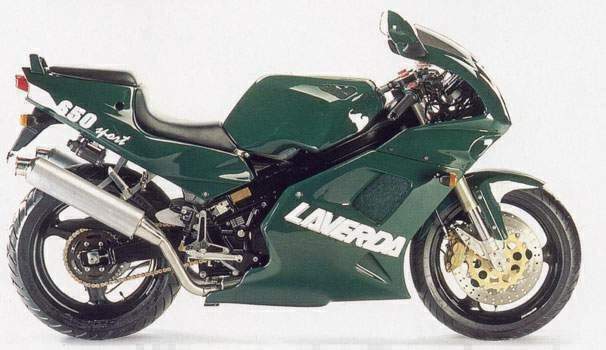 Among them, the 750SS is one of the purest and, at £6400, the most relevant. Try not to think of it as a poor man's 900SS. These days standard-issue twin discs and a full fairing give the 750 a spec to match pretty much any Duke this side of a 916. Banish also the notion that it's an underpowered, emasculated pretender. While that's certainly true of the plain limp 400SS and even the disappointingly slow 600SS, the 750 desmo two-valver has always been an admirable mill: enough flexible poke to uproot picket fences; long-enough legs to drone and drive on and on up to eight thou or, in top, a respectable 125mph.
The hairs stand up on the back of your neck from 15 yards away. Closer-to, the creamy red paint, spindly, triangulated frame and inimitable Ducati V brings a lump to the throat. The majority of the running gear is classic 900SS: a bronze-painted, impossibly-light lattice frame; the box-section ally swing-arm which cantilevers onto a single Showa shock; the beefy, inverted Showa forks and the twin Brembo dinner plate stoppers up front. Plus that cloak of scarlet and gold. There are, still, a few compromises for the sake of cost. The front forks, for example, are non-adjustable where those fitted to the 900 get lots of knobs and screws to play with. But these days you're pushed to spot them.
Luxury and class the 750SS may have, but Ducatis traditionally possess their fair share of quirks too. Slot aboard for the first time and your senses are immediately bombarded with a fair bucketful of unfamiliar thing, funny flat and narrow bars; slightly odd Ducati switchgear and startling white-faced Veglia instruments. But by the same token it's these sort of things that add-up to the brand's uniqueness.
As you'd expect of a relatively lightweight 750 twin, the SS is small, yet from the saddle is impressively upright, airy and roomy. Where the Laverda is all hunched and low, the Ducati is comparatively tall, and slight. There's lots of daylight within an SS: plenty of space between fairing and engine; a certain bagginess around the console and enough room to swing a cat between the frame tubes and inclined shock under the seat. All of which gives the SS a sense of modern-day classic that very little else approaches. You can see everything you're getting with the SS. It's all chunky metal, cooling fins and lean purposefulness.
Surprisingly, it's fairly practical too. A decent grabrail, fairing and reasonable mirrors add to the relaxed riding position and respectably padded (but slippery) seat to give a bike you'd realistically contemplate high mileages, pillions and luggage with. You'd be a little bonkers to actually do it, of course - the SS is a long way from being a tourer. But a two-up trip, say, to the TT is possible where on the Laverda it'd be plain purgatory.
And then there are the real reasons for buying a 750SS.
Press the starter: ku-chugg, ku-chugg, ker-ching-ker-ching. Wind open the throttle. Bap-bap-bap-bap-booOOOM-BAAaaaa. Heh-heh-heh. There IS nothing like it. People DO gawp. You can't help but grin. Then you gas it.
It's that unique combination of meaty engine and lightweight chassis that does it. Revs rise comparatively slowly: treacly, thickly. But because the engine's so light and narrow, and the chassis so emaciated, the bike leaps forward — fast. It's the opposite of a Jap four. Instead of a free-rewing but relatively characterless motor driving a heavy, lumbering chassis you've got a perky, lumpy banger of engine gunning a flighty chassis you can see and understand. There's a good and honest, old fashioned zest here that modern Jap fours can't match. There's no need for aggressive blipping of throttles, no frantic gear changes to keep the bike on the boil and no five-figure powerbands. And the 900SS, of course, has got even more of it.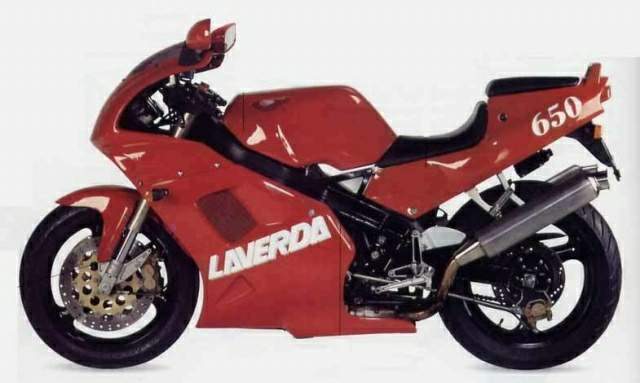 If you've never ridden a 900 you'd never notice. The 750 is a well-rounded, fun engine in its own right. It wheelies and bounces, booms and clatters more easily than any other bike in the class. The extra top-end rush and beefier midrange of the 900 would be nice, but the 750's still effective and addictive. Instead it's only the hesitant flat spot at 5000rpm that truly annoys and requires you to consciously wind and keep stirring the 750 above and beyond.
There are other Ducati quirks too. The clutch, traditionally, feels a touch brittle and you sometimes have to stifle a pained grimace when slipping it in traffic to overcome the tall first gear. And the gearbox itself, though hardly Stone Age and much improved in recent years, can still be a little ragged and rough. It's often difficult to find neutral at standstill for example. But it's certainly not bad enough to dimish the drivetrain's overall appeal.
Because the desmo V is so usefully tractable, going fast means 'brisk and relaxing' rather than 'manic and frenetic'. On quick A-roads you can almost keep in top gear all day long: winding the throttle up and down the range between about five and 8500 '(the redline's at nine, but it starts running out of breath swiftly above 8000rpm), finding a lazy and smooth (but quick) rhythm; braking and steering smoothly, imperceptably, almost as if the bike's an extension of your body. Bliss basically.
The bike's handling characteristics are broad in the same sense - delivering and invigorating whatever your mood. It's no sharp-fronted scratcher. Compared to the Laverda, for example, the weight bias is more rearwards and the riding position and attitude in general are more upright and relaxed. But it's still a handler.
Long and tall next to the Laverda maybe, but the Ducatis still a sharp steerer and a light, flighty sports bike when you're in the mood. It's not quite as solid, as surefooted as the Lav - but then it's not got quite as good tyres as the 650 either. Gas it on an uneven road and the bars are inclined to flap and wiggle; absolutely nail it through an esses and the frame flexes a touch. But it's all excitement rather than criticism.
The Showa suspension front and back is sophisticated and smooth. The huge brakes - which are often unnecessary when you're in a lazy roll-it-around mood such is the engine braking of the engine — are tight and powerfully crisp and the drilled discs give an intoxicating fizz. The whole experience is a rich, invigorating feast. I'm still not sure sometimes where I stand on Ducatis. They're soooo Italian: the ecstasy and the agony, enrapturing and infuriating. The spring-up sidestand that drives you bananas; the switchgear that places the lights on/off switch right next to the similar choke on/off and could drive you into a ditch, the lack of a fuel tap and all that glorious, exposed finning and metal which would be an absolute nightmare to keep clean. Today, however, I'm stricken with lust. And at that price I'd forgive it all of those things. The 750SS is a beaut.
LAVERDA 650 SPORT
YOU'D HAVE THOUGHT it had a snowball's chance in hell. One Wednesday, early December; 10.30pm, pitch black and cold, blustery winds, greasy roads and a knackered, late-working rider with 15 miles to go before bed. It was the sort of dank misery when no bike is fun; the sort of conditions when motorcycles, at best, are efficient, quick transport and, at worst agonising death traps from hell.
It was my first ride on the Laverda 650. By the first roundabout counting sheep was forgotten. By the second, I'd broken into the scratcher's smile I hadn't worn since September. I went on a ten-mile detour along some of my favourite roads, arrived home half an hour later than usual and gave the Lav an affectionate pat as I parked up.
In such moments love is awoken.
Everyone who rode it agreed. The new Laverda 650 is an addictive little terrier of a sportsbike. You slot into it like a lolly in its wrapper. It dives into and around corners with the slick rush of a bobsleigh. Its fuel-injected mill powers out with a hungry, eager thunder no other parallel-twin gets close to. And its brakes, suspension and chassis are all first class. The damn thing is bloody good. Yes, I was surprised.
Though the Ducati 750SS is genuinely its closest competitor in terms of being an air-cooled Italian sports twin with comparable price and performance, they hit different nerves and have totally diverse pedigrees.
Instead, perhaps the best counterpoint is the Norton F1 rotary.
The Norton F1 was magnificently unique when launched back at the tail-end of '89. Superb twin-beam Spondon frame; top notch White Power suspension and Brembo brakes; an, erm, distinctive yet potent motor and all-round cute dimensions and styling. Only with time and cruel experience were its jewel-like qualities tarnished.
In that context, the Laverda 650 shares much with the Norton, yet deserves to fare much, much better. To start with, like the F1, the Lav's specification reads like a Who's Who of the motorcycle component industry elite: Pirelli Dragon tyres; lightweight, race-spec Marchesini wheels; huge, floating Brenibo discs and four-pot calipers; White Power inverted forks and rear shock; Nico Bakker-designed frame; fuel-injection and braided steel hosing all over the place. Buy a Laverda and within a week you'll have got that lot down pat and your drinking mates will be sick of the sight of you.
Also like the Norton, in a sense, is the use of an engine which, in some form or another, has been kicking around since the days of The Rubettes and Osmonds. The Laverda twin is based on the power-plant of the old, air-cooled 500 Montjuic, but taken out to 668cc and given new four-valve heads, Weber-Marelli fuel injection and a brace of oil coolers inside each side of the fairing.
And that's where the Norton similarities end. Though of decidedly mixed parentage (a bit like having an 80-year-old dad and a 24-year-old bimbette as your mum), the Laverda's engine is different, invigorating and fast. Though a bit vibey and clattery in the lower reaches, wind it above six thou and it goes absolutely ballistic, racing on and up, and bellowing towards the red and the 9000rpm rev-limiter like it's had a sniff of nitrous. This is the first four-stroke twin I've ridden with a serious powerband. Throttle action and response is light and instant, and after those first few exploratory miles the temptation to exploit it all by spending eternity between 7000rpm and 9000rpm is always there. On my first free day with the Lav I went to Bournemouth and back: 500 miles of December, Happy Eaters and clip-ons. Had a bloody great time.
Willing partner in this party act is a smooth, crisp gearbox with ratios spaced just right to make the most of that 7-9()00rpm charge. On the downside, the cable clutch is on the weak side and started to slip above 8500rpm towards the end of our (overly enthusiastic maybe) two week test. While the exhaust note, reverberating through the twin stainless steel cans, fails to match the evocativeness of its delivery, sounding somewhere between a tortured Z250 Kawa and the old Monty, depending on who you listen to.
On a good day, 135mph. Quite staggering for an old, air-cooled 650 twin.
But the engine's not even half the story. The chassis, balance and proportion of the Lav, and the attitudes and abilities they incorporate, are simply mouthwatering. This is no sportsbike in the way a scrawny KR-1S is, or in the way a dense, high-tech jet like the YZF750R is - it's a sportster built to revel on the road, Italian style. With the weight carried low, the stiff Bakker frame and the superb front-end mix of Pirelli, Marchesini, Brembo and White Power, the Laverda is one of the most delightfully steering bikes I've ever ridden. It's the old adage: think it and it's done. But it's that combined with good stability, a reasonable rear-end and a graunchy, utterly distinct engine that makes the Laverda a much meatier, richer feast than most other single-minded sportsters.
The Laverda is eager, bristly and willing. But it can be easy and relaxing too, certainly enough to soften the passage of long miles. Most of the time, however, you don't want to. It encourages you to rush about, to revel and rebel where the Ducati prefers to stroll. The Laverda is fruity, four-star fun, where the Ducati is cooler, more gentlemanly, more laid back. On the Laverda you want to harry and chase and keep on accelerating and accelerating and then disappear. But on the Ducati you're half-inclined to wave pleasantly at passers-by.
As a fun bike, as a different bike and as a performance bike, the Laverda massively impressed. No mean achievement considering the years of scepticism and doubt that had adhered itself to the marque. Sure it's not perfect: the chromed clip-on bars look like the sort of tat I used to kick straight on my old LC racer; the tank is only good for around 90 miles and the filler (under the seat) is fiddly. What's more the paint finish, headlamp and fairing fit isn't too clever either. All of these things, however, I'm prepared to forgive. It may have some way to go before it deserves the prestige and following Ducati has taken years to earn. But as a machine, and in the way it performs, the Laverda 650 is immensely impressive, riotously addictive and, possibly just as important, distinctive too. Laverda promises this will be the lowest spec bike they'll ever make — and that bodes excitingly for the future. But for the present, the 650 Sport, at £6750 (or half what the comparable Norton Fl cost six years ago) is a damn tempting prospect already.
CONCLUSION
We had no idea what to expect of the Laverda 650 Sport. The Ducati, by contrast, was known, loved and a challenging rival for anyone - let alone a freshly reborn company plagued with a history of difficulty. So the real surprise here is how closely these two bikes are matched. The term hair's breadth springs to mind. What separates them is a number of things. The Ducati, unquestionably, is the better appointed, more proven, classier machine. But don't write off the Lav too quickly. Where the Duke has cost-cutting non-adjustable forks and an old-fashioned cantilever rear-end, the Lav has no-expense spared components. All that lets it down is the quality of its execution. Its paint could certainly be better, its detailing is lacking a touch.
That apart, the Ducati is the more laid-back bike, more of an all-rounder, more mature. The Lav, though more adept over distance than its diminutive size would suggest, remains a bit of a small toy; a uniquely Italian middleweight scratcher. Concoct a race between here and, say, Wales and I'd go for the Laverda every time. Make things less of a rush or throw in a pillion and the Ducati would be my more likely favourite.
But again, that is a tremendous achievement. Ducati's own 600SS would have been murdered in a comparison test against the Lav. And the.750 version, with years of development and 80 extra cc is still destroyed on outright performance. On that basis alone, Laverda's revival is an achievement of near Triumph proportions.
So which would I go for? I'd be more than happy with either. My personal taste tips me towards the Laverda. My natural scepticism pressures me to play safe with the Ducati. Then again, Ducatis are commonplace these days. Let's, as they say, go to the Lav.
Source Bike Magazine1995