Lazareth Supercharged Buell XB12S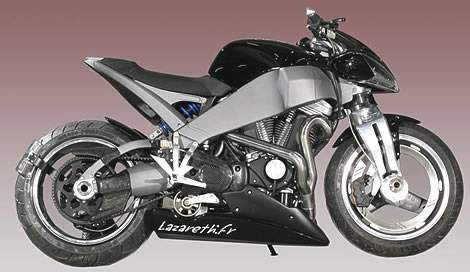 The stock XB12S puts out a little over 100 horsepower, which makes for a lively enough streetbike given the Buell's traditionally short wheelbase and the grunty delivery of the Harley-Davidson motor. Lazareth has fitted a supercharger from a Mini Cooper S to pump the beast up and take it into lunatic territory.
The front wheel will likely spend a lot of its time at eye-level, which is just as well because it's mounted on a single-sided fork assembly that people will want to gawk at. The rear wheel, likewise, gets a single-sided swingarm, so the left profile of the bike is very tidy indeed – except for the huge belt drive for the supercharger.
We're told that Lazareth has built this Buell with adjustable steering head angle and swingarm length – so it's possibly one of the most tunable chassis setups we've ever seen on a roadbike, opening up a wide range of handling characteristics.