Lehman Crossbow 2011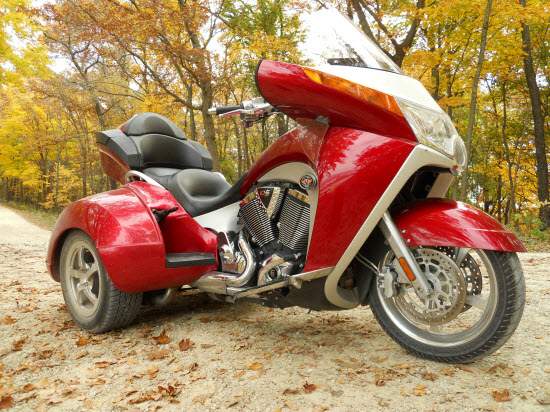 Lehman Trikes' Crossbow motorcycle is a strictly American product. In the U.S., motorcycling is a recreational pursuit, and the Crossbow aims to make that pursuit as enjoyable and effortless as possible. The motorcycle is cushy and comfortable. When you sit on the Crossbow, it's a little like sitting in an office chair: back straight, legs outstretched, feet flat. It falls in the category of luxury touring motorcycles and the 2011 edition carries an MSRP of about $34,000. What's more, the motorcycle features a V-Twin engine, something as synonymous with America's byways as the roadside diner.

But first, a little background. Lehman Trikes is actually a second-party trike (i.e., three-wheeled motorcycle) conversion company. The company formed in the mid '80s and has since grown a solid base of dealer reps across the U.S. With its growth has come the trike industry as a whole. Today, trikes represent one of the most noticeable shifts taking place in the world of motorcycles.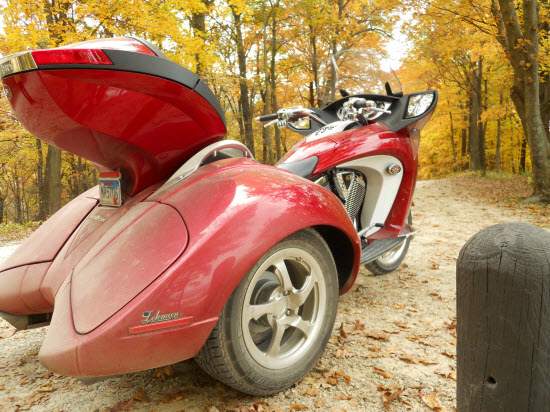 Lehman Trikes starts with a two-wheeled motorcycle from a traditional motorcycle manufacturer, like Honda, and converts it to a trike at its Spearfish, S.D., headquarters. Lehman can convert motorcycles from Honda, Harley-Davidson and Suzuki into trikes, and it offers warranty-backed, factory-direct-conversion motorcycles—like the Crossbow—from Victory Motorcycles, a subsidiary of Polaris Industries. The Crossbow is powered by Victory's Vision model.
Impressions

It's a crisp October afternoon in Madison, Wis., today, and I'm about to start the first half of my 600-mile weekend trip with a 2010 Crossbow. By tonight I'll be visiting my brother and his family in Mankato, Min. Last night, after picking up the Crossbow at Vetesnik's Mad City Power Sports, my local Lehman Trikes dealer, I took the machine for a few warmup laps around town. I felt pretty comfortable riding a trike for the first time; instead of countersteering to initiate a turn, you just point the wheel in the direction you want to go. It's kind of like steering a big, luxurious go-kart with handlebars.

I had never ridden a motorcycle with cruise control before the Crossbow, and I'm loving it immediately upon hitting I-90, which will see me most of the way to Mankato. Right away, I click up to 6th gear (overdrive) and set the cruise—this will be easy sailing.

I start to get a little giddy fiddling with some of the creature comforts equipped on the Crossbow: the cruise control, four-speaker stereo, adjustable windshield, the works. The motorcycle also has a heated seat and grips, but it's early October and I don't quite need to test those features.

I'm sitting upright, feet forward. The Crossbow's seat is comfy. Two hours into the trip, my back and bottom feels great—no aches from leaning too forward or absorbing too many bumps in the road, thanks to the adjustable air rear suspension. The handle bars are well positioned so my shoulders feel great, too. One of the things that makes riding the Crossbow so easy is its windshield and large front fairing. Pretty much my entire body is protected from the wind.

Certainly, the curb weight of the Crossbow—1,187 pounds—contributes to such smooth and easy Interstate riding. There's not much that can jostle something that heavy. But this also makes the Crossbow a bit of a chore to steer around cities and towns. At stop sign turns, I'm finding myself "pre-steering" the trike, i.e., turning the front wheel and then accelerating; this is far easier than turning after accelerating. The Crossbow has a total of four brakes, two up front and one on each rear wheel, so bringing this much weight to a stop feels safe and easy. The trike's 1,731-cc engine—which pumps 97 horsepower and 113 foot-pounds of torque—carries power enough for the open road, but I'm not expecting to win any drag competitions with a trike this heavy.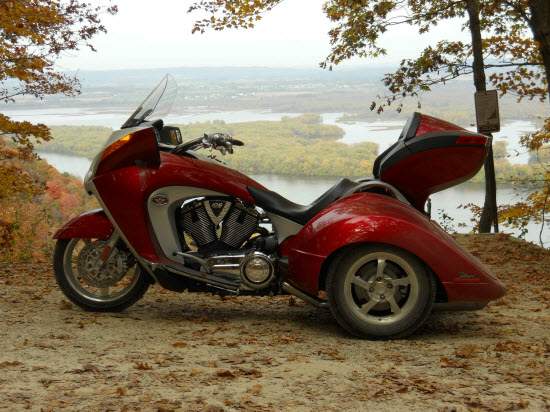 Just in case the weather turns foul, I have chaps and rain gear tucked away in the side trunk and top case of the Crossbow. In total, there's about 37 gallons of storage on the trike. Don't get me wrong: That's a lot of storage space, but the Crossbow's curvilinear design—which is certainly eye-catching in its own right—doesn't leave the opportunity to strap down additional gear, and there's not really a place for a tankbag, either.

It's approaching 6 p.m. and I'm taking the final few turns before I reach my brother's driveway. Even though I put on a solid 300 miles since this afternoon, I could definitely tack another 150 without breaking a sweat—all you need to do is point the Crossbow in the right direction, sit back and enjoy the ride.

But how good of a fit is the Crossbow for Beginning Riders , 2) an Intermediate Rider , 3) and an Expert Rider?

Beginning Rider
Obviously, it doesn't take much effort to keep the rubber side down when driving a motorcycle with three wheels. Some novice riders see this as a major advantage of driving a trike like the Crossbow. However, since the Crossbow is so heavy, it does take a lot of effort to push and pull the handlebars, and this problem is amplified when riding in urban areas.

Intermediate Riders
An intermediate rider won't have any troubles with driving and steering the Crossbow. They'll be ready to put big miles on this motorcycle: Just point and twist! (And then set the cruise control.)
Expert Rider
Expert riders will have no trouble driving the Crossbow to the ends of the earth, but I think they'll truly miss the exhilaration of commanding a motorcycle around graded turns and down mountain switchbacks.
No matter what one's riding experience, a trike is an obvious choice for older riders who might not feel comfortable on just two wheels anymore, but, really, any motorcyclist could thoroughly enjoy a trike like the Crossbow. Lehman Trikes
Source smartcycleshopper.com Lehman Trikes