Maico GS 440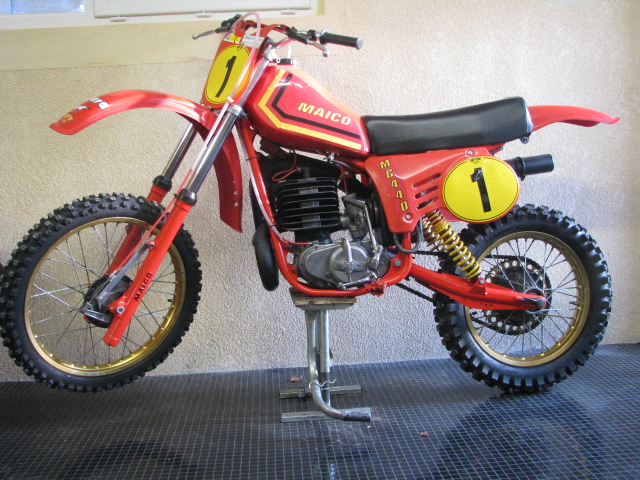 | | |
| --- | --- |
| Make Model | Maico GS 440 |
| Year | 1992 - 93 |
| Engine | Single cylinder, two stroke, SOHC |
| Capacity | 438 cc / 26.7 cub in. |
| Bore x Stroke | 82 x 83 mm |
| Cooling System | Liquid cooled |
| Fuel System | Bing, 40 mm carburetor |
| Lubrication | Oil bath |
| Exhaust | Single, upswept, right side |
| Starting | Kick |
| Clutch | Wet, cable operated |
| Transmission | 5-Speed |
| Final Drive | Chain |
| Front Suspension | Muller inverted air fork, adjustable for compression and rebound |
| Front Wheel Travel | 300 mm / 11.7 in. |
| Rear Suspension | White Power aluminium piggyback, adjustable for compression and rebound |
| Rear Wheel Travel | 345 mm / 13.5 in. |
| Front Brakes | Grimeca |
| Rear Brakes | Grimeca |
| Wheels | Alloy, laced spokes |
| Front Tyre | 3.00 x 21 Metzeler |
| Rear Tyre | 120/90 x 18 Metzeler All-cross |
| Dimensions | 2184 mm / 86 in. |
| Wheelbase | 1505 mm / 59.3 in. |
| Ground Clearance | 383 mm / 15.1 in |
| Seat Height | 960 mm / 37.8 in. |
| Wet Weight | 103 kg / 226 lbs |
| Fuel Capacity | 9.3 L / 2.2 US gal |
| Review | Dirt Bike, June 1992 |
To this day, there are people who say that the best Open-class powerband of all time was that of a Maico. The company developed a reputation for not only making a lot of power, but good power. That reputation is in no danger. The new Maico 440's shining asset is its motor. It's delightfully smooth and almost hitless. The engine is slow-revving, but the bike gets up and moves when it has to. In fact, the Maico's motor is more four-strokelike than most four-strokes.
How fast is it? The power is there, but it's so peakless that it feels sleepy. It's hard to lift the front end at an instant's notice—twist the throttle and the Maico goes forward. It doesn't wheelie and it doesn't spin. That's what made Maicos win races. To use a more recent bike for comparison, we would have to refer to the Husqvarna 400 from, say, '88. If you ever rode one of those, you know what we mean when we talk about smooth, effective power. That bike, if you remember, was noted for being like a Maico, but with more vibration. The new Maico, incidentally, doesn't vibrate nearly as bad as, say, a Kawasaki KX500. That's how old Maicos were, too.

There are some differences between old Maico power and new Maico power. For one thing, the new bike is a little easier to stall. When Maico eliminated the primary chain back in the early '80s, that resulted in eliminating some flywheel effect, too. It's not a real problem, once you get used to the idea of grabbing the clutch whenever you hit the brakes really hard. The engine has such smooth power characteristics that additional flywheel mass would be of no benefit, as far as traction is concerned. The bike hooks up.

Maico's Grimeca brakes are a weak point. We would like to see Brembos or Nissins.

CAN IT WIN?
Absolutely. We never really doubted that part.

SOUNDS GOOD SO FAR
So what's the catch? Is this Maico really as good today as Maicos of the past were in their day? Maico used to be known for handling excellence. This Maico uses a lot of the same geometry as the last Maicos we saw in this country. Is that good enough? Yes, but just barely. Today, the Maico is an average-handling motorcycle. It has a little bit of a head-shake at speed, and it's not as good in the turns as a Honda or Suzuki. The bike is tall, long and big, and you start noticing that when you have to take your feet off the pegs in tight situations.

Long-legged riders will complain that the footpegs seem absurdly high, making it very difficult to go from the seated position to standing up. It's almost worth that price, though, when you are whisking past stumps and other evil things that threaten to brutalize your feet. The Maico has a lot of ground clearance and those high pegs keep your feet well above harm's way.

We didn't have time to get the suspension perfect. That's one of the big problems with White Power shocks: There are a million settings and one will be good, while the others won't work at all. With the Muller fork, there are a zillion possibilities, and it hasn't yet been established that any of them work.

What worried us most about the new Maico was its reliability. Small manufacturers like this tend to cut corners in the weirdest places, but in the course of three back-to-back races with almost no maintenance, the Maico gave us little trouble.

These are the problems that did surface: First, the fork seals began to leak. The ooze found its way to the front disc and weakened an already weak brake. Then, in the final race, Barry Higgins managed to heat up the rear brake to the point where it stopped working. We would like to try some high-temp brake fluid and maybe some insulated pads. The first time that we pulled in the compression release, the end of the cable pulled off. It was re-attachable. At first we missed a whole bunch of shifts. It took us a little while to remember to shift, not just jab at the lever.

If this sounds like a lot to worry about, then you should probably look elsewhere for an Open enduro bike. The Maico is for someone who wants to be different from the rest of the pack and doesn't mind paying a premium, both in initial purchase price and in time spent setting things up properly. No one wants to be different so much that he gives himself a disadvantage, and with the Maico, you won't have one. Lawson, Almon and Higgins all rode about as fast as they would have ridden even if they were on their respective favorite bikes.

The only difference was that more people noticed them doing it.