Maico M125
| | |
| --- | --- |
| Make Model | Maico M125 |
| Year | 1948 - 51 |
| Engine | Single cylinder, two stroke |
| Capacity | 123 cc / 7.5 cub in. |
| Bore x Stroke | 52 x 58 mm |
| Cooling System | Air cooled |
| Fuel system | Bing carburetor |
| Exhaust | Single, chrome silencer |
| Starting | Kick |
| Max Power | 4.04 kW / 5.5 hp @ 5200 rpm |
| Transmission | 3-Speed, manual |
| Final Drive | Chain |
| Frame | Double closed tube |
| Wheels | Steel, laced wire spokes |
| Front Tyre | 2.50 x 19 in. |
| Rear Tyre | 2.50 x 19 in |
| Front Brake | Drum, 125 mm |
| Rear Brake | Drum, 125 mm |
| Wet Weight | 84 kg / 185 lbs |
| Top Speed | 75 km/h / 47 mph |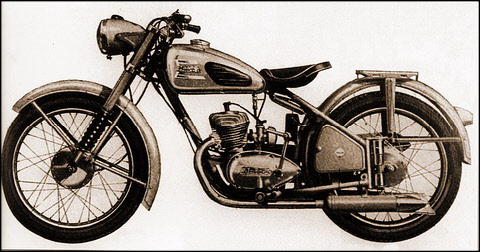 The M 125 was the first bike with the Maico signature. It was a single cylinder, two stroke, 123cc engine whose production started in 1948. Only one year later, the M150 was on the streets and the M126 and M 151 were released in 1951.
For some time after the second world war, Maico survived by repairing old machinery, on wheels or otherwise.

But things abruptly turned for the better when the new Deutsche Mark was introduced on June, 20. 1948. Suddenly, the market for small motorcycles virtually exploded, and Maico set out to improve its reputation as a motorcycle manufacturer by building its own engines. Designed by Willy Tezlaff, the new Maico 125cc two-stroke single featured modern Schnürle "reverse scavenging," produced 5.5 hp, and in the Model M125 (pictured above and below), was capable of 40mph sustained cruising.
Power was not the top priority of the customer of the day. Rather, reliability and durability were of greater importance, and Maico offered these to its customers, proven and promoted by participation in "reliability runs," which were the precursors of todays enduros. Maico actively campaigned these events to test and develop its products, and as early as 1950 had three works rider on it's pay-roll, including Ulrich Pohl. He had been one of the most successful off-road riders, and was captain of the German ISDT team prior to the war. He joined the Maico factory as an engineer and rose to the position of Chief Engineer.

In 1952, the M175 was introduced (pictured above and below), and depicted at the Herrenberg meeting with an example owned by Fritz Breitmaier. It was a completely new design that captured six gold medals at the 1952 ISDT. This was also the year that the European Motocross Championship was created by the FIM, and both Maico and Zundapp made their mark. Maico earned such international recognition that the company sold as many M175s as it could produce.