Maico MD 250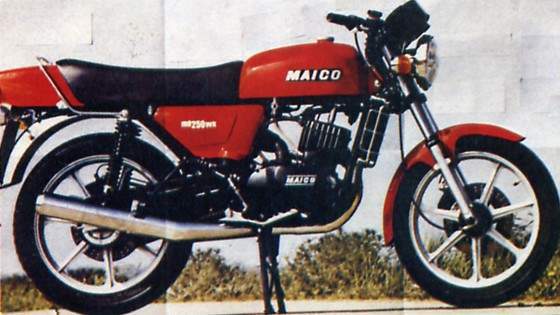 "MD 250 WK"
Make Model

Maico MD 250

Year

1971 - 83

Engine

Single cylinder, two stroke, SOHC

Capacity

245 cc / 15 cub in.

Bore x Stroke

76 x 54 mm

Cooling System

Air cooled

Compression

MD 250, MD 250 WK: 11.7:1

MD 250 Cup: 12:1

Fuel System

Carburetor, Bing

Exhaust

S.E.E.S. system

Ignition

Pointless, Kröber

Starting

MD 250, MD 250 WK: Kick

MD 250 Cup: Pushing

Max Power

MD 250, 250WK: 20.4 kW / 28 hp @ 7000 rpm

MD 250 Cup: 27.2 kW / 37 hp @ 8600

Transmission

6-Speed

Final Drive

Chain

Clutch

Wet, cable operated

Frame

Double-loop tubular, 22 mm

Front Suspension

Ceriani fork

Rear Suspension

Girling shocks

Front Brake

Drum, 180 mm

Rear Brake

Drum

Front Tyre

2.75 x 18 in.

RearTyre

3.25 x 18 in.

Wet Weight

126 kg / 278 lbs

Fuel Capacity

12.5 L / 3.3 US gal

Colours

Red, Blue, Yellow, Green

Top Speed

159 km/h / 99 mph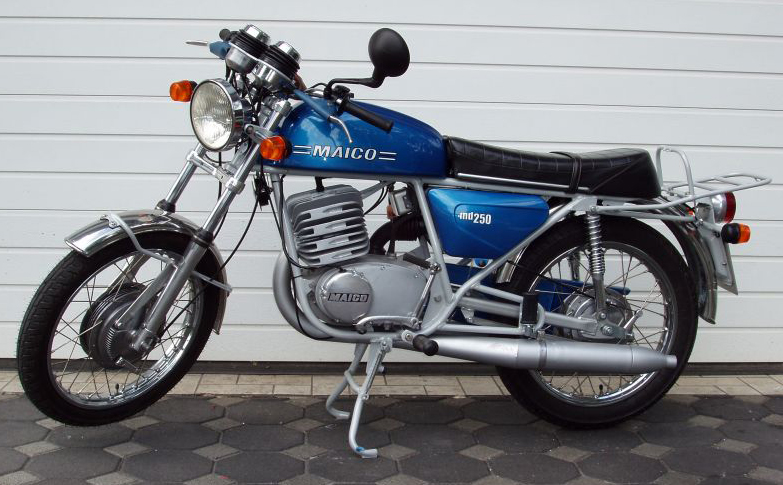 Hinn, a former shop floor chief with the Maico factory, had been the man who championed the MD250 on the agenda of Maico production. As early as 1971, motivated by the success of the 125cc RS, the first over-bored 220cc Maico made its way to first tests. Provided with a more robust crank and a bore of 76mm and stroke of 54mm (same as the 125cc), the displacement grew to 245cc, and power increased to 32hp. When the first Maico MD250 (pictured above and below) was introduced at IFMA 1972, power had fallen to an official 28hp, but this was still absolutely competitive, particularly if you consider the low weight of 126kp (277lbs)! Modern attributes included a pointless ignition by Kröber, and a Ceriani fork, and Girling shocks. This professional stuff was completed with a 180mm Grimeca drum brake for the front wheel, which was actuated by forged Tomaselli levers.

So things were not looking too bad for the 1973 season. The debut of the only assumed German competitor in its class--the Hercules Wankel--was delayed until 1975, so the exotic Italian Moto Morini 350 four-stroke V-twin, and all the Japanese bikes, like the Yamaha RD 250, were the main competitors in a booming market. Sadly, something went wrong for Maico. While Yamaha alone sold about 4,000 RDs in 1973, Maico failed to sell 100 units. The main reason for this disappointment was not a lack of speed or inferior handling, but missing refinement. There was no "autolube," no easily read tach and speedo, no disc brake in front, and was a single. The young customers at that time raved about the cultivated AND fast Japanese two-stroke twins. And for a select minority of customers, there was even the Kawasaki triple. Maico had no chance against this kind of sophistication. Today, things look not that different at first glance. The facts did not change. But if you balance comfort versus agility into the equation these bikes were originally made for (yes, Hockenheim at under 1.30 for the old short circuit); if you are willing to trade comfort for superior handling, yes, then you will change your mind.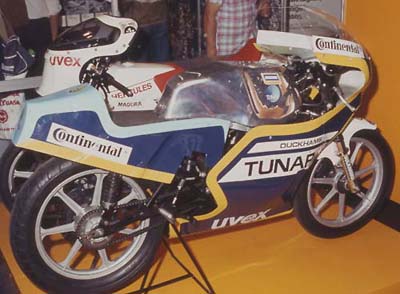 Although the first air-cooled version of the MD250 was no sales success, Maico did not surrender. In 1978, the second version with a water-cooled engine was presented to the public, the MD250WK (pictured above and below). Mechanical noise, caused by whipping cylinder fins. was largely eliminated. Thermal safety improved, and the cylinder liner liner was coated with NiKaSil. Brembo disc brakes and cast aluminum rims completed the new package, but little changed. The sales rate went to nil.

To produce some publicity and increase interest with the customer, Maico decided in 1981 to install a Maico racing cup for young riders. Fifty units were produced, providing 37hp@8600rpm. Changes on the engine included a heightened exhaust port and an improved expansion chamber. The motorcycle got a sleek tank/seat combination and rear-set pegs.

In 1982, Maico gave up. While Yamaha had landed an instant sales-hit in 1980 with the RD250LC, which continued with its RD350YPVS into 1986, Maico had sold less than 300 motorcycles in four years. Nevertheless, it must be said that the small Maico company was one of only a few German firms that tried to compete in a market crowded by excellent Japanese middle-class motorcycles. And there are those who still appreciate this effort, as witnessed by the group of enthusiasts who held their third annual meeting at Herrenberg to celebrate the Maico brand. I can understand their continuing reverence.