Maico Mobil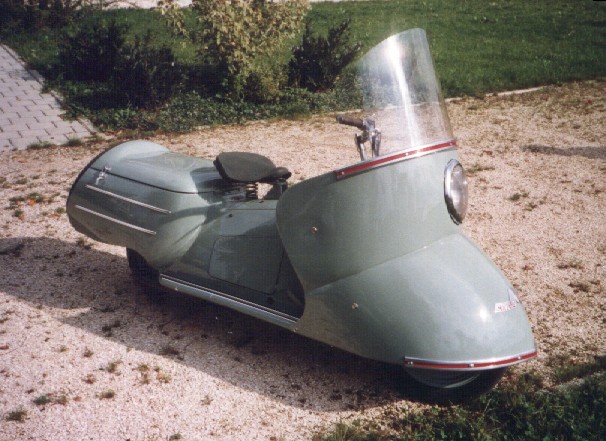 Make Model

Maico Mobil

Year

1950 - 58

Engine

Single cylinder, two stroke

Capacity

149 cc / 9.1 cub in.

174 cc / 10.6 cub in.

197 cc / 12.0cub in.

Cooling System

Air cooling

Oil/Fuel Mixture

1:24

Exhaust

Single

Fuel System

Bing carburetor

Starting

Kick start

Max Power

200 cc: 8.1 kW / 11 hp @ 5000 rpm

Clutch

Wet, cable operated

Transmission

4-Speed

Final Drive

Chain

Frame

Tubular space frame with bolted steel and aluminium body panels

Front Suspension

Telescopic fork, steering damper

Rear Suspension

Swingarm with coil springs and dampers

Front Brakes

Drum, 6.5 in

Rear Brakes

Drum, 5 or 6 in.

Wheels

Steel

Front Tyre

3.00 x 14 in.

Rear Tyre

3.00 x 14 in.

Fuel Capacity

9.5 L / 2.5 US gal

Colours

Pale green

Source

Wikipedia
'With its latest product, the Maico-Mobil, Maico have introduced a completely novel type of machine which lies mid-way between the conventional motorcycle and scooter; it may be that this will prove to be the true touring machine of the future.' – Maico.

One has only to look at the admirable capabilities of today's increasingly popular 'super scooters' to realise that Maico were right, if more than just a little ahead of their time. Maico's 'car on two wheels' was premiered in June 1950, its all-enveloping steel bodywork disguising the fact the beneath it lay a conventional motorcycle-style duplex loop frame complete with top tube and 14" diameter wheels. Power, what little of it there was, came from a 150cc single-cylinder two-stroke engine that struggled to endow the 250lbs-plus machine with any kind of performance, a shortcoming not addressed until 1954 when 175 and 200cc versions were introduced. Nicknamed the 'Dustbin', the Maico Mobil succeeded in providing motorcycle handling combined with scooter convenience and weather protection for discerning enthusiasts up to 1958 when it was withdrawn, although the more conventional Maicoletta continued in production until 1966. Today there are few scooters more eagerly sought after by collectors than the outrageous Maico Mobil. As Peter McManus observes: 'This would draw a crowd anywhere!'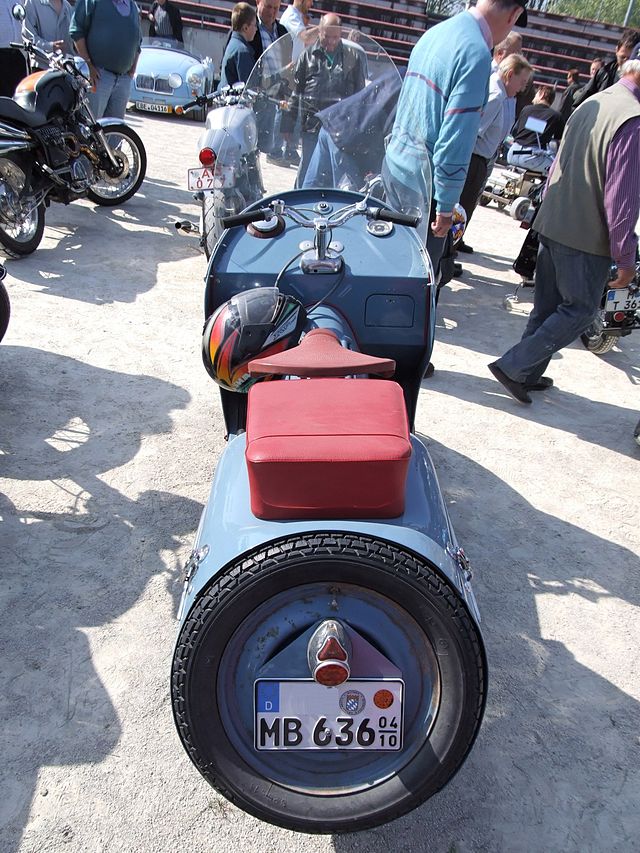 The Maico Mobil is an early touring motorcycle made by Maico between 1950 and 1958. Conceived and marketed as a "car on two wheels", the Mobil had body panels that enclosed the drivetrain, protected its riders from the elements and included an integral pair of panniers and a mount for a spare tyre.

The Mobil had a tubular steel space frame on to which steel and aluminum body panels were bolted. A large front fairing enclosed the front wheel. Mounted on the fairing were a transparent plastic windscreen that wrapped around the handlebars, a dashboard through which the steering column protruded, and lower panels containing a glovebox and provision for a car radio to be installed. Mounted on the dashboard were the ignition switch, the speedometer, and the fuel filler cap; the fuel tank was mounted to the frame under the dashboard.

The rear bodywork included a pair of integral panniers and a rear mount for a spare wheel. The panniers were accessed by unlatching a panel under the pillion.

The Mobil used telescopic front forks and a rear swingarm.

The Mobil originally had a 150 cc single-cylinder two-stroke engine mounted between the dashboard and the rider's seat. Access panels on both sides of the Mobil could be removed to work on the engine. Power was transmitted through a three-speed transmission operated by a twist grip.

The capacity of the Mobil's engine was increased to 175 cc in 1953. An optional 200 cc became available in 1955, the same year that the three-speed twist-grip controlled transmission was replaced by a four-speed transmission controlled by a heel-and-toe pedal shifter.