Maico Taifun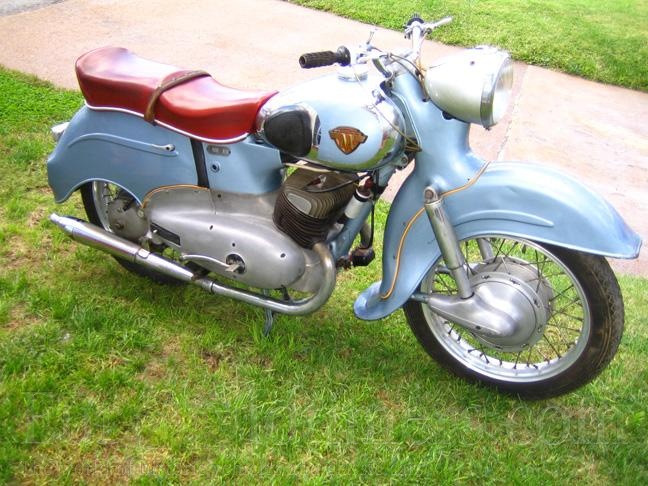 | | |
| --- | --- |
| Make Model | Maico Taifun |
| Year | 1953 - 58 |
| Engine | Single cylinder, two stroke |
| Capacity | 395 cc / 24.1 cub in. |
| Cooling System | Air cooled |
| Starting | Kick |
| Max Power | 16.2 kW / 22 hp |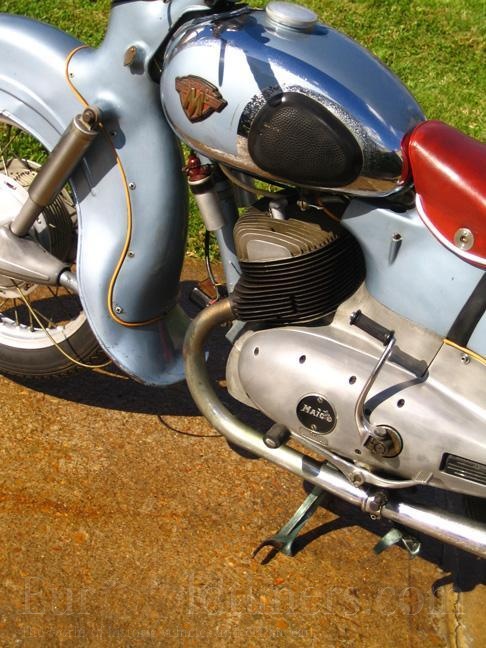 How much the German motorcycles of the 1950s actively competed with cars can be seen in the 1953 Maico Taifun, presented at IFMA in the fall of that year. In development since 1951, this motorcycle was intended to offer the positive features of cars. It offered more comfort through a smoother twin-cylinder engine, a quieter and more reliable final drive achieved with a completely enclosed chain, and reasonable power from 350cc and 400cc engines.

It offered stunning styling, not only in its bodywork, but with all of its mechanical parts, including its engine and suspension. To be taken seriously as an alternative to the small cars of the day, the Taifun had to be capable of carrying a sidecar. For this purpose, an Earls-type swing arm was used, and widely flared fenders provided protection from water and road grime.

When the 22.5hp 400cc Maico Taifun offered in 1954 had a lot more power than a 350cc Triumph Boss (16hp) or the popular DKW RT350 Twin (18hp), but problems emerged under sidecar use, including overheating ignition coils and breaking spokes in the rear wheel. Although it was sold until 1958, the breakthrough of a new touring concept that Maico had hoped for with the Taifun was never achieved. But to be fair, no motorcycle in the latter half of the 1950s sold well in Germany. Automobiles were on everybody's mind now, and many Germans were saving their money for a car.