Moto Morini 3½ Sport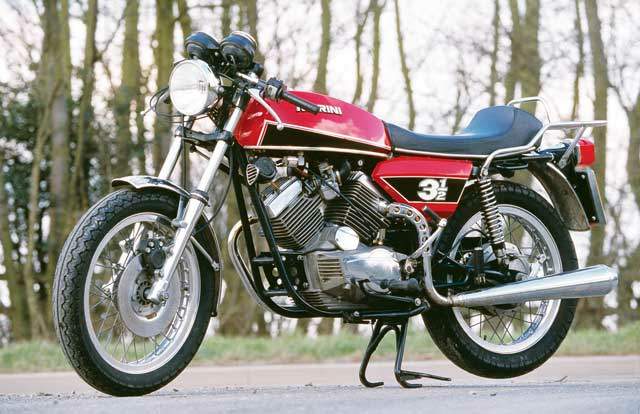 Model

Moto Morini 3

½

Sport

Year

1976 - 77

Engine

Four stroke, 72° V-twin, OHV, 2 valves per cylinder.

Capacity

344 cc / 20.9 cu-in

Bore x Stroke

62 x 57 mm
Cooling System
Air cooled

Compression Ratio

11.0:1

Induction

2x 25mm Dell'Orto carburetors

Ignition

Electronic CDI
Starting
Kick

Max Power

39 hp / 28.5 kW @ 8500 rpm

Max Torque

33.6 Nm / 24.8 lb-ft @ 6300 rpm

Transmission

6 Speed
Final Drive
Chain
Frame
steel twin loop

Front Suspension

32mm Telehydraulic forks

Rear Suspension

Swinging arm dual adjustable shocks

Front Brakes

Single 254mm disc

Rear Brakes

180mm Drum

Front Tyre

3.25-18

Rear Tyre

4.10-18

Wet Weight

160.0 kg / 352.7 lbs

Fuel Capacity

14 Litres / 3.7 US gal

Consumption Average

51 mpg

Top Speed

97 mph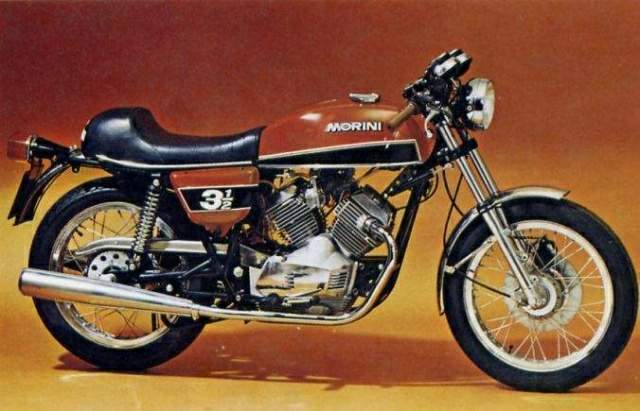 With my chin on the fuel tank, the throttle wide open, and the little V-twin motor clattering away between my shins, the red-and-black Morini accelerated until its speedometer needle was almost touching the 100 mph (160 km/h) mark. The roundabout ahead got closer and closer... until finally I sat up and squeezed the brake lever, the bike slowed, and I trod down four gears with loud blips of the throttle before flicking the bike onto its side.
Cranking through the roundabout at an angle that would have had many old bikes gouging lumps out of the road, the Sport was untroubled. Its Pirellis stuck hard, nothing touched down, the suspension remained in control. And when the roundabout's exit appeared, I flicked the bars and nailed the throttle again to send the bike shooting out, revs climbing toward the 8000 RPM red-line as I kept the motor boiling with the closely spaced gearbox.
Few Seventies bikes are as fun to ride as the Moto Morini 3 3 Sport. The little V-twin's combination of neat styling, agile handling, and rev-happy performance give much more appeal than its capacity of just 344cc would suggest. In its day the Morini's high price on a par with Honda's CB500-four and Suzuki's GT750 triple—prevented real sales success, but it made a big impression on all who rode it.
Like Ducati, Moto Morini was based in Bologna and became best known for V-twins after first producing small-capacity singles. Alfonso Morini had begun building bikes under the MM name in the 1920s, in partnership with Mario Mezzetti, and rode one himself to a class win in the 1927 Italian Grand Prix at Monza. After setting up under his own name following World War II, Morini built roadsters and successful racers, most notably the DOHC 250 on which Tarquinio Provini was runner-up in the 1963 world championship.
The 3; Sport was launched in 1974, and was one of two models powered by the air-cooled, 72-degree pushrod V-twin engine designed by Franco Lambertini. The basic 344cc model was the 3i Strada, which had slightly raised bars, rounded styling, and a conventional dual-seat. Unusually, the engine featured Heron cylinder heads—flat-bottomed, with the combustion chamber in the concave piston crowns, and parallel valves.
Peak power output was a respectable 39 BHP at 8200 RPM, and the engine was very fuel efficient. Morini claimed the same output at a slightly higher 8500 RPM from the 31 Sport, whose motor was identical apart from a hotter camshaft and different pistons that increased compression ratio to 11:1 from the Strada's 10:1. Other engine features shared by both models included electronic ignition, belt-driven camshaft, six-speed gearbox, plus a light and rigid chassis based around a steel twin-downtube frame.
The more glamorous Sport's fuel tank was more angular than the Strada's, and like the side panels, was finished in red and black. Low clip-on handlebars and a racy humped seat gave a lean, aggressive look, which on early Sports was further enhanced by a huge, double-sided front drum brake. Early Stradas made do with a more modest single drum; this 1976-model Sport was fitted with the Grimeca front disc that was introduced to both models at around that time.
After locating the ignition key down by your left thigh, you flick up the choke levers of the 25 mm Dell'Orto carbs and swing the left-sided kick-starter to bring the little motor to life with a restrained bark. The Sport's riding position puts too much weight on your wrists and bum, and explains why many early Sports were fitted with rear-sets. But the bike feels low, slim, and light.
The V-twin doesn't much like low revs, vibrating slightly and spluttering when the throttle is wound back at 4000 RPM. But at about 5000 RPM the Sport comes alive, feeling better the faster it spins. The real power is between six grand and the 8500 RPM peak. Keep the V-twin spinning using the six-speed gearbox, and the Sport will maintain a fairly smooth 80 mph (130 km/h), stretching its legs from there toward a top speed of about 100 mph (160 km/h).
The need for frequent gearchanging made it important that the six-speed box worked well, which it did at speed. Things weren't so clever at a standstill, when the Morini's curious lack of a neutral light sometimes meant I discovered a neutral between second and third then stalled when I tried to pull away in second.
But such minor complaints are quickly forgotten when the sun's shining and you find a good winding road. This is a small, light bike whose 1390 mm (54.7 in) wheelbase and dry weight of less than 150 kg (330 lb) compare favorably with most modern sport machines even if its old-fashioned steering geometry and 18-inch front wheel reveal its age. Stability was excellent, and the sharp-steering, well-suspended Morini went round corners effortlessly.
Other cycle parts were excellent, too. The single 290 mm (11.4 in) Grimeca front disc brake felt slightly spongy by modern standards, but it was capable of hauling the little Morini to a halt very sharply, aided by a small rear drum. And the Pirellis gripped well enough to make good use of the narrow Sport's ground clearance.
Of course the revvy Sport is a single-minded little machine offering a low level of comfort or practicality. In a straight line it was not particularly fast even in the mid-Seventies, and that is even more true now. But the Morini's blend of style and twisty-road performance surely qualify it for superbike status. On the right road, the V-twin is a blast, its revvy engine, excellent chassis, and reputation for reliability encouraging you to ignore its age and ride it hard.
That makes the Morini a desirable little bike all these years later, as does the fact that the Sport is now much more affordable than when new. Morini owners tend to be real enthusiasts who stick with the marque for many years. When you ride a 3i Sport, it's easy to see why.
Source Superbike of the seventes