Make Model

Motus MSTR

Year

2014 - 16

Engine

Four stroke, 90º longitudinal V4, dual OHV, pushrod, chain-driven single cam; hydraulic lifters

Capacity

1645 cc / 100 cu-in
1 - 4 - 3 - 2

Bore x Stroke

88 x 67.8 mm / 3.465 x 2.669 in
Intake Ø46.5 mm /1.83 in; Exhaust Ø38 mm /1.496 in
Cooling System
Liquid cooled

Compression Ratio

11.5:1

Ignition Sequence

TDC - 345º - 435º - 630º

Ignition

Closed loop electronic fuel injection
Starting
Electric

Max Power

134 kW / 180 hp @ 7800rpm

Max Torque

171 Nm / 17.4 kgf-m / 126 lb-ft @ 5000rpm

Clutch

Side-mounted wet, multi-plate

Transmission

6-Speed sequential gearbox

with dual overdrive

Final Drive

Chain

Gear Ratios

1st 2.07 / 2nd 1.53 / 3rd 1.21 / 4th 1.00 / 5th 0.87 / 6th 0.76:1
4130 Chrome-moly tubular steel trellis space frame with tubular steel swingarm
26º
108 mm /4.25 in

Front Suspension

43 mm Öhlins NIX30 inverted adjustable forks

Front Wheel Travel

130 mm / 5.1 in

Rear Suspension

Öhlins TTX36 progressive PS mono-shock with remote preload and rebound adjuster

Rear Wheel Travel

120 mm / 4.7 in

Front Brakes

2 x 320 mm floating discs, 4-piston monoblock radial calipers, Brembo

Rear Brakes

Single 200 mm disc, 2-piston pin-slide caliper, Brembo

Front Wheels

3.5 x 17, forged aluminium OZ

Rear Wheels

6.0 x 17, forged aluminum OZ

Front Tyre

120/70-ZR17,

Michelin Road Pilot 2CT tires

Rear Tyre

190/70-ZR17,

Michelin Road Pilot 2CT tires
Seat Height

825

mm / 32.5 in

Dry Weight

227 kg / 500 lbs

Wet Weight

256 kg / 564 lbs

Fuel Capacity

20.8 Litres / 5.5 US gal / 4.6 Imp gal
The 2014 Motus Sportbikes and MV4 Engine debut at the US Grand Prix at Laguna Seca
-Motus MST series of comfortable American sportbikes begin initial production Monterey, CA (7/23/2013)
Motus, makers of the only American V4 sportbikes, revealed the much-anticipated 2014 Motus MST production motorcycles in Monterey, CA at the Mazda Raceway Laguna Seca July 19-21. Two years after first showing prototypes at Laguna Seca, Motus returned with production motorcycles and a growing dealer network.
The Motus MST and MSTR are built for comfort on longer rides, but also have another side. Powered by the mighty MV4 Baby Block engine, the MSTs feature lightweight, responsive chassis and race-spec components to thrill even the most experienced riders on twisty mountain roads or coastal highways.
"As street riders, we wanted the Motus to offer an unparalleled experience from 20-90 mph, where we do almost all our riding. With a quick sprocket change, the MSTs are geared for 204 mph top speed, but the focus has been on making massive torque in a usable street range, from 2500 rpm to 7500 rpm," said Brian Case, co-founder and Director of Design for Motus. "We also built in a sensible riding position, adjustable windscreen and controls, luggage, and other accommodations for longer rides."
Motus has a growing network of 16 high-quality dealers from Seattle to Miami with the goal of adding additional shops in Southern California, the Midwest and the Northeast. Commercial and retail financing is in place, motorcycle insurance is commonly available, and the MSTs offer a competitive 2-year, unlimited mileage warranty. 2014 MSTs and MSTRs will begin shipping this fall to dealers and customers reserving them now.
"While we are a small, growing company, our products offer a unique and compelling experience for riders and dealers. For riders, the Motus is a premium high performance sportbike with an incredible amount of character and value. For dealers, Motus makes a great addition to other premium lines as it does not compete with mass produced motorcycles and brings in new customers looking for something that did not exist until now," said Lee Conn, co-founder and company president.
To schedule a test ride, call your closest Motus dealer and request a slot for a very limited number of factory sponsored demo rides this fall and winter. All Motus dealers are accepting reservations on their limited allocation of 2014 MSTs now.
Source Motus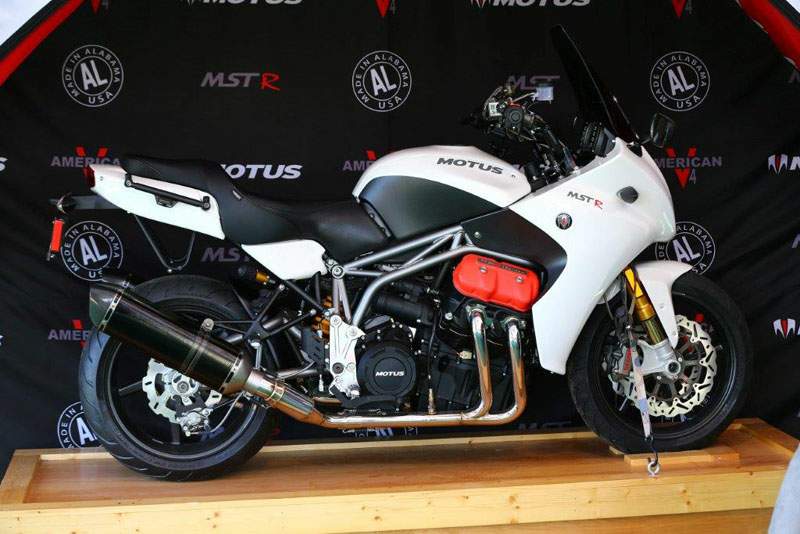 Review by More bikes
The Motus is undeniably unique in appearance – in a good way – with the red rocker covers on the MST-R's V4 motor representing engineering eye candy. But that's nothing to what happens when you thumb the starter button, and the Murphy ECU's excellent cold start mapping helps the engine instantly catch alight, settling to a high 1,500 rpm idle. It's the entry ticket to a concerto from one of the most absolutely unique engine notes in modern-day motorcycling.

Once in motion you don't have to combat the sideways sway on the Motus that you usually get with any lengthways crank, like on a BMW Boxer or Moto Guzzi. The torque rotation is completely cancelled out by the perpendicular gearbox design. I'd been expecting that by eliminating the balance shafts which had previously removed any trace of vibration from the V4 engine, Motus would have restored at least a few vibes. Sorry, no vibes of any kind till you start nearing the revlimiter. Top gear roll-on is very good, making this a relaxing mileater in freeway travel.

The gearshift action is light and precise, with well-chosen gear ratios thanks to the ultra-torquey nature of the engine delivering the luxury of an ultra-long first gear, then three evenly spaced ones before the overdrive fifth and sixth for long-legged high-speed cruising. The engine's only turning over at 3,500rpm at 85mph in top gear, so less than halfway to redline according to the good-looking new full-colour Murphy TFT/Thin Film Transistor dash. It's legible in sunlight, with its main screen displaying a tacho, digital speedo, mileage, twin trips, trip computer, fuel gauge, DTE and gear position, and then there's an engine screen featuring such data as throttle position, water temp, oil pressure and the usual warning lights.

There's a USB port for a flash drive to upload engine maps plus a power port for plug-in accessories like GPS (with an extra two more available as options), and a stock 720W alternator powering a 60amp charging system to operate them.

There's a completely intuitive feel to the steering, which makes you realise the chassis geometry has been well chosen, and nicely refined. It's more sport than tourer, and the MST and MST-R find their way through a series of turns almost on autopilot, with huge feedback from the front tyre via the well dialled-in Öhlins NIX30 fork. They're fitted with Pirelli Angel GT rubber as standard, which I know from personal experience give good mileage in combination with excellent grip, plus they heat up fast.

The MST has an extremely comfortable riding stance that you can tailor via the finest multi-adjustable triple-axis handlebar package I've yet encountered on any motorcycle – you can even adjust the wrist angle over a 15º span.

The windscreen is adjustable with four positions, up to a maximum of 75mm from its lowest setting, over a five-degree angle.

Yes, that is a KTM headlight on the bike, in case you thought it looked familiar. Together with the twin spotlights fitted as standard, the Motus light package gives outstanding high-speed illumination on a twilight ride.

The Sargent seat is very comfortable, offering good support, while narrow where it matters, making it easy for a 5'10" rider to put both feet flat on the ground. Your knees tuck in easily to the flanks of the well-shaped tank, avoiding contact with the cylinder heads thanks to the motor being canted forward 15º. Coupled with the quite low-set footrests and the 825mm seat height (there's a 25mm lower option for shorties), this delivers a relaxed riding position with relatively upright posture. The flip-up footrests' are not adjustable, but the toe pegs for the gear and brake levers are.

I was particularly impressed by the Progressive Suspension rear shock on the MST, which while adjustable only for preload and rebound damping compared to the MST-R's all-singing (and more expensive) Öhlins TTX36 shock, delivered better damping over rough surfaces and a superior ride quality. The variable rate spring helped the Progressive shock live up to its maker's name, with better compliance over real-world road surfaces. OK, the Öhlins is better for sport riding – but I have to say that while the MST-R does have an extra top-end kick in performance, and its flatter Rizoma bars give a sportier stance at the helm, I much preferred riding the MST. The R-model is a sportbike that you can fit luggage to, but the MST is a true sports-tourer, a proper all-rounder of a motorcycle, and a very enjoyable real-world bike to ride.
2014 MSTR OPTIONAL EQUIPMENT
30 L top case w/rear deck
Mid and full tour windscreen
Heated seat
Heated grips
Premium low seat by Sargent
Source: More bikes