OCC Cherokee Nation Bike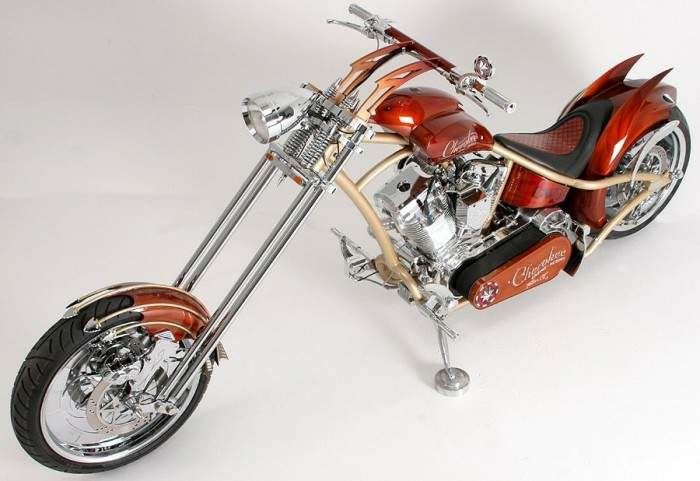 The new one-of-a-kind Cherokee Chopper, designed and built by the crew of Orange County Choppers, is unveiled at Cherokee Casino Resort in Catoosa.
Catoosa, OK – Some motorcycles are made in a factory on an assembly line. Cherokee Casino Resort's newest ride, however, has been custom-built by this country's hottest personalities: Paul, Paul Jr., Mikey, Vinnie and the rest of the crew at Orange County Choppers.

Unveiled at a recent news conference, the custom built Cherokee Chopper will become a permanent attraction at the Cherokee Casino Resort at I-44 and 193rd E. Ave. in Catoosa.

"This is one of the coolest, most awesome and powerful pieces of machinery anyone has ever seen," said David Stewart, Chief Executive Officer of Cherokee Nation Enterprises, which operates Cherokee Casino Resort. "It looks like it's going 65 mph even when it's standing still!"

The Cherokee Chopper is a splendid mechanized sculpture of glistening chrome, rich maroon and golden hues, and meticulous attention to detail.

"Anyone who is familiar with the fine craftsmanship of Orange County Choppers will be pleased with the pure beauty of the Cherokee Chopper," Stewart said. "Anyone who has yet to experience the magic of OCC, even if they're not motorcycle enthusiasts, will be mesmerized by the flowing symmetry and dazzling color combinations."

Cherokee Casino Resort was the first destination gaming resort in Oklahoma, the first in Oklahoma to introduce card games and the only facility in Tulsa with the new electronic games allowed under the state compact.

"Cherokee Casino Resort continues to be a leader in the gaming and hospitality industry, and it only makes sense that we would align ourselves with another recognized innovator such as Orange County Choppers, whose phenomenal popularity has made them a national entertainment icon," Stewart said.

After its unveiling, the Cherokee Chopper will be on permanent display at Cherokee Casino Resort. However, during the spring, the motorcycle will go 'on tour' to the other Cherokee properties, including West Siloam Springs, Roland, Fort Gibson and Tahlequah, as well as at Will Rogers Downs in Claremore.

"Custom motorcycles from Orange County Choppers have become national attractions, and the Cherokee Chopper is no different," said Stewart. "We think it is truly one-of-a-kind and we want to share it with the people of Oklahoma. We are very pleased to have the opportunity to work hand-in-hand with Orange County Choppers in designing this special and unique Cherokee-themed bike.

The Cherokee Chopper will add another unique attraction to the Cherokee Casino Resort, a beautifully designed hotel and casino combining the historical and cultural styling of the Cherokee tribe with the intriguing art deco designs reminiscent of downtown Tulsa in the 1920s.

In addition to its 150 rooms and suites, Cherokee Casino Resort offers its guests a complete vacation experience, with a 94,000-sq. ft, casino featuring electronic, poker and table games, a wide variety of restaurants from gourmet to buffet, multiple entertainment lounges and Cherokee Hills Golf Club, an 18-hole championship golf course.
Source cherokee.org