OCC Splitback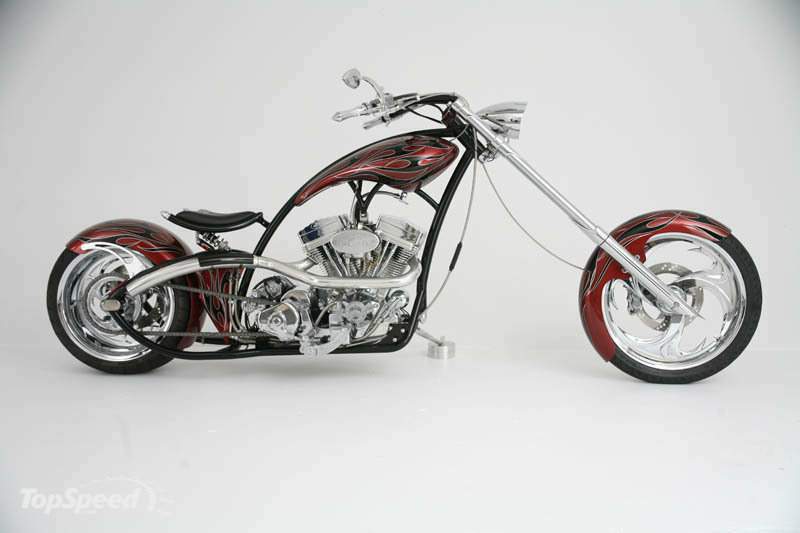 OCC Viking handlevars
Swept back and curved to accent the contour of the Splitback tank. Bars come to a curved point with CNC finished accent pieces.

OCC Splitback tank

Just like the name implies...the tank on the Splitback is a 2-half design exposing the frames backbone while following the lines of the frame.
Occ Crown rocker box covers
Chromed wafer styled rocker box covers add style to an already sexy looking power plant.
OCC RoadLok security system
The Roadlok Motorcycle Immobilication Device(MID) is used to keep your new Splitback where you park it - without destroying the chopper if you forget to unlock it. The RoadLok MID security system is built into the rear brake caliper bracket so it's always on the bike. To lock your Splitback just put the locking pin in the RoadLok MID. To unlock yuour chopper use the key to get the locking pin out.
OCC MID control system
The control system on the Splitback is set in a middle position of the bike. This makes for better ergonomics for those longer rides and fits a bigger variety of rider body types better.
OCC comfort seat system
The OCC Comfort Shock Seat System on the Splitback chopper uses a shock mounted on the bottom of the seat pan wich is then attached to the frame. This aids in helping make a smoother ride while still maintaining the look of a rigid frame chopper.
OCC Custom oil tank
Not your ordinary oil tank. The Splitback's oil tank was designed in Solidworks making it as good looking as it is functional. to set it all off, color matched with flame paint.
OCC Razor front end
The front end of the Splitback uses our Razor type forks. The bottom of the forks come to a sharp point while the fork seal area and under the bottom tree feature the OCC Razor fork covers.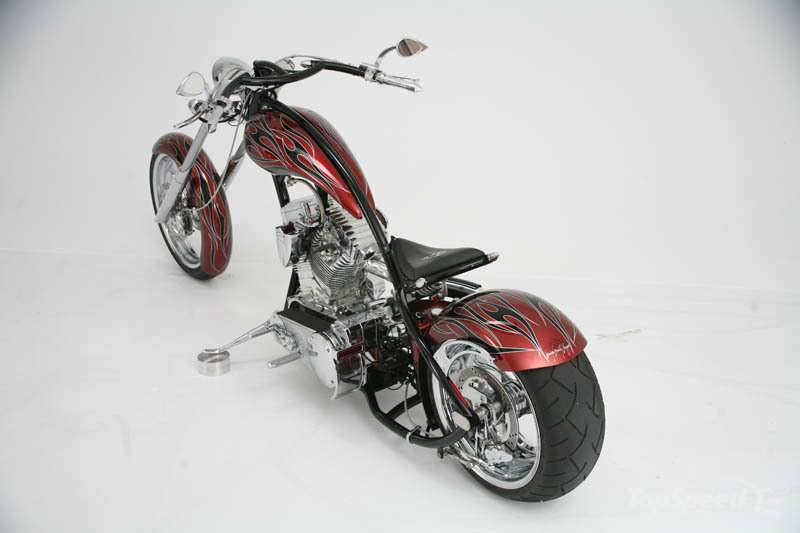 Specs
Designer: Orange County Choppers
Year/Make: 2006 OCC Splitback
Model: OCC Splitback Series
Engine: OCC 124" H&L Diamond Cut
Rocker Box: OCC Crown Covers
Primary: Brute IV Primo
Air Cleaner: OCC Oval
Pipes: OCC 2into1 Alumacoat Exhaust
Transmission: 6 Speed Baker Right Side Drive
Frame: OCC Rigid Radius 6up/4out
Rake: 40Degrees
Bars: OCC Viking Handle Bars
Fenders: OCC
Headlight: Headwinds Chrome Billet
Gas Tank: OCC Splitback
Oil Tank: OCC Custom
Seat: OCC Comfort Shock Seat System
Forks: OCC Razor
Wheels: Paul Junior Series Chrome Wheels
Tires: Metzeler 240 Rear Tire
Featuring: OCC RoadLoK anti-theft system
Colour Options: Maroon, Grey and Midnight Blue