Rider Auto Glide TT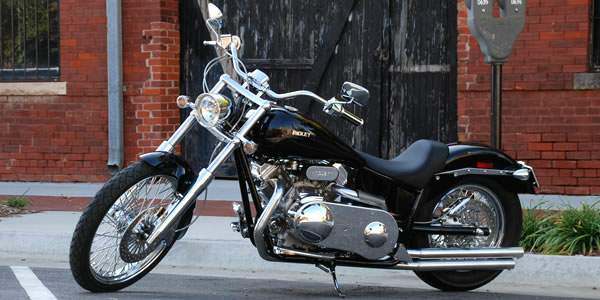 | | |
| --- | --- |
| Make Model | Rider Auto Glide TT |
| Engine | Four stroke, 90° V-Twin, 2 valve per cylinder |
| Capacity | 44 ci / 738 cc |
| Cooling System | Air Cooled |
| Compression Ratio | 8.5:1 |
| Induction | |
| Starting | Electric |
| Exhaust | 2 Stage: Muffled, Baffled |
| Transmission | Automatic CVT Type II |
| Final Drive | Belt |
| Front Brakes | Single disc 4 piston caliper |
| Rear Brakes | Single disc 1 piston caliper |
| Front Tyre | |
| Rear Tyre | 16"/40.6cm | 60 Spoke |
| Seat Height | 24.5 in / 622 mm |
| Dry Weight | 460 lbs. / 209 kg |
| Fuel Capacity | 4.2 gal / 15.9 Litres |
For every rider there is a motorcycle and Ridley offers it. Riders who dream of the open road with the agile feel of a wide front end with a narrow-21" tall front tire, the Auto-Glide TT is just what you're looking for. TT for "tall tire", this Auto-Glide family model has features not found in earlier years. The new bobbed rear fender combined with the sporty 21" front wheel create a tough look- ready for the road. Sipping fuel at better than 50 miles per gallon, you'll be passing gas stations with a 4.2 gallon stretched fuel tank. There's never been a better time to get in the riders seat on the Auto-Glide TT.
Look: The new '0eight Auto-Glide TT features a taller 21" front wheel giving it a look and feel you'll remember. The rear fender has been redesigned to compliment the bikes overall attitude.
Engine: Optional clear or black engine finishes looks great and helps protect against the salt corrosion.
Speedometer Display: LED Display adjusts to various lighting conditions to provide easy to read speed, tachometer, odometer, trip meter, battery voltage and more.
Seat: Redesigned to provide comfort, contoured to provide more back support. The added embroidery gives the new seat a touch of class.
Rear Foot Brake: Redesigned for a smoother rotation by adding ball bearings. More chrome, anti-slip rubber and an easy to reach flat pedal for excellent stopping and comfort.
Parking Brake: Designed exclusively for the Ridley Auto-Glide, the brake secures the motorcycle from rolling and disables the engine.
Safety: Additional reflectors adorn the front and rear fenders to enhance visibility at night and during the day.
Exhaust: Engine exhaust noise has been reduced by increasing the exhaust pipe size and adding additional baffling. Optional exhaust is also available.
Heat Shield: Shields the heat from the exhaust and looks great too. Ceramic coated to match the exhaust.