Roehr 1260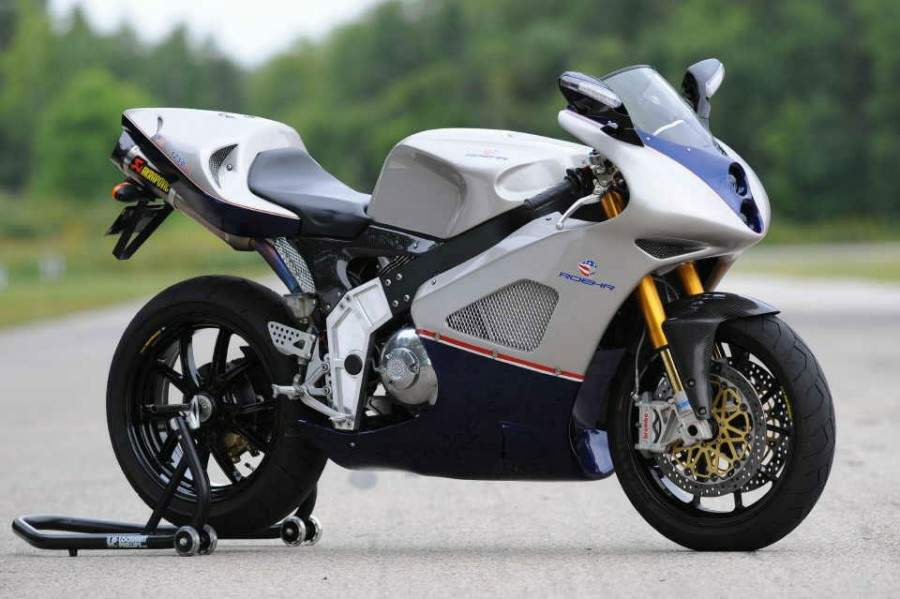 Make Model

Roehr 1260

Year

2009-

Engine

Four stroke, 60° V-twin, DOHC, 4 valve per cylinder. Supercharged

Capacity

1250 cc / 76.2 cu-in

Bore x Stroke

105

X

72mm
Cooling System
Liquid cooled

Compression Ratio

11.3:1

Induction

Starting

Electric

Max Power

180 hp @ 9000 rpm

Max Torque

115 lb-ft @ 7600 rpm
Clutch

W

et,

multi-

plate,

hydraulic

actuation

Transmission

5 Speed
Final Drive
Chain
Frame
CrMo steel/aluminum beam

Front Suspension

Öhlins

43mm

fully

adjustable

upside-

down

fork

with

TiN

Rear Suspension

Öhlins

fully

adjustable

link less

monoshock

Front Brakes

2

x

320mm discs 4 piston calipers

Rear Brakes

Single 230mm disc 2 piston caliper

Front Tyre

120/70

ZR17

Rear Tyre

190/55

ZR17

Seat Height
800 mm / 31.4 IN

Dry Weight

193 kg / 425 LBS

Fuel Capacity

14.4 Litres / 3.8 US gfal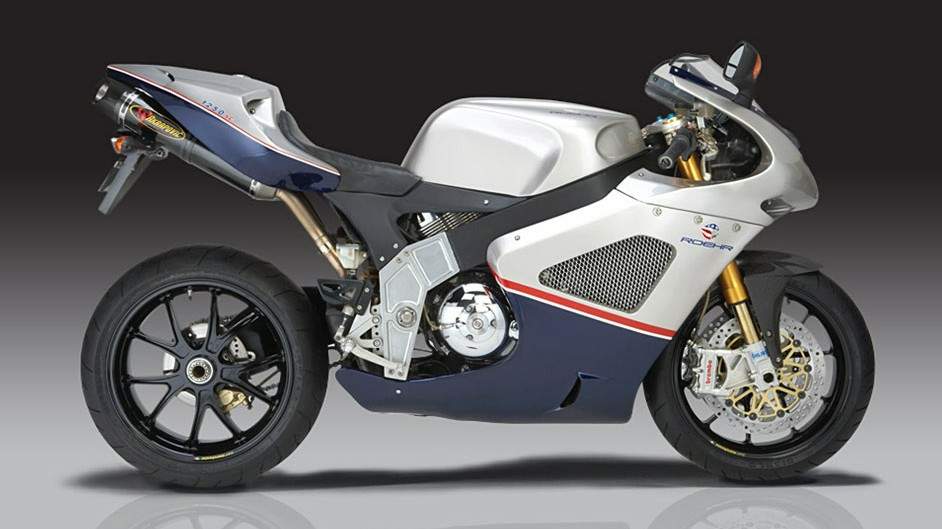 Roehr Motorcycles introduces the V-Roehr 1250 superbike, a new generation of American motorcycle.
Powered by a supercharged version of Harley-Davidson's 1250cc, liquid-cooled, 8-valve, DOHC, 60-degree v-twin, the Roehr 1250sc packs all of 180 horsepower, making it the fastest, most powerful sportsbike built in America.

The bike is fitted with quality components like Öhlins suspension, 17-inch, 10-spoke Marchesini wheels, Brembo brakes, an Akropovic exhaust system and 120/70 (front) and 190/50 (rear) Pirelli tyres. The chassis is Roehr's chrome-molybdenum composite beam frame, which is said to be stiff and light, and provides an excellent mix of quick steering and high-speed stability. The bike weighs 192 kilos dry. the Harley-Davidson Revolution engine, the V-roehr combines modern state-of-the-art engine technology with a race track inspired chassis design, resulting in a truly modern American sport bike.
The design goal for the new superbike was simply to produce the fastest, most powerful, and finest handling machine, using the best American engine available.
The Harley-Davidson Revolution engine was chosen due to it's superior power potential, modern high tech design and durable construction, allowing reliable high power output potentials.
The engine is housed in a composite CrMo steel and aluminum composite beam frame, consisting of large diameter, internally ribbed steel main beams, bonded and bolted to billet machined aluminum swingarm pivot plates.
This design uses these two materials in areas of the frame in which their material characteristics are best suited, yielding a stiff, light weight structure that provides excellent feedback and rider feel.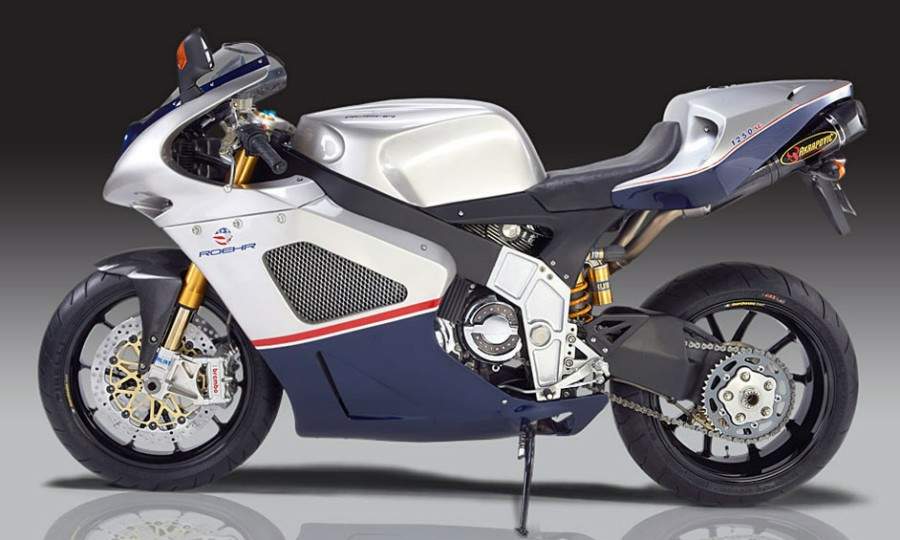 This light, compact frame, combined with ideal chassis geometry and mass centralization provides an exceptionally responsive, stable and balanced handling dynamic.
Side mounted radiators provide a forward engine position allowing a suitable wheelbase and ideal weight distribution.
The V-roehr is also equipped with the finest chassis components available. Öhlins suspension, Brembo brakes, Marchesini wheels and beautiful bodywork in aerospace quality carbon- fiber.
Designed and constructed by company founder Walter Roehrich, the V-roehr delivers the power, performance and beauty unmatched by current American sport bikes.
Roehr Motorcycles will also offer a full line of high-performance parts and accessories, with engine kits producing up to 180hp.
After apexing the final corner at Blackhawk Farms Raceway and getting on the fat part of the rear tire, I dial up the throttle of the Harley-sourced high-performance V-Twin to rocket me up the front straight on this radical new American-made sportbike.
At this point you might assume I'm behind the bars of one of Erik Buell's latest sporting machines, but the fertile mind of Buell had nothing to do with the innovative steed that is hurling me through the Wisconsin forest. And Buell surely must be envious that the most powerful of his American bikes are down almost 50 horsepower from the exclusive new Roehr 1250sc.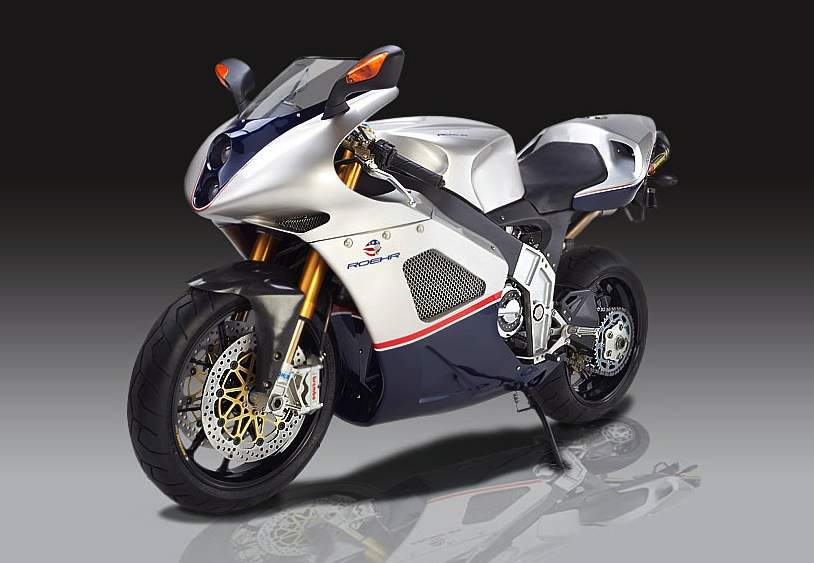 Roehr 1250sc: America's newest sportbike.

Roehr (pronounced "roar") Motorcycles is the brainchild of Walter Roehrich, an Illinois-based engineer who has been designing and building his own sportbikes for more than a decade. He began in the late-'90s with the Rv500, an ultra-clever 500cc two-stroke V-Twin made by joining two Yamaha YZ250 cylinders on a crankcase of his own design. Weighing just 315 pounds and producing 115 horsepower, it was a thrilling ride that ultimately was killed off due to emissions hurdles for the two-smoker.

Roehrich next turned to producing a liter-sized four-stroke sportbike. The Rv1000 was powered by a 120-hp 936cc V-Twin sourced from Sweden's Highland. The engine's enduro roots made it super-light (under 100 lbs), contributing to the bike's feathery 335-lb claimed dry weight. But in an age of literbikes with 150-plus rear-wheel horsepower, Roehrich believed the Highland motor didn't have enough steam to be competitive. His next bike would have no such power concerns.

Enter the 1250sc, Roehrich's latest creation that is scheduled to go into production late this year. Like the aforementioned Erik Buell, Roehrich has selected a powerplant from the Harley-Davidson catalog. But unlike any Buell, the Roehr is powered by the Revolution V-Twin from Harley's V-Rod lineup. Buell himself apparently considered using the liquid-cooled 1130cc V-Twin but declined because of the engine's considerable weight of 197 lbs and its large size. Also, its 110-rwhp wasn't particularly stellar.
But Roehrich has found a smart and relatively simple solution to the Revolution's power deficit: supercharging. Rather than using a positive-displacement supercharger, Roehrich has fitted a new centrifugal type from Rotrex in Denmark. Mounted under the faux fuel tank and driven by a toothed belt, the Rotrex unit weighs just 6.4 lbs. It basically operates like a belt-driven turbocharger but pumps the intake system with pressurized air that rises proportionally to engine speed. During idle, cruise and deceleration, a bypass valve recirculates unneeded air into the compressor, reducing parasitic drag and allowing the engine to function in its normally aspirated form.

It's a brilliant system and operates as advertised. Power from a positive-displacement blower comes on early and then tapers off, while a turbocharger has a lag before coming on like gangbusters. In contrast, the Rotrex supercharger supplies a very linear surge of power throughout its powerband before running into a 9100-rpm rev limit. With a modest 8 lbs of max boost, no intercooler is required.

As its name implies, the 1250sc is powered by the larger, 1250cc V-Rod engine that debuted in 2008 with a slipper/gripper clutch system. Together with the supercharger, it's a monster. At just 4000 rpm, it's already producing more than 70 ft-lbs of torque at the back wheel, rising in a gradual fashion to its burly 100 ft-lb peak around 8000 rpm. According to the Roehr-provided dyno chart, horsepower builds in an uncannily linear trace that reaches to a 168-hp peak shortly after 9000 revs.

Oddly for a bike with this much power, there are no steps in the powerband that create the palpable surge of output like a normally aspirated engine. As such, winding out the 1250sc through the gears at Blackhawk wasn't as viscerally exciting as expected. However, watching the V-Rod-sourced speedometer speedily ratchet upward on Blackhawk's two straightaways left little doubt about this engine's efficacy. Dual underseat Akrapovic mufflers (made for an R1) have quieting inserts to keep the big Twin's bellow relatively modest. The supercharger whistles almost imperceptibly under a rider's helmet.

When we arrived at Blackhawk, we were greeted by a tense but smiling Roehrich, 46, who was obviously nervous and relieved to come to this point of his project. It was finally time to turn his baby loose on a quartet of motojournalists.

The 1250sc offers plenty to be proud of as it sits under cloudy skies while ace lensman Tom Riles captures beauty shots. Its swoopy but clean bodywork reminds of the lovely MV Agustas, as does the single-sided swingarm showing off a sweet Marchesini forged aluminum wheel. Swanky Öhlins bits hold up both ends of the bike, while Brembo supplies stopping power.

Roehrich spent many hours crafting the shape of the 1250sc, then used some off-the-shelf pieces to finish it off. Those stacked headlamps came off a Buell Firebolt, and the instrumentation is pure V-Rod. Stylish Barrac (not Obama) mirrors offset the bike's humble Ducati-sourced switchgear (which might be replaced on production bikes).

The frame borrows ideas from Aprilia and Bimota in that a chromoly-steel main frame is bolted and bonded to billet-aluminum sideplates. Thin-wall 4130 steel is used for the perimeter-style frame spars and steering head section. The swingarm is constructed from laser-cut chromoly sheet steel with inner reinforcing ribs and pivots inside the machined billet-aluminum frame pieces above the footpegs. Side-mount radiators from a Honda RC51 keep the wheelbase acceptably tidy at 56.0 inches.

Using the large 60-degreee Revolution motor proved to be less challenging than Roehrich expected. He says his engine is actually a bit shorter than a Ducati 90-degree V-Twin. However, the Harley motor's cylinders are quite tall, forcing Roehrich to cram in the supercharger and its oil tank and the battery in the space normally reserved for a fuel tank. This forced a modestly sized 3.2-gallon fuel tank to be squeezed in under the seat; it's filled by an inlet placed into the top of the tailsection.

Throwing a leg over the Roehr 1250sc is a bit daunting. Not only does it have 168 wheel ponies, it's a priceless one-off prototype that, if crashed, would probably cause its father to kneel down and cry. My first lap was purely exploratory. Handlebars are placed similarly to a contemporary sportbike, but there is a long gap from the rear of the dummy fuel tank to reach them. A wide seat gives legs a stretch to reach the ground.

The Roehr steers into corners with a firm shove on the bars, not quite living up to the sporty 23.5-degree rake and 97mm of trail listed in the spec chart. Motorcyclist's Aaron Frank was the first rider out on the bike, and he noticed a very soft rear suspension. Roehrich gave the handy hydraulic preload adjuster several spins before sending me on my way. The back half now worked fine for me, but the front end felt indefinite and the turn-in response was uneven.

The 43mm Öhlins fork fitted to the Roehr was originally intended for a Ducati 998, and its springs were having trouble coping with the added chassis pitching caused by the tall engine and the bike's 55% front weight distribution. A quarter-turn extra preload was all that was left of the range, so we bumped up the front compression damping in an attempt to compensate. The bike worked better but still turned in imprecisely.

When we decided to break for lunch, Cycle World's Don Canet came up with a theory of what might be causing the Roehr's odd steering response. His decades of riding and testing bikes pointed us toward the steering-head bearings where we found they were over-tightened.

I knew from the first corner I owed Canet a debt of gratitude, as the 1250sc now steered with far greater precision. This, plus a track now heated by sunshine, enabled the knee-dragging antics we all were hoping for. Now freed to concentrate on other aspects of the bike's performance, we were mostly pleased by what Roehrich had wrought.

Response from the stock V-Rod fuel injectors was glitch-free everywhere except for a slight kink when dialing on throttle from a closed position. A stiffly sprung throttle is mostly to blame, but the linkage itself seemed to provide excessive drag. Once the right grip is twisted open, you'd best be prepared for a never-ending blast of grunt that sweeps through its five-speed gearbox like nothing else on wheels. The small V-Rod tachometer could be a bit more conspicuous, but shifting, say, 500 revs early hinders acceleration only as much as an extra carry-on bag does on a Boeing 737.

Getting the Roehr stopped in time for Turn 1 was accomplished with good feel from the two-piece, four-pad front Brembos, looking similar to a Ducati 848's setup. Their bite is powerful yet not overly aggressive. Although the V-Rod's clutch has a slipper aspect to its design, it wasn't slippy enough to prevent the rear tire from locking during high-rpm downshifts. The 1250sc, at 432 lbs free of all fluids, is nearly 200 lbs lighter and with a more forward weight bias than the V-Rod.
The Roehr proved to be a bit more cumbersome than a Duc 1098 around Blackhawk's 1.95-mile circuit and its many corners, but it could still be hustled around quite smartly. A larger track might've allowed the Roehr to stretch its legs and impress us greater. There wasn't much use for the V-Rod tranny's cruiser-appropriate short low gear around Blackhawk, and a considerable gap in ratios to second gear was a bit awkWard at the track. But the 1250sc, more than any other bike I've ridden around a track, could easily carry a gear higher than what would seem optimum.

Once the Roehr had its settings optimized, we were pleased with its overall performance, and especially with its mountainous reserves of power. Yet there were a few wrinkles yet to be ironed out. A rudimentary shift linkage had some slop in it which may have contributed to a missed upshift, but Roehrich is already working on a fix. Same for the fork springs, which are being replaced with stiffer ones.

In the not-soon-to-be-addressed category is the small fuel tank that will limit street sorties to under 100 miles before refueling. And, for my vertically challenged body, the long faux fuel tank made it difficult to comfortably reach the outside handlebar when hanging off and leaned over.

But otherwise, there is plenty to like here. First off, it's simply gorgeous, and I think it should assume the title of most dazzling American motorcycle ever to wear a fairing. Second, it's exotic in a way few others are – there are 50 units planned for production, making a Desmosedici seem like a CBR. Third, it is built from top-shelf components that inspire pride.

It's all enough to almost make you forget it costs $49,999. While that's a big stack of Benjamins, I've seen plenty worse ways to spend that amount on a motorcycle. And most of them don't come with a custom-painted Arai helmet like the Roehr.

The 1250sc certainly lives up to its billing as the fastest and most powerful American production sportbike. How much is that worth to you?

Source Motorcycle.com 2008