Roehr eSuperBike / RR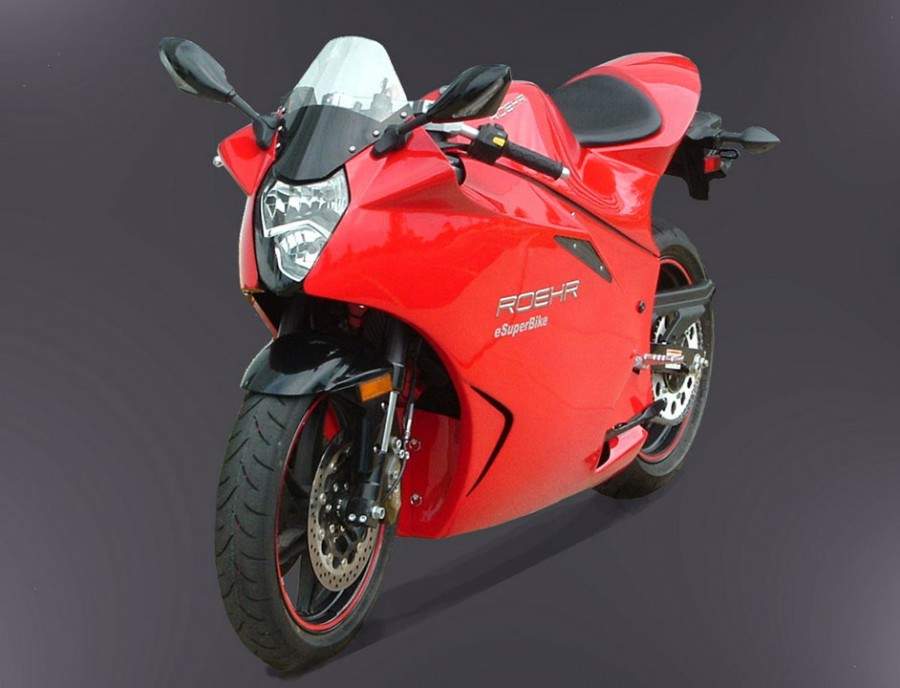 The eRoehr eSuperbike is eFaster but also eWay more expensive. It's also based around and existing eChassis, that of the eHyosung GT250R and will only be produced in eLimited numbers. Still, 96bhp and 135mph is eImpressive.

There's actually three bikes here, but they all look about identical.

The eSuperSport uses a single AC induction motor that makes 48bhp, has 5.8kWh of battery capacity, will hit 100mph, weighs 395lbs and costs $16,995.

The eSuperBike uses two of the eSuperSport's AC induction motors for 96bhp and a 135mph top speed. It's batteries can hold 7.7kWh of go juice, but weight is up to 500lbs. A snip at $27,595.

The eSuperbike RR is identical to the non-RR eSuperbike but adds fully adjustable Ohlins suspension and Brembo brakes.

The eRoehrs should appeal to electric vehicle enthusiasts who want something they can race in the TTXGP or tinker with, the idea here isn't to try and enter the mass market to compete with Brammo. No word on ranges, but despite the full-fairing they should be somewhat limited due battery capacities that now, post Empulse, feel a bit small.
Source Hell For Leather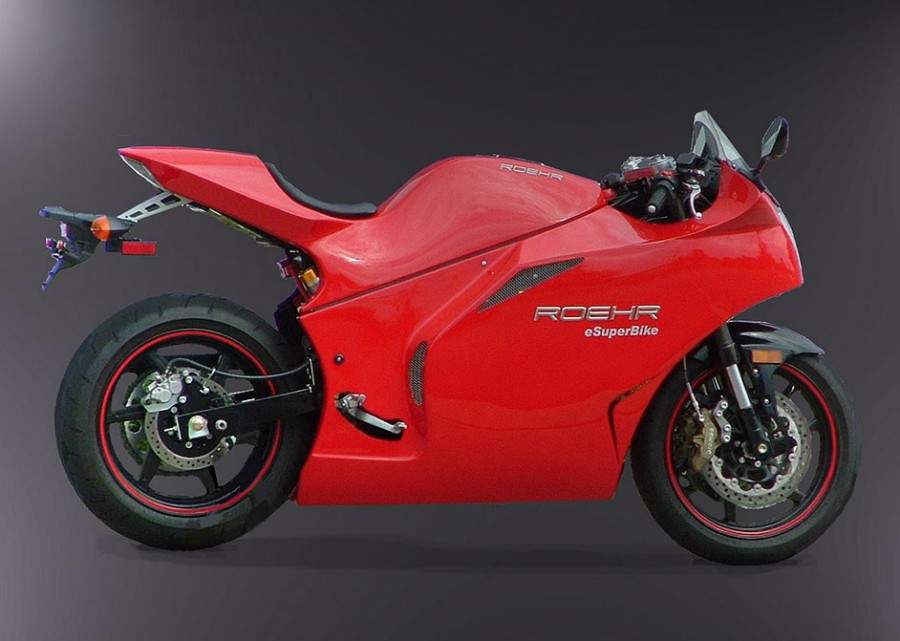 The eSupersport is the entry level of electric sportbike performance. Although it is entry level, it is first and foremost a sportbike, as such, it is equipped with quality suspension, brakes and running gear. From the 41mm inverted front forks, single shock rear suspension with progressive linkage, to the dual 300mm front brake discs and light weight 17 inch aluminum wheels with sportbike sized tires, this motorcycle reaches far beyond your typical entry level offerings.

Power is provided by a single AC Induction Motor producing 48hp, and 8000 RPM capability. AC motor technology, with it's higher efficiency, superior reliability and efficient energy regeneration has proven itself superior to it's DC motor counterpart.

The eSuperSport also uses state-of-the-art Lithium Iron Phosphate large format cylindrical battery cells capable of up to 15C of output. This, combined with 5.8kWh's of battery capacity provide unparalleled levels of entry level performance and range. The eSuperBike embodies the ROEHR legend of power and performance. Simply put, the eSuperBike raises the bar for electric motorcycle performance to a whole new level.

Powered by dual AC induction motors, producing 96hp combined with our high power 7.7kWh battery pack will thrill you with arm wrenching acceleration, high top speeds and class leading range. The eSuperBike is also equipped with an Ohlins, fully adjustable, rear shock for exceptional response and performance as well as increased stopping power from powerful dual Brembo 4 piston front brakes.

Your dream of owning a fast, high performance electric sportbike has now become a reality. The RR is our flagship electric sportbike, designed to race in the current TTXGP
and e-Power racing series. Based on our eSuperBike, the RR additionally features, 43mm, Ohlins, fully adjustable inverted front forks, 320mm Brembo brake rotors with 4 piston radial calipers, in addition to light weight aluminum racing wheels with race spec performance tires.

The RR is available for track or street use and is the ultimate expression of an electric performance motorcycle.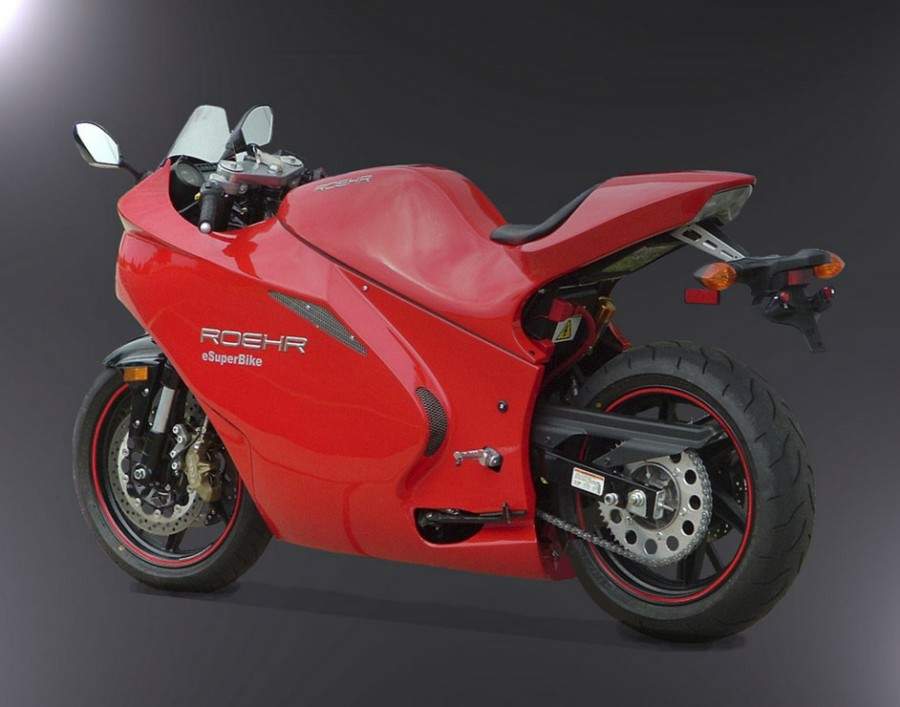 Note: Specifications on all models
are subject to change without notice.
Specifications:
Drivetrain:
Single AC Induction Motor
48 HP
Single speed direct drive
Ratio 12:60
Batteries:
Large format, cylindrical LiFePo4
Capacity: 5.8 kW/h
96 Volts/ 60Ah
600 amps (continuous)
900 amps (max)
Battery Management System:
LVC, HVC, Shunt balancing
On- board 15 amp charger
Chassis:
Steel twin spar beam frame with integral
motor and battery mounting substructure.
Rake: 24deg
Trail: 89mm
Wheelbase: 56in.
Suspension:
Front:
41 mm inverted front forks
Rear:
Single shock with linkage
Wheels:
Front:
3.0 x 17 6 spoke aluminum
Rear:
4.0 x 17 6 spoke aluminum
Brakes:
2 x 300mm discs
2 x 2 piston front calipers
Tires:
110/70/17 front
150/60/17 rear
Overall weight:
395 lbs.
MSRP:
$16,965