SYM Jet Sport X 50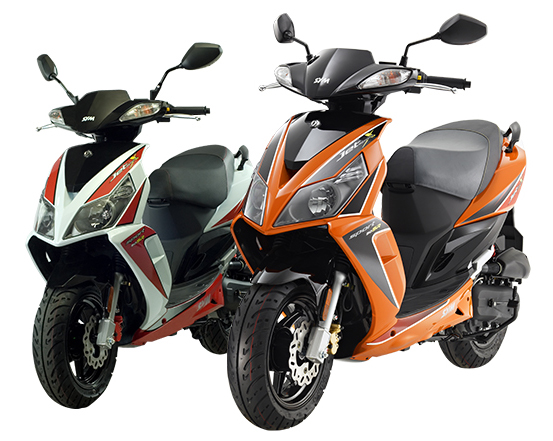 Make Model

SYM Jet Sport X 50

Year

2014

Engine

Single cylinder, 2-stroke

Capacity

49.5 cc / 3.0 cub in.

Bore and Stroke

39 mm / 41.4 mm

Cooling System

Air cooled

Compression Ratio

7.2:1

Engine Oil Capacity

1.2 L / 2.5 US pints

Transmission Oil Capacity

0.12 L / 0.25 US pints

Transmission Oil

Winter: SAE 85W-90

Summer: SAE 85W 140

Lubrication

Dry sump

Exhaust

Single

Fuel System

Separate, forced oil supply

Induction

Electronic

Ignition

CDI

Spark Plug

BR 8HSA

Battery

12V, 6 Ah

Starting

Electric & kick

Max Power

2.6 kW / 3.5 hp @ 6000 rpm

Max Torque

4.2 Nm / 0.43 kgf-m / 3.1 ft/lbs @ 5500 rpm

Clutch

Centrifugal, dry

Transmission

CVT

Final Drive

Belt

Frame

Steel, monocuna split steel tube

Front Suspension

Telescopic fork

Rear Suspension

Twin sided swing arm

Front Brakes

Hydraulic disc, 190 mm

Rear Brakes

Drum, 110 mm / Disc 160 mm

Wheels

Aluminium

Front Tyre

120/70-12 tubeless

Rear Tyre

130/70-12 tubeless

Dimensions

Length: 1840 mm / 72.4 in.

Width: 690 mm / 27.2 in.

Height: 1120 mm / 44.1 in.

Wheelbase

1275 mm / 52.2 in.

Dry Weight

98 kg / 216 lbs

Wet Weight

109 kg / 240 lbs

Fuel Capacity

6.3 L / 1.7 US gal

Average Fuel Consumption

2.3 L/100km / 43 km/l 101 US mpg

Top Speed

77 km/h / 48 mph

Colours

Black, Red, White, Orange

Review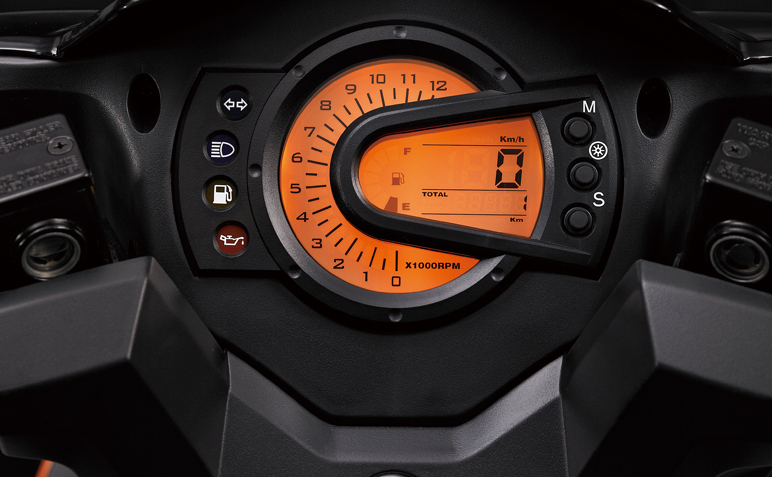 The beautifully crafted Sym Jet Sport X SR takes its specifications from the racetrack and combined with its state of the art aerodynamic bodywork, this 2 stroke scooter will fuel the passions of the most enthusiastic. The 190mm wavey front disk on the Sport X SR gives superb stopping power, the front and rear double disc combination provides the best of brake systems, whilst the winding exhaust pipe of this Sym Jet Sports X SR offers smoother power output.

The digital meter consists of fuel gauge/over-heat warning/mileage counter/clock/ RPM/speed meter and offers great visibility day and night.

All in all the Sym Jet Sport X SR is much more than a mode of transport, it exudes excitement and promises the performance expected of a top end sports scooter.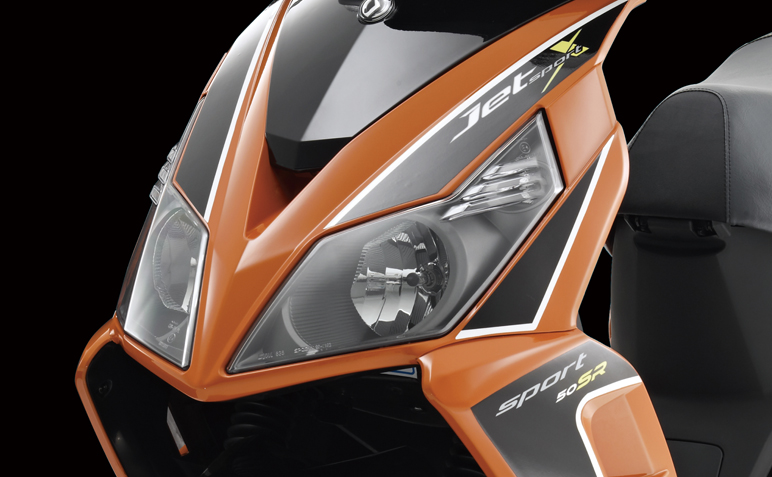 Review:
Sym scooters have been making inroads into the UK market for a few years now. Produced by the massive San Yang Motor Company in Taiwan their quality finish and bargain price has long since dispelled the old 'Made in Taiwan' image.

An Italian, Andreani Pierangelo, was chosen to style the updated Jet. As well as designing scooters for Sym, he also lists the distinctive Cagiva Elephant among his work and he's done a great job of this latest design.

In the showroom, the new Jet sat alongside last year's model and the difference was immense. From a styling point of view, this stands head and shoulders above anything that Sym has produced so far. The Italian eye for detail is readily apparent and the Taiwanese manufacturer hasn't lost any of that sense of style in manufacture. There have been no corners cut to save cash when they built this model, it looks as well put together as any, but still retains its sense of individuality.

So what's changed from last year's machine? In a nutshell, almost every component from the frame to its suspension has been replaced, and the only major similarity is its 50cc two-stroke, air-cooled engine (a 100cc Jet is also available). The first scooters arrived in the UK recently and I was immediately impressed with how good they looked and felt. Everything just seemed right, no rough edges, vibrations or tacky looking plastics to spoil things - it oozes the kind of quality usually only found on European or Japanese machines. Neat little touches help to turn 'just another moped' into something to get excited about, take the superbike-style digital dash for instance, it houses a rev counter, speedo, trip function, clock and fuel gauge all in one neat display that not only looks good but is useful and functional as well.

The new forks are a big improvement over the old ones, they don't bottom out and they help the chassis to work well over all types of road surface. A new wavy front disc helps to give the scoot a sporty look, whilst the rear has a conventional disc (drum rear on the S model). The new alloy wheels look lovely and are a massive improvement over the old ones, they're fitted with Duro tyres and (although I only rode the scoot in the dry) they were very impressive.

The modern LED rear light not only looks trick, it is also much brighter than an ordinary bulb and blends nicely into the well-crafted rear end with its flush-fitting indicators. The SR also comes equipped with an optional sports exhaust which produces a little bit of extra poke and sounds quite nice as well. If you're a full licence holder the Jet has a pair of decent flip out pillion pegs and a grab rail, so get the scoot derestricted and you'll be able to take a passenger in relative comfort at a more sensible speed than in its learner legal form, or better still buy the 100cc Jet instead.

For blasting around town this scooter will take some beating, it handles better than most scooters on the road, giving a quality ride and taking every corner in its stride. I loved the way the Jet got around roundabouts and twisty sections of inner city ring roads, it dropped willingly onto its side and felt stable no matter how many times I went round them. As a restricted 50, the Jet pulls well from the off and will soon hit its restricted 30mph top speed although the model I rode had been derestricted and the digital speedo hit a believable 45mph, making the scooter much more useable and safer too.

Security is one area that's been overlooked on the Jet (possibly to keep the price as low as possible) so there is no immobiliser, alarm or even a security loop. Just make sure you use a long chain around the footboards and attach it to an immovable object to keep your scoot safe. Apart from that I couldn't find anything to criticise.

The Sym Jet was already a good seller; it hit third in the new registrations last year and has held a top five position recently. The clever and well thought out styling on the new model and its attractive price tag and two years warranty, will see this scoot flying out of the dealers.