Sachs MadAss 125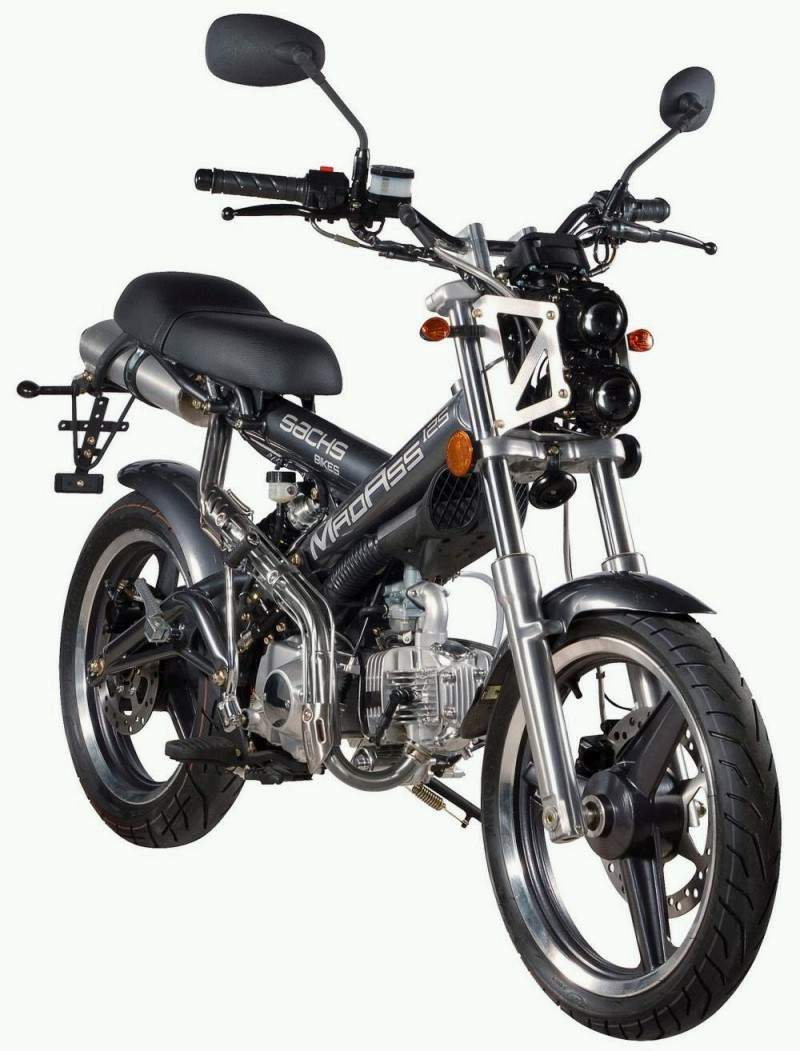 | | |
| --- | --- |
| Make Model | Sachs MadAss 125 |
| Year | 2007 |
| Engine | Four stroke, single cylinder |
| Capacity | 125 |
| Cooling System | Air-cooled |
| Induction | Carburetor |
| Starting | Electric & kick |
| Max Power | 11 hp @ 7500 rpm |
| Transmission | 4 Speed |
| Final Drive | Chain |
| Front Brakes | Single 260mm disc |
| Rear Brakes | Single 215mm disc |
| Front Tyre | 90/90-16 |
| Rear Tyre | 120/80-16 |
| Weight | 94.8 kg / 209 lbs |
| Fuel Capacity | 4.6 Litres / 1.22 US gal |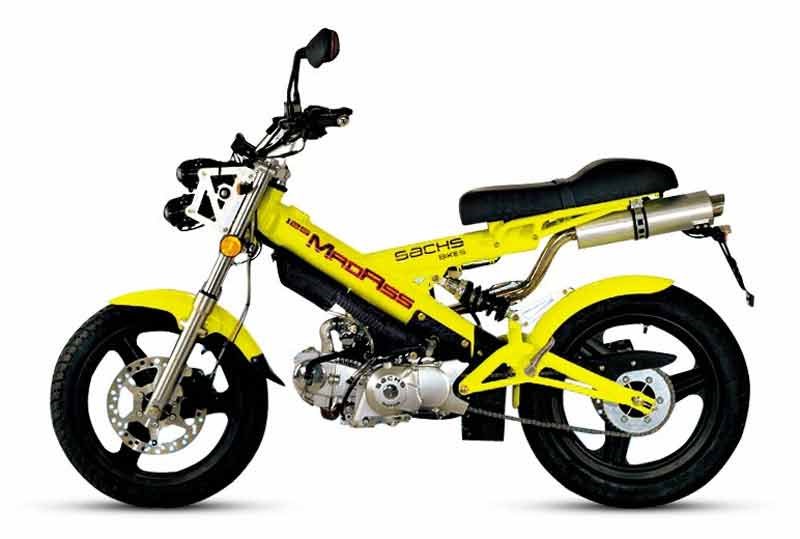 Urban 125 in Limited Numbers
While it's interesting that every Sachs motorcycle and scooter is "innovative by definition", it's also interesting that in the history of Sachs Bikes this may be the most unique design ever released by the historic German company. The Sachs MadAss 125 is an urban light-weight motorcycle designed to rock the perception of what a motorcycle should look like and ride like.
The MadAss has an exclusive Sachs engineered frame design that is the whole key to how the bike handles so well. The banana swing arm, the rear mono shock, and main frame all run parallel to each other. This allows jolts from the rear wheel to be sent forward into the front suspension, and not up into the rider. Fuel is carried in the frame, and together you get an incredibly light and nimble machine weighing just 209 lbs. Other design features include twin 55 watt headlights, dual disc brakes, low profile tubeless tires on 16" alloy rims, and 43 mm front forks.
The MadAss is being sold in the U.S. exclusively by Peirspeed Powersports Dealers. Bill Peirce, President of Peirspeed said, "The first shipment of 2010 Sachs MadAss 125's are now available on dealer showrooms. We're excited that the demand for the MadAss 125 has remained high ever since dealers started taking pre-orders a year ago. And despite tough economic times, dealers are reporting brisk sales."
The 2010 Sachs MadAss 125 has been available in a small number of Peirspeed dealerships starting the first of August 2009. More Peirspeed dealers are expected to receive their first shipments within 60 days.
"The MadAss is something that appeals to a group of riders that want to stand out in a crowd and draw attention everywhere they go," added Mr. Peirce. "Consumers are looking for fuel efficient alternative transportation like scooters and small displacement motorcycles. This SACHS product gives the customer a choice beyond the traditional."
"MadAss 125 riders are reporting 85 to 110 MPG's," adds Peirce. 'And while most riders buy a MadAss because of the design, it's a nice bonus to get such great gas mileage."
Peirspeed dealer Bill Weslow, owner of Moto-Scoot in Milwaukee says, "The MadAss is a bike that sets itself, and the rider apart from the crowd." Mr. Weslow adds, "People stop and ask MadAss owners about their bike every time they ride it. This gives MadAss owners a real pride of ownership, and the satisfaction of knowing they made the right choice."