Sunbeam Model 9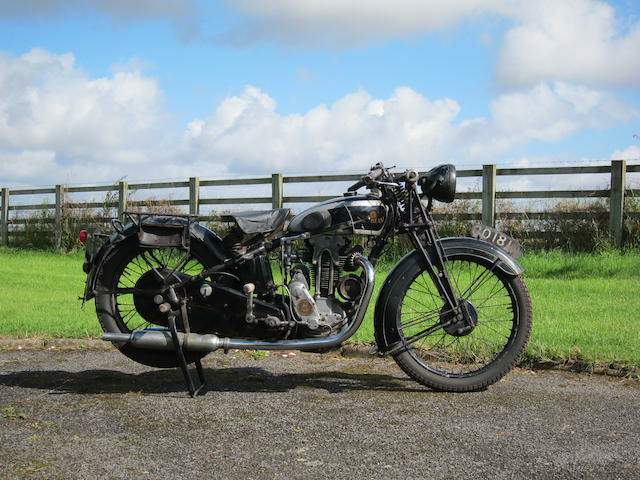 Make Model.

Sunbeam Model 9

Year

1924 - 27

Engine

Single cylinder, OHV

Capacity

493 cc / 30.1 cu in

Bore x Stroke

80 x 98 mm mm
Cooling System
Air cooled
Compression Ratio
6.5:1
Lubrication
Dry sump
Induction
AMAC carburettor
Exhaust
Single

Ignition

EIC Magneto

Starting

Push
Power
2.6 kW / 3.50 hp
Transmission
3-Speed, medium ratio
Gear Ratios
1st 10.3 / 2nd 6.9 / 3rd 4.6:1
Optional: 9.7, 6.5 and 4.3:1 or 11.0, 7.4 and 4.9:1
Side car: 11.8, 7.9 and 5.25:1 or 12.6, 8.4 and 5.6:1
Final Drive
Chain
Frame
Single front down tube

Front Suspension

Druid forks

Rear Suspension

Rigid, spring loaded saddle

Front Brakes

Drum, internal expanding

Rear Brakes

Drum, internal expanding
Wheels
Steel, laced wire spokes
Tyres, Front and Rear
3.25 x 26" (Optional: 3.50 x 26")
Dimensions
Length: 2083 mm / 82.0"
Width: 813 mm / 32.0"
Wheelbase
1372 mm / 54 in
Saddle Height
711 mm / 28.0"
Saddle Height
711 mm / 28.0"
Fuel Capacity
11.4 L / 2.5 Imp gal / 3.0 US gal
Oil Capacity
2.3 L / 4.0 Imp pt / 4.8 US gal
Source
Marston-Sunbeam / Bonhams
The first OHV production Sunbeams were listed as the model 8 (350cc) and 9 (500cc) in 1924.
The model 8 with bore/stroke dimensions of 70x90 mm was an excellent sporty tourer, but stayed somewhat in the shadow of its more glamorous big brother, the 80x98 mm Model 9.
Initially both models were marketed as competition machines; no kickstarter was fitted and the catalogue remarked "These OHV Sunbeams are built essentially to attain maximum speeds. " From model year 1927 the Models 80 an 90 took over the competition aspirations and the Model 9 soon got a reputation as a very fast and very reliable sports tourer. It stayed in production till 1939.
From 1932 on a 600 cc version ( Model 9A) was marketed, with engine dimensions of 88x98 mm, giving 599 cc.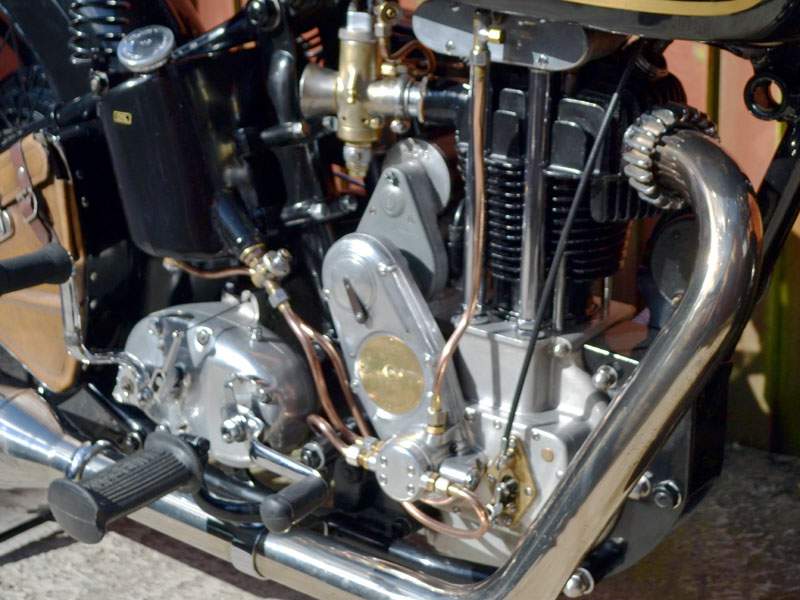 Sunbeam had begun experimenting with overhead valves on their factory racers in the early 1920s, and these duly appeared on production models in 1924. The new 500 roadster was known as the Model 9 while its race bike counterpart, which could top 90mph, was accordingly designated the Model 90.
The John Greenwood design was advanced for its day, with a specification that included a crankshaft supported by three ball-bearings, dry-sump lubrication and primary drive enclosed in a cast alloy chain case. The overhead-valve Model 9's frame and cycle parts, which had much in common with those of the larger side-valve models, evolved slowly.
Sunbeam missed the industry's virtually wholesale switch from flat-tank to saddle-tank frames for the 1928 season, and a saddle-tank Model 9 did not appear until September of that year. Changes to the engine were confined mainly to its top-end. The early flat-tankers featured a straight-ahead exhaust port, a peculiarity which necessitated the adoption of a bifurcated down-tube.
Later on in the 1920s Sunbeam followed the then-fashionable trend to twin-port 'heads before reverting to a single-port design. Pushrod enclosure had arrived by 1930 to be followed a couple of years later by partial enclosure of the rocker gear.