Vespa 150 GS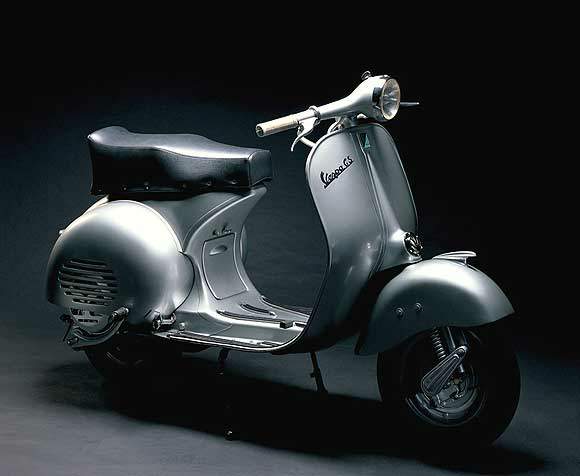 Make Model

Vespa 150 GS

Year

1955 - 61

Production

126 349 units

Engine

Two stroke, single cylinder

Capacity

145.5 cc / 8.8 cub in

Bore x Stroke

57 x 57 mm
Compression
7:1
Carburetor
Dell'Orto UB 23 S3
Cooling
Air cooled, centrifugal fan

Fuel Mixture

1:15
Ignition
6 pole flywheel magneto
Starting
Kick start
Battery
6V
Clutch
Wet, multiplate with cork inserts

Max Power

6.0 kW / 8.2 hp @ 7500 rpm

Transmission

4 Speed, grip-shift, constant mesh
Final Drive
Direct drive
Frame
Pressed sheet steel, streamlined monocoque structure

Front Suspension

Stub axle with swining hub and variable rate coil spring and double action hydraulic damper

Rear Suspension

Swinging bracket for engine and wheel, with variable rate coil spring and co-axial double action hydraulic damper

Front Brakes

Drum, expanding type with cooling ribs

Rear Brakes

Drum, expanding type with cooling ribs
Wheels
Interchangeable

Front Tyre

3.5 x 10"

Rear Tyre

3.5 x 10"

Dimensions

Length: 1700 mm / 67 in

Width: 700 mm / 27 in

Height: 1050 mm / 41 in

Wheelbase

1180 mm / 46.4 in

Ground clearance

285 mm / 11.2 in

Turning Radius

1400 mm / 55 in

Dry Weight

100 kg / 220 lbs

Fuel Capacity

12 L / 3.17 US gal

Reserve

1.2 L / 0.3 US gal

Consumption average

3.1 L/100 km / 32 km/l / 80 US mpg

Top Speed

100 km/h / 62 mph

Colours

Metallic blue/green

Sources

Scooterlounge.com
In 1956, a decade after the first model was launched, the millionth Vespa came off the line at the Pontedera factory.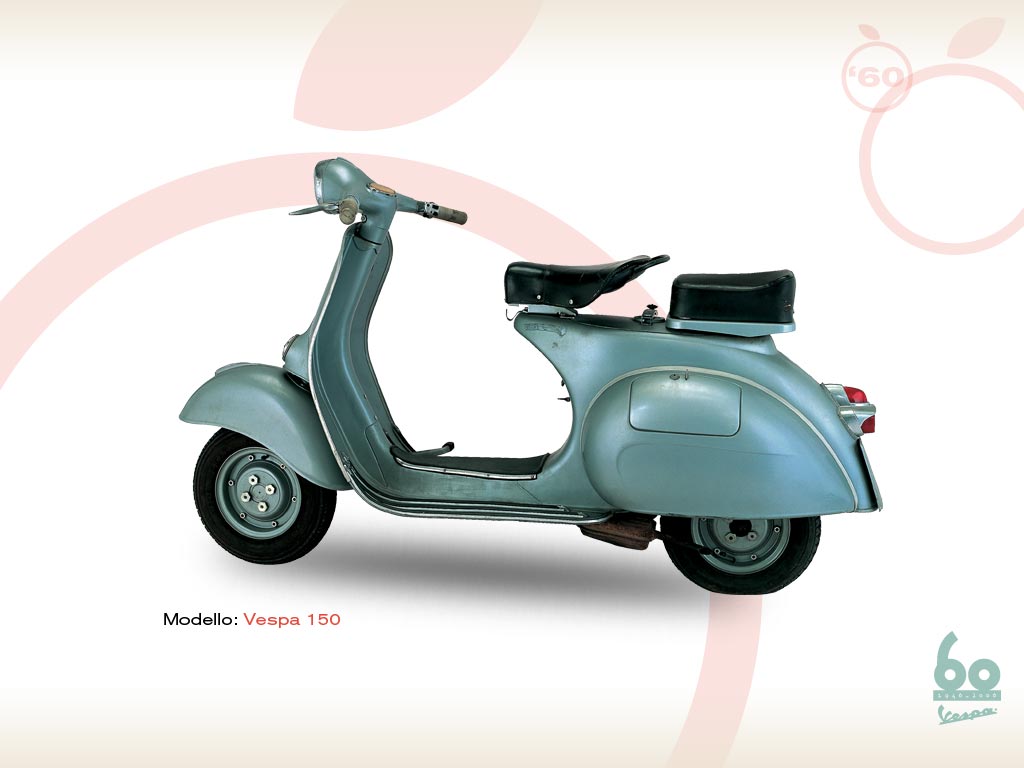 Following the initial products from 1946, improvements were made to the original design and new models were introduced. The 1948 Vespa 125 had rear suspension and a bigger engine. The headlamp was moved up to the handlebars in 1953, and had more engine power and a restyled rear fairing. A cheaper spartan version was also available. One of the best-loved models was the Vespa 150 GS introduced in 1955 with a 150 cc engine, a long saddle, and the faired handlebar-headlamp unit. Then came the 50 cc of 1963, and in 1968 Vespa 125 Primavera became one of the most durable of all.
The Gran Sport or GS 150 was unveiled in 1955, a blend between style and sport. It was the first sporting scooter to achieve mass market success.
the styling was the pinnacle of Piaggio's scooter design - it had a smooth and integrated design. The body was physically bigger, the cowls' curves were exaggerated and made even more round than those on the Vespa 150. In fact, from the sloped tail to the curved legshields there was hardly a straight line anywhere on the scooter. Even the floorboards were concave.
the 150GS was the first to be fitted with a 4 speed gearbox, the carburettor increased to 23 mm and a larger exhaust was added to help the engine breath.
The 150 GS is remembered as being the world's most beautiful scooter ever produced and is highly sought after by today's collectors of vintage Vespas.
The scooter public had grown up, had changed. The Vespa had become the means of how to stand out in a society which was slowly coming to terms with a new social entity: youth.
For the first time, a vehicle born as a quiet way for lots of people to get about suddenly discovered it was capable of breath taking performance.
Born from the Piaggio racing team experience, the GS was the first scooter with a 150 cc engine and was highly sporty in concept. It had a direct fuel injection engine generating 8 bhp at 7,500 revs and reached a top speed of 63 mph. It had a four-speed gearbox, and its long saddle and large 10" wheels gave the Vespa line a new, aggressive look.