Vespa 150 TAP
| | |
| --- | --- |
| Make Model | Vespa 150 TAP |
| Year | 1956 and 1959 |
| Production | 500 units |
| Engine | Two strike, single cylinder |
| Capacity | 145.5 cc / 8.8 cub in |
| Bore x Stroke | 58.5 x 54 mm |
| Cooling | Air cooled, forced |
| Fuel Mixture | 1:20 |
| Ignition | 6 pole flywheel magneto |
| Starting | Kick start |
| Battery | 6V |
| Clutch | Wet, multiplate with cork inserts |
| Final Drive | Direct drive |
| Frame | Pressed sheet steel, streamlined monocoque structure |
| Front Suspension | Helicoidal spring and hydraulic shock absorber |
| Rear Suspension | Helicoidal spring and hydraulic shock absorber |
| Front Brakes | Drum, expanding type |
| Rear Brakes | Drum, expanding type |
| Wheels | Interchangeable |
| Front Tyre | 3.5 x 8" |
| Rear Tyre | 3.5 x 8" |
| Dry Weight | 115 kg / 253 lbs |
| Top Speed | 60 km/h / 37mph |
| Colours | Camouflage |
| Source | Wikipedia, Gizmag.com |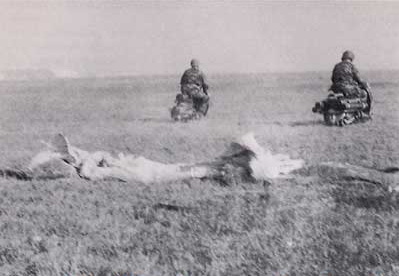 The
Vespa 150 TAP
is a Vespa scooter modified for use with paratroops (Troupes Aéro Portées, or TAP). Introduced in 1956 and updated in 1959, it was produced by Ateliers de Construction de Motocycles et Automobiles (ACMA), the licensed assembler of Vespas in France at the time
.
Modifications from the civilian Vespa included a reinforced frame and a three inch recoilless rifle mounted to the scooter
.
The 150 TAP's mounted M20 75 mm recoilless rifle, a U.S.-made light anti-armour cannon, was very light in comparison to a standard 75 mm cannon but was still able to penetrate 100 mm of armour by HEAT warhead. The recoil is counteracted by venting propellant gases out the rear of the weapon which eliminated the need for a mechanical recoil system or heavy mounts, enabling the weapon to be fired from the Vespa frame.
The scooters would be parachute-dropped in pairs, accompanied by a two-man team. The gun was carried on one scooter, while the ammunition was loaded on the other. Due to the lack of any kind of aiming devices the recoilless rifle was never designed to be fired from the scooter, the gun was mounted on a tripod which was also carried by the scooter, before being fired.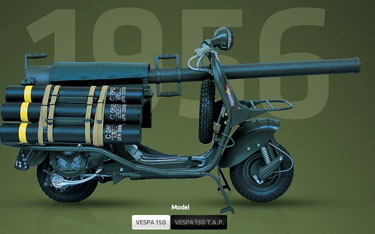 Vespa's factory-developed Vespa Force Armate prototype was envisaged with a variety of options, including mounting a submachine-gun on the handlebars, a radio under the saddle and an armored leg shield.
Though NATO trials showed the Vespa Force Armate was only 3 mph (5 km/h) down on the much larger traditional military bikes of the time in terms of top speed, and resulted in glowing appraisals. But after more than two years of negotiations, Enrico Piaggio canned the model. In a letter sent by Piaggio himself in 1952, he concluded he was "not interested in canvassing for State Orders since we know that its organs pay low prices and late" and that he was convinced that "the military are not worth the time of day."
Hence when the French military decided it wanted a better mobility option for its airborne special forces ("Troupes Aéro Portées", hence the subsequent "TAP" acronym) than its existing American-made WWII Cushman scooters for the Algerian War, it organized a competition between French manufacturers for a replacement model.
In the end, it boiled down to a three-way shoot-out between prototypes based on the Valmobile 100, the Bernardet 250 and the Vespa. French Vespa licensee ACMA won the gig.
Despite an unmistakably different profile, the Vespa 150 TAP differed little from the Vespa scooter of the time. It used a 150cc two-stroke engine derived by ACMA from the Vespa 125 motor, with different bore and stroke to the Vespa 150 engine from the factory.
Other than the engine, plus the M20 light anti-armor cannon, rack and ammunition mounts, the only major differences to a standard Vespa were a strengthened frame and lower gearing which gave it a top speed of just 40 mph (64 km/h).