Vespa 50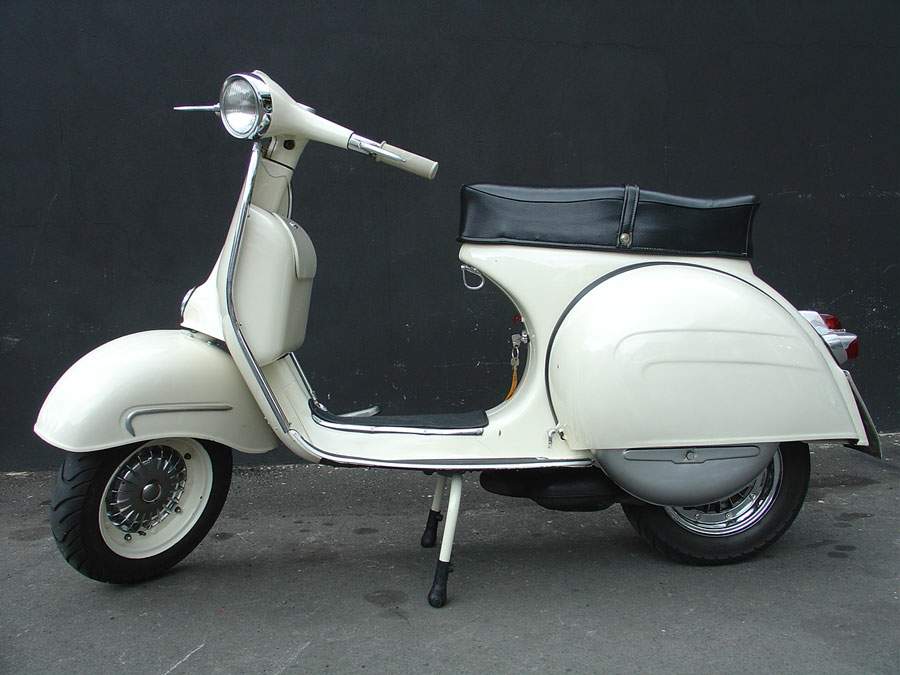 Make Model

Vespa 50 (N, L, R, S, SS, SR)

Year

1963-90

Engine

Two stroke, single cylinder

Capacity

49.8 cc / 3.0 cub in

Bore x Stroke

38.4 x 43 mm

Compression Ratio

7.2:1
Mixture
1:50

Carburettor

Dell'Orto 14
Cooling
Air cooled with centrifugal fan
Battery
2 x 6V - 9.5 Ah batteries
Ignition
4 Pole flywheel magneto
Starting
Kick start
Spark Plug
Bosch W225 T1
Clutch
Multi plate

Max Power

1.9 kW / 2.6 Hp @ 4500 rpm

Transmission

3 Speed mesh gears

Gear ratios

1st 22.33 / 2nd 12.56 /3rd 7.95:1
Final Drive
Direct drive
Frame
Pressed sheet steel with streamlined monocoque structure

Front Suspension

Hydraulic shock absorber with rubber elements

Rear Suspension

Hydraulic shock absorber

Front Brakes

Drum

Rear Brakes

Drum
Wheels
Pressed steel flanges

Front Tyre

2.75 x 9"

Rear Tyre

2.75 x 9"

Dimensions

Length: 1630 mm / 64.2 in

Height: 980 mm / 33.6 in

Ground clearance

210 mm / 8.3 in

Dry Weight

67.5 kg / 148 lbs

Fuel Capacity

5.6 L / 1.5 US gal

Consumption average

1.5 L/100 km / 66.7 km/l / 157 US mpg

Top Speed

40 km/h /29 mph

Source

vesparade.worldpress.com, Wikipedia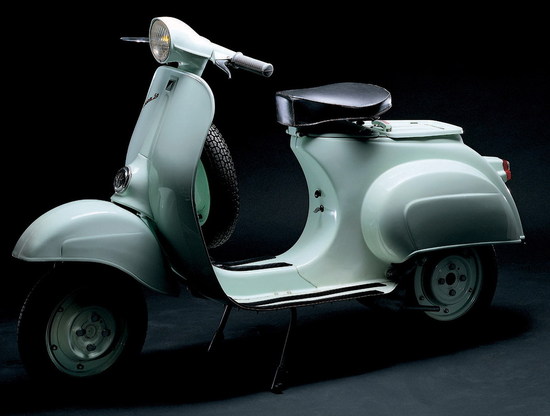 The Vespa 50 was launched in 1963 in response to regulatory changes in Italy. By 2002, the Vespa 50 and its variants had sold roughly 1.42 million units across the world. This is a remarkable success for a vehicle which was launched to escape the regulatory constraints more than anything else. The popularity of 'small body' Vespa has grown through the decades.
With the introduction of 'Highway code' in 1962, vehicles larger than 50cc were required to have a license plate. 14 years and above were allowed to ride scooters under 50cc without a license. Young riders who till then was a small share was rapidly becoming mobile and affluent. Vespa 50 circumvented the regulatory challenge and opened a hew world for the youngsters.
The marketing campaign revolved around this.
"Giovane, moderna e…senza documenti" or "Young, modern and… without papers"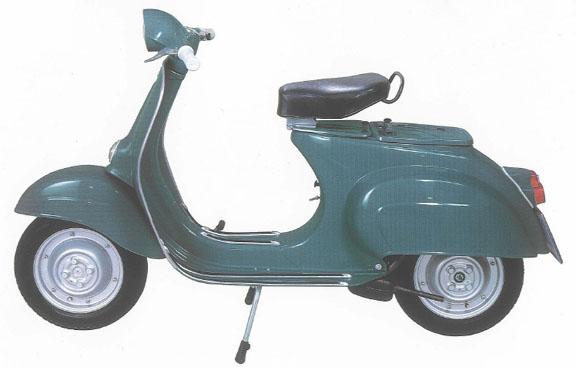 The Vespa 50 which was produced from 1963 to the 1990s, and over four million copies sold.
When Piaggio started manufacturing the 50 series it was a completely new development. The spot welded from sheet metal shells self-supporting chassis was much smaller and lighter, there was only a small flap for access to the engine . This frameworkis referred to in the collectors scene as "Small Frame" .

The engine was essentially in line with the requirements of large aggregates, only the cylinder was tilted by 45 °. This engine also has a rotary valve controlled two-stroke engine and rather low power and moderate in maneuverability - the moped variants SS and SR offered with a three-channel aluminum cylinder, larger carburetors and " banana exhaust" had considerably more power. The design remained until the 1990s in the model PK 50 in production. The engine also forms the structural basis for driving the light commercial vehicles of the Ape series 50

50 cc scooters were not allowed to be driven two-up in Italy, so for the Italian market a so-called Mono seat .

There are, among others, the following models :

Vespa 50 N
Vespa 50 L ( only for the Italian market / all chrome trim )
Vespa 50 R
Vespa 50 S
Vespa 50 SS ( with structure between seat and handlebars )
Vespa 50 Sprinter (only in Germany )
Vespa 50 SR
Vespa 50 Special ( square instead of round light)
Vespa 50 Special Elestart ( Dynastart generator instead of Kickstarter )

IThe Vespa 50 was a great success for Piaggio . Since they could be operated tax-free and without a license, they enjoyed particularly among young people, a high degree of popularity .

Even today, the Vespa 50 is by its classical form a popular collector's item . There are several shops that specialize in the repair and restoration of them and some other types.