Vespa 98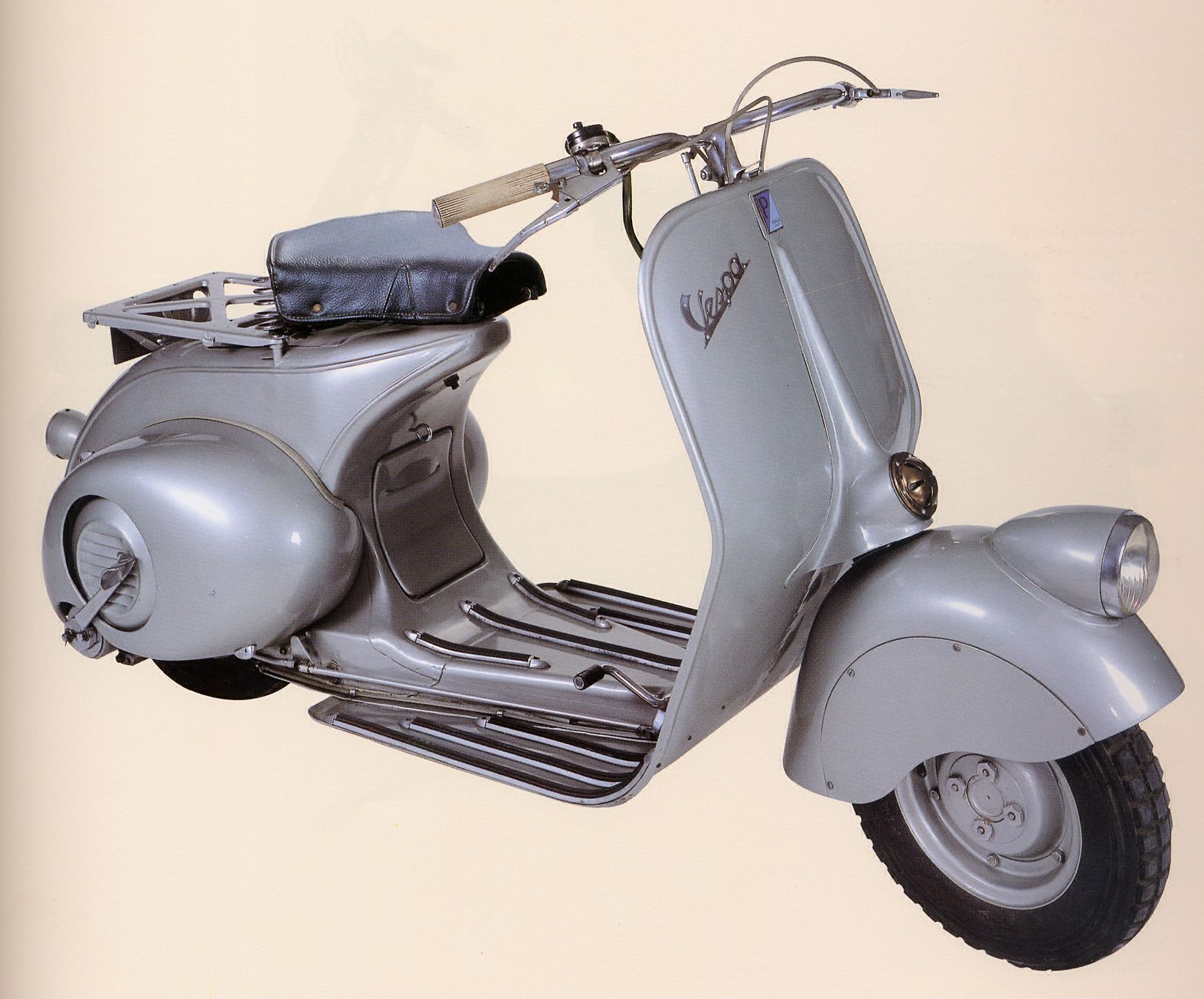 | | |
| --- | --- |
| Make Model | Vespa 98 |
| Year | 1946 - 47 |
| Production | 36 126 units |
| Engine | Two Stroke, single cylinder |
| Capacity | 98 cc / 6 cub in |
| Bore and Stroke | 50 x 50 mm |
| Carburettor | Dell'Orto T2 16/17 |
| Cooling | Air cooled |
| Battery | 6V |
| Ignition | Volcano magneto |
| Starting | Kick start |
| Max Power | 2.4 kW / 3.2 hp |
| Transmission | Continuous speed variator gearbox |
| Final Drive | Direct drive |
| Frame | Pressed sheet steel with streamlined monocoque structure |
| Front Suspension | Elastic with spiral steel springs |
| Rear Suspension | Rubber buffers |
| Front Brakes | Drum |
| Rear Brakes | Drum |
| Wheels | Pressed steel flanges, interchangeable, split rims |
| Front Tyre | 3.5 x 8" |
| Rear Tyre | 3.5 x 8" |
| Dry Weight | 60 kg / 132 lbs |
| Fuel Capacity | 5 L / 1.3 US gal |
| Consumption | 2.0 L/100 km / 50 km/l / 118 US mpg |
| Top Speed | 60 km/h / 37 mph |
| Colours | Silver, Metallic Green |
| Source | Wikipedia |
The motoleggera utilitaria Vespa, or light motorised runabout, was presented to the public for the first time in April 1946 at the Rome golf club. The leg shield sported the new Piaggio logo, which replaced the former aeronautical emblem. The fortnightly magazine "La Moto" dedicated its cover to the Vespa and the new scooter sparked off curiosity, surprise but also a certain scepticism among the public. The first fifty vehicles were produced at Pontedera's factory at the same time of the official presentation. For the first few months the Vespa was marketed by the Lancia dealer network, and a total of 2,484 were produced in its first year of life.
And so the adventure of the world's most famous scooter began. The price of the Vespa 98 was of Lira 55,000 while the "luxury" version was sold at the price of Lira 66,000.
The Vespa 98 was built in 1946-1947 and divided into four series: V98/1 and V98/2 and from 1947 the V98/3 and V98/4, where the modifications which were not significant. Basis for the first model were the prototypes Paperino and MP6 by Corradino D'Ascanio and Enrico Piaggio , a key feature was the free trapdoor that is maintained until today. The Vespa 98 had a displacement of 98 cc, a three-speed transmission and a top speed of 60 km / h There were also models with 125 cc displacement.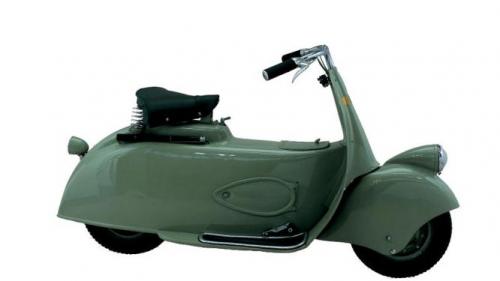 Paperino Prototype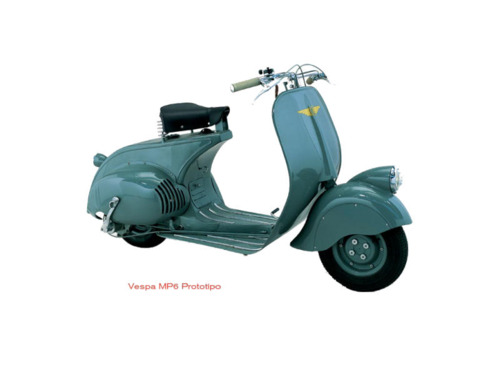 Vespa MP6 Prototype
The leg shield was first curved evenly and got only with the V98 / 2 the characteristic kink. From the V98/3 the leg shield has an additional headband for a speedometer. The side portion of the wing is demountable to V98 / 2 to change the tire. From the V98/3 of the fender is running leaner.
The Vespa 98 has no stand and leaned for parking on a boom projecting from the rear running board left and right.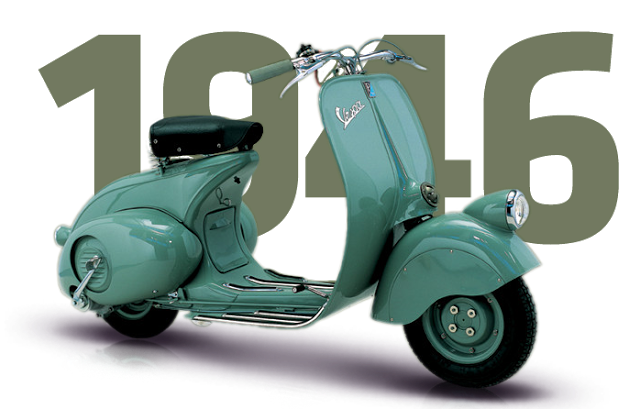 The second series of the Vespa 98, of which 16,500 units were produced, included significant improvements over the preceding model, design-wise as well as in terms of technical and practical aspects. The front mudguard no longer had a hatch opening, and it had been reduced in size to make wheel changing easier in case of a puncture, a frequent occurrence in the post-war period because of bad roads. The engine start lever had been re-designed to make it easier to manipulate. The lights had a different shape and size. The metallic grey paint recalls the colour of the Piaggio aircraft range. Magazines of the period noted that potential customers had to wait eight months for their Vespa 98. This led to the creation of a flourishing black market, with Vespas being sold at as much as double their normal retail price.