Victory Cross Country Tour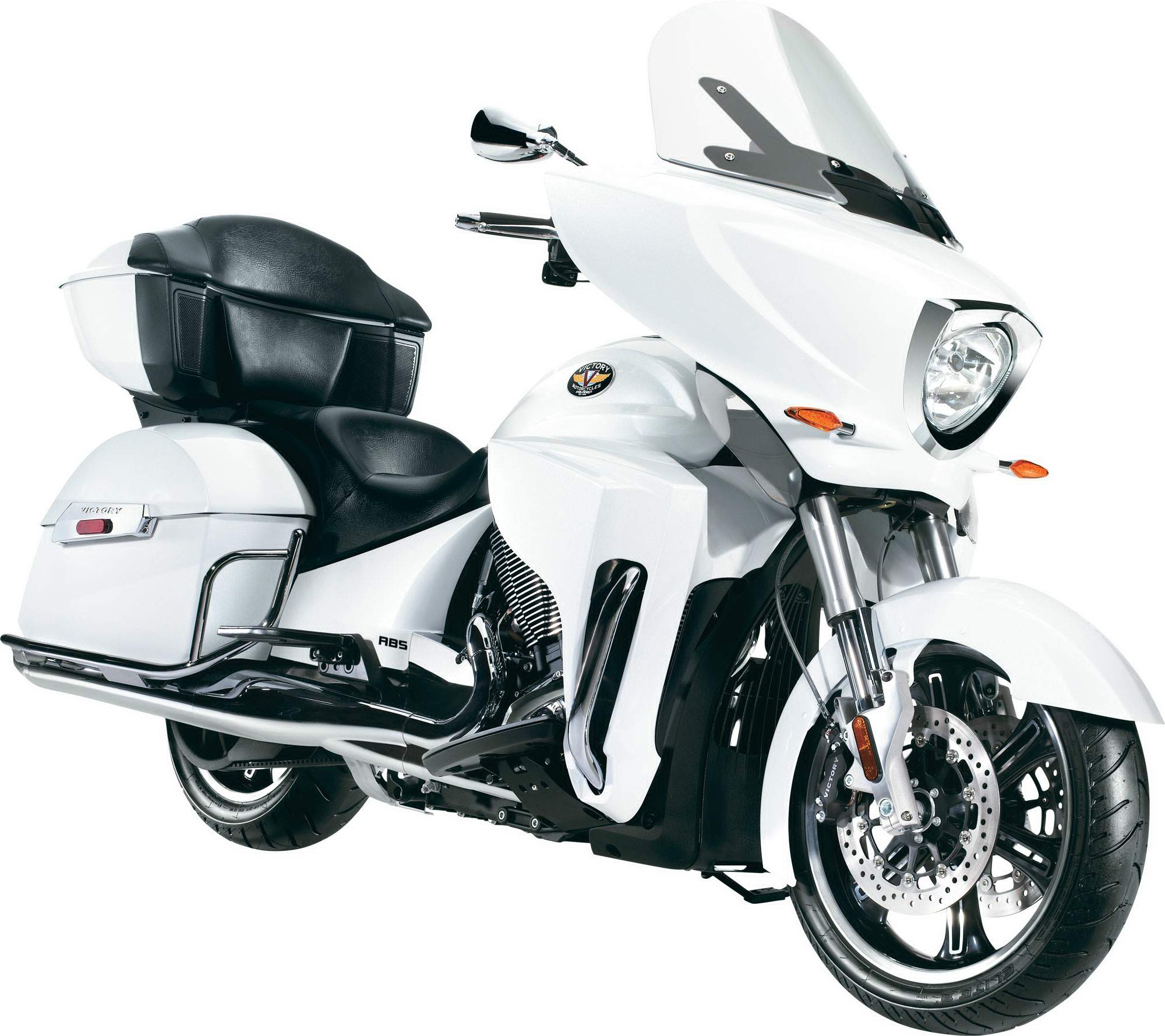 Make Model

Victory Cross Country Tour

Year

2012-13

Engine

Four stroke, 50° V twin SOHC, 4 valves per cylinder,

self-adjusting cam chains, hydraulic lifters

Capacity

1731cc /

106 cu-in

Bore x Stroke

101

x

108

mm

Cooling System
Air/oil cooled

Compression Ratio

9.4:1
Exhaust

Split dual exhaust with crossover

Oil Capacity
4.73 L / 5.0 US Quarts

Induction

Electronic

Fuel

Injection

with

dual 45mm

throttle

bodies

Starting

-Electric
Battery
12V, 18 Ah

Max Power

96.9

hp

/ 71.3 kW

Max Torque

144 Nm / 14.6 kgf-m / 106 ft-lb
Clutch
Wet, multi-plate

Transmission

6 Speed
Final Drive

Carbon fiber reinforced belt

Front Suspension

43mm Conventional telescopic fork
Front Wheel Travel

130 mm / 5.1 in

Rear Suspension

Single,

mono-

tube

gas forged

and

cast

aluminum with constant-

rate

linkage, air adjustable
Rear Wheel Travel

120 mm / 4.7 in

Front Brakes

2x 300mm

floating

rotor

3 piston

caliper

Rear Brakes

Single 300mm

floating

rotor

2 piston

caliper

Front Tyre

130/

70 R18

Rear Tyre

180/60 R16

Rake

29°

Trail

142 mm / 5.6 in.

Dimensions

Length: 2747 mm / 108.1 in.

Wheelbase

1670 mm / 65.7 in
Ground Clearance
148 mm / 5.8 in
Seat Height
667 mm / 26.3 in
GVWR
618 kg / 1360 lbs

Dry Weight

384 kg / 845 lbs

Fuel Capacity

22.7 Litres / 5.8 US gal
The new long distance machine others will be chasing for years.

The new long distance machine others will be chasing for years with the world's largest storage capacity with over 41 gallons.

VICTORY CROSS SERIES

Choose the Cross bikes for traditional styling with the modern technology only Victory brings to riding enthusiasts. It starts with the 106 cu. in Freedom V-Twin with power and torque for exhilarating speed at the twist of the wrist. With a 6-speed overdrive transmission these bikes have the long legs for all-day cruising.

Our all-aluminum backbone frame provides light low-speed handling and impressive stability in corners and at speed. Combined with a range of windshields and storage choices and you have a bagger for everyone who wants to travel in style and comfort.

NEW TRUNK FOR VICTORY CROSS COUNTRY/CROSS ROADS

Touring riders can put away their tools. The new Lock & Ride® Trunk from Pure Victory can be installed on a Cross Country or Cross Roads in seconds, and removed just as quickly - without tools.

To install a trunk, a rider simply aligns the trunk mounting legs with mounting points at the rear of the bike and snaps down the locking arm. The trunk's power cord connects easily to the bike's electrical system to power the taillight at the rear of the trunk lid, the audio speakers and the accessory power outlet inside the trunk. To remove the trunk, simply reverse the process. When the trunk is on the bike, a locking pin can be added for theft prevention and additional peace of mind.
oThe trunk has more than enough room for two full-face helmets.

oThe trunk lid seals securely, is lockable and provides the bike with a high-mounted taillight.

o The front face of the trunk has a comfortable, padded passenger backrest and dual audio speakers.

o Each 2011 Cross Country and Cross Roads comes with a spare lock cylinder so a trunk can be locked with the bike's ignition key.

oTrunk-related accessories available from Pure Victory include: Passenger Armrests, Trunk Luggage
Rack (mounts atop lid), and Trunk Liner

PROVEN OUTSTANDING RELIABILITY

Victory has a track record of consistently outstanding reliability and dependability, which has led to the industry's highest customer satisfaction ratings. This proven reliability, along with the new transmission design, allows Victory to recommend extended oil service intervals for 2011 drivetrains.

oThe recommended oil change interval for 2011 models is every 5,000 miles (8,000 km).

oLess-frequent oil changes results in a lower cost of ownership.

NEW TRANSMISSION

The Victory drivetrain team scrutinized every component of the engine and transmission and fine-tuned the designs and performance of numerous parts. Approximately 40% of the drivetrain is new for 2011, with the transmission receiving so many improvements it is virtually a new transmission.

The changes: improved manufacturing efficiency and quality assurance; enhanced drivetrain's already-impressive reliability; improved engine performance; and, for riders, improved ridability and delivered a more appealing-sounding transmission.

oIn terms of operating sound, selected modulation frequencies have been eliminated. This produces a more-appealing sound - consistently in each gear. In 4th and 6th gears in particular, gear whine has been reduced.

oDriveline lash has been reduced by 66%.

o"Neutral Assist" has been added to make it easier for a rider to shift into neutral when stopped. This will reduce the rider's effort, will reduce clutch wear and will lessen the performance demands on the oil.

ENHANCED INSTRUMENTATION

All cruisers now have instrumentation similar to that of the Victory Cross Roads, which provides a rider with a wealth of information in one, easy-to-read location. The new instrumentation includes:

o An analog speedometer, which may be set to show MPH or KPH.

oBlue backlighting.

oA large LCD that displays: Clock (time of day is viewable at all times), gear position, tachometer and diagnostic readouts for Victory dealership service technicians.

o The gauge face includes lights such as high-beam and neutral indicators and the oil warning light. Cruisers no longer have these indicator lights atop the triple clamps.

oThe Cross Roads instrumentation also has an always-viewable fuel gauge.

CHASSIS CHANGES ACROSS THE LINEUP

All brake calipers, rotors, lower belt guards, and floorboards are black.

oAll left- and right-hand switch cubes are black, as are the audio control switch block and cruise control switch block.

o The triple clamp is black on all models except the Vegas Jackpot (which retains its chrome triple), and the Victory Cross Roads (which retains its brushed finish).

o A new side stand on each model features an integrated hooked-end design for easy locating and easy control of the side stand.

o All cruiser exhausts have a larger outlet for improved sound quality and a lower exhaust note.

VICTORY CROSS ROADS

The Victory Cross Roads is an extremely smooth, powerful and comfortable touring model. Multiple options allow the rider to tailor this motorcycle for any type of touring.

All Victory Cross Roads Series Models Features

o Strong, innovative two-piece, sand-cast hollow aluminum frame.

o Air-adjust rear suspension with 4.7 inches/120 mm of rear travel.

o Dual disk front brakes and inverted forks.

o 22.0-liter fuel capacity.

o Instrumentation includes analog speedometer, fuel gauge, odometer, trip meter, and indicator lights.

o Ultra-bright, multiple-LED turn signals and flush-mounted taillight.

Cross Roads

o 69 Litres
leather soft bag capacity

Cross Roads Deluxe

o79 Litres
Lockable hard bag storage capacity

o Easily detachable screen

o Touring seat

Cross Roads Series Colour Options

o Crimson Red

o Solid Black

New Colour-Matched Lock & Ride® Trunk Available

o New Lock & Ride® Trunk available as a Pure Victory accessory.

o Trunk can be installed or removed in seconds - without tools: Align its mounts, lock it in place, connect power cord and ride.

o Spacious trunk can hold two full-face helmets and have room to spare.

o Trunk features comfortable passenger backrest and two audio speakers.

o Trunk lid seals tight, is lockable and provides bike with a high-mounted taillight.

o Available trunk accessories: Passenger Armrest Kit, Trunk Cargo Rack, Trunk Liner.

Pure Victory Accessories for the Cross Roads Include:

o Lock & Ride® Trunk, Trunk Cargo Rack, Trunk Liner, Passenger Armrest Kit, and Chrome Saddlebag Protectors.

o Stage 1 Exhaust, Cross Roads Light Bar, Tach Kit and more

Victory Cross Country Tour Model Highlights

•World's Largest Storage Capacity 41.1 gallons

•Victory Comfort Control System

•Taller windshield deflects more wind/rain

Victory Cross Country Tour Features and Benefits

106 CUBIC-INCH FREEDOM V-TWIN
At the heart of the Cross Country Tour sits the Freedom V-Twin power plant, expertly balanced for the perfectly controlled explosions that deliver 97 horsepower and 113 ft lbs of hole shot torque. Maestro of the motorcycle world, it's what keeps man, machine and highway working together in perfect harmony.

6-SPEED OVERDRIVE TRANSMISSION
The highest performing transmission on the road receives the power generated by the massive V-twin and seamlessly turns it into something you can use. Neutral Selection Assist and helical-cut gears ensure every shift is as quiet and smooth as the one before it.

ABS BRAKES
Standard on the Cross Country Tour, the Victory Anti-Lock Brake System doesn't discriminate between dry, wet or rock-strewn pavement. No matter what the conditions, ABS monitors what the wheel is doing and gives you consistent, smooth braking from the handlebar lever down to the rubber on the road.

VICTORY COMFORT CONTROL SYSTEM
Since Mother Nature seldom listens to the weather requests of motorcycle enthusiasts, we've taken means to accommodate her. Down below the knees, we've given the Cross Country Tour dual fairing vents (as well as a storage box). Close 'em for complete protection in cold or rain, open 'em wide when the weather's more agreeable.

CRUISE CONTROL
After making every other aspect of going the distance as effortless as possible, the throttle hand still had a beef about being overworked. By adding precise, automotive-style cruise control, the right mitt can now simply hang on and enjoy the ride.

4.7 INCHES OF REAR SUSPENSION TRAVEL
Just in case the open road gets too lonely the class-leading rear suspension features an easily adjusted air shock and coil spring, ensuring a smooth ride for you and any adventure seeking passenger.

TOTAL STORAGE
Add up lower faring space, trunk and saddlebags and you get an amazing, best-in-class 41.1 gallons of storage space.

SADDLEBAG AND RAILS
With lockable latches and 21.3-gallon capacity, the Cross Country Tour can protect from theft and accomodate a passenger that doesn't follow the "travel lightly" rule. Exquisitely designed chrome rails provide style as well as tip-over insurance that you'll be grateful for when your brother-in-law asks to ride.

HEATED SEATS AND GRIPS
The Cross Country Tour lacks for nothing in the comfort category, and as proof we offer up heated seats and handgrips as exhibit A. Together they offer the best means of enhancing your road warrior reputation by adding precious road time to both sides of summer.

TALL WINDSHIELD
To maximize comfort, we've raised the windshield, resulting in reduced buffeting and increased wind and rain protection.

26.25" SEAT HEIGHT
Rule of the road: the lower the seat height, the more control. The Cross Country Tour has the lowest seat in its class. Unless you admit having the toe strength of a ballerina, you want to be able to plant both feet firmly on the ground.

HID LIGHTING
A machine that looks this good deserves to be seen. The High Intensity Discharge headlamp shines four times brighter than standard halogen headlamps and shouts 'HERE I COME' four times louder. Since it also lasts 10 times longer, you can see your way ocean to ocean with every mile marker perfectly illuminated.

ADJUSTABLE PASSENGER FLOORBOARDS
When the passenger floorboards are easily adjustable, any height passenger can find comfort. That's the long and short of it.

12V SOCKET
Power from the engine can now be sipped to charge phones, cameras, or anything that uses a 12v socket. Sometime during your long distance cruise you may need to call in support for that rider stranded with a lesser motorcycle.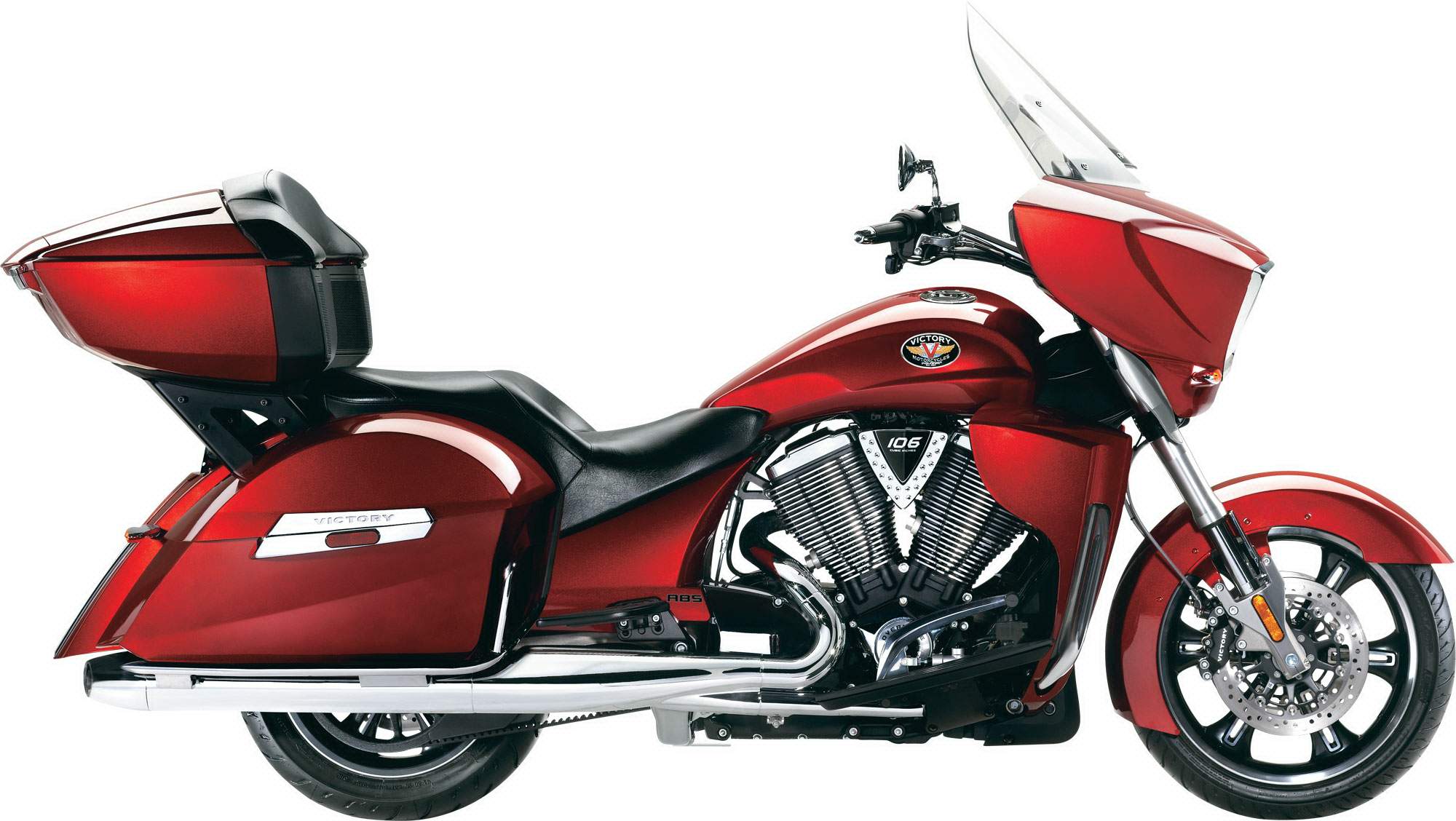 Motorcycle Review

Before arriving in Austin, my wife Jane and I were given a few photos and a brief description of the new 2010 Victory Cross Country motorcycle, so we had formed an image of what to expect. First sight of the Victory Cross Country revealed that our anticipation had not been nearly strong enough; a stunning example of motorcycle artistry greeted us.

Painted metallic Midnight Cherry red, the Cross Country's sharp lines appear faceted out of cultured ruby. Angular design elements bring to mind experimental aircraft of the early jet era, yet defy placement in a specific period of the motorcycling milieu. Triangles appear scattered throughout the motif, beginning with the inverted triangle of the headlight cowl, continued in the triangle circumscribed by the cylinders with the EFI cover wedged between, and finalized in the tapered, flush-mount LED taillight.

Normally, I prefer to spend some time with a motorcycle before having Jane ride with me. However, she is only in Austin for a single day, so there is little time for such formalities. Fortunately, the Cross Country proves a delight to pilot with a passenger. Its lightweight hollow cast aluminum frame, which uses the engine as a stressed member, gives the Cross Country the lowest center of gravity in its class. There is no hint of top heaviness, and the bike requires little input to prevent wandering at slow speeds. The low seat height of just over 26 inches (unladen), adds to rider control when dealing with stop-and-go traffic or walking the bike through parking lots.

Possessing a map of the Texas Hill Country, I roll on the throttle. The 50-degree V-twin Victory Freedom 106 engine builds revs with a comforting growl from the split dual exhaust, effectively applying its 96 horsepower and, most importantly, 109 ft/lbs of torque to the Dunlop Elite 3 tires. Fed through EFI with dual 45mm throttle bodies, the Victory Freedom 106 utilizes a single overhead cam with four valves per cylinder. This supplies a high volume of air through a light weight valve train, allowing the engine to produce a wide torque curve from midrange to high rpm. Engine response is superb and shifting through each of the six gears is smooth.

With the state capital in the rear-views, we head into the Texas Hill Country, the region of Central Texas along the Balcones Escarpment, with Austin to the east and San Antonio to the south. The topography is rolling, sometimes rugged, limestone hills covered with oak and cedar. For our purposes, the Hill Country is a series of meandering two- and four-lane roads linking a diverse collection of small towns, each with its distinct interpretation of Texas culture while conforming to the overriding theme of rugged individualism. These wonderful little towns urge a stop to investigate and shop, making them a perfect proving ground for our impeccable touring machine.

The 21 gallons of storage in the Cross Country's hard saddlebags should handle the clothing and supplies required for this trip, as well as souvenirs picked up along the way. All can be packed conveniently in the provided bag liners. The Victory saddlebags have an internal locking latch that secures the top hinged lid to the bag body. However, my overstuffing of the bag bulged the sides outward. On several occasions, the overstuffing caused the saddlebag lids to open while riding, even after I believed I had ensured that they were safely clasped. Careful packing seems to be the key to keeping the lids closed.

Distance is deceiving here. Even with a 60 mph limit on many of the two lane roads, the time it takes to get between two points on the map is blissfully prolonged. Each crossroads provides new sights that must be scrutinized to determine if they require further investigation. Every dip in the road leads down to a creek running through culverts under the road with signs warning of possible flooding. Around every hill a new scent greets us, distinctly earthy and palatable. Travel by motorcycle encourages the use of all senses to envelop oneself in the environment, and the Cross Country moves us through this environment in an undisputedly enjoyable fashion.

As the evening approaches, Jane and I ride the Cross Country to our one firm destination of the day, The Salt Lick Bar-B-Que, in Driftwood. The Salt Lick restaurant is a local institution, borne out by the projected two-hour wait. Buses loaded with University of Texas Longhorn fans are pulling into the expansive parking lot as we arrive. The attendant directs us to pull into an area normally reserved for employees to ensure the Victory is secure away from the throng of vehicles coming and going. The crowd is daunting but the enticing smell of smoked meat coming from the decades old pit barbeque draws us in.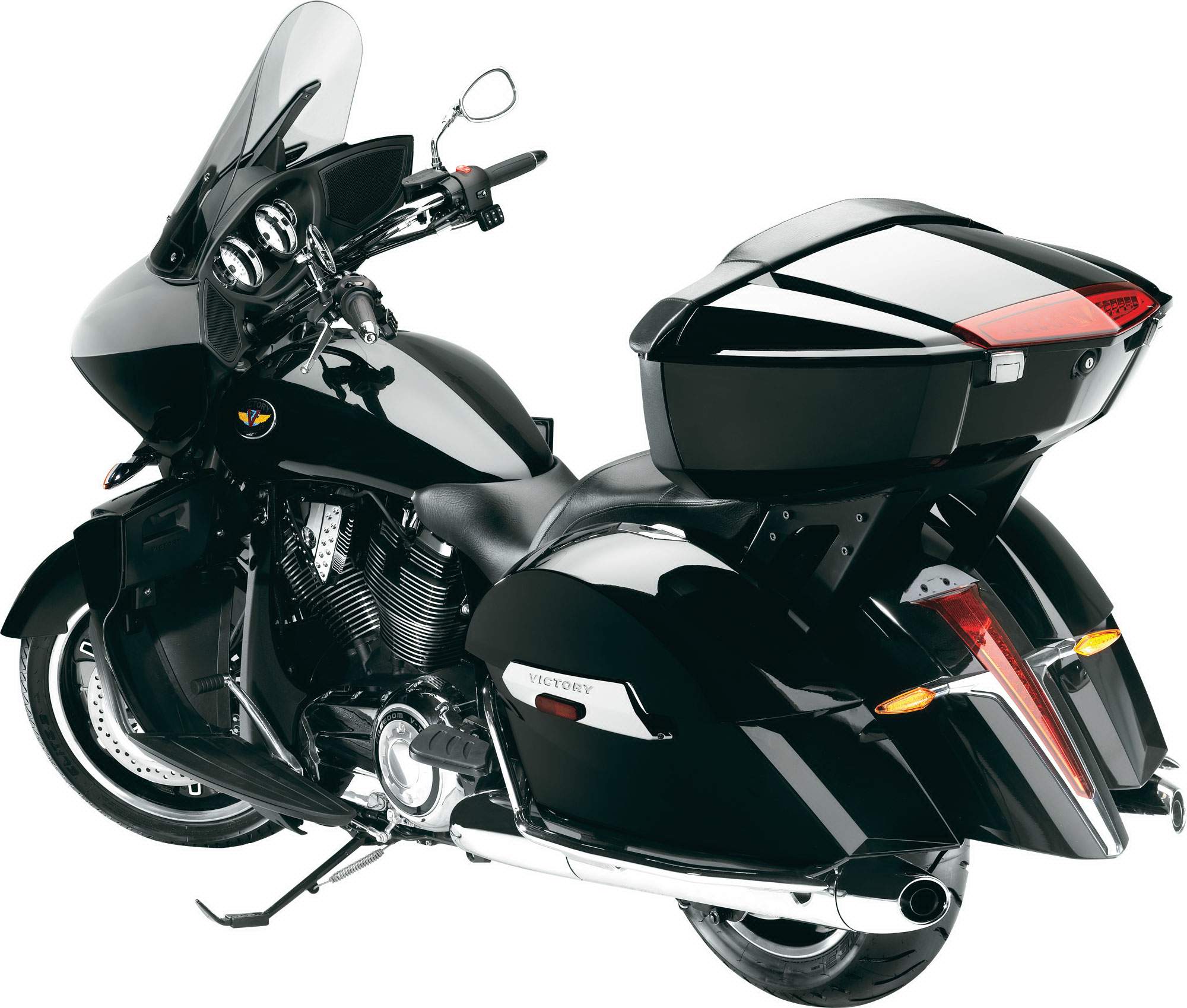 The Salt Lick is a sprawling complex of stone and grey woodplank buildings with a number of separate dining rooms and a large picnic area with a band. We learn from observation and overheard conversation that the trick to a quick meal is going directly to the pit house and ordering food to go. Jane and I both order a combination plate, which is prepared in a few minutes, and take our food to the picnic tables near the band. The atmosphere is lively and cheerful due to the Longhorn victory over neighboring Oklahoma.

As she had been seduced by the comfort and rideability of the Cross Country, Jane reluctantly boards her flight back to California, sorry that she cannot accompany me for the rest of the trip. As a passenger, one criteria Jane looks for in a motorcycle is the smoothness with which it transitions, be it between gears or from start-to-stop and back. With a precise six-speed transmission, wet multi-plate clutch, and carbon fiber reinforced drive belt, the Cross Country scores high in this category. With its comfortable seat and backrest, it is easy for Jane to imagine herself spending the next four days with me on the Cross Country.

Preparing for my ride home to California, I decided on a course from Bandera to Sonora, with as little time on major highways as possible. Bandera is an authentic cowboy town surrounded by working cattle and guest ranches and is a popular stop for motorcyclists making the circuit around the Three Twisted Sisters, the loop consisting of Ranch Roads 335, 336, and 337.

I reach Bandera in time for an early lunch, so I order some food at the Dogleg Coffee House on Main Street across from the general store. While the amenities of the Dogleg are modern, the building itself is made of limestone block and looks like it could have been a jail or bank in a previous incarnation. All the shops and restaurants along Main Street are well maintained yet direct one's mind back to a time before internal combustion. Each step through town leads to a photo opportunity of some idyllic Americana. Each building looks to be hewn from the history pages of the Old West.

With noontime approaching, I head west to experience some of the premier motorcycling roads offered in the Hill Country. Just past Vanderpool, Ranch Road 337 starts to climb and twist as the rolling hills gain elevation and become more severe, exposing faces of jutting limestone framed by oak and cedar. Long vistas of the land north of the Balcones Escarpment can be seen. I head down to the Frio River and the town of Leakey, where I pick up RR 336, arguably the most thrilling of the Twisted Sisters. Initially, RR 336 follows the West Frio River for a scenic ride through expansive ranges, marked by frequent cattle guard crossings, which are effectively smoothed out with the air adjustable rear suspension and the inverted cartridge forks with progressive springs; both ends offer about five inches of welcome travel.

Soon, the road heads up to a broad ridge that borders the west bank of the river, and then turns into a roller coaster of two-wheeled bliss. Climbing and diving with frequent swooping turns, the scenery attempts to distract my attention away from the road, but the tarmac is too inviting. Adrenalin claws at my hand to twist harder, brake later, push for more lean. How far can I take the Cross Country? The Victory's rigid frame, sport-aware suspension, and 300mm floating rotor disk brakes with four-piston calipers give the Cross Country a carving ability akin to a much lighter bike. Too soon I am approaching Sonora and Interstate 10. I am told that riders often ride the Twisted Sisters a couple of times in a day. Unfortunately, I must keep to my schedule.

The Interstate calls for a different state of mind, one that the Cross Country accommodates. The stretch of I-10 that leads out of Texas through New Mexico seems endless, but highway luxury is easily at hand without removing your grasp from the grips. Operating a trigger switch on the left handlebar with your index finger can change each mode of the trip LED display. You can flip the display to read odometer, two trip meters, average fuel consumption, average speed, fuel range, fuel mileage, and trip timer.

An integrated 40-watt audio system is controlled from a set of switches inside the left grip, allowing me to set the system to AM, FM, weather band, and MP3 player. In MP3 player mode, I can select playlists or scroll through my files by album or artist. The audio system also has an auto-fade feature that permits you to set the volume while stopped, and the system will automatically increase the volume as your speed increases.

Flexible body positioning is a great defense against fatigue, and the ergonomics of the Cross Country provide many opportunities for personalization. The rider's floorboards are long and offer a wide range of options for foot placement. The foot controls are adjustable to accommodate different leg lengths.

Even without highway pegs installed, the forward swept wing shaped highway bars provide a nice place to push your feet against to change the pressure points on your gluteal muscles and lower back. The seat has extra padding and provides a small amount of back support. Using the standard electronic cruise control makes running the tank dry before having to stop to stretch your legs a regular occurrence.

West of Las Cruces, the sky fades into the darkness of what is obviously a storm. Just before reaching the Border Patrol checkpoint between Las Cruces and Deming, I enter the brown wall of dust and rain that delineates the outflow boundary of the tempest. I angle into the heavy crosswind as much as possible, trying to dodge tumbleweeds and shrubs. The Cross Country handles the high crosswind with the same confidence it displays during normal riding conditions.

A heavy downpour with hail hits just as I ride under the awning of the Border Patrol checkpoint. The large awning does not protect from the wind, but does provide some shelter from the heavy rain and hail. This gives me a chance to pull a tumbleweed out of the forks while escaping the heaviest of the downpours I encountered. The Cross Country's fairing is designed to channel rain away from the rider's hands, and adding the tall touring windscreen delivers even more protection.

The next morning, clear skies and a clean Interstate 10 greet me. Motorcycling north through Arizona on US 191, I make Flagstaff for my final night on the road, leaving me an eight-hour ride across the Mojave Desert to home. Over dinner I consider the coming final day of my trip and how the Cross Country has been a consummate companion. Whether riding solo or two-up, on Interstate or rural road, the 2010 Victory Cross Country is a most appropriately named motorcycle. Unique styling, well-designed accoutrements, and ample performance position this American motorcycle as one of the premier distance killers available.
Source Motorcyclingmag.com