Nico Bakker Suzuki GT 750
A couple of months ago Ray Brown decided he was bored with his JGS1000. Not a bad bike but a trifle bland, he concluded. Just another Universal Japanese Motorcycle when what he wanted was something different, something with a bit more originality.
They don't come much more different than the Nico Bakker framed Suzuki GT750 that Ray swapped the GS for shortly afterwards. Big, swoopy red and gold race fairing with frog-eye lights up front, angular twin-cap tank, single seat and that distinctively finless watercooled three-cylinder stroker engine held in a grip of iron by an expertly hand-crafted monoshock trellis. Different is hardly the word, for this is possibly the only example in the country.
You've heard of Nico Bakker, the secretive Dutchman who's been building race frames since 1970 for a huge variety of engines. No ordinary frames either — Bakker's are constructed from chrome-molybdenum aircraft tubing, stronger than Reynolds and extremely expensive. They are also extremely good: his list of top-notch customers stretches from Wil Hartog to Takazumi Katayama and the name Bakker still crops up frequently in race reports — for example our Le Mans story only last month.
Relatively few of Nico's frames were built for the road and fewer still made it across the North Sea so Ray Brown was naturally intrigued when, only a week after acquiring the bike and knowing little about it, he stumbled across the story of how it came to be straightening the highways of Britain. 7 was up in London shopping for bike spares and went into a little accessory place called Fastpart Motorcycles that's just opened in the Commercial Road. Just by chance there was a picture behind the counter of a bike looking just like mine so I asked about it and the guy said it was a Sanders & Lewis framed GT750 that he'd built a few years ago.'
Ray went round to Sanders & Lewis'place in Kilburn the same day. Peter Hendry, the sales manager there, remembered the red and gold bike as belonging to a customer of theirs and said it was definitely a Nico Bakker — not one of the similar Café racers S&L used to sell which were built around Bakker-lookalike frames made by Saxon, a nearby firm who've since gone bust. Sanders sold quite a few GT750-based bikes but Peter couldn't recall seeing another genuine Bakker. He did know where Ray's bike had been bought from before and put him on to Ian Johnson, boss of Ride On Motorcycles in Acton, west London.
It was Ian who was responsible for getting the Suzuki to the condition it's in now. He thinks the original owner bought a new GT750 and went over to Holland to have Nico build a bike round the engine. Most of the work was completed but the guy then lost interest in the bike and chopped it in for a car at a dealers down the road from Ride On. The car dealer hardly knew an expensive hand-built special from an FS1E but he got in touch with Ian who was heavily into exotica until car tax killed the profits, assembling early Bimotas and selling one of the first Harris Magnums to be made.
The Bakker bike was three-quarters finished but tatty when Ian took charge of it. He tidied it up, sorted out the electrics, re-upholstered the seat, fitted new tyres and enlisted the services of Dream Machine in Nottingham for the paintwork, which still looks good some five years and several owners later. The frame's a bit chipped now — Ray plans to get it restored or powder coated in the near future but it's still an impressive piece of tubery. Lots of strength round the head and carefully-crafted lines running down to the box-section cantilever swing arm and the horizontal de Carbon shock which is offset an inch or so to the left.
Yokes and forks are original GT750; fork sliders are reversed and anodised black and the rear-facing, Aeroquip-hosed calipers bite on drilled standard discs which are bolted to a gold cast wheel of indeterminate make. Original Suzuki instruments, with gear indicator and centrally-mounted temperature gauge, sit above handlebar clamps made vacant by the Grab-On equipped clip-on bars. The headlamps are spots: one for main beam, one for dip.
The big fuel tank contains a partition for two-stroke oil, topped up via the right-hand cap, and is secured in racer style by rubber straps. The seat unit bolts straight in to the tapped ends of the rear subframe; rearset mounts are Bakker originals and are also neat and tidy. The rear wheel's another cast six-spoker but the big drum brake is standard down to the empty spoke mounting holes running round its edge.
A fat, chromed Piper three-into-one exhaust leads up to the 738cc engine. The motor is stock 'cept for a crank with straight-cut primary gears which was borrowed from a GT-engined racing sidecar after the last owner ran a big-end. The radiator cap has been lopped off and rewelded to one side to clear the new tank, and ignition is by Lucas Rita but the bulbous jacketed powerplant itself is otherwise exactly as Suzuki built it.
That means the bike's not hugely fast, though its light weight and slightly lowered gearing make it agreeably quick off the mark as I found when Ray let me out for a brief blast down the roads round his place in St Albans. Being tall I couldn't get my legs inside the fairing lowers and the clocks were obscured by the swept-back screen but the riding position seemed surprisingly comfortable and the bike fits Ray perfectly. The lack of bulk is immediately obvious and although it's easy to throw around and change direction the GT holds a line in corners like the thoroughbred racer it resembles. Even the Suzuki front end seemed well-controlled.
Not that I was pushing things, mind you. I left the cornering antics to Ray and contented myself with a quick burst in a straight line, the Piper's crackle turning to a high-pitched howl as I whacked the throttle open and the bike shot forwards. The motor seemed pretty tractable and the initial acceleration good but it runs out of steam at around I Wrnph — not really enough for a bike that looks like it's been hiding in a dark corner of some continental racetrack since the late '70s.
With this fact in mind Ray has already contacted tuner Terry Beckett for a quote to provide Bakker frames rely on thick tubing and lots of straight lines classic some additional horses. That shouldn't be too much to ask for — in standard form the triple is reckoned to give a mere 67bhp but as early as 1972 the GT-based TR750 roadracers being ridden by the likes of Paul Smart were putting out more than 100bhp and being timed at over I70mph at Daytona.
The problem with those bikes wasn't lack of horsepower but handling. The TR750s weaved and wobbled so alarmingly when they came over to Britain for the Match Races later that year that they were almost unrideable and soon picked up the nickname 'Flexy Fliers'. It could have been so different. All Suzuki needed to do was go and see Nico Bakker.
Source Nico Bakker.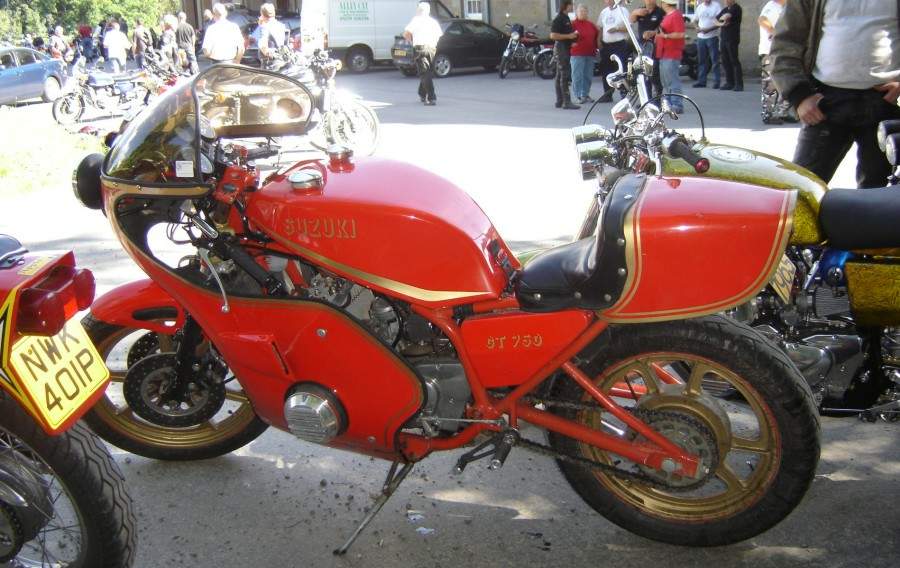 The following is the content (verbatim) of an e-mail received I received on 23 August 2014 from Graham Cowley:
"Dear Tony,
My name's Graham Crowley and I built the Nico Bakker which is featured on your fascinating website. This was back in 1978. Your piece on the bike is both comprehensive and accurate.
I bought the frame kit from Saunders & Lewis in Kilburn, London. The frame was supplied with a De Carbon rear shock - top spec in the 1970's. The frame kit included the combined petrol and oil tank - and I think the side panels were included, but no seat or fairing. So I fitted a replica Yamaha TZ 750 which had to be widened to accommodate the Suzuki engine. The seat was a Peckett & McNab item.
The bike was featured in BIKE Magazine in an article by Roland Brown. This was sometime after I'd sold it in the 1980's. The wheels were CMA items - if I remember rightly. I fitted the twin spots in a manner similar to the endurance racers of the 1970's.
It was a very striking - and I think - almost unique bike in it's day. It was also an absolute joy to ride with great handling and masses of torque.
I'd worked briefly in 1975 at Dresda Autos in Isleworth where I had met Richard Peckett and Pete McNab. P&M were responsible for widened the fairing. With Ray Leon doing the original paint job which was white with red detailing. This also included spraying the frame red. Ray Leon had a shop in Putney just a few doors away from the Dresda shop which has since become Riverside Motorcycles (H-D specialists). The fairing, seat and side panels were painted red with gold detailing by a subsequent owner. It's this paint job that appears in the BIKE Magazine article.
The reason there were so many standard Suzuki parts employed was primarily a matter of cost. Once I'd bought the frame kit I managed to source a complete and almost new GT 750 which had been written off. I think it had just over 100 miles on the clock. I kept the original donor Suzuki registration number otherwise I would have had to re-register the bike.
I still have a black and white photo of the bike shortly after it was completed.
I'd also built a Dresda Honda 750 (Barcelona Replica) a few years before building the Bakker Suzuki.
I wonder who currently owns the Bakker Suzuki?
I'm now restoring a 1937 JAP engined OK Supreme.
I started riding in 1966 - on a BSA C12 and I'm still passionate about bikes and currently own a 1949 Vincent HRD Rapide, a 1999 Ducati 748S which I've had since new. It now has 28,000 km on the clock and a 2005 KTM 625 SMC which until recently was my daily commuter.
After viewing your excellent website I immediately tracked down my old Dresda on another website. Thanks for a fascinating website.
I hope these ramblings are of some interest.
Very best,
Graham".