Benelli 250 Barracuda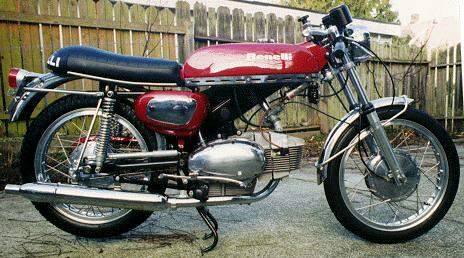 | | |
| --- | --- |
| Make Model | Benelli 250 Barracuda |
| Year | 1965 - 70 |
| Engine | Four stroke, a horizontal single cylinder, OHV |
| Capacity | 245 cc / 15 cu in |
| Bore x Stroke | 74 x 57 mm |
| Compression Ratio | 8.5:1 |
| Cooling System | Air cooled |
| Induction | 24 mm, Bs2 Dell'Orto |
| Ignition | Battery and coil |
| Starting | Kick start |
| Max Power | 17.9 kW / 24 hp @ 8200 rpm |
| Clutch | Wet, multiplate |
| Transmission | 4 or 5 Speed |
| Final Drive | Chain |
| Frame | Pressed and tubular steel, open cradle |
| Front Suspension | Double action hydraulic telescopic fork with steering damper |
| Rear Suspension | Swinging arm, hydraulic shocks with springs |
| Front Brakes | 176 x 31 mm Drum, single leading shoe |
| Rear Brakes | 158 x 38 mm Drum, single trailing shoe |
| Front Tyre | 3.00-18 |
| Rear Tyre | 3.25-18 |
| Ground Clearance | 178 mm / 7 in |
| Seat Height | 762 mm / 30.0 in. |
| Dry Weight | 105 kg / 232 lbs |
| Wet Weight | 113 kg / 248 lbs |
| Fuel Capacity | 11.5 Litres / 3.0 US gal |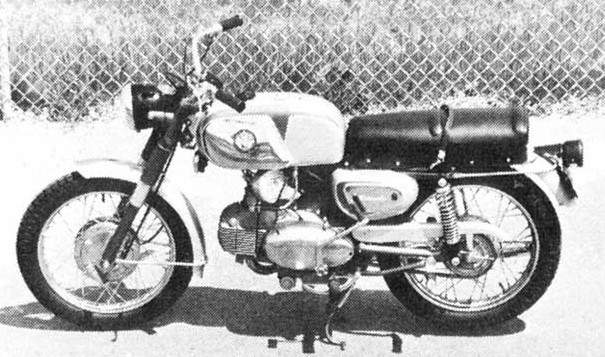 Road test reporting should, ideally, be objective; however, emotional responses inevitably creep in. Value judgements, psychologists call them. Such was the case with our test bike, the 250cc Benelli Barracuda: an attractive, well-made but not particularly exciting cycle if one equates excitement with speed.
Why then, did we enjoy tootling about on this single-cylinder popper? It's certainly no stormer. The handling is good but not exceptional; it starts well but balks occasionally. The brakes are not outstanding.
Remember the mountain man? A now-vanished American of the rugged individualist mold, he subsisted (with his squaw) by trapping and hunting. His transportation had to be reliable—and a fiddle-footed, high-spirited speedster might break down when most needed. No. Our American-folk-hero required a good, reliable, mule.
Now you fanciers of fine horseflesh might consider this to be a rather arbitrary, unfair decision and could cite endless accounts of purebred horses going on and on while other animals failed. Well they might have—but don't bother the mountain man with such fol-do-rol; he made his value judgement and he'd stay with it.
Enter the Barracuda… while other bikes might flash past her, the Benelli 250 seems to say, "Keep your shirt on Ace. Do you want to get halfway there in record time, or get all the way there today?" Certain differences between the Barracuda and the mountain man's mule should be cited. For instance: from a looks point of view the Barracuda need take a back seat to very few. A snappy combination frame of pressed and tubular steel employs a double-action hydraulic front fork and screw-down steering damper. The rear is gussied up with swing-arm suspension of usual design. The steel gas tank is attractively sculptured to look good and provide a genuine knee-grip on its 3.5 gallon capacity. (In fact, the entire riding position is excellent, with a really nice balance and feeling of oneness with the bike.)
The front forks were a trifle soft, but had over three inches of travel and served admirably in all our testing. Stock Pirelli Universals (3.00 x 18 front; 3.25 x 18 rear) didn't hurt the ride, either.
The engine also contributes to the bike's looks, being a horizontal unit with an attractive repeated elliptical theme. The 245cc single has a bore of 74mm and a stroke of 57mm. If the power of the unit was commensurate with its appearance, the bike would really perform. As it is, the bike has, we are told, 24 bhp at 8200 rpm.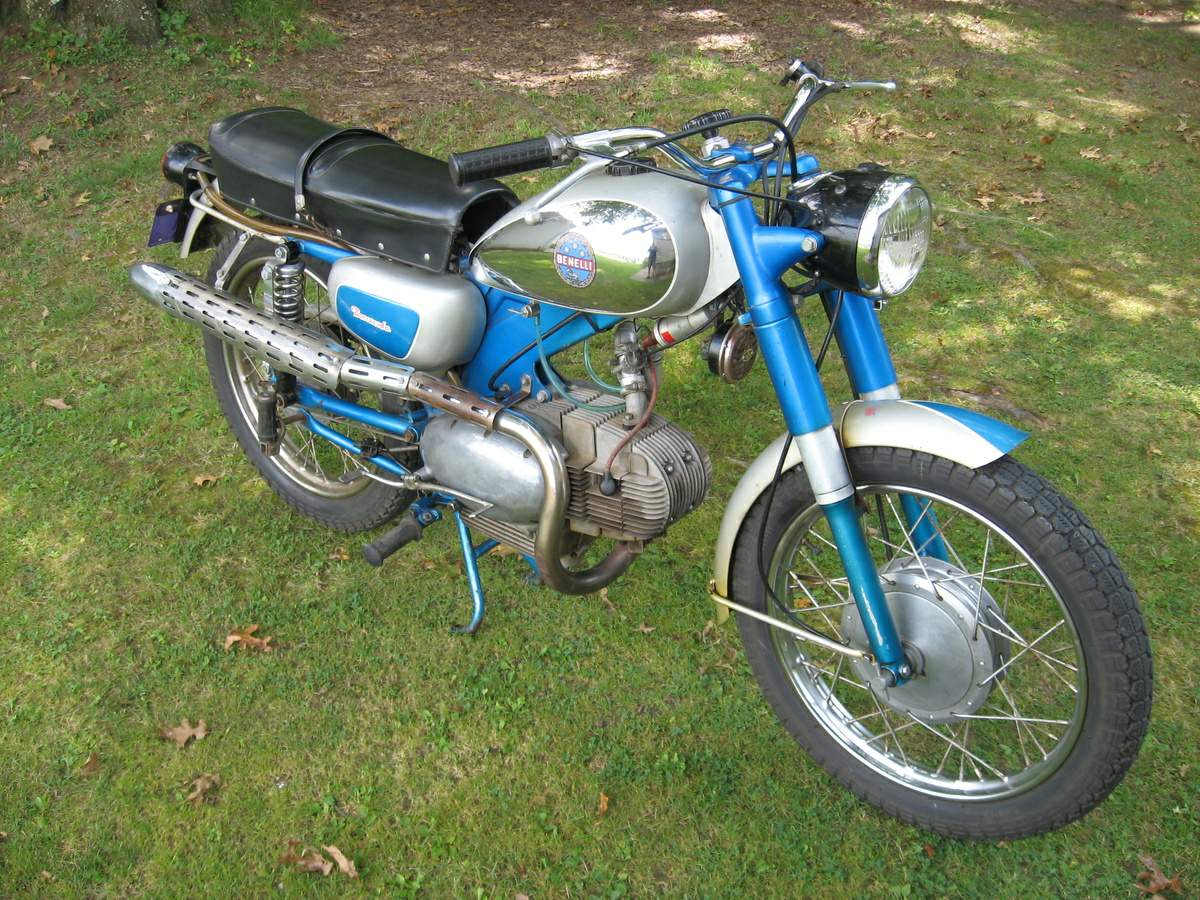 As readers of CYCLE probably know by now, a race-tuned Benelli won the 250cc Sportsman race in this year's Daytona madness and distributor, Cosmopolitan Motors, is justifiably proud. The kinship of the racer to the Barracuda seems a bit distant to us, however. For, while our test machine exhibited the standard single-plunker tractability, a wind-it-up-and-wail bike it isn't. There is an impression of reserve in all ranges as our top quarter-mile time of 67.85 mph with an E.T. of 18.18 indicates. Now if that reserve could be brought into play through modifications, a much different package might result.
It would seem that the builders have tuned for dependability instead of speed and they have succeeded in their aim, perhaps too well. The fact that the bike weighs in at 232 pounds, and seems to afford all manner of possibilities for power-boosting, holds out some hope for all you do-it-yourself nuts; though we believe in letting the factory do it, and wish they had.
A prod or two and the engine was purring along, its soothing tones disturbed only by the tiny sip-sip-sip sounds that the wee carburetor was making. Hence, there is a logic to having the low compression ratio and the tiny carburetor throat: i.e. tractability.
One other point we have always been quite sensitive to is placement of the kick-starter. The Barracuda is a delight in the ease in which the starter can be swung out and down. At its lowest point the pedal will touch the foot peg, but your foot is safely above and away from any bruising contact. The starting response proved quite good, although ample warm up time is recommended lest the thump-thump sip-sip stop as the gear is engaged and the clutch let out.
When warm-up is completed and the bike is in fettle, the engine is always quite solid and dependable… a joy in city traffic. Its light weight and good manners should definitely be considered by the distaff side of the market, when they get tired of hanging onto hubby's coattails and go to buy their own iron.

Another nice feature of this bike is the dual set of folding pegs. Nothing seems to limit a bike more than welded-on dirt and pavement scrapers. And with a seven inch Ground Clearance, this machine could easily be converted for use in the dirt.

The five speed gearbox is also a fine idea, but rather unnecessary. In this state of tune, a 2-speed Powerglide would be ample; but with a hotted-up version the new gearbox should serve very well.

The brakes work welt at the speeds attainable with the mildly-tuned engine. Rear unit is a single trailing shoe measuring 158mm x 31mm while the front single leading unit has 176mm x 31mm resting beneath its Italianate dummy air scoops.

While we're on the subject of origin it is interesting to note that 1967 will surely go down as the year the Italians discovered the candy-apple barrel. Seems like each new chariot this year is finished in colors guaranteed to tittilate the psychedelic set.

On the positive side, the noise level on our test machine was quite good, with the Brevetti "Silentium" muffler allowing a nice tuned sound. Another fine Italian touch was the heavy-duty clutch and throttle cables, very sturdy and worthy of imitation by certain other manufacturers in other lands.

The clutch itself was a multi-plate wet unit that always engaged well with no evidence of slipping or fade, and would "free" fairly well when cold. That trouble area on most bikes, the battery/tool case was no trouble, opening easily and closing tight. Unfortunately, there were no tools inside but that was just an oversight not stock condition. We examined the kit of a friend who owns a Barracuda and found it adequate for most roadside emergency repairs.

All the electrics are quite nice; out of the way and simple. The high-styled headlight nacelle has a speedometer and high beam indicator resting above the "approved" seal beam unit.

The air cleaner is another of those gravel-strainer units we do love so well. If you are passing a coal truck, no lumps will get inside your engine, but anything smaller will be inhaled—although perhaps expelled through the full-bike-length neoprene crankcase breather tube, if the engine masticated the anthracite sufficently.

Another nice touch had nothing to do with the Barracuda, but is worth mentioning. That being, the Benelli 49cc Fireball, and boy is it ever. The nice folks at Cosmopolitan provided the little devil as a courtesy-chase-bike and we gratefully took it along wherever we went. It proved to be a real favorite. (ed. Note… "Value judgement") Utilizing a little two-stroke, the Fireball whonks through the gears so impressively that we were actually going to run it through the traps at the National Speedway, but darkness called a halt.

This little bike is such an outstandingly quick tiddler that we found it drawing our attention at odd moments. The test staff took a lunch-break during our "in- town photo session. Two teeny-weeny-boppers shot up on their trikes and emitted cries of "Look 'a motycycle'."

They then proceeded to climb on and hug the little Fireball, while its Barracuda brother stood by ignored and unloved.

The quality of finish on the little Fireball is high as the 250 and no loss of elan resulted from riding the little bike around our high-performance haunts.

Both the Baby and the Big Barracuda have lovely leather seats with heavy double-stitching for stress-strength and close fit. To our tastes they are just a mite too narrow, though.

The horn on both bikes could stand some beefing up. A moth went flitting by as we were trying them and we couldn't hear either klaxon over the infernal racket its wings made.

All negative value judgements about candy-apple colors aside, the finish was fine and the chrome gas-tank sides and polished aluminum engine cases were very attractive.

If a bike that can spend ten or twelve days outdoors and then start easily and not show rust is to your fancy, then the Benelli Barracuda will satisfy you amply. The bike used in our test was unavoidably forced to sit outside in some of the coldest and rainiest spring weather we've experienced in this area for years and its ability to withstand such punishment is worthy of mention here… so we mentioned it here.

All in all, we were left with a curious mixture of feelings about this bike. Surely the bike is dependable and will give predictable, if plodding, service for a long period of time. The detail and design are good and the engine is strong and potentially powerful. It just seems a step away from completion. Like many of those little two-seaters that began the groundswell of performance and handling requirements that have drastically altered the American automotive scene, the Benelli Barracuda has the beginnings of a movement there. Somewhat unbalanced toward reliability at the expense of performance, but certainly worthy of a place in our motorcycle market. It may not get you there first; but it will get you there every time. And that should count for something when it is time to buy

Source Cycle Magazine