Benelli 654 Sport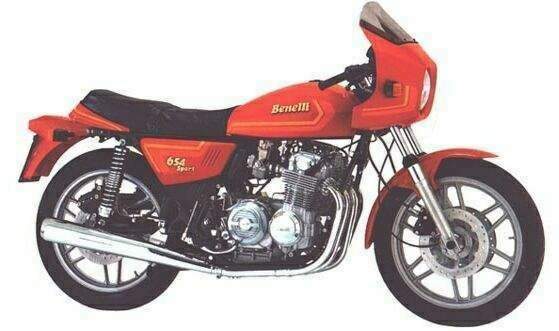 Make Model

Benelli

654

Sport

Year

1982

Engine

Four stroke, transverse four cylinder, DOHC, 2 valves per cylinder

Capacity

603.9 cc / 36.9 cu in

Bore x Stroke

60 x 53.4 mm

Compression Ratio

9.3:1

Co

oling System
Air cooled

Induction

4 x 22mm Dell'Orto carbs

Ignition

Mechanical breaker points

Starting

Electric

Max Power

44.7 kW / 60 hp @ 8700 rpm

Max Torque

5.1 Nm / 5.1 kgf-m / 37 ft-lb @ 7000 rpm
Clutch
Wet sump

Transmission

5 Speed

Final Drive

Chain

Front Suspension

Tele-hydraulic forks

Rear Suspension

Swinging arm, adjustable shocks

Front Brakes

2 x 265 mm discs

Rear Brakes

Single 260 mm disc

Front Tyre

3.25 -18

Rear Tyre

3.50 -18

Wet Weight

190.5 kg / 420 lbs

Fuel Capacity

12 Litres / 3.2 US gal

Consumption Average

5.57 L/100 km / 17.9 km/l / 42.2 mpg

Standing ¼ Mile

14.1 sec / 145.3 km/h / 90.3 mph

Top Speed

185 km/h / 115 mph
The 654's a handsome devil in the classic mould. A four cylinder machine with a passing resemblance to the CB650, an interesting bit of reverse engineering insofar as the Jap's got going in the sixties by copying the Wop's. They are now sadly rare in the UK, but their reputation is such that they don't fetch much dosh. £600 for a clean 1978 example seemed like bargain time to me. Rewired, fitted with Honda switches and repainted, it wasn't in bad nick for a 32000 miler.
Buy it, a little voice in my head said after a quick blast. The motor, if truth be told, was a bit gutless but the suspension was still taut and it handled with unexpected precision. The Wop's could always make the most unlikely concoctions handle. There was rust on the exhaust, headlamp rim, frame and shock springs but it wasn't beyond hope. I rode home in a high mood.
My friends laughed at me and the bike. Said I was a fool to trust such an old Italian motorcycle. Bound to blow up or break down, said they. I waited for the inevitable but for the first six months all was jolly good fun. Part of that was down to only running around town, mostly stringing the old dear along in second or third when she screamed out of the four into two.
Steering geometry was too staid to allow wheelies, but I could get the back tyre to smoke when the boredom became too much, although the clutch would rattle away merrily for the next few days! Petrol was bad at 35mpg and I had to keep an eye on the oil level; it both leaked and smoked quite heavily above 9000 revs. Er, sorry, didn't know you weren't supposed to rev that high.
Vibration above 7000 revs rattled the bars and pegs but it was okay for short bursts of acceleration. The chain, unless set up to perfection, rattled alarmingly below 2000 revs. The best power was in the 5000 to 9000rpm range in second and third, though taller gears wouldn't pull more than 8500 revs. Gearing was taller than stock, due to a bigger gearbox sprocket, take-offs needed some clutch slip.
When I started to use the bike for long distance touring after six months of happy ownership, due to a change of work, I found that the gearbox tended to seize up in the upper ratios. Needed a really strong boot to free it off. Complicated by the gearchange lever coming loose every 100 miles, or so, due to the vibes. In the end it needed massive force to stop it slipping on the shaft.
The first time it came loose, I didn't realise, thought the gearbox had given up completely. Left me stuck in fourth for ten miles. The smell of burnt clutch plates hung in the air when I got home, but despite loads of abuse it never went down completely. The bike didn't run very cleanly in fourth gear at low speeds, the complete absence of any torque brought home to me.
Why should such a decent sized four be so rev happy yet not produce any real hard power. Top speed was 120mph - checked against a friend's machine as the stock speedo wavered madly above 60mph! Whilst this sounds reasonable enough, strong headwinds or hills had that down to about 95mph. Pretty pathetic for a 650. Fuel could dive down to an incredible 25mpg if distance needed to be covered in a desperate hurry. An expensive old tank!
Not that high speed could be held for any length of time. The secondary vibes were fierce, as if no-one had taken the time and trouble to match the frame to the engine's dynamics, which was odd as it looked pretty similar to the much smoother efforts employed by Honda. 'Course, the frame was made out of better metal, welded neatly and combined with good suspension. A trick it took the Jap's a while to comprehend.
As a wide four it was still a bit top-heavy and unwieldy for throwing through the bends but there was no nastiness hidden within the chassis. Basically, it was all down to the rider and how brave he wanted to be. A few times I dived inside my mate's GS750, leaving him gob-smacked with my superior line. But even winding the Benelli up to the redline failed to keep him from coming streaming past on the next straight.
The brakes were also superior to Jap stuff of that era, though not up to modern standards. A fistful of lever was needed to get the twin front discs working hard, and they could be a bit lacking in feedback, but it was the kind of stuff that you adapt to and learn how to use to the maximum. Safe handling and strong braking often made up for the lack of outright power.
How fast was fast? Well, on nicely curving A-roads the bike could keep up with Jap 750s of a similar type (GS750, GT750, CB750F, etc), at the price of screaming the engine until both my hearing and sight were threatening to give up the ghost. I could keep it up for about half an hour; after that I let the buggers go and went into laid back mode at 75 to 85mph.
On motorways or fast A-roads the bike was only as good as things like GS550's. It could go faster but the main limitation was vibration. If I wanted to cruise for a couple of hours it was 80mph maximum - almost everyone I knows cruises the motorway at 90mph plus, so I was a bit of a laughing stock again.
Another limiting factor was that the Benelli didn't like the rain. The engine chimed on to two or three cylinders, not a nice experience when it comes back on to power on wet roads. The otherwise excellent Pirelli's tried to skid off the tarmac. The bike also felt a bit squeamish on wet roads, losing its stuck to the tarmac feel. I wasn't a happy man!
The other problem with the rain was that it brought out all the rust. Once, I left the bike out overnight, came down the next day and could barely recognize the machine. Covered in crud, rust and alloy corrosion. It seems to suck water out of the atmosphere.
It cleaned up after a couple of hours worth of elbow grease but every time the rain came the corrosion returned. More serious was the way the guts of the silencers were spat out, the straight through system turning the power delivery truculent. The only cheap solution was a pair of universal cans, which apart from a stutter around 2500 revs didn't harm power delivery and gave my ears a much easier time. A week after I fitted them their chrome was speckled with rust. It must be contagious!
Often, the downpipe's collets came loose, causing massive backfiring. Engine bolts needed a weekly going over. After just over a year the generator started playing up, the battery going dead. Down to the wiring falling apart, anything serious and I would probably have dumped the machine.
By then I wasn't too impressed with its engineering or power. The chassis was sufficiently useful to take another engine, apart from the way all the metal spat out the rust! I didn't bother trying to fit another motor, it was easier to look around for a new bike and put the Benelli up for sale.
I wanted something a little bit different, ended up on a Ducati 500 Desmo vertical twin, nice nick, mine for £400 plus the 654. I thought I was used to vibration until I pushed the Duke into the red - a bloody pile-driver. I don't half buy 'em.
The Benelli's new owner phoned me up five weeks later, complaining that the engine had seized up solid. Nothing to do with me, mate, I opined. His tame mechanic reckoned I'd revved the balls off it without much oil in the sump. Well, it did lose most of its lubricant on a long run, but it never seemed to do any real harm. I offered to buy it back for £100. I had the phone slammed down on me.
Keith Williams