Make Model

Benelli 900 Sei

Year

1983

Engine

Four stroke, transverse six cylinders, SOHC, 2 valve per cylinder

Capacity

906 cc / 55.3 cu in

Bore x Stroke

60 x 53.4 mm

Compression Ratio

9.5:1

Co

oling System

Air cooled

Exhaust

6-into-2

Induction

3 x 24 mm Dell'Orto carburetors

Ignition

Electronic

Starting

Electric

Max Power

58.3 kW / 80 hp @ 8400 rpm

Transmission

5 Speed

Fianl Drive

Chain

Front Suspension

Telescopic forks

Rear Suspension

Dual shocks spring 5-way preload adjustable

Front Brakes

2 x 294 mm discs, 2 piston calipers

Rear Brakes

Single 255 mm disc, 1 piston caliper

Front Tyre

100/90-18

Rear Tyre

120/90-18

Wet Weight

254 kg / 560 lbs

Fuel Capacity

16.5 Litres / 4.4 US gal

Consumption Average

5.7 L/100 km / 17.6 km/l / 41.4 mpg

Braking 100 km/h / 67 mph - 0

34.4 m / 113 ft

Standing ¼ Mile

13.3 sec / 160.6 km/h / 99.8 mph

Top Speed

198.8 km/h / 120.4 mph
A rider who chooses a motor cycle on the strength of road test data alone is unlikely to be impressed by the Benelli 900 Sei. But mere reference to figures will not convey the full impression - that the Italian six handles far better than many Japanese multis, sticks to the road like flies to flypaper and can brake as if it has been run into a wall.
Those three factors alone rescue the machine from the depths of mediocrity and hoist it into the category of desirable motor cycles. But it takes some time for the fundamentally good nature of the machine to filter through.
For incredible though it may seem, this 906 cc single overhead camshaft six is a very ordinary performer by present standards. Given the claimed 80 bhp, its top speed and acceleration are unsensational and its comparatively high price was enough to send most buyers into their nearest Japanese bike dealers. First impressions were that Benelli, under the leadership of single-minded Allessandro de Tomaso, have taken on the Japanese at their own multi-cylinder motor cycle game.
History shows that Benelli's first modern multi-cylinder roadster, their 500 in-line four, was built in response to, and a virtual copy of, Honda's CB500.
In 1975 they literally added another pair of cylinders to the CB500 to create contemporary motor cycling's first six-cylinder roadster, the Benelli 750. This was never sold in volume in Britain, but the sight of six separate exhaust pipes and silencers on a motor cycle was impressive, to say the least.
The 900 Sei was both bored and stroked to accumulate its extra capacity, a six-into-two exhaust system was fitted and limited aesthetic styling changes were made, although the bike remained essentially a larger 750.
A rider who has experienced the uncanny smoothness of the exotic Honda CBX1000 and Kawasaki Z1300 will be disappointed by the feeling of the Benelli six. Of course it remains very smooth, especially when in the middle and higher rev ranges, but there is a peculiar, almost unidentifiable, ragged edge to this feeling. It is mechanically noisy - nothing like the beautifully co-ordinated six-cylinder Japanese symphonies.
Initially, it is possible to be thoroughly disappointed with the Sei - to look at its price and performance and conclude that it offered nothing which could not be bought for a much lower price. Its on-track performance failed miserably to reach 134 mph claimed by the factory. But even though some bikers may consider the Sei a sell-out to Japanese technology, the Benelli most certainly retains its own identity as a thoroughly Italian motor cycle. And the facets which helped most towards this were its handling and road holding.
At 561 lb, the Benelli is heavier than many comparable Japanese machines, but the Italians should be congratulated for getting the Sei to handle in a way which the Japanese must wish they had achieved years ago. The Benelli simply outhandles the other two sixes and is more than a match for many other Oriental multis when it comes to a dose of country lane scratching!
At first'I mistook this good handling and willingness to stay on the predetermined line round a bend for over-stiffness. On a few occasions when I needed to change line the Sei did not want to know and only reluctantly responded to corrections. But on familiar highways where you know every bump, man-hole cover and white line and where your lines are always right this rigidity disappears.
It is not surprising that the Benelli does give notice of its engine bulk on long sweeping motorway curves. A hint of the Japanese-style 'hinged-in-the-middle' feeling enters the farthest recesses of your mind as the Benelli picks up a slight rocking motion. But this caused no problems.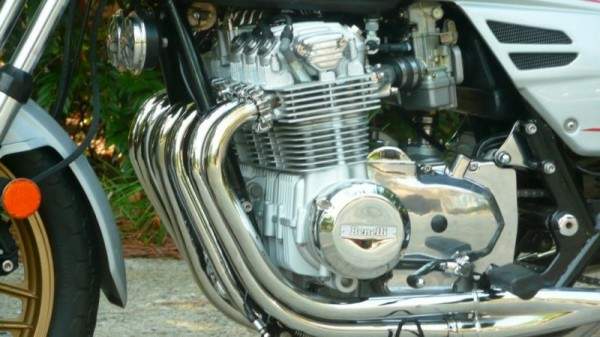 Poor suspension has been responsible for detracting from the reasonable handling of Japanese multis in the past and thankfully Benelli have avoided those mistakes. The damping is up to dealing with the ill-maintained British roads. The rear units are rather firm and on the worst surfaces this leads to the rider experiencing more than a fair share of jarring. But in view of the machine's good handling this is a fair price to
Pay-Handling and suspension though, count for little unless roadholding is up to scratch. The Pirelli Phantoms used on the Benelli perfectly suited my own style of riding. They were utterly dependable wet or dry and it's little wonder that they have won many friends in production machine racing.
The combination of these three factors means that the Benelli enables you to enjoy possibly the most thrilling aspect of motor cycling in perfect safety; high speed cornering. The Sei is not quite the thoroughbred road racer that is Ducati's 900SS vee-twin, but it is probably the nearest that can be bought with six cylinders strung across it.
Enjoyment is heightened even further by the knowledge that those superb Brembo discs are some of the best in the business, as the Benelli's braking distances show. It is always nice to know that brakes are equal to performance and they operate in the same powerful and dependable fashion.
All this means that the Benelli's comparatively average all-out engine performance is somewhat sprocket and chain wear academic. What you may lose out in a straight line you should be able to claw back through the turns. Which means that in reality the Benelli is not likely to lose out to higher performance motor cycles.
For a six, the Benelli does not feel particularly bulky and compared with the CBX and Z1300 it is of veritable greyhound proportions. It has beautiful symmetry coupled with simple, streamlined styling and the somewhat understated nature of the whole exercise might appeal to those who find the sophistication of the Z1300 and overkill of the CBX in poor taste.
The Sei, however, suffers from several shortcomings. The neat little headlamp fairing which is a useful wind deflector also obscures the instruments to a certain extent. The speedometer is inaccurate and the forward-mounted footrests ensured that even small boots - say, size seven -collided with the protruding crankcases each time one goes for a gearchange.
The small dry clutch proved painfully inadequate when it came to reeling off quarter-miles at the test track. Although this is always a severe test not directly applicable to street riding, it points to the need for development in this direction.
Yet Benelli were quick to respond to such criticisms and quickly set about refining the Sei. Even though the British importers found that clutch problems were usually confined to the demanding arena of performance testing they still improved the unit.
Investigations showed that the coarse friction material used in the dry clutch was taking too long to bed in and that there was insufficient surface area transmitting the power. The slipping plates generated heat which in turn led to the .springs losing their tension. So stronger springs and differently textured plates were fitted to later models.
The front forks also came in for revision, with uprated internal damping and double oil seals to prevent the weeping of earlier machines. And almost as if to draw attention to these invisible improvements the new fork sliders were finished in red.
Some earlier models were also plagued by the now unusual complaint: oil leaks. Machining errors had meant that oil climbed up cylinder heads studs from the crankcase and crept out onto the cylinder head and cam cover.
Despite their evocative excellence in the field of designing and building motor cycles,' the Italians are still incapable of producing similarly magnificent motor cycle electrics. But Benelli were at least quick to uprate their alternator from 12 to 20 amp-hours producing around 300 watts. The new bigger unit added width to the left-hand end of the crankcase. Benelli also offered an optional Cibie headlight more in keeping with the sporty image.
And without any obvious attempt to make the Sei quicker, later models did return better performance. More acceptable figures like 125 mph were recorded, along with the Sei's ability to reach more than 100 mph in around 13 sec in a standing start quarter-mile.
The latter cockpit fairing combining new indicators was also a great improvement over the first attempt. The concave screen allowed the rider a clear view of the instruments whilst its angular styling was a better match for the rest of the machine.
The engine spins at 5,000 rpm at 70 mph and even though the bike will whip up to 100 mph very easily, it will also cruise easily between 70 and 100 mph.
Interesting features on the Sei include a fuel tank that hides beneath the outer skin which gives the Benelli styling a line vaguely similar to that of the CB900 Honda. The six also features a double row final drive chain (the theory behind this is that a twin chain allows smaller links to be used which in turn should reduce wear).
If you ignore the somewhat academic fact that the Benelli is comparatively slow on performance it emerges as a surprisingly good machine with an appeal that grows on its rider.
Its motor does not approach the technical excellence of several Japanese multis, but the Benelli's handling, road holding and braking more than make up for its shortcomings. Their advertising slogan 'The Italian Alternative' is very apt indeed.