Benelli Tre-K 1130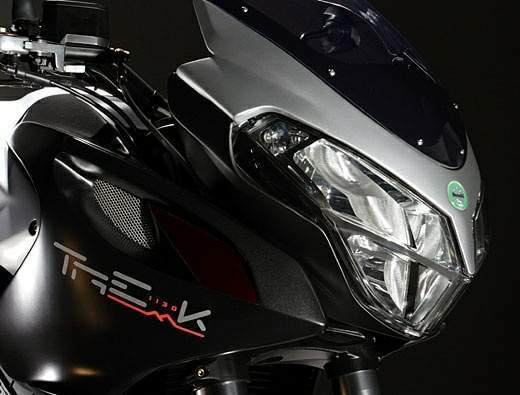 Make Model

Benelli Tre-K 1130

Year

2006 - 07

Engine

Four stroke, transverse three cylinder, DOHC, 4 valves per cylinder

Capacity

1130 cc / 69 cu in

Bore x Stroke

88 x 62 mm
Cooling System
Liquid cooled

Compression Ratio

11.5:1
Lubrication
Wet sump

Induction

Electronic injection

with

1

injector

per

cylinder

Exhaust
With catalytic converter and oxygen sensor
Spark Plug
NGK CR9E

Ignition

Electronic injection
Electric
Electric

Max Power

92 kW / 123 hp @ 9000 rpm

Max Torque

115 Nm / 11.4 kgm / 67.9 lb-ft @ 6250 rpm
Clutch
Wet clutch with hydraulic command

Transmission

6 Speed
Final Drive
Chain drive, ratio 16:37
Primary Drive
44/79
Gear Ratio
1st 14/39 / 2nd 18/35 / 3rd 21/32 / 4th 23/30 / 5th 24/28 / 6th 26/27
Frame

Mixed solution. Front: ASD steel tube trellis, fastened to boxed rear section, aluminium alloy castings. Subframe: aluminium die-cast.

Front Suspension

Marzocchi

50

mm

Ø

"upside

down"

fork

damping, rebound

and

spring

pre-load

adjustment.

Rear Suspension

ASD steel tube trellis swingarm with Extreme Technology single shock absorber with adjustable rebound and spring preload.

Front Brakes

2 x 320 mm Ø, discs 4 piston caliper

Rear Brakes

Single 240 mm Ø disc, 2 piston caliper

Front Tyre

120/70-17

Rear Tyre

180/55-17
Dimensions
Length: 2183 mm / 85.9 in
Width: 850 mm / 37.4 in
Height: 1320 mm / 51.9 in
Wheelbase
1515 mm / 59.6 in
Seat Height
838 mm / 32.9 in
Ground Clearance
140 mm / 5.7 in

Dry Weight

205 kg / 451.9 lbs

Fuel Capacity

18 Litres / 4.8 US gal

Consumption Average

5.6 L/100 km / 17.9 km/l / 42.1 US mpg

Standing ¼ Mile

11.5 sec
Standing 0 - 100km/h / 62 mph
3.5 sec
Standing 0 - 140km/h / 87 mph
5.4 sec
Standing 0 - 200km/h / 124 mph
9.9 sec
Acceleration 60-140 km/h
6.8 sec

Top Speed

221.4 km

/

h / 137.5 mph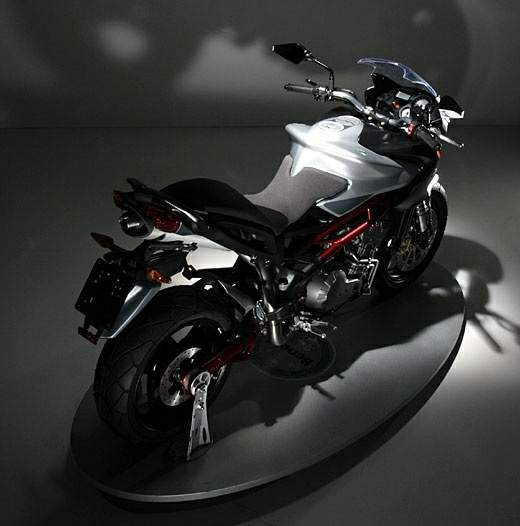 Outside the known limits". A new bike for a new way of riding. The frame was designed for an easy ride and sensitivity to reactions, to resist every shock in any situation. The new position of the radiator allows high thermal exchanges at low speeds and for off road use too. As for the new frame, the new shape guarantees an easy ride and ride neutrality, both being unique features for a bike in this class. The rear suspension was designed to guarantee the best stability, without losing comfort or suspension reaction. The TRE K 1130 is safe to ride in any condition.
It's a postcard from Italy, with the sun gracing the east coast roads in the hills between Pesero and Rimini. What they never pan down to reveal in these idyllic tourist scenes is the mad jostle of Italian traffic competing for the road. No one does traffic like the Italians; at first blush it's chaos and at second it still is. Somehow it all works, and heart in your throat you've no choice but dive. It is an experience as quintessentially as Italian the big-trailie inspired Benelli Tre-K I'm riding... which in some ways isn't very.

First, the Italians would probably dub the Tre-K a moto totale, which is far more stylish than "big trailie". Second, it is China's Qianjiang that has resurrected Benelli. That fits an Italian brand; not so long ago Ducati was infused with Texan dollars, at least Qianjiang produces 1,200,000 motorcycles and scooters a year, rather than say crude. That makes Qianjiang one of the world's largest manufacturers helping one of the world's smallest. With the Adriatic's curves falling beneath our tires and a splendid three-cylinder opus trumpeting through the Tre-K's single under seat silencer, it's hard to convey just how little such incongruities matters.
The Tre-K, pronounced "Kay" or "Kappa" depending on which corporate type you chat with, has handily overcome its confused heritage. It looks a bit adventure thanks to wide bars, adjustable windscreen, and belly pan, but like the Tre-K's targets, the Triumph Tiger and Ducati Multistrada, it is a pure road beast. It fires up with a guttural, raw, thrap, conveying that you're on the business end of bike from a company that also used to manufacture guns. It just makes the soul quiver a little.

From there the hunt begins. Smooth and effortless acceleration punches you through to an approximate top end of 145mph. Tap the lever into the tallest ratio on the six-gear transmission and you can pleasantly toddle along at 100mph. All along, the 1130cc in-line three-pot reassuringly exudes the power it has on tap. Benelli has put serious effort into the low-rpm power delivery with stunning results.

Some engines have a "sweet spot" - the Tre-K's has a sweet ocean, swelling with torque from 3000 and 7000rpm. The plant may be down tuned from the TNT, but it still musters a claimed 125hp at 9000rpm, and 85ft-lbs of torque at 6250rpm. That leaves Triumph's new Tiger 1050 some 10hp in the rear-views, and the Multistrada 1100 a distant spec some 30hp back. The 1130 is rougher and less refined feeling then the Triumph's engine, but it's also more engaging.

Like any good exotic there is an element of gimmickry to the K, like its uniquely Italian solution to the issue of emissions standards. A button on the instrument panel's left is for "Power Management", allowing you to flip the ECU between a soft and more aggressive engine mapping. Marketing may try to sell this button as being useful in the wet when softer throttle response is desirous or a fuel saver for when you feel like giving the planet a hug. It's nothing of the sort; it's an irony.

The button only works under 4000 rpm and that is suspiciously close to one of the Euro3 emissions test limits. Tested in "soft" mode it's likely that the Tre-K squeaks thru. It's a very Italian solution, working around the rules, which leaves the K relatively free of lean surging hassles and engine management issues... and it didn't even involve bribery.
Kudos to Benelli, I say. I'll choose the days I'm out to save mother earth, thanks kindly, and the ones where I want to put the enviro-mentalists through the wringer by twisting the throttle till rough idle becomes an enraged three-lunged howl. In power mode it's much easier to lift the front tire. That saves rubber, which is quite eco-friendly of me.

Back on the road, nipping through the Italian twists, I'm struck by just how dexterous the Tre-K is despite the claimed 205kg dry weight. Then again, so is every other bike in this class. No one has ever accused the Multistrada of dogging it through the corners, nor the Triumph Tiger 1050. Eventually we'll all just take it for granted that these moto totale's handle as well as sportbikes despite the looks... Then what a shock it will be to hop back on a Yamaha TDM. Like the others, leverage from the Tre-K's wide bars make it easy to change line, but an elegant chassis certainly helps, too.

The K's frame is the same sort of sculpture found on its sibling, the TNT; a trellis of steel tube fused to a boxed aluminum rear section, with a beefy die-cast aluminum subframe to boot. The steering geometry is more relaxed than the TNT, and, in conjunction with a sensible 50-50-weight distribution, handling is nicely neutral. It all works fabulously, tracking easily through the bends and side-to-side turns are a near effortless event. The result is a geometry that lets the bike do the heavy work as it cheerily tracks through the turns.

Keeping with the usable nature of the Tre-K, smoothing out the ride and suiting the pillion-and-luggage set is a rear mono-shock with adjustable rebound and remote pre-load, which is just good sense. Up front is a serviceable non-adjustable 50mm Marzocchi upside-down fork, which does fine on the road and soaks up the bumps. Nor is there too much dive when the 4-piston Brembo calipers put the bite on the twin 320-mm discs up front.

The entire setup is fairly supple, but not too soft for shooting the corners with formidable efficiency. More important, the ride quality is excellent, even over the worst heaved and cracked of roads. The 17-inch Brembo aluminum alloy rims are shod in Dunlop D270's, a road biased crossover tire, with a tread pattern that could handle a bit of gravel should the need arise. How sensibly un-Italian? Or can we even say such things considering who kicked off this trend with the delightful Multistrada.

Before we get too caught up with terms like "practical" and "sensible" there are a few particulars to be aware of. Shorter riders might find the 810mm the seat height a bit high, though by comparison that's 40mm lower than the Multistrada 1100's. Low pegs keep the knees loose for tall types, but the result is easily scraped pegs and toe-sliders. Steering lock is a bit tight in the parking lot, but the 1130 engine's flexibility and the K's agility are still going to be a boon around town.

While the design may looks great from angles, there are elements of the execution that don't follow through. The windscreen features can be adjusted manually by unscrewing a knob on each side of the half-fairing, putting it into position, and reaffixing the knobs. Not the most efficient system in the world, but better than the V-strom's 10 screw simplicity. The adjustable screen is good idea marred by a tendency to flop about in the wind. Then there's the seat, which is as thin as it is stylish, providing the pillion only the briefest separation from the under-tail exhaust - that wafting odor may not be the smell of a new engine running in.

Then there's the reliability, which in Benelli's past hasn't been up to scratch. There's a whiff of Alfa Romeo about them, their look may be stunning, but will all the buttons stay on? Most likely the previous generations just charm themselves to bits. That's a Benelli paradox in the case of the Tre-K because most "practical big-trailie" riders laying on the miles aren't likely to gamble on a rare-as-hen's-teeth all-rounder with a shaky warrantee history. Likely they'd be better off on more common and reliable fare; the Multistrada, Tiger or V-Strom for example. Now with Qianjiang's financial backing, preconceptions of Benelli's dependability might not be fair, as deeper pockets could translate to higher build quality. (After speaking with Canadian Distributor Crono Motorcraft, they say parts availability has greatly improved with shipping of Benelli specific components from Italy to Canada taking two days. - Ed.)

There are sticking points to the Benelli Tre-K 1130, but these rough bits give the Tre-K its edge. The Tre-K is full of feel, passion, and character, juxtaposed against the Triumph Tiger 1050's near mundane Englishness. I like the Tiger, but it's just a bit blander, a bit more stayed, a bit more conservative and a bit less involved. Keeping with the Benelli moto totale sense of duality, that "edge" leaves the new Tre-K's reliability an unknown commodity. It would be sensible to wait and watch this new chapter in Benelli's history unfold, but I don't think I can, because from the moment I thumbed the starter the Tre-K touched my soul and won me over.

Source Onewheeldrive