Bimota KB3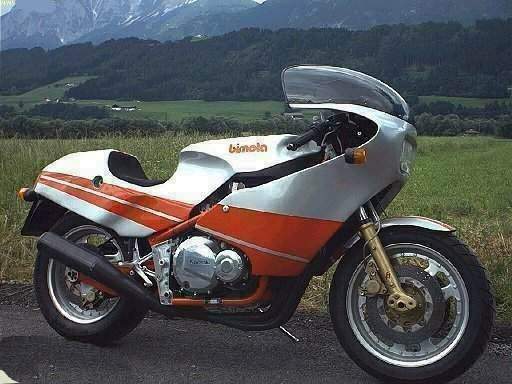 Make Model

Bimota KB3

Year

1983

Production

112 units

Engine

Four stroke, transverse four cylinder, DOHC, 2 Valve per cylinder.

Capacity

998 cc / 60.9 cub. in.

Bore x Stroke

69.4 x 66 mm

Compression Ratio

8.9:1
Cooling System
Air / oil cooled

Induction

4x

34mm

Mikuni

Ignition

CDI

Starting

Electric

Max Power

76.8 kW / 103 hp @ 9400 rpm

Max Torque

85.3Nm / 8.7 kg-m / 62.9 lb/ft.@ 7300 rpm

Transmission

5 Speed

Final Drive

Chain
Frame
Linked with the steering tube with the rear shock absorber crossbar. lower cradle with two connecting plates made of machined avional

Front Suspension

Italia 40 mm with 8 settings with magnesium tubes

Rear Suspension

Slightly backward facing De Carbon shock absorber with 10 settings. The swing arm is made of chrome-molybdenum steel.

Rake
27.5°
Trail
83.8 mm / 3.3 in.

Front Brakes

2x 280mm discs

Rear Brakes

Single 280mm disc

Dry Weight

205 kg / 451.9 lbs

Standing ¼ Mile
11.6 sec. / 197.3 km/h / 122.6 mph

Top Speed

233 km/h / 144.8 mph
Bimota's KB3 is a motorcycle that inspires emotional extremes. You either love it or do not give two hoots about it. To pass it off as overpriced and under whelming, you need only to ride it the way you would do any production motorcycle. It is perhaps the most uncomfortable machine you can buy. Its suspension is taut, vibration buzzes the stubby clip ons bars, the bulk of your weight is carried on your arms, your 36 inch legs are crammed into a 20 inch space, and the seat offers little more cushion that another layer of paint. Compared to the contemporary offerings from Japan, the Bimota is as comfortable as a concrete pillow.To fall hopelessly under the KB3's spell requires a rare combination of insanity and competence. Born of the Italian school of thought that celebrates single purpose function above all else, the KB3 has no extraneous components, just the bare essentials required to attain the Bimota design goal. Its intent is crystal clear, pure unfettered speed for which to those with the rare combination, there can be no substitute. The KB3 is exactly what it appears to be, a Grand Prix bike with lights (well some) and a sidestand. On a long fast sweeping road or track, nothing short of a full-blown GP machine comes close to the Bimota. Like the Honda RS500 GP road racer we rode in our march issue, it demands and rewards only the highest expertise. Production bikes feel slothful by comparison. Viewed against its mass produce counterpart's contemporaries,
the KB3 is an Uzi in a battlefield of black powder muskets. Unless you have the credentials to ride it in the way it was designed to be ridden and have piles of money to burn, the KB3 is not for you. Pretenders would be better off pretending on one of the many super bikes available, because if you cannot ride one hard enough to appreciate it, you can at least ride around in comfort. Rolling through town on the Bimota is punishing, but it carries with it a sense of unparalled occasion. Even in Hollywood, land of the $85,000 second car and roller skating hermaphrodites with purple hair, heads spin at the sight of the Bimota. People who know absolutely nothing about motorcycles stare from within the tinted confines of their Rolls Royce's, Mercedes and Lamborghini's.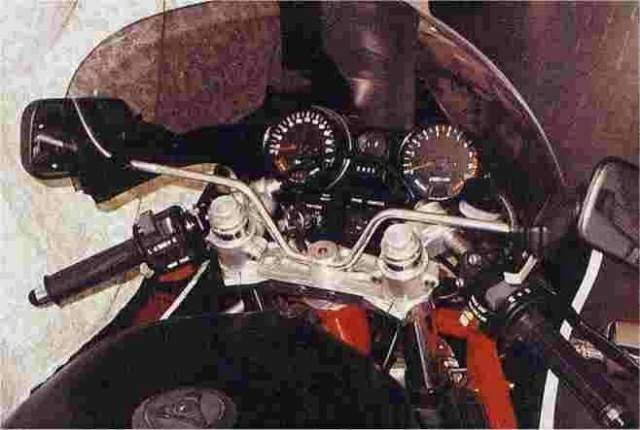 They approach with reverence and stand in awe, wondering how something so alluring yet so sinister could possibly be allowed to prowl the streets, and many inevitably enquire how they can get their hands on one. Therein lies the paradox of the Bimota. In order to fully comprehend the KB3's character, you must be able to hot foot to where the angels fear to tread. Riding it in any other way is a travesty.
Only the brave deserve a Bimota, but only the rich cab afford its $13,989 price tag. It is no wonder then that Bimota buyers are a small but wholly dedicated contingent. Bimotas are handcrafted and assembled by a small workforce in the town of Rimini on the Adriatic coastline of Italy. Yearly production runs number in the hundreds, not hundreds of thousands. Twelve years ago Giuseppe Mori and Massimo Tamburini (who has since left the company) began Bimota as a hobby. They built rolling chassis into which customers shoe horned Japanese engines. Along the way Bimota got heavily involved in Grand Prix racing, supplying frames to Walter Villa, Franco Uncini, Randy Mamola, Johnny Cecotto and Jon Ekerold.
The latter two won World Championships using Bimota equipment. Involvement in racing led Bimotas chassis to closely parallel GP technology. Bimota has striven for efficiency in materials and design, constantly rethinking and redesigning the fundamental structure. The KB3 is a compression of technology, a lightweight structure more solid and integrated than anything this side of a bred to race Grand Prix machine. In the past, Bimota has mainly supplied rolling chassis only, but since striking a deal with the Japanese manufactures to take delivery of new engines and electrical components, Bimota prefers to sell its products as completes packages. Our KB3, powered by a Kawasaki KZ1000J engine, was provided by Harry Maillet, owner of Performance Works and now Bimota West (7854 Alhambra Avenue, Canoga Park, CA 91304). Bimota West is offering the complete line of Bimota's, five in all, four of which share identical chassis.
The KB3, the HB2 powered by Honda's CB900, the HB3 which uses the cb1100 mill and the Sb4 propelled by Suzuki's potent GS1100 engine. The KB2 lazer, powered by Kawasaki's GPz550 engine uses a completely different, old style chassis. In its big bike incarnation, that old chassis used over 70 separate pieces of tubing to form the frame. The swing arm about half the length of the motorcycle wrapped around the engine and pivoted on the same axis as the countershaft to maintain a constant chain tension throughout the rear wheels travel. Rather than cradle the engine from below, the old frame hugged the engine from the sides, and the rear suspensions single damper provided rising rate action through the use of articulating links located at the dampers upper end. By Bimota's standards, the new KB3 frame is conventional. Just over 50 chrome-moly tubes of varying lengths and diameters form a frame that could hardly be more rigid if they were milled from solid billet of steel. Twenty-six separate tubes converge on and locate the steering head in the center of a pyramid shaped cage that displaces the tubing in both vertical and horizontal planes. The outer tubes are splayed far apart and form a base for the pyramid which the fork stanchions pass. This base is supported vertically by two frame tubes that dive under the engine and form a cradle, which is supported by two horizontal tubes passing just in front of the engine. Rather than cradle the engine from the sides using the previous elaborate triangulated cage, the new Bimota frame uses one long, straight tube on each side that takes a direct route from the steering head structure to intricately machined aluminium junctures behind the engine.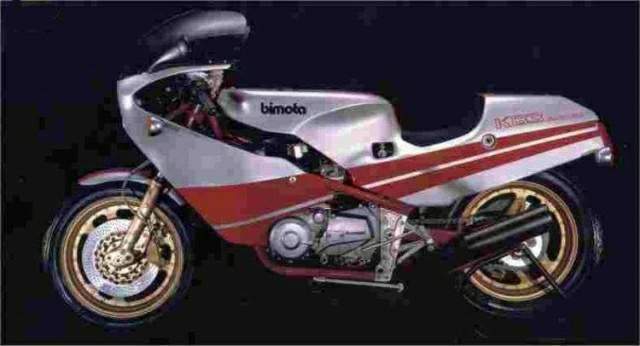 To handle more severe lateral braking forces, the lower frame cradle and long upper side tubes link to the upper plates in a novel manner. Long tongue and groove joints lock the tubes in place. Not only are these tubes attached with sturdy bolts, but also Bimota uses a super strength epoxy within the joints to ensure rigid bonding. Bimota claims that, in destruction testing, the chrome moly tubes fatigue and fracture long before the epoxy shows signs of stress. These aluminium plates also serve as a base for the rear subframe and swing arm, which is now a more conventional rectangular arrangement heavily bridged on its lower side. A single De Carbon gas charged automobile type damper passes through the swing arm and connects to the rocker arm that is activated through two articulating rods that pivots in the swing arms bridgework. These rods are heim jointed at each end and can be varied in length to alter ride height and rate rise. The stout swing arm also features eccentric axle adjusters, which can be re positioned above or below the swing arm centre line to raise or lower ride height and alter steering geometry. The frame itself is a masterpiece, welded in a shroud of argon gas to preserve the metallurgic properties. Each weld is hand sanded to remove any external imperfections, the result is artwork, and the frame is only the beginning. Allen head screws secure most of the components, footrests brackets are milled from solid billets of aluminium, and the footpegs and controls are intricately forged. All over the Bimota you see complex little pieces, hand machined and hand polished to a high gloss. Even non-techno heads stay occupied for hours discovering all of its components. In an effort to trim as much weight as possible, the Bimota uses an abundance of aluminium, virtually all of the brackets are aluminium, as are the wheel assemblies, four piston Brembo calipers, disc carriers, even the hollow dowel fasteners that attaché the carriers to their discs are aluminium. Bimota used to make magnesium wheels, but now builds its own two-piece stamped wheels constructed of aluminium.
The two halves are joined by a central seam, which is riveted and epoxied together. Bimota went through the enormous expense and hassle of building its own wheels because they could be made lighter than the magnesium units. Weight is of paramount importance to Bimota. Bimota's big bikes where previously fitted with 18 inch rear wheel and 16 inch front, but this year 16 inches are placed at both ends.
They are amongst the widest we have ever seen on a street bike. 3.25 front and 4.25 rear and shod with gigantic Pirelli rubber, a 120/80 front and 150/80 rear. For reference the front tyre is about the same width as fitted to Honda's VF1000 and are the same size as fitted to the FJ1100 Yamaha. The last Bimota we rode back in 1980 used a Marzocchi fork assembly and produced a terrible harsh ride. The KB3 is fitted with a 40mm Ceriani unit that features 10 way externally adjustable rebound damping, centrally located axle and magnesium sliders. This fork is a vast improvement over the Marzocchi unit. Though Bimota's steering head is positioned at 23.5 degrees from vertical, hand made aluminium triple clamps offset the fork to 27.5 degrees. Bimota has always used this practice to restrict variation in trail during severe braking, thus providing more agreeable steering characteristics. It also allows the KB3 to get away with a modest 3.3 inches of static trail. The Japanese have tried, with some success, to control steering geometry with elaborate anti dive mechanisms, but the Bimota offset system offers supremely neutral steering.The KB3's wealth of technical ornamentation is conspicuous from any angle. Even the Kawasaki components - instruments, airbox and handlebar controls - blend right in. From the tip of its flyweight and steel strong Kevlar fairing to its bright Suzuki tail lamp the KB3 is a masterpiece of craftsmanship and innovation, assembled with only top shelf products by people who obviously love motorcycles. Compared to the standard KZ1000J, the KB3 is 65 pounds lighter full of gas. Compared to the VF1000, the KB3's 55-inch wheelbase is four inches shorter, its seat three inches lower, the top of its fuel tank is five inches lower and its aluminum handlebars are nine inches lower. In fact, The KB3 is, in its most critical measurements, substantially smaller than Kawasaki's GPz550. With the stock KZ1000J engine, modified only with Bimota West's optional hand bent Kerker exhaust system, the Bimota is impressively fast. Not only will it get into and out of a corner much faster than the VF10000, but the decade old Kawasaki power plant gives away nothing on the straights.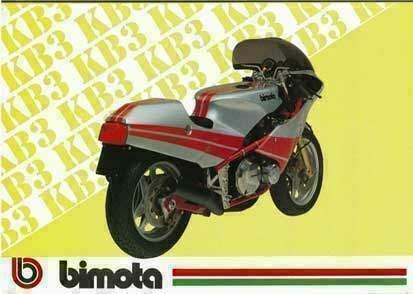 Think about that. What is essentially an 11 year old engine, squeezed into what is probably the most fundamentally correct chassis, can mot only match the very best sporting equipment Honda has to offer on a long straight, but it will likely match the Honda's top speed and eat it alive in every contest of cornering ability. Geared 15% taller than the standard KZ1000J, the KB3 dispatches a quarter mile in 11.6 seconds at 122.61 MPH. The standard Kawasaki never beat 11.86 and 113.63 mph. Had the KB3 been geared properly for the drag strip, there is little doubt that it would have slipped the 10 second barrier. The KB3 does not have to meet any massed produced criteria, nor is it outfitted for a passenger, in fact the riding position, like most GP racers is designed around the chassis, not the chassis around the rider. For perfect weight bias you sit right where it wants you to sit. No matter that your arms are stretched out or legs cramped. This is the correct place to sit, so sit here you will. And for cornering, the seating position could not have been better. Hanging off the side and draped over the machine, the rider is in position to use the controls properly. Though the KB3 handles well at low speeds, its forte is long fast roads. The 16-inch wheels, sticky Pirelli tyres, unflinching chassis integrity, perfectly balanced geometry and suspension offer light, neutral and uncanny cornering precision. Roads suddenly seem much wider than you remember, and the KB3 let you go anywhere you please. You can flick it hard into a corner at the last possible moment, employing the kind of flick that has production bikes slamming down on their suspension and wandering off course. With little effort at the handlebars the Bimota snaps into corners, settles slowly on its suspension and remains perfectly predictable no matter what type of corner you are in. The KB3 project an overwhelming assurance that beckons you to push harder and harder, snap it into corners later and later and whack the throttle open much sooner than you otherwise dare. Once you've selected a cornering attitude, the KB3 settles in and remains rock steady. Only unusually sharp bumps have any effect on the chassis. Hit one at full honk and you may get bounced up off the seat, but it tacks a particularly nasty lump to upset the suspension or interrupt traction. Our fastest rider was able to drag the Kerker pipe on the right side, sidestand and alternator cover on the left, but only when the rear ride height was set at its lowest and only at racing speeds. Even with the alternator scraping on the ground the chassis was undisturbed. After making a mockery of the best production bikes we had around and after being ridden as hard as anyone has ridden anything, the Bimota's handling never displayed a flaw. Its performance was impeccable. It can attain lean angles unlike anything else on the street and brake harder than anyone here dared. Not once did the tyre show any sign of sliding. If we had to nit pick, we would point out that the KB3 had a strong tendency to stand up in corners, but after learning to use the braked properly and smoothly, this sensation largely disappeared and allowed us to brake deeply into turns. The KB3's level of competence is beyond most street riders abilities. It responds instantly to every input, be it steering, braking or accelerating. It stop harder, corners better than any street bike we have tried and beyond any doubt the quickest motorcycle we have ridden over a fast bumpy and twisty road. The front end has no tendency to turn in when snapped into a corner, and the rear showed no signs of sliding when accelerating hard out of a corner, even when banked over hard. It is however a physically demanding bike to ride fast, not because you are trying to work your way around the bikes short comings, as with so many production bikes, but because you are trying to live up to the Bimota's expectations. The kind of singular experience that can only be topped by turning around and heading back into the canyons and doing it all over again. The Bimota KB3 was born of the same convictions that sawn great Grand Prix machines, a dedication to unwavering performance aimed squarely at getting a single rider down a piece of road faster and more efficiently than anything else. Comforts, convenience, even cost are petty considerations that would dilute its true purpose. Bimota's KB3 is one of the truly great machines of our time - innovative, inspiring, magnificent in its construction and wholly successful in its pursuit of uncompromised speed. It also divided our opinion more emphatically than any other motorcycle in memory. Some did not care to ride it much but were satisfied to simply admire its beauty. The rest of us were out trying to sell our souls.
Source Motorcyclist, July 1984