Bimota SB2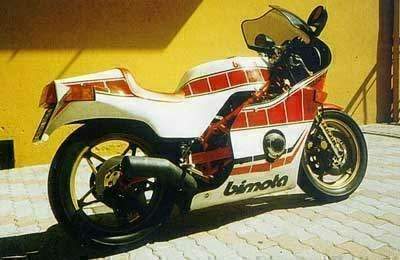 | | |
| --- | --- |
| Make Model | Bimota SB2 80 |
| Year | 1979 The SB2/80 was the transitional bike between the SB2 and the SB3. It had the same frame structure as the 2 with the fairing of the 3. It was marketed after Suzuki cancelled the order for the SB2 frames. There were 60 frames left over, 30 SB2/80's were built and the other 30 frames were destroyed. |
| Production | 30 |
| Engine | Four stroke, transverse four cylinder, 2 valves per cylinder |
| Capacity | 743 cc / 45.3 cub .in. |
| Bore x Stroke | 69 x 56.4 mm |
| Compression Ratio | 10.5:1 |
| Cooling System | Air / oil cooled |
| Induction | 4x 29mm Mikuni carbs |
| Ignition | - |
| Starting | Electric |
| Max Power | 55.9 kW / 75 hp @ 8700 rpm |
| Max Toque | 56.9 Nm / 5.8 kg-m / 42 lb/ft. @ 8250 rpm |
| Transmission | 5 Speed |
| Final Drive | Chain |
| Frame | Chrome molybdenum steel and is extremely light , 8.5 kg |
| Front Suspension | 35mm Ceriani telescopic fork |
| Rear Suspension | Single Corte & Cosso shock variable preload adjustment |
| Front Brakes | 2x 280mm disc |
| Rear Brakes | Single 260mm disc |
| Front Tyre | 3.00-19 |
| Rear Tyre | 130/80 H18 |
| Dry Weight | 196 kg196 kg / 432.1 lbs. |
| Fuel Capacity | 13 Litres / US 3.4 gal |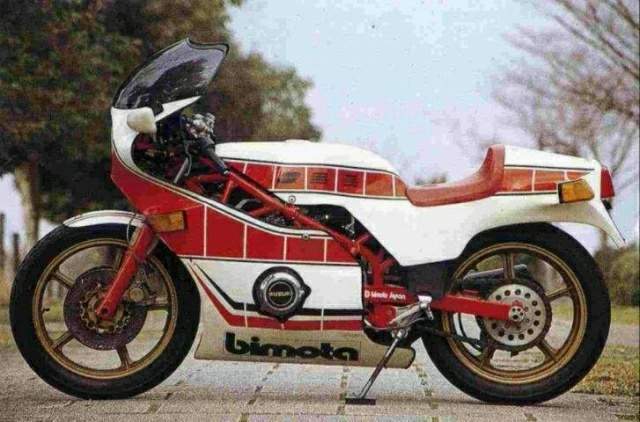 Bimota SB2/80: Anything else is less by Peter Watson, from "The Biker" 12/1980 with thanks.
Money can buy you many things; £50k gets you a Rolls-Royce Silver Spirit to slip into the lock up. 35 dollars puts you in possession of one of the late Elvis Presley's lavatory seat covers. Well whatever makes your heart beat a little faster - expensive motor cars or a memento of the rich and famous if you have the money - or a sufficiently budget conscious imagination - it can realise your fantasies. Fantasy is dreamily imagining a motorcycle that handles like a racer, tops 140 mph with ease, accelerates like a nuclear particle, looks a million dollars and yet is docile enough to ride through town to work. Reality is coming off the banking of the high-speed circuit at MIRA clamped over the tank of a Bimota SB2/80 by G with 9000 rpm on the rev counter. As the track straightens and levels out you stay crouched inside the fairing. By the time the timing lights on the straight hurtle over the bottom edge of the tinted screen the rev counter needle nudges just over an indicated 9500-rpm. No need to glance at the speedo: the needle on the standard Suzuki GS750 instrument has already passed 140 mph as it fruitlessly tries to sweep the dial once more.
This is it - life on two wheels, at nearly 146 mph. It is s perfectly street legal machine. I rode it across London, to and from work, for a week, it has got more sex appeal than most of the female figure's Gloria Vanderbilt persuades into a pair of jeans and it handles so well that you have to raid a thesaurus for a new species of superlative. If ever a motorcycle screamed, "ride me" or "faster, faster" this is it.D ixon Racing's 944cc over bored Suzuki gs750 four is a retired Formula One racing motor once timed as it hurled Bill Smith down an Ulster Grand Prix straight at 168 mph. Now it has been modified once more to end its days pushing Bimota's amazing Rimini built red chassis to its limits. If indeed they exist. For nothing seems too much for this combination of Italian ingenuity and craftsmanship. At the legal limit in absolute safety the loudest noise ticking is your driving license as it is about to self-destruct. Just as really high speed has a fantastic dream like quality so this particular Bimota Suzuki continued to feel like the product of over active cell tissue. On MIRA's timing straight - just under a mile - it howled through the lights at 145 mph repeatedly, hauled to an abruptly painless halt by a trio of magnesium alloy bodied Brembo racing calipers. Then it parted the atmosphere like a wickedly sharp razor to put in a series of standing quarter runs all around the 11.58 second mark. We did not lower the gearing or lower the tyre pressures, just gassed it off the line at 4-5000 rpm. Let the clutch lever out and hung on as the thing flew as straight as a plumb line, waling through the gears. Out on the road this performance is accompanied by an eerie mental stillness that all but obliterates the roaring of the wind and motor as your field of vision seems to narrow and specks on the horizon are dragged towards you, suddenly appearing as other road vehicles on a film run at high speed in reverse. But only once did too much throttle aviate the wheel in second gear. The heart of the SB2/80 is its screaming red chassis in chrome moly tubing. And it is the Bimota's steering which first gives you a hint of its clear superiority.
For anyone can build a frame that handles at high speed simply by setting up the geometry in a fashion which converts the handlebars into something which feels like a canal barge tiller at low speeds. A couple of fumbled thumbings at the standard Suzuki switchgear early on in the test twitched the front wheel at low speed, and indeed the SB2/80 was a joy to ride around town with a full 30 degrees of lock (as prescribed by the German TUV regulatory body) achieved by what looks like the horrifying expedient of dinting two frame tubes near the steering stem. In fact precise slices have been cut from each tube and curved plates brazed into place. The steering feels light and accurate at 20 mph, at 100 mph, at 145 mph there is - incredibility - no change in this behavior. No steering damper is fitted as standard but for the not exactly smooth MIRA banking Bimota Importer David Dixon - who worked as a journalist and motorcycle for 12 years on "The Motor Cycle" in what is pleased to call "the middle ages" - provided us with a fearsomely stiff Suzuki racing damper, which induced a low speed roll, a king thought.
This rock like stability on even poor road surfaces is the product of a chassis that embraces the GS750 engine in an elegant bear hug. Just to examine its carefully triangulated design and flawless construction should be enough to convince you of its incredible stiffness. The engine - mounted at three points - forms an integral part of the structure and its overall strength. A weight saving of 100 lb (45 kgs) on the standard GS750 is achieved in the main by the use of this chassis, which weighs a mere 83 lb (37.6 kgs) with a motor installed. Magnesium alloy wheels cast and machined by Campagnolo to a Bimota design also assist with fighting the flab. Yet because it divides about the centre of the engine via two male / female self aligning couplings, each clamped by three high tensile socket head bolts, the engine can be on the floor in 20 minutes as the front end of the machine is simply wheeled away. A feature of more concern to racers than anyone else, it just adds to the Bimota mystique without apparently detracting from the frames torsional stiffness or lateral rigidity. At the front is a Marzocchi fork with 38 mm stanchions as opposed to the original 35 mm Ceriani; the right hand fork seal sprang a leak early in our test mileage of just under 1000 miles. With minor sub frame modifications the rear suspension is as it was on the original Sb2 GS 750 chassis. A single de Carbon unit, adjustable for both damping response and spring pre load, is mounted upright and operated by an adjustable bell crank. Bimota were the leaders in designing such a rear suspension, which is finding favour amongst more and more specialists as well as mass production manufacturers as evidenced by Kawasaki's transfer of Uni Track from dirt to road bikes for 1981. The system also used on the GS1000 compatible SB3 chassis but not on the Kawasaki KB1, has been further refined on the Rimini factories latest offering, the KB2/80. This fascinating frame not only features triangulated tubing well ahead of the steering stem, but also a de Carbon unit at the rear canted slightly rearwards. It houses a Z500 four engine and was displayed at the Cologne Show with a 16-inch rear wheel and an amazing amount of rubber back and front. Wheel travel on the SB2/80 is 5.75in (146 mm) at the rear, and Dixon Racing had set the de Carbon unit up on the firm side for my 11.5 stones (73 kgs).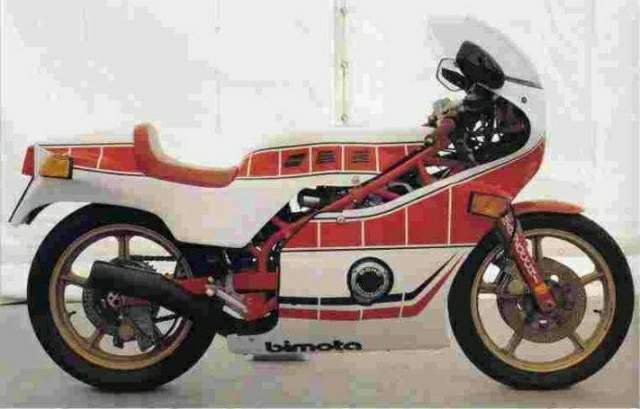 This unit is amazingly sensitive to rider weight and experiment had shown that there is a discernable price to be paid in high-speed stability if you opt for armchair comfort. It was a trade off I was happy to agree to, as the ride was pleasantly firm without being rock hard. Surprisingly in view of the design of the box section swing arm, the Bimota Regina chain needed adjusting three times during the test. For the hourglass shaped pivot fork is coaxial with the gearbox output shaft at its pivot points, thus in theory maintaining perfect chain tension throughout the whole range of suspension movement. And the rear hub contains a rubber cush Final Final Drive. Clever eccentrics at the wheel spindle effect adjustment. All you do is slacken off the axle nuts, four socket-head screws on the eccentric clamps and the rear brake caliper bolt. But then you discover that the special tool with two pegs in to locate in the eccentric holes is nowhere to be found. In truth it does not exist, although one would be easy to make up. Likewise, it would be nice to see a full tool kit in the seat hump when you turn the seat's Dzus fastener and lift off the saddle. However, just gazing at the rear sets foot controls should restore your faith in Bimota. The footrest are alloy forgings - indeed the fork yokes used to be machined from solid billet on the SB2, now they are castings - and the rearsets feature silicone injected bushes and adjustments by splines. The machine gear linkage is a model of attention to detail with rose joints and no lost motion. To my amazement this GS750 gearbox engaged first gear silently and changed with superb sweetness.
Only at between 5000 and 5750 rpm - where the engine suffers from distressing vibration period - did the footrests tingle. The riding position is near perfect for anyone up to around 6ft (1.8 m) after which you may find you knees coming into contact with the edges of the amazingly thin and shapely glass fibre fairing too often for comfort. Bimota's clip ons are a work of art, the glass fibre mouldings without equal. Having dispensed with the SB2's horrifically expensive double skinned mouldings, the /80 no longer has an orifice through which fingers may be poked to reach the Suzuki vacuum fuel tap. No matter, once located your hand unerringly reaches underneath the edge of the metal fuel tank to reach the choke lever and tap. The lockable fuel cap is a standard Suzuki item; indeed in Germany the SB3 is sold as a Suzuki model, probably to cope with the TUV regulations. And the KB2/80 will only be sold as a complete machine, and not as a rolling chassis like the other three Bimota's. Good news however is that the next engine for the Rimini treatment is Honda's 900 DOHC. Speaking of engines, it is time we filled you in on the amazing device, a sort ultimate of over bored GS750. Although fitted with stock gearbox internals, this motor was geared for 150 mph at 10,000 rpm, while we stuck religiously to 9500 rpm in the interest of longevity. The rear sprocket has 38 teeth and the front 16 and the clutch ahs an extra plate. It felt smooth, light and positive, requiring no adjustment. Breathing through a bank of four Mikuni smooth bore supercarbs with 29 mm venturis sans air cleaners, you might have expected the engine to be fussy, especially as it runs a pair of Yoshimura's full race stage 3 cams. Not so, it idled at 1100 rpm without fail and picked up from as low as 2000 rpm out of slow curves without any hesitation. While quarter-mileing we noticed a slight tendency to choke at around 6000 rpm, but this was never a problem on the road. On top of the absence of the usual vices to be expected from a high tuned motor - apart from some almost imperceptible spitting back from the carbs now and again - there was no feeling of suddenly "coming on cam".
David Dixon explained that the fairly quite Bimota exhaust robs you of power, but once you are moving the only discernable rise in the flow of power is a weird sensation that, once past 6000 rpm, things are happening much faster. In ever such a gentle fashion the motor gathers up its skirts and fairly flies. At 944cc, the engine is fitted with 73mm 10.5:1 pistons as opposed to its old 11.2 racing slugs. Naturally the crank has been welded up for race reliability, but the cam chain tensioner and ignition unit are all stock. An American Lockhart oil cooler is used and the motor felt warm around town without setting my legs on fire. Most SB2/80 purchasers - and the GS1000 SB3 are more popular - go for a Yoshimura 850 engine with 69mm pistons and a "Road & Track" cam profile. Living with this Bimota is going to remain one of the motorcycling experiences I will never forget. Sadly, with such a striking machine, you cannot leave it unguarded.
There is a steering lock, but the major problem is the not terribly stable side stand - all you get is basically a racing frame. Strengthened recently this stand still nearly gave me heart failure at times, but the SB3 has a much better unit. Also unwelcome was the attention you draw from the law. Perhaps this is hardly surprising for starting with 4100 rpm can sum up the road performance. That is slow and legal, well it feels slow. 6000 rpm, which feels easy, relaxed and capable of providing evidence for conviction on a charge of Reckless Driving. Finally for the criminally insane there is 9500 rpm, or as a newscast item would put it " Police in Cheshire were today involved in a high speed chase which covered three counties, a man is helping…" In fact it was in Cheshire the force pulled me over - along with a poor unfortunate in a clapped out Cortina - for "Just a routine check sir" at Congleton.
They could not figure out why I was in their quite town, when I said I was going to London. I had decided that since I could not resist the feel of 8000 rpm and rising on an uncluttered Motorway, I had better take some more challenging route and slow down a bit. As I hustled the Bimota towards the curves I changed down, braked, changed down, braked until that magic moment when cranked well over on five inches of Michelin, the power came welling up and we flashed off uphill to the next bend and the one after that, Nothing grounded nothing misbehaved, it convinced me that Bimota's handling puts it in a class of its own. Jumping of off this onto a Yamaha XJ650 my immediate reaction was one of horror at the Japanese machines "poor" handling, so much so that the Bimota altered my perceptions of how a motorcycle ought to behave. I wish I could aspire to Bimota ownership, but like many poor souls all my spare cash goes into the coffers of Mothercare and the Burnley Building Society. So what does all this cost? Not as much as you might think, considering the quality of the carefully integrated package of high technology. An SB2/80 rolling chassis kit will set you back £2945 (SB3 - £2995), then you have to find a GS 750 or GS1000 to raid for its engine, electrics, instruments, switchgear and so on. A complete machine with a stock rebuilt 750 motor and new Suzuki ancillaries are £4588.50, a complete SB3 with new GS1000 mill is £4850. An SB2/80 with standard carbs R&T Yoshimura cams, heavy-duty valve springs and a complete overhaul plus new ancillaries comes to £4908.48. Fancy an SB3 with a similar GS 1000 engine taken out to 1100cc plus R&T cams, HD valve springs? That £5292 please. From there to the sort of bike I was handed on my birthday - name me a better present - you are talking about those free flow carbs (£217.35) the oil cooler, head porting and hotter cams. Say £5400 or thereabouts and it is yours. Most of us will dream, but even in the dank depths of recession there must still be buyers for this sort of excellence. Just one word will secure you the best there is: BIMOTA. Stop Press: At the recent Elvington records meeting the SB2/80 we tested (complete with racing exhaust, bigger jets and revised gearing) made a fastest one way pass over the flying kilometre of 155 mph. It also reached 151.89 mph (two way mean) over the flying quarter. 154.74 mph on the flying kilometre, 153.28 mph over the flying mile. And their 1100cc SB3? That managed a best one-way pass over the kilometre of 160.19 mph.