Bimota SB6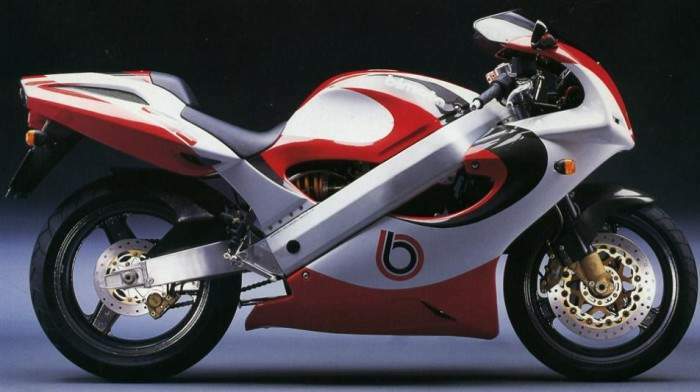 Make Model

Bimota SB6

Year

1994

Production

1144 units

Engine

Four stroke, transverse four cylinder, DOHC 4 valves per cylinder

Capacity

1074 cc / 65.5 cub. in.

Bore x Stroke

75.5 x 60 mm

Compression Ratio

11.2:1
Cooling System
Liquid cooled

Induction

4x 38mm Mikuni carbs

Ignition

-

Starting

Electric

Max Power

116.3 kW/ 156 hp @ 10000 rpm (101.4 kW / 136 hp @ 10600 rpm)

Max Torque

100 Nm / 10.2 kg-m / 73.8 lb/ft. @ 8400 rpm

Transmission

5 Speed

Final Drive

Chain
Frame
Double perimeter beam "Straight Line Connection" (SLC).
Extruded in aluminium, the beams join at the steering shaft and the swing arm without joins only cast parts. The body shell itself replaced the small rear sub frame.

Front Suspension

46mm Paoli forks, adjustable for compression and rebound

Rear Suspension

Öhlins rising rate single shock, adjustable for compression and rebound

Front Brakes

2x 320mm discs 4 piston calipers

Rear Brakes

Single 230mm disc 2 piston caliper

Front Tyre

120/60-ZR17

Rear Tyre

180/55-ZR17

Dry Weight

190 kg / 418.9 lbs.

Fuel Capacity

19.5 Litres / 5.2 gal.

Consumption average

6.5 l/100km / 36.2 mpg

Braking 60 - 0 / 100 - 0

13.8 m / 37.7 m / 45.3 ft / 123.7 ft.

Standing ¼ Mile

10.6 sec / 219.5 km/h

Top Speed

275.5 km/h / 171.2mph
Review
MCNews.com.au
Bimota's reputation for providing the ultimate in motorcycling thrills had come under threat during the early 'nineties. Honda's Fireblade, in particular, had proved the Japanese could build light, powerful machines that were anything but bland. Bimota's Yamaha-engined YB8 series was still going strong, but the styling was starting to look a little dated next to the Fireblade and, especially, Ducati's landmark 916. The search for an engine to power a new flagship sports bike ended when Suzuki introduced the water-cooled GSX-R1100. In full power form, and with a less restrictive exhaust and intake, the Suzuki engine was capable of over 155bhp - 30bhp more than even the best standard Fireblade. Married to an all-new, amazingly compact aluminium chassis, it made for a formidable combination of light weight (just slightly more than the Fireblade) and razor-sharp handling. At first glance, the SB6 looks like a 600, or a 750 at most - it's that small. With a microscopic wheelbase of just 54.2in, it steers like a 600 too, and you can put total confidence in the wide front tyre's ability to cope with fast direction changes. But it's when you open the throttle that the SB6 really shows its true colours.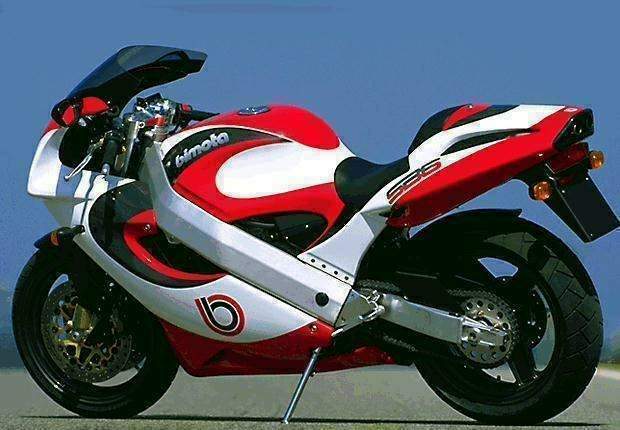 This is possibly the most violently explosive acceleration you'll find on any road bike. It will quite happily wheelie over backwards in second gear if the rider isn't concentrating, and will rocket on to well over 170mph in the right conditions. That's OK in a straight line, but putting that sort of power onto the road coming out of corners needs top-notch suspension and chassis components, and wide, sticky tyres. It will come as no surprise to anyone who's ever recoiled in shock at a Bimota price list that the SB6 has the lot. The aluminium chassis is massively stiff, and combines with 46mm Paoli front forks and an Öhlins rear suspension unit to provide superb control both through bends and as the Bim's immense power is applied. Completing the handling package, ultra-light magnesium alloy wheels wear semi-race compound Michelin Tyres. Braking, too, is handled by some of the best equipment on the market. Brembo 320mm fully floating front discs are gripped by race-spec calipers capable of locking the front wheel at 170mph.
The equipment list may be impressive, but even more so is the way all the individual components are balanced and harmonised to produce a bike that is far more than a pretty spec sheet. The SB6 steers and handles like a well set-up race bike, and there are very few riders - and even fewer public roads -capable of doing it justice.
Those who wish to try will need to be sufficiently well-heeled; Bimota ownership never did come cheap, and the SB6 is nearly twice the price of the Suzuki from which it takes its engine. But the price starts to look less important the closer you look at what you get for your money. Impressive as the SB6 is on the move, there's just as much enjoyment to be had simply taking in all the exquisite details of milled and turned alloy that Bimota, as a tiny volume producer, can justify where the big factories use plain, heavy castings.
The swoopy, heavily styled carbon fibre bodywork is finished in paint with gloss a mile deep, and the carbon fibre touches extend to the front and rear mudguards. There's no space for a pillion. No one in their right mind would want to upset the equilibrium of such a finely balanced creation - it would be like a asking a Derby winner to pull a milk cart. If you want practicality, look elsewhere. The SB6 exists for one reason only: to put the most power in the smallest space, under the best control.
Source Super Bikes by Mac McDiarmid