Make Model

Bimota

YB

10 Dieci

Year

1991 - 1994
Production
224 units

Engine

Four stroke, transverse four cylinder, DOHC, 5 valves per cylinder.

Capacity

1002 cc / 61.1 cub. in.

Bore x Stroke

75.5 x 76 mm

Compression Ratio

12.0:1
Cooling System
LIquid cooled

Induction

2x 38mm Mikuni BSDT38 carbs

Ignition

-
Starting
Electric

Max Power

108.1 kW / 145 hp @ 10500 rpm

Max Power Rear Tyre

94.9 kW / 127.3 hp @ 10600 rpm

Max Torque

94.1 Nm / 9.6 kgf-m / 69.4 lb/ft. @ 9000 rpm

Transmission

5 Speed

Final Drive

Chain
Frame
Two diagonal beams in section bar made of aluminium with internal ribbing. The cylinders are supported by plates bolted to the beams and the swing arm is made of aluminium

Front Suspension

42mm Upside-down Marzocchi forks, preload, compression and rebound damping adjustable.

Rear Suspension

Öhlins, preload, compression and rebound damping adjustable.

Front Brakes

2x 320mm discs 4 piston calipers

Rear Brakes

Single 230mm disc 2 piston caliper

Front Tyre

120/70 ZR18

Rear Tyre

180/55 ZR17

Dry Weight

188 kg / 414.5 lbs.

Wet Weight

206 kg / 454.2 lbs.

Fuel Capacity

20 Litres / 5.3 US gal.

Consumption average

6.5 l/100 km / 36 mpg

Braking 60 - 0 / 100 - 0

12.9 m / 36.6 m / 42.3 ft. / 120.1 ft.

Standing ¼ Mile

10.4 sec / 215.0 km/h / 133.6 mph

Top Speed

278.2 km/h / 172.9 mph
The YB10 Dieci represents the evolution of the series YB6 and YB8, with the four cylinder 1000 cc Yamaha engine. Compared with previous models, the riding position has been slightly improved, the handlebars are 2 cm higher and footrests are 1.5 cm higher. The rear suspension has another 10 mm of range, but the biggest change is the new upside down front Marzocchi forks.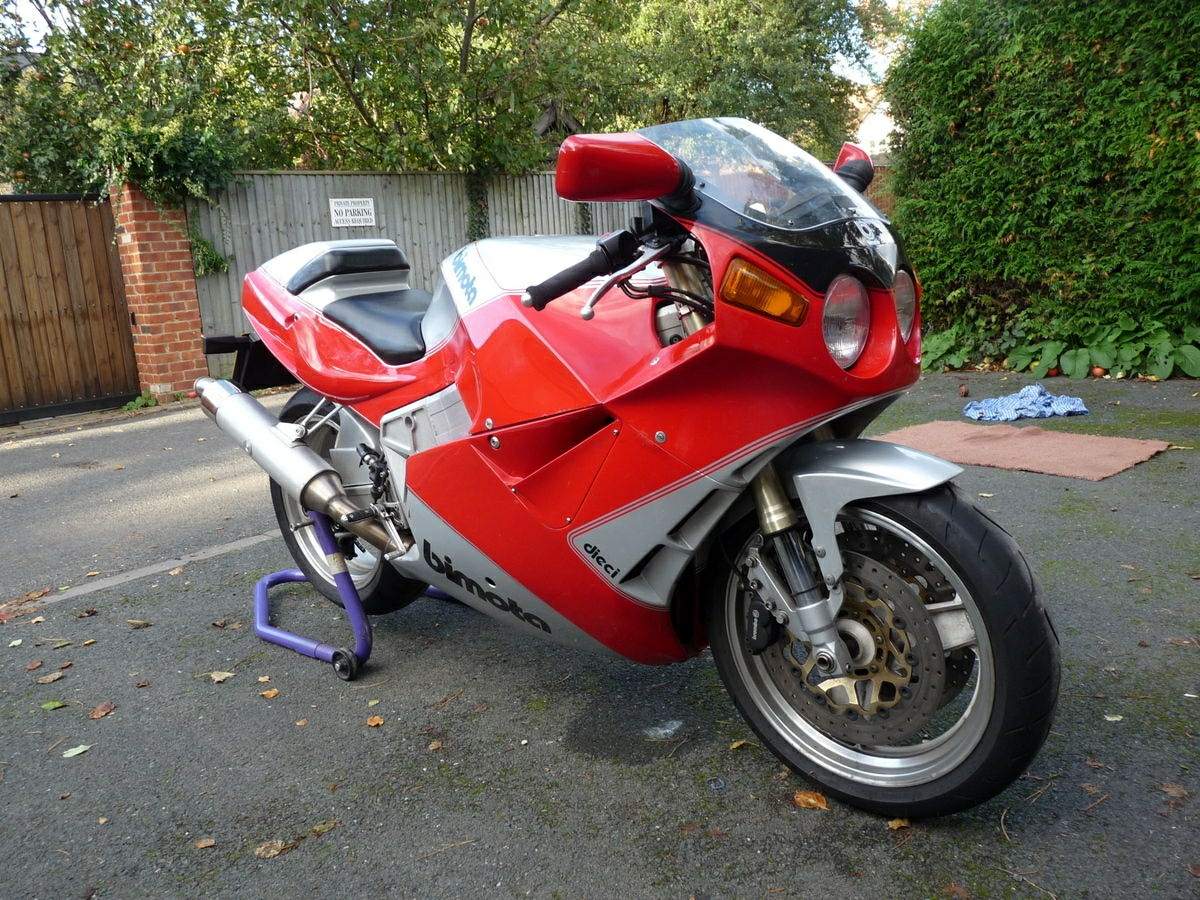 Remember the film Ten? Cuddly Dudley Moore as a middle aged composer, lusting after bouncing Bo Derek, whose briefly glimpsed gorgeousness persuaded sex thimble Dud to award her a perfect score of Ten, then abandon everything to give chase? Bimota's curvaceous creation might provoke a similar response from a few desperate bike fanciers, but in truth is more down to earth. In naming their latest Yamaha powered model the "dieci" (the word means ten in Italian) the Rimini crew are not claiming perfection but merely making a logical addition to their YB series, which had previously reached the YB9.The film title fits the bike nicely, though, and not just because the Bimota relates all to easily to all the clichéd comments about classy bodies and designer clothes.
The YB blend of FZ/FZR engines and alloy twin spar frames has been a round a long time in terms of State of the Art motorcycle designs, and if a motorcycle has gradually been honed and refined towards the absolute, ten out of ten limit of its potential then this is it. Movie star level s of opulence and flawless beauty are taken for granted on any £15,000 motorcycle, especially one from Rimini. What Bimota have done with the Dieci is selected from the components that have gone before, tweaked some of them a bit added a new look, then presented the finished motorcycle as the last in the line of beam framed bikes stretching back to the FZ 750 engined YB4. Mind you I remember they said last year's Bellaria would be the final one in the series too…
The Dieci is a replacement for the YB8, which just to confuse matters was originally released as the YB6 Exup. As its moniker suggests, that original hunk of a motorcycle was produced by dangling Yamaha's EXUP equipped FZR 1000 mill beneath Bimota's satiny-sleek and stupendously strong pair of aluminium beams. The Tuatara that followed last year progressed to upside down forks and fuel injection, but reverted to the older 989cc FZR motor because Bimota did not want to use the newer engine without its EXUP exhaust power valve system.
They have stuck to that decision with the Dieci, which basically consists of a carbureted YB8 power plant in a modified Tuatara chassis. Instead of hiding expensive fuel injection, the YB8 fairing has been redesigned to improve the intake system to the 38mm downdraught Mikuni's a modification that chief engineer Pierluigi Marconi reckons removes the old models slight power dip at 6000 rpm, can't say I ever noticed it, but no doubt he is right. Peak power is unchanged at 149bhp, but the new shape is also claimed to add a few mph to give a top speed that one foreign magazine has tested at 172 mph. The upside down forks, too, have been borrowed from the Tuatara and grafted on with the aim of giving the Bimota extra performance through increased chassis strength and cornering power.
But it is in the comfort as much as the handling that the Dieci is intended to have the edge over its predecessor, for the bike has a subtly modified riding position and revised suspension aimed at giving move travel without reducing ground clearance. The upside downers have a 15mm greater stroke than the YB8's conventional Marzocchi and can be adjusted for compression and rebound by twiddling the knobs at their tops - left leg rebound, right for compression.
The back end is softened a tad to match by the simple expedient of backing off the multiple adjustable shocks pre load by 5mm, hardly a radical move but one guaranteed to chip away further at the Bim's reserves of ground clearance. To counter that the footrests have been raised by 15mm, the skimpy single seats height has grown by a similar amount and the clip ons have moved from their normal spot below the milled from solid top yoke to be bolted above it. Sitting on the Dieci in the Misano pit lane first thing on a freezing December morning, my first thought was that the bike felt low, despite its raised seat, and quite wide, pushing my legs out to clear the fiberglass that runs past the fop of the main spars. The bar, peg, seat relationship has hardly changed, so this is still an ultra sports motorcycle, tight and tucked up.
The Dieci felt as aggressive and hard edged as any Bimota as I aimed its blunt, twin head lamped nose out onto the little Adriatic Coast circuit. Perhaps the greatest compliment I can pay the bike is that for the next half a dozen laps, until my first stint was over, I was barely aware of it. Taking seriously impressive figures like 149bhp and a dry weight of 407 lb (65 lb down on a stock FZR) mixing in a twisty, barely remembered and patchily resurfaced race track, then adding a gusty wind that was trying to spatter my eyeballs over the inside of my visor could have been a recipe for trouble. Instead the Dieci could barely have been easier or much more civilized to ride - or much faster come to that.
Forcing myself to analyse the bike in the pits afterwards, my notebooks shaky opening comments of "smooth power everywhere" emphasizes that the most obvious characteristic is the glorious seamless torrent of 20 valve torque that is always, just always, available at the other end of the throttle wire.The Dieci may have fractionally less instant low rev throttle response than the injected Tuatara, any difference is very slight, but the bike pulls cleanly and so strongly from idle to its 11500rpm redline that at least one of its five gears always feels right.
The standard FZR engine is exceptionally gutsy and strong, Bimota's mild tuning with induction modifications and their less restrictive four into one-pipe makes it better still. Misano has one superb left hand bend that goes on and on for ages, opening out and getting slightly faster all the time. The Dieci could be short shifted and then powered round and round, the rear Michelin Hi Sport radials fat sticky foot digging its nails in determinedly all the way, until I was hammering onto the back straight with my head behind the low screen, the engine howling and the stylish red and black Speedo - no Tuatara digital gimmicks here - unwinding towards an indicated 175mph.Then it was hard on the big, drilled, hugely powerful front Brembo's into the following 180-degree left-hander as hard as I dare.
The 17-inch front wheel, lightweight and steep geometry made steering easy. Occasionally there would be a slight flutter as the back went light, but the upside down Marzocchi always felt wonderfully firm and unyielding. Later in the day the forkless Tesi would give a new element of control when braking into the same bend, but the Dieci's forks felt impressively strong and the chassis rigidity, the classy rear Marzocchi and the grip of the chubby Hi Sport meant that the Dieci could be powered though and out of the turns even harder than it went in. Ground clearance? I could not find its limits I'm afraid, despite trying pretty hard and wearing out a pair knee scraper in the process. Only downer was the occasional discovery of a false neutral going into a bend - once when I'd coolly whisked past a Tesi mounted rival hack on the brakes, only to find myself wallowing Final Final Final Driveless and helpless ahead of him in mid corner. I wasn't the only rider to suffer the problem but Yamaha's latest FZR gearbox is a lot better than the one the Tuatara had to suffer.
So it is likely that adjusting the gearlever position would have cured it. As for the comfort advantage that the Dieci has bee designed to provide over its forebears, neither the smooth turns of a racetrack nor the series of short sessions we had on the bike were likely to provide much chance of assessing that. Logic suggests that softer suspension should help, though. And it is hard to deny that piloting most previous Bimota's on the road for any length of time has always been pretty tough on wrists and bum. For a no compromise sportster the Dieci certainly soaked up Misano's few surface irregularities without complaint, yet without losing any of the instant feedback that made the bike so easy to ride fast. The difference between this and the previous FZR based Bimota is just a few percent, of course, a couple of mph on the clock, a new set of forks, a remolded piece of fiberglass, a few thousand pounds
. They have all been exceptionally fast and fine handling, supremely beautiful and depressingly expensive. The Dieci too, is all of those things. For the fortunate few with the chance to own one, the decision on whether it is the best big Bimota yet will depend as much on their assessment of the colour scheme and shape as to the fractional improvements in fork rigidity and ride. One thing is sure though, the Dieci get ten out of ten from me.
Source Roland Brown, Bike magazine April 1991