Bimota YB5
Make Model

Bimota YB5

Year

1987 - 1988
Production
208 units

Engine

Four stroke, transverse four cylinder, DOHC, 4 valves per cylinder.

(Yamaha FJ1200)

Capacity

1188 cc / 72.5 cub. in.

Bore x Stroke

77.0 x 63.8 mm

Compression Ratio

9.7:1
Cooling System
Air / oil cooled

Induction

4x 36mm Mikuni carb

Ignition

-

Starting

Electric

Max Power

97 kW / 130 hp @ 9000 rpm

Max Power Rear Tyre

83.4 kW / 111.8 hp @ 8500 rpm

Max Torque

108 Nm / 11 kgf-m / 79.7 lb/ft. @ 7500 rpm

Transmission

5 Speed

Final Drive

Chain
Frame
Double closed cradle and is made of chrome molybdenum steel. The side connecting plates are made on Avional and machines not cast

Front Suspension

42mm Marzocchi forks

Rear Suspension

Single Central shock absorber.

Front Brakes

2x 280mm discs

Rear Brakes

Single 280mm disc

Front Tyre

120/70 ZR18

Rear Tyre

170/60 ZR18

Dry Weight

210 kg / 463 lbs.

Top Speed

243 km/h / 151 mph
Road Test
A 500cc World Championship can do a lot for a place, even a dump like Wollongong, New South Wales. Gardner was not in but his spirit hung around the place like an air freshener around a dung heap. "Bet Wayne's bike is quicker that that mate," said the fist of the freckly kids down by the docks. "He's got an 'Onda - yours is only a Yamaha". "Bimota" I corrected him. "They are world champions too". The kid, weaned on xenophobic ossie overkill, looked betrayed, as though I had told him Santa was a child molester. I felt a bit confused too. My most sensitive parts could not understand why I was defending the Bimota to anyone, let alone an eight-year-old kid. The bloody thing was not doing much to defend me. Which was why I was walking, as the locals say a bit crook.
The YB5 had spent much of that morning evoking youthful memories of life with my first Ducati - an 860 GTS. That was the model, you are lucky if you cannot recall it, on which the factory responded to complaints of a too lofty seat height by stripping an inch out of the padding of an already under upholstered bum perch. YB5's start life with the MK2 seat padding. When Bimota launched the model at the 1986 Cologne Show, they billed it as the Bimota designed for people who like too high profile in pairs - a two up street racer, if there is such a thing. The theory presumably went that there is little point wearing full mating plumage without somewhere to perch your love lorn hen if the display works. I suppose it follows from this avian analogy that their sit upon must be half hatched. Seat padding half an inch thick coupled with suspenders of the hard gives handling persuasion had not endeared me to the YB5 in contriving an escape from the overheated clutches of the Sydney traffic that morning. The boy racer, unnatural bends in every limb riding position coupled with tight borrowed leathers and a serious dose of sun struck Pom burn had not helped either.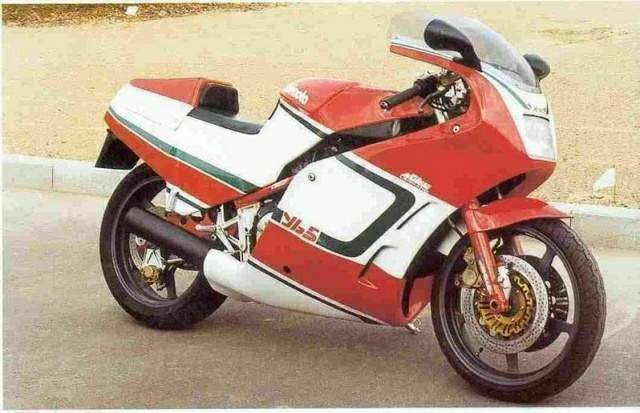 Then we found a bit of interesting road. Sydney's sprawling suburbs dropped behind like a virgin's veil and the real stuff arrived. Miles of sinuous freeway followed by the twists and turns of the high country inland of Wollongong. Bimota's do not have a "bit", (in fact they have a great deal) but if the YB5 had had one, it would have champed right through it. On with the gas, push the torquiest motor in creation through the revs - quite needlessly, but who can resist a dancing tacho? - And aim at speed for nowhere in particular.
Thus I learnt that this Bimota, like most of the others, has a classy chassis. By comparison Yamaha's interpretation of the FJ is a bus Final Final Final Driven by a menopausal bore on Mogadon. Dial in 200 Kph, aim for the vein in the fallen leaf - you've got it. Encounter an idiot lane changing 200 yards ahead of his indicators - no problem, instantly, with yards to spare. In effect the YB5 simply doubles your reaction time. In fact the bike harbours a quite uncanny combination of high-speed stability with gibbon like agility. At an indicated 240 kph (150 mph) it felt as solid and sure-footed as anything I have ever ridden.
But the truly impressive thing was the feather light ease with which it chopped line at speed - the merest hint to the bars and you were two lanes away from where you started. According top popular theory these characteristics in this combination are common as gills on horse. Indeed the effect was so rare for a machine of this size that I suspected a surfeit of Mr. Tuohey's excellent brew the night before had addled my judgment, a quick swap onto a CBR1000 followed by a vigorous spin on a GSX-R1100 convinced me the effects were real. Not that the YB5 is a lightweight. Although the chassis and cycle parts are light as an 11K price tag permits, Yamaha's air-cooled mill is a massive lump by any standards. By the use of thin walled Chrome moly tubing, lightweight alloy fabrications and lighter wheels and accessories, Bimota claimed to have shaved off around 55 lbs from the FJ's weight of 540 with a gallon of gas.
That still makes for 475 lbs dry, every one of which tells me when pushing the lump around a car park. That the Bimota can be so massive and yet still hustle the way it does is a credit to its frame rigidity, geometry and weight distribution. Wheelbase is a fairly conservative 57.3 inches - about par for current 750's - which goes some way to explaining the bikes stability, rake and trail on the other hand are a mere 23.5 degrees and 90 mm respectively, which puts the plot right in the cut and thrust 250 cc league and accounts in full for its agility. (The '88 FJ12, by comparison, has far more indolent figures of 27.5 degrees and 112 mm).
That the YB5 tolerates these figures without slapping itself into apoplexy testifies to the rigidity of the frame, swinging-fork assembly and those beefy 41.7 mm Marzocchi M1R forks. Weaving just is not in this bikes curriculum.On the face of it 18-inch wheels at each end contradict this analysis.
The rolling diameter of these ultra low profile 60 series Michelins radials, however, is about two inches less than that of a conventional tyre with an 80 percent aspect ratio, so in effect the YB5 has 16 inch wheels at each end. Actually despite what you may have read elsewhere, it is not quite that simple, the rim being further from the spindle and one of it heaviest bits, makes for a comparatively large gyroscopic effect. For the sake of argument, let us say the set up equates in practice to a pair of 17 inchers. Weight distribution is something you will hear Bimota designers talk about more than most. In a world where most of the Japanese quasi-racers seem to favour pronounced front end bias - and shag front slicks accordingly -
Bimota put great store by a 50:50 weight distribution ideal. The result, when you get it right is a superbly balanced neutral feel to the steering. Yamaha's FJ12 plot probably denied them some of the design scope they would have liked (and this bike was derived from the Suzuki engined SB4/5 anyway) but the YB5 still has impeccable road manners. This neutrality is particularly inviting out of corners, where the bike all but demands early and energetic handfuls of throttle yet sneers at rear wheel slides with unruffled aplomb. Where it does fall down is in its woefully over sprung suspension. What might work over Imola's smooth curves is sheer purgatory over back road bumps. The Bimota kicks, judders and rattles, tormenting wrists and bum and last nights Tandoori with every painful leap.
The rear end is worst and completely beyond rehabilitation despite theoretical multitude of adjustments. Sitting on the bike depressed the rear shock scarcely at all, whereas rule of thumb suggest one and a half inches might be the norm. If I'd just paid the best part of a years wages for one I'd expect something to be done about it, free of charge. The engine deserves more than the passing mentions it has received so far. Almost any tester you care to mention has placed the FJ1200 motor close to, if not actually at the very top of his all time list of Careless Torque Generators, even in the stock chassis. In Bimota's lighter, slippier guise it almost defies description. Despite a mild ignition glitch which saw it misfire above 150 mph. Even in this trim pitting it against a GSX-R1100 and a CBR1000 in a 70 mph roll on turned out to be the non-event of the decade.
The Suzuki was left for dead and the Honda relegated to not even born. It is conceivable that with an on song propulsion the YB5 could be the world's fastest production bike. The one negative value in the new equation was a slight increase of vibes above 3000 rpm. Probably a function of the lighter chassis's inability to soak them up or the previously mentioned glitch. In real terms this defined the YB5 as the most schizoid street racer since Freud discovered fun, street race handling with Mack truck locomotion - a special combination indeed.
But I cannot help feeling that anyone who considers changing gear too plebian for his dainty little Gucci's might also rebel at the lack of creature comforts elsewhere. For the price you get exquisite detailing, the finest workmanship money can buy and more ground clearance than you know what to do with, you are also entitled to expect some the very best of something functional. But in choosing to shoehorn an FJ12 engine into a previous generation trellis frame, all Bimota has done is produce an eye catching compromise.
Source: Bike magazine, May 1988