| | |
| --- | --- |
| Make Model | Bimota YB7 |
| Year | 1988 |
| Production | 321 units |
| Engine | Four stroke, transverse four cylinder, DOHC, 4 per cylinder. |
| Capacity | 399 cc / 24.3 cub. in. |
| Bore x Stroke | 56 x 40.5 mm |
| Compression Ratio | 11.5;1 |
| Cooling System | Liquid cooled |
| Induction | 4x 38mm Mikuni |
| Ignition | CDI |
| Starting | Electric |
| Max Power | 48.5 kW / 65 hp @ 12000 rpm |
| Max Torque | 38.2 Nm / 3.9 kg-m / 28.2 lb/ft. @ 9500 rpm |
| Transmission | 6 Speed |
| Final Drive | Chain |
| Frame | Two diagonal beams in section bar made of aluminium with internal ribbing. The cylinders are supported by plates bolted to the beams and the swing arm is made of aluminium. |
| Front Suspension | 42mm Marzocchi M1R's external adjustment for anti-dive |
| Rear Suspension | Single Öhlins shock absorber with external adjustment |
| Front Brakes | 2x 280mm discs |
| Rear Brakes | Single 230mm disc |
| Front Tyre | 120/60-17 |
| Rear Tyre | 160/60-17 |
Considering how important the Japanese market has been not only in Bimota's recovery from bankruptcy, but also their long-term profitability (over 50% of their annual production goes out East) you might wonder why it has taken so long to make a bike like the new YB7. Conceived as a direct response to the Japanese Importers request for a baby Bimota with sub 400cc engine but with all the allure of bigger Bim's, the FZR400 Yamaha powered YB7 is a perfectly scaled down replica of the bigger YB4 and YB6 road burners, down to identical paint job and replica racer styling based on the YB4EI racer that so nearly won the inaugural World Superbike title.
As such the YB7 slots into a unique marketing niche, one that is likely to remain the sole occupier of for some time now that Ducati's proposed 400cc eight valve V twin has been sidelined, for the time being at least. In other words, it is an expensive, high tech. European roadster with race bred handling and Italian flair, conceived in order to the vital Japanese markets 400cc class table in terms of price and exclusivity.
All the first batch of 160 machines currently being built in Italy are destined for Japanese customers, who either don't want, cant afford, aren't licensed or cant get insurance for the regular Bimota range of 750/1000cc machines. But in the case the idea of a baby Bimota appeals to anyone living outside of Japan, think again - at least for the time being.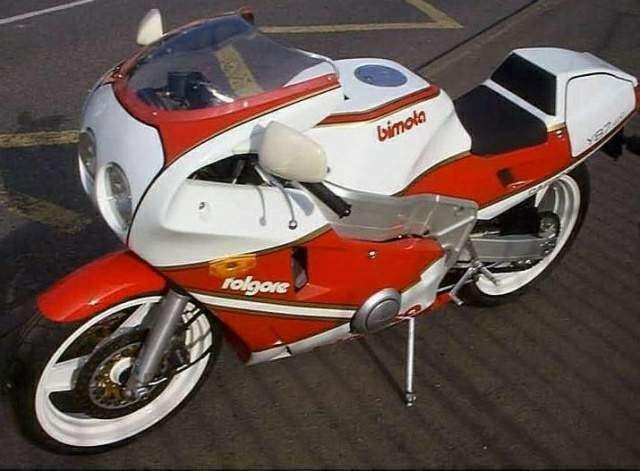 This is the first Bimota for nigh on a decade designed and built on commission (though of course that is how they started out in the seventies, building one off frames to house almost any engine the customer wanted), and the Japanese importers have the exclusive on it till their market is satisfied, not to say exhausted.
Only at that stage are Bimota free to sell any bikes remaining from the projected 500-unit production run elsewhere. So my day excursion into the Italian countryside on the YB7 prototype was a taste of forbidden fruit for those of us outside Japan (well just about any Bimota is, given the number of zero's at the end of the rice tag). But the more I rode this exquisite motorcycle, the more I became convinced that it should be sold elsewhere, and that bikes like this really do have validity on non Japanese roads and away from their massively competitive F3 racing class - for which the YB7, by the way, is ideally suited. I ended up rather glad that I'd been obliged to miss the press launch at the Vallelunga race track a couple of weeks beforehand through injury,
because other wise I'd never have had the chance to ride the YB7 on normal roads in everyday traffic - for which, unlike almost any other Bimota ever made, its perfectly suited. Riding the YB4 or YB6 in town or from one traffic light to another along the traffic clogged Via Emilia, is like going shopping with a Porsche 956 or going for a trot on a Derby winner - not really what it was developed for. A bike that can break the speed limit in bottom gear acts like a thoroughbred racehorse, straining at the reins and urging to break loose.
When you are out in the open and can give it is head, then it comes into its own, but then lets face it Bimota's aren't meant for commuting, all except the YB7 that is. Apart from the serious lack of anywhere to strap a tank bag or briefcase (designer knapsack anyone?), this could be the ultimate Yuppie bike of the 90's. Just the thing to roll up to that business meeting on, when the weather is dry enough to leave the BMW 325 in the garage and venture out on the Bimota to cause a bit of a stir. At low speeds the Yb7 is docile, tractable and well balanced, ideal for pottering through traffic on and not even too uncomfortable, thanks to the low seat height and relatively high set handlebars.
To my surprise, it may look a small bike when you see it parked next to something else, but it does not feel small or cramped to sit on, even for someone of my height. But it does feel light, responsive and easy steering, both at low speeds and somewhat faster. But when the road opens out and the traffic lights thin, the YB7 will display all the legendary poise and sure footedness of its bigger brothers, yet with one vital difference - that incredible evocative little engine. I admit it I've never ridden a road bike with a 14,000rpm redline before, nor one that positively sends shivers down your spine from the howl of the four in one, exup equipped exhaust as you nail the throttle wide open and watch the rev counter needle rocket effortlessly into five figures.
The 56 x 40.5 mm, four valves per cylinder engine is fitted to the YB7 in standard form as received from Yamaha, apart from the addition of a Bimota silencer and air filter, and some re jetting of the four 32mm downdraught Mikuni carbs to compensate. These alterations raise the output on Bimota's dyno to 68hp at 13,000rpm (2hp more than the standard set up gives, according to Bimota chief designer Federico Martini, though Yamaha rather surprisingly claim only 60hp at 12,000rpm for the stock FZR400), which combined with a dry weight of 352lbs is quite enough to give exciting performance, as opposed to the frightening type that the YB4/YB6 can deliver if you are not careful with your right hand.
But on the YB7 you can wind the engine up to the redline in every gear, or else change up at the five figure mark and let the extra torque on offer (thanks to the computer controlled EXUP exhaust power valve, located in a painted aluminium box just where the four Yamaha headers meet the single Bimota tailpipe) pull you through to the next gear. With a top speed of 136mph the little bike has the performance of a 600, yet the docility of a 400, coupled with the peerless handling of a Bimota chassis. This is a slightly downsized version of the YB4/YB6 design, still made from Anticordal aircraft alloy, from which the in line engine is under slung, with the cylinders inclined at 45 degrees.
The wheelbase of 54 inches is 2 inches shorter than the YB4/YB6, and with ahead angle of 23 degrees (static, fully extended) and only 97mm of trail (compared to 24 degrees / 105mm on the bigger bikes), this is bound to be exactly what it is - a nimble, ultra fast steering little bike that nevertheless gives the feeling of controllability you might not expect after reading those figures.
The 17 inch wheels shod front and rear with Michelin's new Hi Sport radials (though I wouldn't care to ride very far on the rear one in rain on a bike whose fibreglass costs as much as Bimota's) probably help in eradicating the unstable steering of Bimota's last little bike the DB1S with its 16 inch hoops. Much to my surprise, the only word I can find to describe the Marzocchi front forks is "Superb". Matched with the Ohlin's rear unit, they gave really good handling over some very bumpy roads up in the hills behind Rimini, never bottoming out or juddering as the M1R's have been known to do on other bikes, and making the little YB7 a truly pleasurable companion over all kinds of terrain. It really is a useable, multi purpose mini Superbike, more so than any other Bimota ever. Beneath the fibreglass shroud is the plastic fuel tank, whence fuel is pumped electronically to the carbs just as the FZR400. The fuel warning light is actually the also the reserve switch, mounted on the dashboard which you punch as soon as it starts to glow. Too bad Martini omitted to warn me of the neat and vital wheeze.
Never mind it was not a long push. I suspect we will be seeing the YB7 Bimota in circulation in Europe rather sooner than many people expect, but not on the street. For some time now the Japanese factories, especially Honda, have been pushing the FIM to adopt the Formula 3 class that is so popular in Japan for Worldwide application- and not only at the Isle of man TT, which is after all where the idea of a formula matching street derived 400cc four strokes against 250cc two strokes was first dreamt up. With spiraling costs and slimmed down fields resulting there from in the European Championships, especially the 500cc class, there's a good chance that the F3 category may come to Europe in a big way in 1990. When that happens, Bimota will be ready - but in the meantime "La Piccolina" (the little girl), as everyone in the factory calls the YB7, is strictly for Oriental consumption only, what a shame.
Source Alan Cathcart for MCI February 1989