Bimota YB8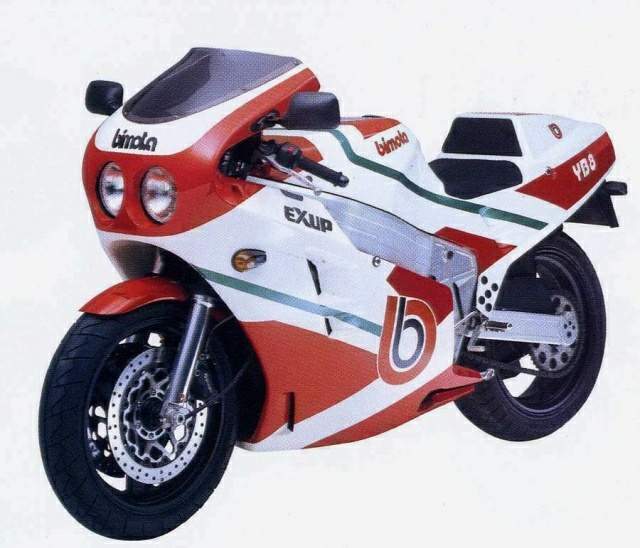 Make Model

Bimota YB8

Year

199

0 - 1992

Production
252 units

Engine

Four stroke, transverse four cylinder, DOHC, 5 valves per cylinder.

Capacity

1002 cc / 61.1 cub. in.

Bore x Stroke

75.5 x 65 mm

Compression Ratio

12.0:1
Cooling System
Liquid cooled

Induction

4X 38mm Mikuni carbs

Ignition

-
Starting
Electric

Max Power

11

1

kW / 1

49

hp @ 10500 rpm

Max Torque

117 Nm / 11.9 kgf-m / 86.3 lb/ft. @ 9250 rpm

Transmission

5 Speed

Final Drive

Chain
Frame
Two diagonal beams in section bar made of aluminium with internal ribbing. The cylinders are supported by plates bolted to the beams and the swing arm is made of aluminium

Front Suspension

42mm Marzocchi forks, anti dive system in the left tube of the fork leg and a hydraulic brake in the right. compression and rebound damping adjustable. adjustable by four positions

Rear Suspension

Marzocchi single shock, compression and rebound damping adjustable.

Front Brakes

2x 320mm discs 4 piston calipers

Rear Brakes

Single 230mm disc 1 piston caliper

Front Tyre

120/70-17

Rear Tyre

180/55-17

Dry Weight

180 kg / 396.8 lbs.

Fuel Capacity

20 Litres / 5.3 US gal
Bimota produced three variations on the YB8 between 1990 and 1994, using basically the same chassis as the previous YB6 range. The first used a Yamaha FZR1000 EXUP engine in the traditional Bimota chassis, with extremely high-quality suspension and braking components. This base model was updated in 1993 as the YB8 E. But it was a special edition of the YB8, the Furano, which most impressed. This was fitted with fuel-injection, replacing the YB8's carbs. Complete with a lighter chassis and a power increase to 123kW (165bhp), the Furano was the fastest sportsbike available when it was launched. Luckily for the owners of the 152 bikes produced, the stiff chassis provides sure handling at the huge speeds it can attain.
It was a good job that the YB8 Follett, Bimota's new UK importer, lent us had a speedometer that only read KPH, because if I had known the speed at which I negotiated that last set of bends, I would surely have backed off rather than merely grinning inanely from ear to ear. The YB8 is that sort of bike, not one for the faint hearted. Its appearance shouts performance without compromise, and it exudes a quality that only comes with a hand built motorcycle, crafted with dedication to an ideal. Its paintwork is deep and lustrous and its fibreglass of the finest quality, whilst the alloy frame is a work of art. Its thin racing seat is a single lump of foam set into the fibreglass bodywork and declares the single mindedness with which this motorcycle was conceived. Many parts of course are borrowed straight from the FZR1000, not only do Bimota use the engine, but they also borrow the instruments,
switchgear and brake and clutch fluid reservoirs. The brake calipers are Brembo however, and operate two massive floating discs at the front, with the fluid ducted through high quality stainless steel pipes. Sadly for a machine costing nearly £14,000, Bimota use all of Yamaha's wiring looms, which are far from as neat as you find on say a BMW, but at least they do work well. The exhaust system is also borrowed from the FZR, no doubt due to the EXUP exhaust valve system.T
he real quality shows however in the superb alloy frame, which is a real work of art, and which no doubt, contributes to the loss of 24 kg off the dry weight of an FZR. Touches of real quality also show up in such items as their machined alloy top yoke and rear set foot pegs. These pegs I found to be ideally placed for the crouched forward riding position and the gear lever and brake pedals were at an ideal angle to the foot. Needless to say there is no provision for a passenger, and the fibreglass hump is provided with foam padding so that you can rest your backside comfortably against it to resist the forces of acceleration.
This means that you are very nicely held in place for fast riding. The seat, although minimally appointed, is comfortable thanks to its generous breadth, such that it amply supports your buttocks and does not cut into your thighs after a long days riding. Only if you venture over 300 miles will it start to get uncomfortable. The fairing is again a rather minimal affair, yet yields a better level of protection from windblast than one would imagine. It is certainly as good, or should I say as adequate, as that on a standard FZR, and very much better than say a ZZR1100 Kawasaki. As all the controls are straight from an FZR, those used to a Japanese machine will find that everything falls instantly to hand. The real problem comes when you try to start it. Finding the starter is a doddle, but where is the choke? I searched high and low, inside the fairing panels, on the frame members, deep inside the fairing, but where did I find it - literally under my nose on the head yoke. It is a car type push pull knob which being made from aluminium, is beautifully camouflaged. I felt such a fool!
The only other item, which needs explanation, is the reserve fuel tap. On the FZR there is am electronic rocker switch on the left hand side of the fairing, but Bimota have a better arrangement. They mount a small switch just between the speedo and rev counter. When the bike stutters from fuel starvation you press this switch, which electronically switches over to reserve. As you press the switch it also lights up red, so that you have a visual indication of low fuel. Therefore you can never forget that you are on reserve, and it reminds you to switch back once you have filled up. The petrol tank on all Bimota's are plastic, and are hidden beneath its all-enveloping fibreglass body cowling. You simply unlock the lovely polished aluminum filler cap, and then unscrew the plastic fuel cap. I found this very stiff and difficult to get at, and when I overfilled the tank it spilled over into an overflow well which did not drain off immediately, but allowed a pool of petrol to remain there. I did not like that so I mopped it up with a tissue.
There does seem to be an overflow hole, which presumably leads to a breather pipe, and I can only assume that this may have been blocked. The YB8 has an excellent twin headlamp set up, like the FZR, and at the rear it has two rear lamps which are highly visible in the back of the seat hump. Like all true race replicas, there is no built in centre stand, but the prop stand is a beautiful polished steel item, which looks very strong. Sadly, it is a tad too long, which means that the bike leans at a perilously shallow angle, looking for the entire world as if it will fall over in the lightest breeze. How the Italians manage when they Final Final Final Drive on the right-hand side of the road, with the amber against them, I cannot imagine. Everywhere I parked the YB8 during the test period, it drew the inevitable crowd of admirers. In that respect, this machine is a poseur's delight. Its lustrous white paintwork, with red and green metallic stripes (as in the Italian flag), exudes class from every crevice.
The wheels are painted white, and apart from that everything is alloy. It looks a million dollars. And those tyres are the business too: Michelin Hi-Sports, with a massive 180/55-rear tyre. You could not ask for better. UK Importers Follett in Euston road, London, could only spare the YB8 for a week, and so, with photographs to be taken too, I wasted no time in leaping on the bike and headed of for the wide-open roads of the West. The last time I rode a Bimota was in Italy back in the Summer of '88, and I was looking forward to this opportunity to re-acquaint myself with the prestigious marque. I can still remember my impression of their old YB6, the one that used the non-Exup FZR1000 engine. I had not liked it as much as the 750cc YB4, and had found it a little slow in steering and intractable. Would the YB8 ape its behavior?
Well I am pleased to say that the YB8 was altogether a nimbler machine than the old YB6. Running a standard FZR1000 as I do for my own bike, going straight to the YB8 would be an interesting comparison. Obviously being an Italian-spec machine, the YB8 has no need to conform to the Japanese importers voluntary 125 bhp limit for the engine, and the YB8 has a whacking 149 bhp lurking under its curvaceous body. You may have read other Journo's who have said that one simply cannot use this sort of power on the road. Of course, that is nonsense. And I am not referring to top speed, Bimota quote a top speed of 173 mph if you are interested though, and I can only say I have no reason to doubt that, even though I had no opportunity to verify it myself. No the 149 bhp offered by the YB8 is completely usable on the road, and it is in the region of overtakes especially that one notices the extra poke. It was noticeable riding the BMW K1 recently, with its mere 100 bhp that overtakes possible on a machine like the YB8 cannot even be contemplated on a K1. It is that ability to get out and sprint effortlessly past a long line of traffic, without having to drop three gears that separate the YB8 from lesser machines, including all the hotshot 750's.
The YB8 soon declares its colours to the rider, indeed as I rode it through London, with its snarled up traffic and its badly repaired roads, it was clear that the YB8 was not a machine to be ridden through town by choice. Its riding position is uncompromisingly sporty, with the rider stretched out over the tank and his feet on proper rear set footpegs. Its suspension too is hard. You feel every ripple, every matchstick. Some call it feedback, but around town, at low speeds its agony. What you will notice is a cacophony of irritating buzzes and rattles. You will hear more than anything the floating discs.
Try it: grad the discs and they are free to move- which is sound racing practice, nothing wrong with that - but every time you brake I town you will hear them clatter. I also felt the chain on the demo bike was too slack, and that contributed its own merry tune to the general hubbub. Not what you would expect from a bike costing nearly £14,000. The engine of course, being a de restricted FZR1000 Exup engine, has boundless low down torque and pulls like a train in top gear even from tick over. Indeed there are few engines, apart from Suzuki's GSX-R1100 power plant, which can match it for sheer grunt, but the Exup engine is undoubtedly smoother and more refined than Suzuki's oil cooled 1100. You will also notice, as you negotiate the fist few roundabouts, that in common with many race-orientated designs, the YB8 is rather slow steering. Its Michelins give phenomenal grip and surefootedness, but it is something no doubt in the YB8#s general steering geometry that makes it far slower to go down in a bend than a Yamaha or Suzuki.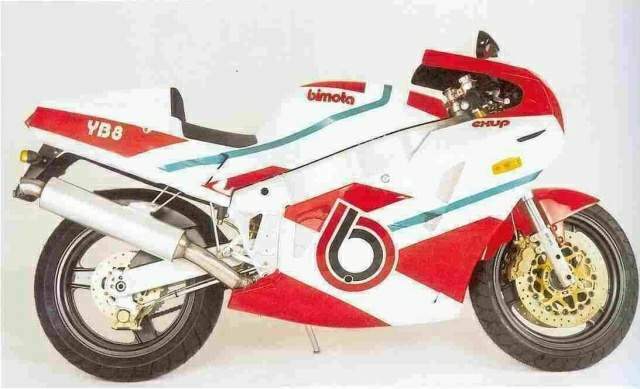 Town is no environment in which to test a machine like this, and so it was off to the fast roads of the South West, where I headed with the YB8. This is where I was to discover what a remarkable machine this really was. No sooner had I hit the good bit of the A4 past Newbury than the YB8 showed what it could do. Head it at a fast open sweeper, wind the throttle up and this thing corners, as the cliché goes "as if it was on rails". Now there is not many bikes I can think of the can match the YB8's cornering prowess at high speeds, indeed I cannot think of one. The FZR1000 definitely moves around and shakes it head at speed. The Suzuki GSX-R1100 is a little closer to the YB8 in that respect but still not, I would suggest in the same class. The roads after Hungerford where I turned off the A4 presented a different challenge to the Bimota and required a different sort of handling finesse.
The A338 to Wantage is a road where bikes like the Suzuki GSX-R750 and Honda RC30 reign supreme, due to their flick ability and flawless suspension. These however, were in the two very areas where the YB8, in my opinion, proved least capable, as a result I found that I was working hard to maintain the speeds along these twisty and poorly surfaced roads that would have been easy for a GSX-R750 or for that matter even the standard FZR1000. The problem was that at anything other than very high speeds on open A roads, the slow steering and choppy suspension of the YB8 really worked against you, and where you need to be able to flick a bike through a series of bumpy esses, the YB8 is a bit of a handful. Not that it ever truly misbehaved itself for it was always composed, it is simply that one needed greater effort to put the bike into a bend and the tighter and twistier the road becomes the harder the YB8 is to ride. On more open A roads, such as certain sections of the A417 to Cirencester which I then joined, and later on the A429 south from Stow towards Cirencester, the amazing stability and well damped front end helped long bumpy straights to be dispatched with disdainful ease, where some bikes would have tied themselves I knots.
The FZR in fact always had a tendency to shake its head over bumps when taken at speed, whereas the YB8 no doubt thanks to its steering damper, sails through unconcerned. One thing that the YB8 has in abundance is overtaking power, more so even than the standard FZR. Rarely will you find it necessary to go any lower than fourth, such is the power and torque spread of Yamaha's phenomenal twenty-valve Exup. Lines of cars may be overtaken with incredible sprinting power and such is the spread in fourth that you will not end up redlining it, unless you really are at full tilt. That it can do all this with refinement and ease is a bonus, although I will say that because Bimota mount the Yamaha engine more solidly than Yamaha do, and the seat being as thinly padded as it is, you feel more vibration through your backside than the FZR. There is also an annoying tingle through the bars, which can numb the fingers at certain revs.
Not that economy is a consideration foremost in your mind when you buy a bike like this, but I have to report the despite my best efforts the machine turned in quite stunning fuel consumption results compared to the standard FZR. Whereas I come to expect something like 30 mpg average, 40 mpg at best. On the YB8 I was getting worse case 45 and up to 50 mpg. Which I think is quite remarkable, and before you suggest that I was not really trying I can assure you I was wringing the poor things neck wherever I could, occasionally achieving velocities that we should not even talk about. It would go onto reserve between 140-160 miles, which should mean there is about 5 or 6 Litres left giving an impressive 200-mile range. And so, either Bimota has a more aerodynamic fairing, or it economy improves when it is not restricted to 125 bhp. Who can say? Ultimately, the person who buys a machine like the YB will not be affected by its lack of practicality, its fuel consumption, lack of creature comforts or asking price for that matter. For when you but a Bimota you buy a pure piece of hand crafted one upmanship. True Exclusivity. To judge the YB8 by banal real world considerations is therefore perhaps churlish, for its appeal is an emotional, subjective one and thus defies the test of cold blooded logic.
Let us assume therefore that the price is not a consideration, and one has to say the YB8 is one of the finest machines around, and that, at high speed on open sweepers it possesses the kind of stability that that I have experienced on no other machine. Here it is without a peer. We do not however always ride on wide, fast, well surfaced A roads and when the going gets tighter, and/or bumpier, its slow steering and choppy ride quality make it hard work. Anyway you look at it the YB8 is one hell of a bike, and I thoroughly enjoyed riding it. Few of those who buy it however, will ever fully exploit its awesome potential.
Source Chris Frankland