Buell RS1200/5 Westwind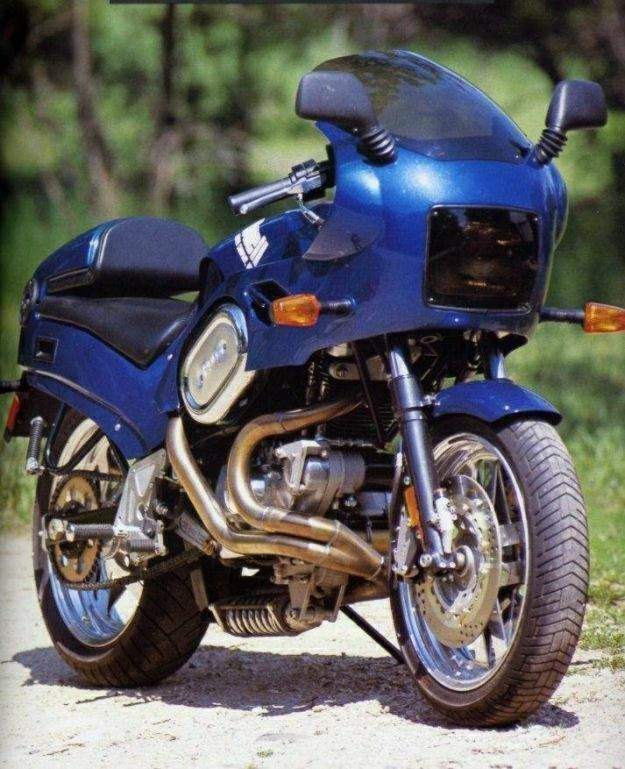 Make Model.
Buell RS1200/5 Westwind
Year
1989
Engine
45° V-Twin, four stroke, pushrod actuated overhead valve.

hydraulic self-adjusting lifters,

2 valve per cylinder.
Capacity
1198 cc / 73.1 cu in
Bore x Stroke
88.9 x 98.8 mm
Compression Ratio
9.0:1
Co

oling System
Air cooled
Exhaust
SuperTrapp exhaust system
Induction
Ĝ40 mm Keihin carburetor
Starting
Electric
Max Power
44.7 kW / 60 hp @ 5000 rpm
Transmission
4 Speed
Final Drive
Chain
Frame
'Uniplanar' frame design combined with a ladder of slender steel tubes with a unique anti-vibration system
Front Suspension
Marzocchi telescopic forks, anti-dive system
Rear Suspension
Single shock, horizontally below engine
Front Brakes
2 x Discs, 4 piston calipers
Rear Brakes
Single disc
Front Tyre
120/60 VB17
Rear Tyre
170/70 VB17
Dry Weight
215 kg / 474 lbs
Fuel Capacity
13.5 L / 3.6 US gal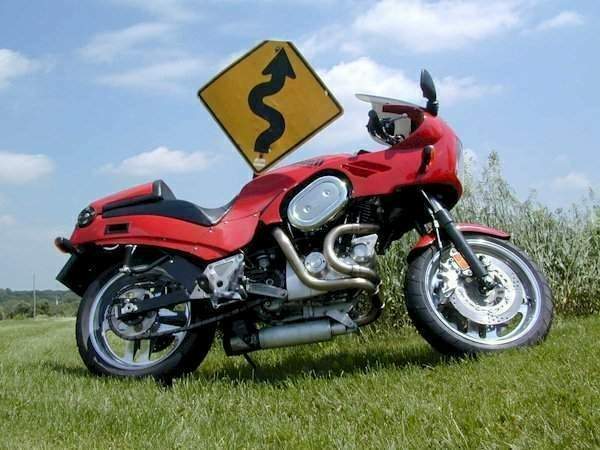 Harley-Davidson's traditional concentration on cruisers and tourers has, over the years, led many smaller firms to produce sports bikes powered by the Milwaukee company's trademark V-twin engine. Most successful has been Erik Buell, a former road-racer and Harley engineer, whose series of innovative bikes have justified Buell's slogan: 'America's Faaast Motorcycle'.
Buell's first model, the RR1000, combined a tuned V-twin powerplant and lightweight chassis with aerodynamic, all-enveloping bodywork that boosted straight-line speed. The RR was successful in twin-cylinder racing, and made a swift and singleminded road bike too. Trouble was, nobody could tell its engine was a Harley unit - so in 1989 Buell produced a new model called the RSI200.
The RS featured broadly similar engineering to the RR, but the fully-enclosed bodywork was gone. Instead there was a sleekly integrated half-fairing, which put on display not only the all-important 1200 Sportster powerplant, but also the ingenious chassis that had also previously been buried behind fibreglass.
Buell's 'Uniplanar' frame design combined a Ducati-style ladder of slender steel tubes with a unique anti-vibration system. Four adjustable rods, each joining engine and frame, restricted the 45-degree V-twin motor's shaking to the vertical plane only. The design added engine stiffness to the chassis without passing vibration to the rider.
Other chassis details were equally clever, notably the RS1200's Marzocchi forks, which were fitted with Buell's own anti-dive system. The Works Performance rear shock unit was placed horizontally beneath the engine, and was adapted to extend over bumps - the opposite of a normal shock action.
Brakes and wheels were also of Buell's own design. The 17-inch wheels were made from polished aluminium, and held broad, sticky Dunlop Elite tyres. Big twin front discs were gripped by four-piston calipers, designed by Buell and built by specialists Performance Machine.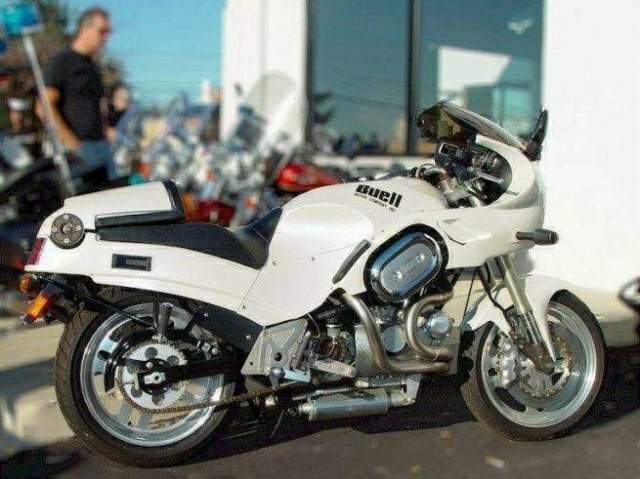 All bodywork was also shaped and created by Buell and his small team from MukWanago, near Milwaukee in Wisconsin. The new fairing blended neatly into the tank/seat unit, while the seat featured a hump that hinged to become a pillion back-rest.
The Harley motor was left internally standard, and was boosted by a SuperTrapp exhaust system that raised its maximum output to about 60bhp at 5000rpm. Typically generous levels of low- and mid-range torque gave effortless acceleration with a twist of the throttle - and the Uniplanar system did a great job of controlling the V-twin's normal vibration. Even when revved hard, the Buell remained pleasantly smooth to a top speed of 120mph.
Equally importantly, the Buell's compact and well-appointed chassis meant that this was one Harley-engined bike that positively encouraged hard riding on twisty roads. The RS1200's racy steering geometry, excellent frame design and taut forks gave quick steering and flawless high-speed stability, though cornering was compromised slightly by the rather imprecise rear suspension set-up.
Buell's low production levels and labour-intensive assembly kept the RS1200's price high, but for riders who wanted a sporty Harley it was hard to beat. And that position changed in January 1993, when Harley-Davidson, keen to enter the sports bike market officially, bought a 49 per cent stake in Buell's company and raised the levels of investment, production and marketing.
In 1994 the renamed Buell Motorcycle Company launched its first bike, the S2 Thunderbolt - heavily based on the RSI200 but with numerous refinements in styling, power delivery and suspension. The Thunderbolt was a fast, fine-handling and handsome sports bike that was priced more competitively than ever. Boosted by Harley's backing, Buell looked set for an exciting future.
Source Super Bikes by Mac McDiarmid