Buell XB12Ss Lightning Long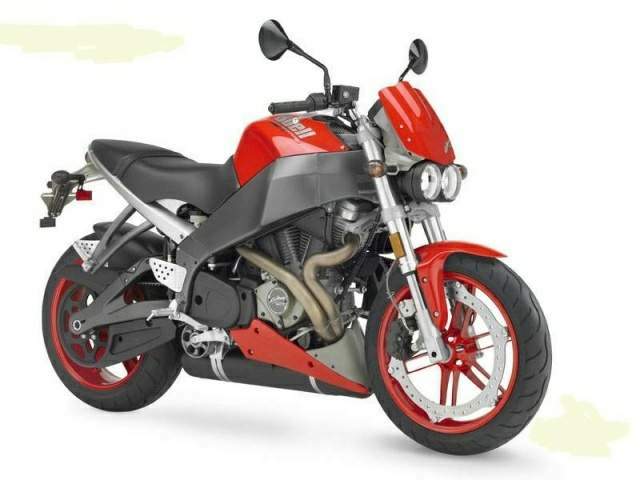 Make Model.
Buell XB12Ss Lightning Long
Year
2005 - 06
Engine
45° V-Twin, four stroke, pushrod actuated overhead valve. hydraulic self-adjusting lifters, 2 valve per cylinder.
Capacity
1203 cc / 73 cu in
Bore x Stroke
88.9 x 96.8 mm
Compression Ratio
10.0:1
Cooling System
Air cooled
Lubrication
Dry sump
Exhaust
Free breathing, 2-into-1 Tuned, tri-pass resonance chamber with InterActive valve and mass-centralized mounting
Induction
Ø49 mm downdraft DDFI II fuel injection
Starting
Electric
Max Power
86.9 kW / 103 hp @ 6800 rpm
Max Torque
114 Nm / 11.6 kgf-m / 84 ft-lbs @ 6000 rpm
Clutch
Wet, multi-plate
Transmission
5 Speed
Final Drive
Belt
Gear Ratios
1st 2.649 / 2nd 1.892 / 3rd 1.407 / 4th 1.166 / 5th 1.000
Frame
Aluminium frame with Uniplanar™ Powertrain vibration isolation system, fuel in frame
Rake
22°
Trail
119 mm / 4.7"
Front Suspension
Showa Ø43 mm inverted forks compression damping, rebound damping and spring preload adjustable
Front Wheel Travel
120 mm / 4.7"
Rear Suspension
Showa coil-over monoshock, remote underseat reservoir and adjustable compression damping, rebound damping and spring preload
Rear Wheel Travel
127 mm / 5.0"
Front Brakes
ZTL type brake, 6 piston, fixed caliper, Ø375 mm single-sided, inside out, stainless steel, floating rotor
Rear Brakes
Single Ø240 mm disc, 1 piston floating caliper
Wheels
6-Spoke, ZTL cast aluminium
Front Wheel
3.50 x 17"
Rear Wheel
5.50 x 17"
Front Tyre
120/70 ZR17 Dunlop D208FW
Rear Tyre
180/55 ZR17 Dunlop D208FW
Dimensions
Length: 2023 mm / 79.6"
Width: 755 mm / 29.7"
Height: 1091 mm / 43.0"
Wheelbase
1372 mm / 54.0"
Ground Clearance
118 mm / 4.6"
Seat Height
775 mm / 30.5"
Dry Weight
181.5 kg / 400 lbs
GVWR
386 kg / 850 lbd
Fuel Capacity
16.7 L / 4.4 US gal
Fuel Reserve
3.1 L / 0.82 US gal
Oil Capacity
2.37 L / 2.50 qts
Standing ¼ Mile
12.0 sec / 178 km/h / 110.6 mph
Top Speed
204 km/h / 127 mph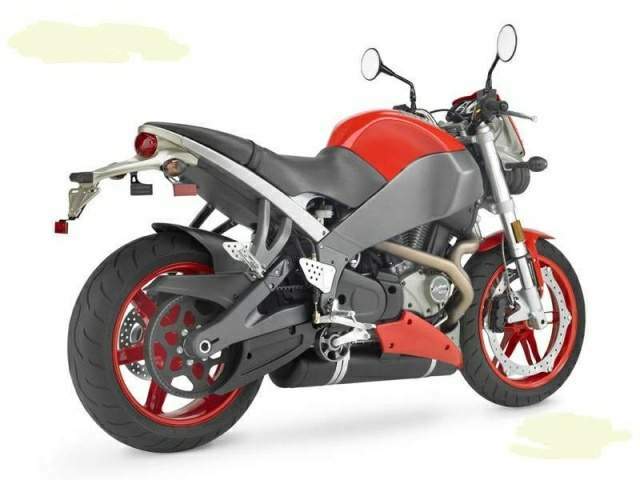 An extended swingarm and increased fork rake give the new Lightning Long a 54-inch wheelbase, two inches longer than the Lightning XB12S. Fork rake is increased from 21 to 22 degrees and trail goes from 3.3 inches to 4.7 inches. The result is a streetfighter with more relaxed handling and expanded ergonomics better suited to taller riders. The tail section is longer and the seat is taller and wider, and offers more room for a passenger. There's also a larger under-seat storage compartment. Larger frame side panels give the Lightning Long a fuel-in-frame capacity of 4.4-gallons.
Buell InterActive Exhaust, a valve in the dual-chamber muffler controlled by the ECM that adjusts exhaust flow, gives the Thunderstorm 1203 V-Twin engine smooth torque delivery and optimized power. Like all Buell motorcycles, the handling remains quick and responsive. It is offered in Sunset Orange with Sunset Orange wheels, Midnight Black with Translucent Amber wheels, and Thrust Blue with Translucent Amber wheels, all with a Graphite Gray frame.
Buell Lightning XB12Ss features:
Buell Thunderstorm 1203 fuel-injected air/oil/fan-cooled V-Twin engine
103 peak hp, 84 ft. lbs. peak torque
Buell InterActive Exhaust
4.4-gallon fuel-in-frame capacity
New extended swingarm
New easy-shifting transmission
New Goodyear Hibrex drive belt with Flexten Plus technology
New air intake location
Graphite Gray frame
Oil-in-swingarm
43mm fully adjustable Showa upside-down fork
Fully adjustable Showa rear shock absorber
Buell ZTL front brake system
Flat track-style handlebar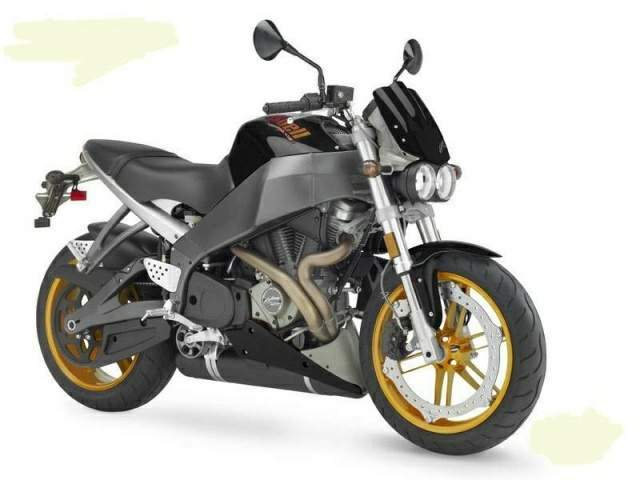 Road Test
From being a limited sort of company in terms of their product range - you could have either a sports fairing and clip-ons or no fairing and raised bars on an otherwise identical bike and that was it - Buell have come quite a long way in developing their range. Because although the Lightning/Firebolt was a fabulous bike in many ways, if you wanted something else then you were going to end up on a different brand. Which was a shame, because Buells have a lot to offer.

So now the range has grown. As well as the soon to be replaced XB12R Firebolt sportsbike and the fundamentally identical XB12S Lightning, you've got the XB12X Ulysses, a monster trailbike available with or without luggage, a hybrid supermoto called the STT and two other versions of the Lightning - one with a reduced seat height for the short of leg and the other with a longer wheelbase for the slightly larger person. The logic is easy. One size doesn't fit all, especially when you're trying to accomodate Americans, who are generally somewhat bigger framed than average, as well as Europeans who err on the side of svelte. And the original Lightning especially, despite it being just so very good in so many ways, was just a little too uncompromising for many people, particularly when it came to pillion accommodation. Because the pillion perch on the standard Lightning is, um, a perch, really. It certainly doesn't qualify as a seat in any real sense. And if you strapped a bag on then there was a good chance of blocking the rear light. But, of course, that short wheelbase made for fabulous handling...

It's probably worth It looks small in the photo. The camera never lies, remember...pointing out at this point that the Lightning Long or XB12Ss to give it its proper name, is still not exactly a large motorcycle. Overall it's just eighty millimetres longer than the standard diminutive Lightning, with a ten millimetre taller seat. And in all honesty it feels exactly the same to sit on, with everything falling nicely to hand and foot as before. Perhaps there's a little more room to shuffle around, but it doesn't leap out at you. And that's good - the original was sublime so why change it more than necessary? The stretch is partly in the frame and partly in the swingarm, with a longer rear subframe to accommodate the extra pillion seat. The real bonus is twofold. First of all you get a very useful two Litres of fuel in the frame mounted tank. And secondly you get a pillion seat that is actually worthy of the name. It's still a fine looking bike, it's well proportioned and definitely has character, even before you hit the starter. The optional extra translucent bodywork is a conversation piece, though I suspect it would look just as good in solid black as well as being a few hundred pounds cheaper.

But having mentioned the starter, let's get on and ride, shall we? Starting the Buell is straightforward and never caused any concern. Tickover is lumpy but regular, though the vibration is a little disconcerting. Deceptive, too, as the engine smooths out dramatically at a couple of thousand rpm. Blip the throttle and note the typical Buell response - revs climb fast but the big flywheel makes them slower to drop. Pull in the surprisingly light clutch, remark to yourself how much better the gearbox Stylish, yes. But that speedo isn't the easiest to read in the heat of the moment...is on the Dyna Harleys and wonder when the improvements will find their way onto the Sportster (and therefore Buell) boxes as you hammer it into first and pull away. The vibration, while never entirely absent, decreases dramatically and speed increases in a totally linear way - open the throttle more to accelerate faster but there are no sudden steps or lurches, just this huge wave of thrust. Once you're moving the gearshift seems to improve as well, though it's still agricultural compared to newer Harleys, let alone oriental machinery. The rate at which you gain speed is quite surprising as it doesn't feel anywhere near as quick as the hard to read speedo indicates.

At vaguely sensible out of town cruising speeds, staying in two figures but not dawdling, the Lightning makes perfect sense. It's comfortable enough, with the tiny flyscreen providing just enough wind deflection to make this sort of pace bearable while the longer seat gives room to move if your bum starts getting tired. The handling is, if anything, even better than the original Lightning. The puppy-like eagerness of the shorter bike has matured a bit and though it still turns ever so easily the more relaxed geometry makes it a bit more stable and the overall feeling is of sure footed agility rather than slight friskiness. The brakes are as excellent as ever and the ground clearance will never, ever, prove to be a problem.

It's a great looking bike, though, and it really is as good to ride as it looks...But it's in town that the Lightning, regardless of variant, is truly in its element. The short wheelbase, nicely spaced bars and sharp throttle response make it nigh on the ultimate urban tool. Perhaps the CityX is better, but it's close. Certainly I could make my cross London journey around twenty percent quicker on the Buell than on anything I normally ride. The mirrors and bars are just the right height to miss most car and van mirrors and swapping lanes is an exercise in thought rather than muscle. Of course a set of more interesting exhausts would probably make the journey even easier though perhaps I'm getting old as I rather like the discreet approach...

The Lightning Long is probably the most sensible bike in the Buell range. It's a superlative town machine, it has room for a passenger or to carry a bag, it's guaranteed to raise a smile as soon as you get on it and it's relatively cheap to run. The belt drive is a delight, being completely maintenance free though you'd be advised to use some sort of tyre sealant as removing the rear wheel is a job best left to the dealer, and the engine, while still fairly primitive, does exactly what is asked of it without hesitation. It's not perfect - the speedo is way too hard to read for a bike that accelerates as well as this and the lights aren't especially brilliant - but it's pretty damn' close. And for the money there's almost nothing other than Buell's own 900 CityX that comes anywhere near it for sensible, usable fun.

SB
Source Motorbikes today